Richard's Ramblings
This page has all our Past Spotlights and a number of Richard's Ramblings listed in order from the newest to the oldest.
We hope you enjoy them.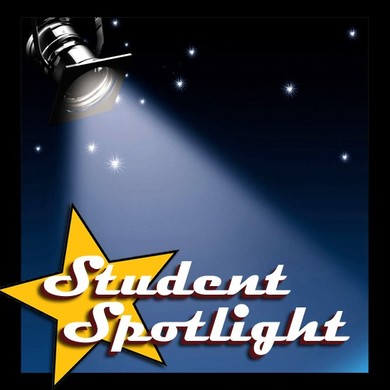 &

If you would like to recommend a fellow classmate for spotlight please contact;
Richard Parker 321-223-9043
or eMail him at Richard@ESAnow.com
---
June 2015

34 and Counting
Thirty-four years ago, I found myself standing by a swimming pool on a mountaintop in Montego Bay, Jamaica, ready to walk down the aisle and say, "I do." It was not the first time I had done this, but it would be the last. We had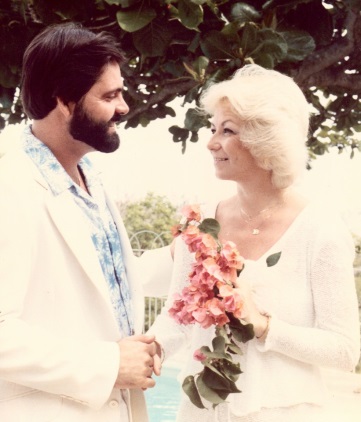 planned the wedding in about a week, and surprisingly, everything was ready for the big event . . . or so I thought.
Then, the horror of all horrors struck me only a few minutes before the nuptials. I did not buy flowers for my wife-to-be, Joan, to hold while walking down the aisle. But fortunately, we were in Jamaica. Quick thinking in a nearby bougainvillea bush that had spent years climbing the side of the pool house rendered an acceptable solution.
My bride and I were both dressed in white. The warm Caribbean breeze made us feel that the world was surely our oyster. We were young, slim, and trim, with a glass-half-full outlook on life. Yes, we were ready for anything.
Many of us believe, at least in our younger days, that the words "I do" hold some magical powers. We thought that post-ceremony, the typical troubles of the
world would somehow smooth out while love conquered all. Far from it. Although that initial "I do" holds no magical powers, the repetition of "I do" does: I do love you; I do commit to you; I do want to build a life with you; I do forgive you; I do hope you forgive me . . . again. In those "I dos" lies more magic.
Then, there are the little things, often unrequested and far too often unappreciated. A cup of coffee that magically appears in the morning, a touch, and a comforting word when no one seems willing to offer anything remotely
similar. An unexpected card, a brief note, or just a special look to let you know that someone else stands shoulder to shoulder with you against the world. These little things cannot and should not be demanded. They are given in love; otherwise, they are worthless. But we should all be much more grateful than we usually are that we receive any of them.
Looking back, that wedding day was pretty much like any other day of my life, except, of course, for the monumental decision we made, coupled with a lifelong commitment on our parts. How often have we seen a young couple very much in love but much too ready to scrap the marriage for the easier road? They often think that their perfect partner is right around the corner.
Newsflash: There are no perfect partners—only imperfect people who, by choice, have decided to join their lives and their hearts. They have chosen to hand-in-hand embark on a lifelong journey and to make that journey together, come what may.
Maybe if we could see in the future, complete with all its ups and downs, trials and tribulations, betters and worses that await us along that multi-decade journey, there might just be more runaway brides or grooms making a hasty retreat pre I Do. But wide-eyed innocence, with a healthy dose of raging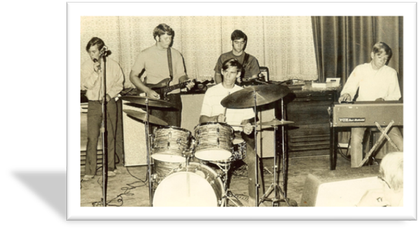 hormones (remember those victory dances), soon enough is replaced with the one-brick-at-a-time process of building a life together, for better or worse and in sickness and in health; and for those of us smart enough to remember the part about forsaking all others, the bricks are laid much more easily.
I'm reminded of an old friend who went to his 25th class reunion. He had done well financially and family-wise in his life. He had a loving wife and two great kids. At his 25th, he met a memory, certainly no better or worse than his wife of more than 20 years was. But in a short period, he made what I called a "lateral trade." He traded a loving wife who accepted him with all warts and shortcomings for someone who barely knew him. Within three years, he divorced, remarried, and divorced again. His kids did not speak to him; he was flat broke and miserable.
BTW, we will have none of that at our 45th.
Do you want to know the secret of a happy marriage? It is easy; just ask one of the many classmates from the great Class of '70 who have been married 30, 40, or more years. Most will be happy to share their "secret." I am sure that they will admit to some rough years, and if they are honest, they will acknowledge that occasionally, they might have even contemplated throwing in the towel. However, time has taught them that it is not just love, but also the commitment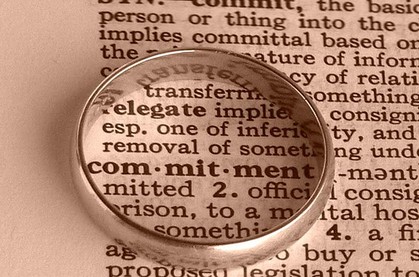 that would and did carry them through.
So now, the kids are grown, and the almost perfect grandkids are growing. If we are fortunate, we wake each morning to find ourselves with the same imperfect yet committed person who walked down the aisle with us 34 years ago with a hastily retrieved bougainvillea branch and a smile that still warms your heart. One who accepts you, for better or worse, in sickness and health, and who has spent a lifetime proving that he or she will forsake all others and cling to you till death do you part.
Now, guys, that is a love story. Hey Joan, I can't wait to see what the next 34 years will bring.
Well so much for "Richard's Rambling", now it is time for a little "Richard's Griping".
I keep talking to classmates who assure me that they are coming to the reunion. I hear that and jump up and do the happy dance. Then I go to the reunion roster and nada, nothing, zippo.
I know October seems like a long way off but come on guys, think back to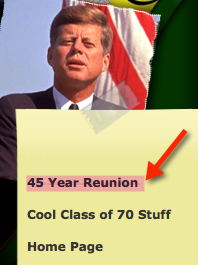 Christmas…It was last Thursday (at least it seems like it at the speed time is flying). So what do you say, lets collectively march over to the class website and register. When you register someone who wants to see you at the reunion decides to registers, and then someone who want to see them registers…you get the picture. After all what are you doing, waiting for a better offer in October? I have it on authority that this is the only 45th Reunion we are going to hold. Not to mention that by paying your registration fee now it provides us with the cash to pay for this shindig. So what do you say? Can't you help a guy out and cruise on over to register? Just look at the top of the yellow navigation bar on any page of our class site and click on "45th Reunion". Don't you like how we hid it there? Now be very quite, and I'll bet if you listen carefully, you just may be able to hear the stampeding of a bunch of 60-something year old feet headed to registration. We'll see you there.
Keepin' the Spirit Alive,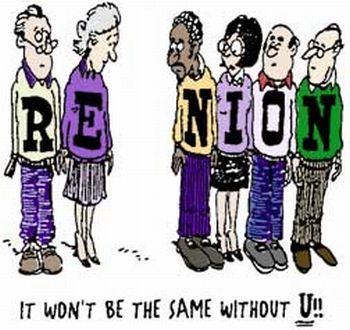 These classmates are already registered - 57 Total as of 5/30/15
Rafael Arguelles (2)
Christian Barrett (2)
Vernon Beaty (2)
Larry Blandford (2)
Colleen Callahan (2)
Jim Carels (2)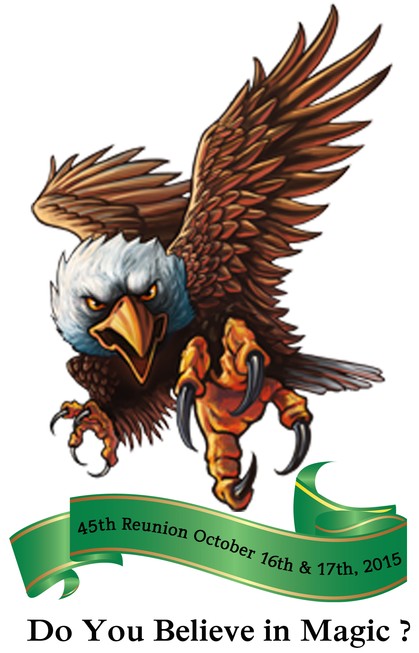 Sam Durham (2)
Bill Fennell (2)
Gail Gottardo (2)
Bobby Harrell (2)
Mitch Hillburn (2)
Kenny Humphrey (2)
Dana Longino (2)
Doc McKinney (2)
Kris Metzger (1)
Richard Parker (2)
David Perdue (2)
David Pfaff (2)
Debra Pitts (2)
Eddy Reed (2)
Peggy Sanders (2)
Mike Stuhr (2)
Kent Tuthill (2)
Terri Tedder (2)
Ernest Walker (2)
Mark Walters (2)
Susan Webb (2)
Donna Wells (2)
Candy Willey (2)
---
May 2015

Goodbye Old Friend
Any writer can tell you that inspiration can come from any strong emotion, which is true regardless of the medium—articles, novels, poems, or songs. Sometimes, the inspiration is an uplifting and exciting event, whereas other times, inspiration comes from tragedy or loss. This is why many songs we know and love are about loss—the loss of innocence, the loss of love, and the loss of those close to us.
We all remember Wayne Cochran's 1962 hit "Last Kiss," based on a true story
and covered in 1964 by J. Frank Wilson and the Cavaliers. The story line was of 16-year-old Jeanette Clark driving with friends in a '54 Chevy on Highway 341 near Barnesville, Georgia, when they collided with a trailer truck. Jeanette and another teenager were killed and two others seriously injured.
Other songs born from tragedy include Jan and Dean's "Dead Man's Curve," Ray Peterson's "Tell Laura I Love Her," Mark Dinning's "Teen Angel," and after 9/11, Alan Jackson offered "Where Were You (When the World Stopped Turning)" offered to a mourning nation. The point is that loss can produce powerful emotion.
The last few days have been emotional for me, as I am sure they have been for many of you. For, this week, we lost another of our own—Danny Curl. I hesitated
before writing this Rambling. A bit of political correctness has I guess, seeped into this conservative grandpa's persona. For a bit, I was concerned that others would say "Well, you did not write a Rambling about my friend, old so-and-so," so why write one about Danny?
Early this morning, as I lifted Danny's family up in prayer, I answered that question, at least in my mind. Danny's death produced a powerful emotion in the core of my being. It is not that the loss of the other 54 classmates listed in our "In Memory" section is any less important than Danny's is. Quite to the contrary. I'm sure we all would give anything for just one more opportunity to sit and again talk to Donna, Ricky, Glenn, Mark, Kathy, Lou, Donnie, and the others who have gone on before us.
As many of us, Danny and I fell out of touch after graduation. A few years ago,
returning from a visit with Jim Lester in his North Carolina home, I realized that Danny's home in Lincolnton, North Carolina, was pretty much on my way. A quick call and Danny was eager to grab breakfast with me. We talked, laughed, and reminisced to the point that he was late for work. We hugged as we both returned to the lives we had each spent 40 years creating.
Since that day, we talked by phone a number of times. The most recent was last week. He assured me that he was coming to our 45th reunion. His words were, "I wouldn't miss it for the world." He was right, but he will miss it for heaven.
I am sad that I will not see my old friend that weekend, but I can assure you that he, and the others, will be there in spirit, and they will be remembered by many. The past few reunions, Janie Clark has had the job of creating our "memory board." Unfortunately, this has become a much bigger job than it was initially.
One reason that Danny's death hit me so hard is that he was such a wonderful
person. He was happy to share his faith with others, and yes, brag about his four all-but-perfect grandsons: Kolton, Lane, Easton, and Gavin. The only prideful bone in this man's body was the pride he had for his family. Danny spoke to me of how fortunate he was to marry Sharon and how proud he was of his son Derek and daughter Amanda.
I am happy that the last time I said goodbye to Danny, I ended my conversation the same way I end every conversation with a 50-year-old friend; I told him I loved him. I'm happy to report that he loved me too. But then again, that's nothing special; it seems Danny loved almost everybody, and everybody loved Danny. That's what you get at the end of a life well lived—a tsunami of love.
Some of you might not know it, but Danny underwent a triple bypass at 38 years old. Although mindful of his health, he focused on his life—something from which we could all learn.
Only after Danny's death did I learn that both he and I attended the Promise Keepers Stand in the Gap Rally in 1997 in Washington, DC. More than 1 million Christian men gathered to pray for our country at this spirit-filled event. A nonbeliever might say, "What a waste of time." Neither Danny nor I would agree. That weekend, even now, almost 20 years later, is difficult to put into words. I wish I had known Danny was there.
I remember that, at one point, a speaker asked a million men to prostrate themselves (to lie face down on the ground in humility, submission, and adoration) and pray for our country. I cannot tell you why today it is such a comfort to know that Danny and I joined in the same prayer at that precise moment.
If I know Danny, he would've gotten a real kick out of my phone call to his family after I learned of his passing. I dialed his home phone number, and a woman answered. I assumed it was his wife Sharon. Although Sharon and I have never spoken, I began by introducing myself and trying to tell her that I graduated from high school with Danny. You notice that I said I "tried." What happened was that I broke into tears and cried uncontrollably, repetitively gasping and apologizing to her.
When I finally got myself under control, the woman on the other end of the phone told me, "I'm sorry, but I think you have the wrong number." I apologized one more time, hung the phone up, leaned back in my chair, eyes closed, feeling stupid. I can't be sure, but I think I might have heard faint laughter straight from heaven, as my old friend belly-laughed down at me.
If you have not registered to attend our reunion, my question is simple—why? The other day, I spoke to a classmate, who announced to me matter-of-factly, "I can't make the 45th, but I'll catch you at the 50th." Well, maybe.
Although you might make it to the 50th, how many people that you would give anything to reminisce with just one more time will not? Whether we like to admit it, we are at that stage in life where none of us is certain of the future. Danny lived and loved to the last day of his life. My question is, will you? I hope to see every one of you this October 16 and 17. Take a minute right now to register.
Danny, I will miss you, but just know that I am a better man for having known you. I'll see you there.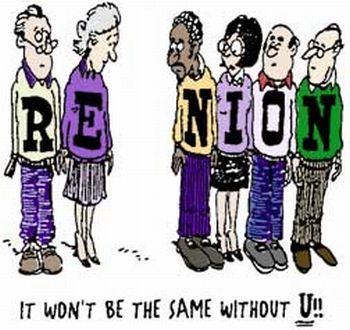 These classmates are already registered - 53 Total as of 5/10/15
Rafael Arguelles (2)
Christian Barrett (2)
Vernon Beaty (2)
Larry Blandford (2)
Colleen Callahan (2)
Jim Carels (2)
Sam Durham (2)
Bill Fennell (2)
Gail Gottardo (2)
Bobby Harrell (2)
Kenny Humphrey (2)
Dana Longino (2)
Doc McKinney (2)
Kris Metzger (1)
Richard Parker (2)
David Perdue (2)
Debra Pitts (2)
Eddy Reed (2)
Peggy Sanders (2)
Mike Stuhr (2)
Kent Tuthill (2)
Terri Tedder (2)
Ernest Walker (2)
Mark Walters (2)
Susan Webb (2)
Donna Wells (2)
Candy Willey (2)
53 Total as of 5/10/15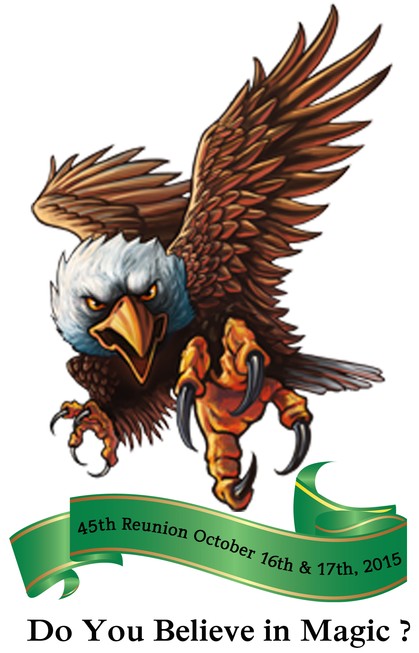 April 2015

Here Comes Our 45th
As difficult as it is to believe, we are coming up on our 45th reunion. How did that happen? On October 16 and 17, for two days, the Eagles of the last graduating class of Dan McCarty High will return to the nest—and all your classmates want you there.
I understand that some might consider not attending for a few reasons, so let me address them.
I just looked in the mirror, and . . . and . . . and . . . I got old.
I can't believe that happened to you! You must be the only person in the class who aged. The rest of us still look 17. If that bothers you, why not stroll through our "In Memory" section and see the many classmates we all wish we could laugh with once more and say, "Man, you got old!"
I got fat, lost my hair, and so on.
Here is a newsflash—the Superlatives are over. You did not win cutest boy/girl then, and we are not going to revote at the reunion.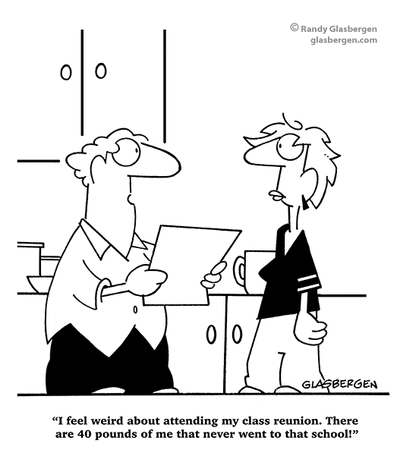 It is a long way to Ft. Pierce.
Have you ever wished you had your own time machine? Well, newsflash #2—you do. A short trip back to good ol' Ft. Pierce this October and you will magically be transported back in time forty-five years, seeing the friends and places of your youth. But please try to fight the urge to jump off Little Jim Bridge or catch air on Tickly Tummy Hill.
I don't have the money to go.
It is only $40 for two nights; how low can we get the cost? But lack of funds should not be a reason for anyone not to attend. All you have to do is drop me, and me alone, an e-mail, and your cost will be discreetly covered through a Reunion Scholarship. Several classmates have already pledged scholarship funds so you can attend. By the way, not one person in the class will know. Like the Marines, we want no one left behind.
So let's recap . . . You got fat, as did most of us; you are not as pretty as you were, but who is; it's a long way to Ft. Pierce—the distance will never be shorter to go back 45 years; I don't have the money—we've got you covered.
So, now that you have no more excuses, do us a favor . . . register today!
I know that October seems like a long way in the future, and it is still more than six months away. But did you notice how fast 45 years passed? If you don't watch out, you will be putting up your Christmas tree, and we will be heading for our 50th reunion.
More important, we, the Class of 1970 could use the cash. It takes a lot of money to put a reunion together. With most of our classmates registering in the last 30 days before the reunion, it allows us to pay our accounts payable, but as one person on the committee that must find a way to pay the bills today, I can only say that it sure would be great if you all registered early—like now.
We have an abnormally large number of procrastinators in the great Class of '70. So, if you want to "change lunchroom tables," leaving the "procrastinator's table" and joining the "cool kids," go to the top of the yellow navigation bar on our website's left side, click the 45 Year Reunion, and register today. That will go much further to get you to a 60+-year-old cool kid than desert boots, faded madras, and fairy loops ever will.
While you are there, if you are financially able, we want to ask you toconsider becoming a "Scholarship Contributor." If you do, I promise that you will never know how your contribution was used or whom you helped make it to the reunion—but the impact nevertheless will be powerful. You will get a warm feeling all over (you children of the sixties remember that warm feeling all over, don't you) when you contribute $25, $50, or $100 to help someone else. Thanks in advance for showing your heart, and we will see you at the 45th.
By the way, although I've given the reasons some will use not to attend our 45th Reunion, there are three good reasons you should attend:
Because for better or worse, as a class, we are all forever joined to one another through the few years we traveled those open corridors of DMHS on our journey to the starting gate of our lives—no one else in our lives can say that.

You'll have a room full of chances to make new friendships and renew cherished 50-year-old friendships at the same time.

None of us knows how many more opportunities we will have to do #2.
Do you still need another reason to attend? How about this one? At our last party, our 60th Birthday Party, we made the local news when the police were called not once, not twice, but three times, to calm a bunch of loud and rowdy aging geezers swaying in unison to "Love the One You're With," cigarette lighters aloft with tear-stained cheeks. Now, do you want to miss a moment like that . . . again?
Keeping the Spirit Alive,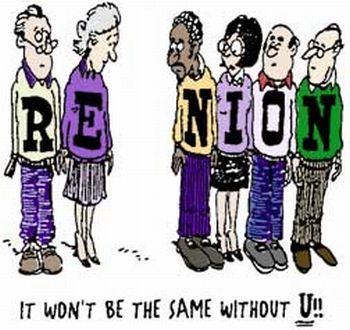 These classmates are already registered:
Rafael Arguelles (2)
Vernon Beaty (2)
Colleen Callahan (2)
Jim Carels (2)
Bobby Harrell (2)
Kenny Humphrey (2)
Dana Longino (2)
Richard Parker (2)
David Perdue (2)
Debra Pitts (2)
Eddy Reed (2)
Kent Tuthill (2)
Ernest Walker (2)
28 Total as of 3/29/15
P.S. Take a look at the new videos that David built for us - one will show you how to get a quick update on who is attending the reunion - I hope you see YOUR name on that list :-)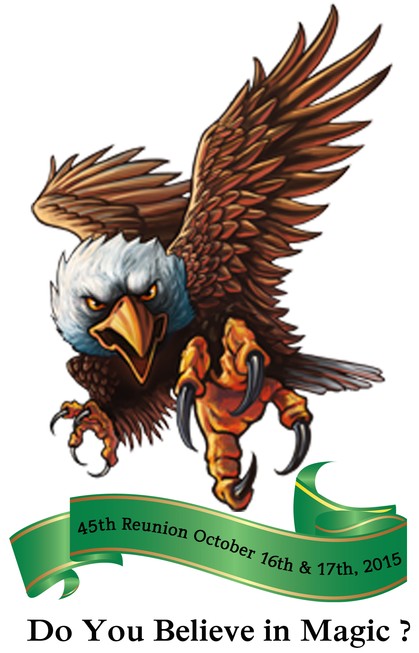 ---
Febuary 2015

The Ebb and Flow of Happiness
A while back, during one of my frequent chats with my good friend Bobby Harrell, he asked me the seemingly benign question, "How are things going, Richard?" My reply was simple: "Things are going extremely well. Everybody's healthy, there's sufficient funds finding its way to my bank account each month,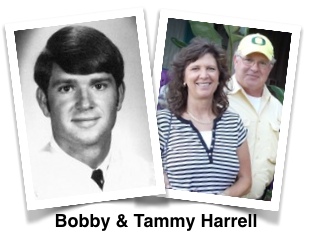 Joan and I are happily married,—things are about as good as they've ever been."
His reply was one of those straight-to-the-point statements that always gets my wheels spinning and usually ends up finding its way to one of my Ramblings. This was no different.
"That's good, Richard; too many people never think that they are in fact living the good old days now. Far too many are only appreciative of the good times when looking at them through the rearview mirror of life. It is good that you recognize how happy you are while you are happy."
Now, those of you who know my friend Bobby would agree that he has never been accused of being one of our generation's deep thinkers. But, more than a month later, I've not been able to shake his profound observation.
It is so easy for us to look back and say we wish we were again in our thirties, forties, or fifties because those were the best years of our life. I believe strongly that many of us will look back at our sixties and conclude that this was in fact our best decade. Let's examine the prima facie evidence.
The kids are grown (or at least older—some of you are still sticking a toe in the grownup pool even today, which in fact has the makings of another Rambling, I'm sure).

If we are going to have grandkids to spoil rotten, they are most likely here by our sixties, or at least coming down the tube (pun intended).

We are as financially secure as we are likely to be in our lifetime. BTW, that could have something to do with the kids being mostly grown and mostly gone.

Most of us have good health, meaning we can still name our prescriptions on both hands.

We still have mobility; in most cases, can remember what we had for breakfast; and have little fear being . . . well . . . dozens of yards from a bathroom without panicking.
And if we do in fact look back on this decade as one of our best, isn't the key for us to recognize that today, not in ten years?
I am committed to living a life full of appreciation, recognizing how truly blessed I am and knowing that I have pretty much won this cosmic lottery of life. Just think about what we have that others don't.
The poorest Americans would be among the richest in half the countries around the globe.

We can say and do pretty much anything we want without fear of persecution.

We are free to vote as we like, worship as we like, and then tell anybody about both.

We grew up in a time and place that more resembled Mayberry, North Carolina, than the east coast of Florida.

I can add to my list of grateful items two parents who loved me, a lifelong quest for knowledge, and friends too many to count.

I am even grateful for this website. Who would've thought that forty-five years after graduation, I would know the names of so many of my classmate's spouses, kids, and yes, grandkids, and would be able to speak to so many of them so often. Yes, that is a true blessing.
I believe that the trick for living a grateful life is to take inventory today of how good we have it—to avoid focusing on what could be better in favor of recognizing how many things are better than we deserved.
Lest you think that I'm the glass-is-half-full self-help guy looking at the world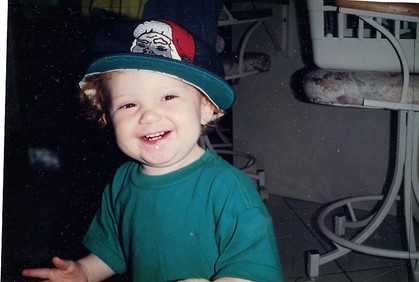 through rose-colored glasses, let me assure you that I, like most of you, have had plenty of low points in my life. At the top of that list was in 1998, burying my 2 1/2-year-old grandson Josh—truly an ebb in my happiness for quite some time.
But several years later, I discovered just how fortunate I was, learning that in vitro fertilization was now a common medical procedure which could and eventually would produce my namesake, Beau Parker Cole, even though it would take three costly deposit (monetary deposits, that is—get your mind out of the gutter, guys) before we accomplished that goal. But even in that costly process, I realized again just how blessed I was. I was blessed to have the resources to keep making those deposits until our family was blessed with Josh's little brother Beau. Now, how is that for a good Southern name?
Today, I focus on watching three wonderful grandkids evolve into respectful, smart, and loving young adults. That marvel of modern medicine, coupled with the fact that I believe strongly I will again one day see Josh, leaves me little to complain about.
As Garrison Keillor and the Catchup Advisory Board point out, these are the good times of our lives . . .
So, the next time someone asks how you are, why not fight the urge to tick off your most current list of aches and pains coupled with a demonstration of the proper pronunciation of the pharmaceutical answer for each? Instead, why not answer their question with a simple and to the point truism? "I'm better than most and certainly better than I deserved." After all, aren't you?
Keepin' the Spirit Alive,

P.S. On a bit of a different subject, we would like to ask you to register for our 45th Reunion on Oct, 16 & 17 of this year. It would help us a lot if you would register now because there are a lot of expenses that are forward loaded to pull off a great reunion. You know you are going to come, so please go to the left Navigation Bar and at the top click on 45 Year Reunion. It is simple. But if you need help give me a call at 321-223-9043. See you there.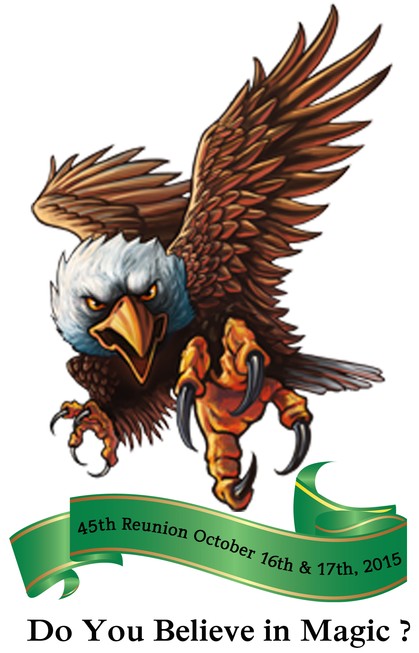 ---
January 2015

Post Hoc Ergo Propter Hoc
As we get older, we can easily argue that we are the way we are because we have always been that way. Our past is the reason (or excuse) for our future. The Latin phase post hoc ergo propter hoc comes to mind (Latin: "after this, therefore because of this"), sometimes shortened to post hoc.
The post hoc logic states that since event A occurred, then event B followed; therefore, event A must have caused event B. And of course, when B is undesirable, this pattern may be extended in reverse: avoiding A will therefore prevent B.
Now before you think that I have been spending the last 44 years studying Latin, let me confess that I am an avid West Wing fan and this is where I first hear referance to this Latin phrase. After that show I headed to Google for more research (where was Google in high school, I could have looked much smarter - the key work is "looked") and that Google romp has now found its way to this Rambling.
Many of us had parents that used the post hoc ergo propter hoc logic when "helping" us select friends. We don't want you to play with Doc and Ricky; every time you do, you get in trouble. There might have been a dash of wisdom there… yet, I digress.
However loigical this might seem, more times than not, post hoc proves to be a fallacy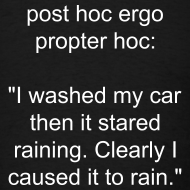 —an argument that uses poor reasoning. This is the basis of the adage "no good deed goes unpunished." It reasons that because we were good or helpful to another, something bad happened to us. Therefore, if I am not good or helpful in the future, I will avoid anything bad happening to me. Even the most cynical can easily see the fallacy in this logic.
This time of year, many of us make New Year's resolutions, sometimes with one eye looking backward. "Why try to change, y'all? What happened last year will also happen next." Our special Southern version of post hoc.
At the risk of sounding as though you have stumbled headlong into an online DMHS Latin course instead of this month's Rambling, I believe what is more logical is the similarly sounding, yet very different, cum hoc ergo propter hoc— a correlation doesn't mean it was the cause.
Correlation does not imply causation—a phrase used in statistics and science to emphasize that a correlation between two variables doesn't necessarily imply that one is the cause of the other.

Marching to our cum hoc drummer is freeing. It leads us to the unescapable conclusion that our past need not control our future, which can be a breath of fresh air when many of us are preparing for or are already in retirement. Recognizing that our past does not control our future can open a whole world of opportunities.
Imagine, if you will, that someone who does not view himself as a people person can become helpful to a host of others. Someone who has always been timid can become bold; a cold and unloving person can become warm and loving to those whose lives she touches.
You see; we are all turning the pages of our life daily. Just because, in your past, you said and did things a certain way does not mean you are destined to repeat the past.
After all, if we look at our lives as a book, our entering retirement is certainly entering a new chapter. So, why not throw off the shackles that have forced us to live, act, and believe a particular way for a new and improved persona? A Version 2.0 of ourselves.
I trust that 2015 will be a great year for each of you. And I can't wait to see your Version 2.0 in action.
Keepin' the Spirit Alive,
Richard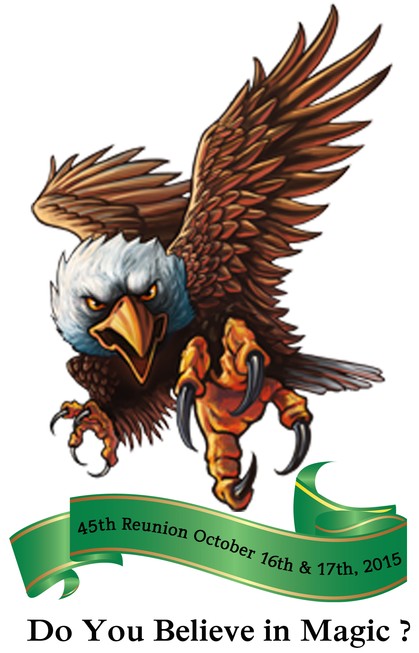 ---
December 2014

You Gotta Believe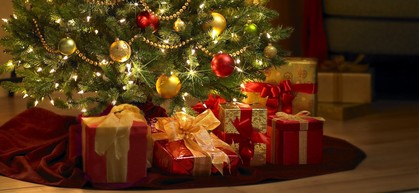 I remember when my younger brother Roger began to question the authenticity of Santa Claus and his eight tiny flying reindeer. At first, I tried to carry the party line "Of course, there's a Santa Claus; how else would we get all these presents?" Once it became clear that this logic was not working any longer, I became more pragmatic. "Listen, Roger, when you stop believing, the presents will stop".
With that brilliant stroke of logic, Roger and we managed to stretch Santa's annual visits and the gifts another few years. So it is in life—stop believing, and the gifts stop.
Whether you believe you can or you can't, you are right. Napoleon Hill, when writing Think and Grow Rich, put it this way, "Anything the mind of man can conceive and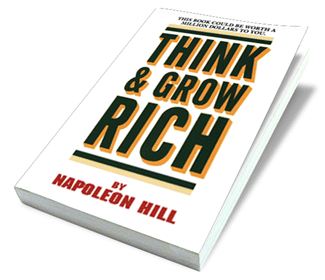 believe it can achieve." The operative word here is believe. We can all think of some crazy half-baked plan, but the question is whether we believe, deep in our gut, that we can accomplish it.
Hill's simple conceive/believe/achieve formula can be seen in every aspect of our lives, whether in believing that you will get that promotion, believing you can raise kids, or believing that you will receive love in return for the love you give. All these begin with the belief that you can accomplish whatever you set your mind to.
Having spent a lifetime in business, I've seen many smart, well-educated, and certainly well-equipped people fail miserably. On the other hand, I have seen those that none of us would take even odds on succeed at every turn. In most cases, the belief in themselves, and by extension, their ideas, was their secret sauce for success.
Over the last six decades, I have come to some cornerstone beliefs.
I believe that people are inherently good. Yes, there's a bad apple here and there, but for the most part, we live in a world full of good people just looking for ways to
demonstrate their goodness. People who will lend a helping hand when needed. And there seems to be some unwritten cosmic rule that those who give help, for the most part, benefit from helping others.
I believe that none of us is an island and that we are best when collaborating with others. For me, this was easy. Because I was never the sharpest knife in the drawer, I learned early to depend on others to fill in the potholes of my shortcomings. Go, team, has become one of my favorite mantras.
I believe that the person we choose to share our life with is one of the most critical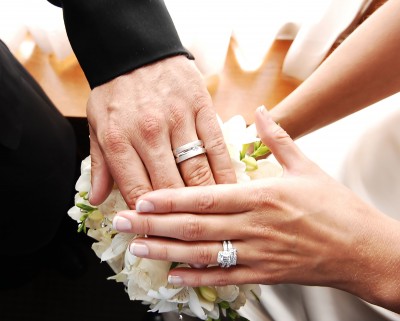 decisions any of us make. Although it might have taken some of us a time or two (or three) to find our soulmate, once found, the relationship is worth its weight in gold.
I believe that memories, like a fine wine, improve over time. It is difficult for me to remember with any clarity the bad things that have happened in my life. But my memory is chock full of good memories—memories of wonderful people, exciting places, and events that helped make me who I am today.
I believe that travel beats possessions. When I scanned the recesses of my memory, I don't remember my possessions—a car, a house, or a toy—rather a trip or vacation to a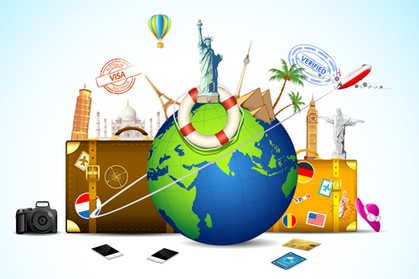 distant location brings a smile. And when you share travel with someone special, it prevents those memories from tarnishing. I believe that Alzheimer's is one of the most devastating diseases known to humankind because it steals those special memories created over a lifetime.
I believe that the adage that "no good deed goes unpunished" is 180° out. I believe it is just the opposite, and for the most part, most of us reap what we sow. If we are good people, focused on helping others, others seem more inclined to help us. That is not to say that we will not experience our share of challenges and heartaches, but a helping hand usually creates the same in return—to the power of 10.
I believe that things usually work out. It was Mark Twain that said, "Of the things I fear the most in my life, every now and then, one of them actually happened." I believe that focusing on fear will make you a fearful person. And that a "glass is half-full" attitude is at the cornerstone of being happy.
I believe that we were designed to work… not retire. I might change my mind about this sometime in the future, but as long as God blesses me with good health, I intend to work. I must say that the money produced from work is only a small part of my reason. For me, it is more about the excitement of what is to come. Over my career, I've seen so many who retired to a rocking chair that became a short layover before the graveyard. I believe that we are success-oriented and that we must be excited about what's coming next to feel fulfilled. We each need a reason that drives us to suit up and show up each day.
I believe that anyone who hurts a child or a dog should be shot. Both only want food,
shelter, and love. A Greek proverb says, "A society grows when old men plant trees whose shade they will never sit in." If you want to create something that will last, help a child realize his or her potential.
I believe that Christmas is easily the best time of the year. I will never be heard wishing you that politically correct, yet oh so benign, "Happy Holidays." I think we can all wish and be wished a Merry Christmas without doing lasting damage to anyone. For me, it is all but impossible to remember the reason for the season when you remove the word Christmas.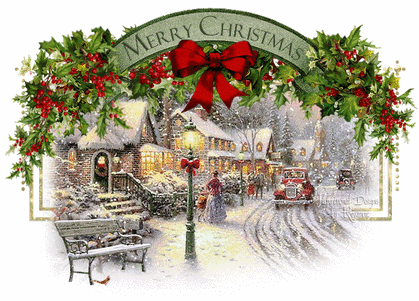 I believe that it's OK to disagree without hating. I believe that this country is great enough that we can overcome the huge divides that today seem to separate our political parties, religions, and races. I believe that most of us are all trying to make the right decisions based on the data we have. I believe that tolerance should be practiced because it is the right thing to do, not because it is in vogue. Maybe I should send this belief to Washington, DC.
I believe the existence of God is overwhelming, and it can be seen in every sunrise, the flowers in a thousand fields, the waves that crash on the sandy beach, and in the smile
of a child. I believe those who work overtime intent on disproving His existence are missing one of the greatest joys of our time on this Earth. And I believe that within this belief lies the assurance of eternity.
I believe that I have been blessed in my life beyond measure, for I had the good fortune to grow up in a small beach community at a time that life resembled an Andy of Mayberry rerun. A time when our doors were unlocked with our hearts. When it was cool to have school spirit. And to have been taught by two loving parents to usually do the right thing while being allowed to be just a little bit bad from time to time—I seem to have survived them both.
And I believe that I enjoy sharing these Ramblings with you each month about as much as anything in my life.
Merry Christmas and Keep on Keepin' the Spirit Alive,
Richard
P.S. And I also believe that if you miss our 45th reunion on October 16th and 17th of next year, you will miss a magical time with some wonderful people.
P.S.S. OK, mark your calendars for January 10, 2015. For our "Class of 70 Boys Night Out Poker Game" at 6:30 PM, the same location as last year, Tommie McDermid's party planning & Jim Huck's catering building located at 408 S. Farmers Market Rd. in Fort Pierce. We will also be holding a 45th Reunion Planning Session on the same day and same location at 3:30 PM - if you want to help on the reunion please make plans to attend everyone is invited.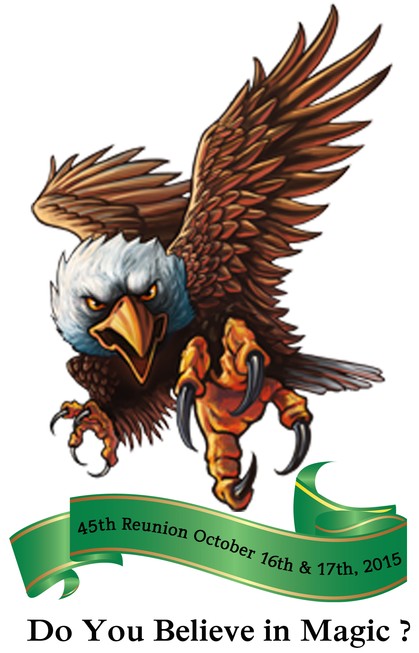 ---
November 2014

The End of Innocence
Why do so many baby boomers look back on their high school years with such fond memories? I am sure there are as many reasons as there are boomers, and most of us have pondered this thought more than a few times in recent years.
In a previous rambling, I recounted a cherished memory involving the senior parking lot, my 1961 Rambler, and an AM/FM radio tuned to WQAM while Chicken Man promised us all that he was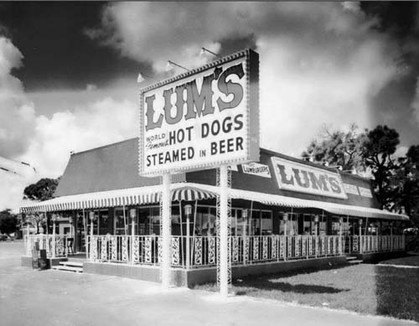 everywhere. Every cubic inch of that vehicle's interior was crammed to capacity with laughing McCarty High seniors on our way to Lum's for a steamed-in-beer hotdog.
With my left arm hanging out of the window, caressed by the warm salty breeze of our coastal community, I caught the reflection of my smiling face in the driver's side mirror. I will always remember the thought that popped into my mind. It was uncharacteristically insightful for a 17-year-old boy with a bad case of raging hormones. That thought was this is probably as happy as I will ever be. Now, don't get me wrong; I've had some great times since graduation. But few compare to those that preceded the "end of our innocence".
Today, I can't imagine why it was that we could not wait to grow up; we spared no shortcut on our march toward adulthood and a truckload of impending responsibility that awaited us all. What were we thinking?
I guess it was because we were certain that we already knew everything, and growing up was the last piece in the puzzle to make our lives as perfect as we were sure it was destined to be. We did not have a clue that with one decision, our young lives could change so completely in a New York minute.
One big reason we loved those years so much was because we all were still searching for who we were. We had few preconceived ideas about our lives' blank pages waiting for inscription. It was a time when a semi-true story could evolve into the gospel truth by fourth period.
Time passes; things change. Few of us had an inkling that life might give us anything other than what we chose. We thought our lives were about going places and doing things, when the real objective should have been to relish the moments. This was all before we understood what a great motivator a low bank balance could be, when we were still more concerned with making a difference than making a living and certainly before knowing how greatly our lives would be defined by opportunities—even those we missed.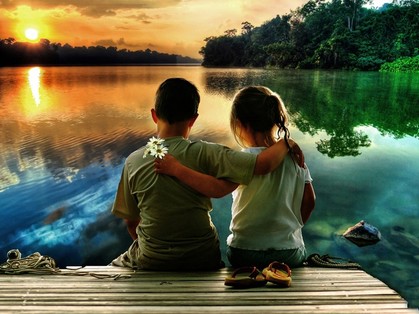 These were the days before we knew that the memory of a first love had little chance of fading, unaware that we could be hurt by love or healed by the same, and that mostly, timing determined which. We've learned unfinished affairs of the heart are just one more part of life. After all, in those McCarty years, we all flew so high that we never noticed it is not the kite, rather the wind.
And so, many of us were determined to leave Ft. Pierce ASAP, never considering that we could be close to home and still a world apart, never considering that paradise wasn't a place, rather a state of mind.
So, when you combine the solid foundation built during those high school years with more than six decades of trial and error, now thankfully, in the rearview mirror, we have experienced a lot and learned at least a little to become the people we are today. We've learned that the tears we carry hurt more than those we shed, that life is less of a race and more of a journey, complete with roadside parks if we will just take the time to pull over and enjoy them.
These lessons taught us that risk does not come with an on-and-off switch, rather a dimmer, making it OK to take a calculated risk. After all, if the captain's objective were to preserve the ship… he would leave the ship in port - forever.
Life has imparted to us that the most important opinion we have is the opinion we have of ourselves. What others think has little effect on us. We know that a person dancing usually looks crazy to those who can't hear the music, and when we find ourselves on thin ice, what the heck—we might as well dance.
In time, we have learned that it is important, that we spend our time doing what we really love to do, and to spend little time doing what we don't enjoy. Yes, time is a good teacher. After all even a
dimwitwill eventually learn that licking a wall socket is not much fun.
If we are fortunate, we learn just how small we are in this vast universe, and we must reach out to God, for He will not force Himself on any of us.
Keepin' The Spirit "Magic" Alive
Richard Parker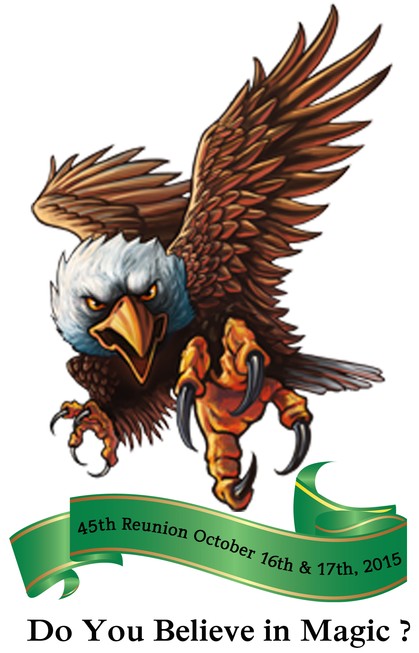 ---
October 2014

Time Travel
We're all traveling through time together
Every day of our lives
All we can do is do our best
To relish this remarkable ride
It was a Saturday morning, and I busied myself cleaning a week's worth of semi-bachelor clutter before the impending return of Joan, my wife of nearly 34 years, after her quarterly "grandbaby pilgrimage." In the background, the TV softly played a movie, About Time—more specifically, its theme song, "How Long Will I Love You?" As is usual in my multitasking lifestyle, as I gathered the
cloths from where they had been haplessly dropped and consciously ran through the checklist of things still to be done to assure myself a warm smile and a "good husband" peck, my subconscious began to wrap its sticky little fingers around a thought. That thought would kindle a rumbling destined to become a Rambling—this Rambling.
The light, whimsical tune cascaded through our motor coach for a minute or so before the inevitable handoff from subconscious to conscious. The first verse I really heard was its last:
We're all traveling through time together
Every day of our lives
All we can do is do our best
To relish this remarkable ride
The song was obviously written to describe the love between a man and woman, but after listening to it a second time, thanks to nimble fingers and a trip to YouTube, it took on a bit of a different meaning that morning. I thought, as I often do, of you and the independent, yet parallel, evolvement of our separate, but intertwined, lives.
Who would have known as we hurried down C Corridor to English class that this remarkable ride would have deposited us here? That today, 44 years later, the person who now resides in our bathroom mirror would be the same. And while the crow's feet might be more pronounced, I would not replace a line if it meant giving up the memories that have made this rollercoaster ride so much fun.
As a writer, I have always marveled at how a single word can change the meaning of a passage so completely. I thought how changing "love" to "know" would give such a different meaning to the verses.
How long will I love know you?
As long as stars are above you,
And longer if I can
How long will I need you?
As long as the seasons need to
Follow their plan
How long will I be with you?
As long as the sea is bound to
Wash upon the sand
How long will I love know you? Like it or not, you cannot un-know someone, so we as a group "know" more about one another than some of us would prefer to know. Until the end of our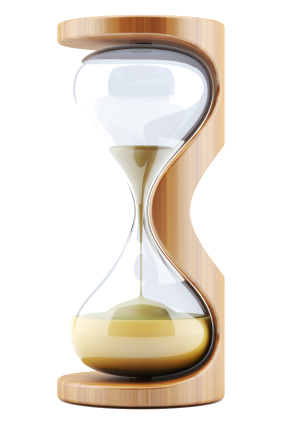 collective days, we will share the knowledge of a special time in our lives.
How long will I need you? There was a time in my life when I did not "need" any of you. But that day has long since faded. Today, I treasure the friendships of so many of you more than I ever thought possible.
How long will I be with you? Though time and distance separates us all, some part of each of us will remain in the hearts and minds of the others all the days of our lives.
We, the Class of '70 began our lives together. We "know" one another through that magical time when we experienced the firsts of our lives—first best friends, first dates, first kisses. We "know" how one another handled our first successes and failures, truths and lies, our good fortunes, and not so good.
So, although others can put on a façade when meeting someone new, showing him or her only the Version 2.0 of ourselves, your classmates of old already know you. They knew you before you were the you of today. They knew the Beta Version of you. It is said that it is easy to make new friends, but impossible to make new old friends.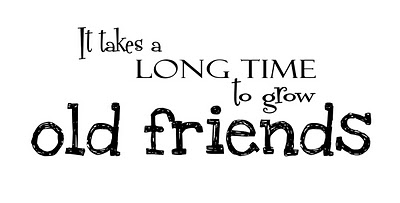 So, we find that our journeys have intertwined, like the cords of a strong rope, bound together by time, circumstances, and a dash of the luck-of-the-draw. And as far as I am concerned, that is not a bad thing.
Through our journeys, we've seen marriages and divorces, triumphs and failures, births and deaths, yet here we stand, individually and collectively. Maybe we are a bit fewer in numbers than on that warm spring evening at the amphitheater when we bid a fond farewell to McCarty High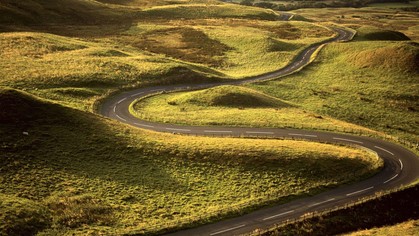 and one another. But, here we still stand, still with a bit of that wide-eyed expectation with which we viewed our futures from the relative safety of the turbulent sixties. Expectation tempered with a bit more common horse sense than could be found in any of us 4 ½ decades ago—baby boomers just living their lives.
So how long will I "know" you, Class of '70? Well, that is answered in this song much better than this aging wordsmith could ever relate with pen and paper.
Keepin' The Spirit "Magic" Alive
Richard Parker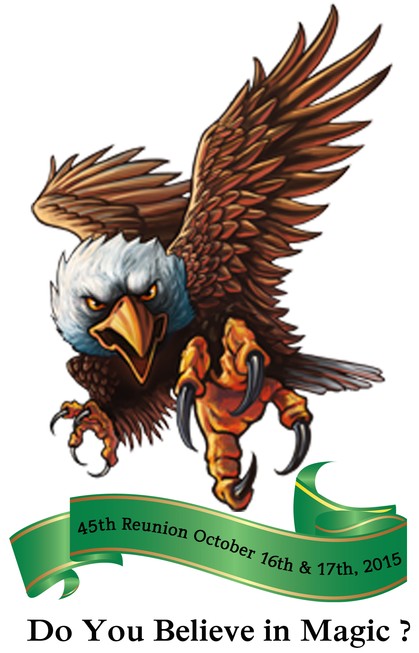 ---
September 2014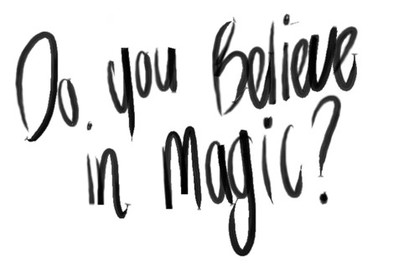 Early in my writing career, a mentor gave me a quotation: "Write something worth reading about or do something worth writing about." I've kept both in mind.
I must admit that helping put together our 45th Reunion has given me the same feeling I had as a 16-year-old Junior driving my first car to school, unsure of what would happen, but certain that I would be there when it did. Those years at McCarty High were magical for us.
We all experience life through our eyes, which is good. How boring would it be if we were all identical—if we saw things the same, felt the same, voted the same, and loved/hated the same things? That would be anything but magic. But we, as aging boomers, never need to worry about that, not in this fractured, "my way is the only way," world.
Today, I view you, my classmates of that bygone era, through my eyes and through my heart. I remember our 40th Reunion. I did not attend the 30th or 35th. Actually, I had no desire to attend the 40th, either. Logically, to me, I was the only one in our class who had aged and certainly the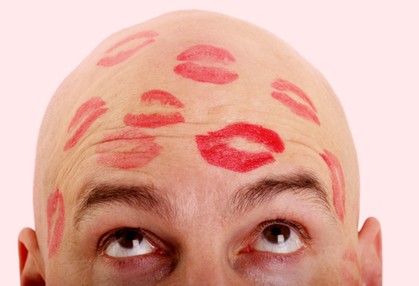 only one who had let out his belt a bit. Then, I went to the Class of '69's website and viewed their 40th Reunion photos. Holy gray hair, Batman! Those old kids really got old. Maybe I would go to our 40th after all; at least, I still had hair to show off. That was indeed a magical realization.
Even today, when I text, e-mail, or IM a classmate, in my mind's eye, I see that 17-year-old skinny kid with wide-eyed expectation with whom I'm chatting. In fact, that is whom I am talking with. Forget the fact that a slightly different version has taken residence in his or her bathroom mirror; it is still that kid. I know you each will agree that we don't feel much different (well… some mornings). We are still that bunch of adolescent boomers who thought we could, and therefore did, change the world. We magically stopped a war, changed music forever (maybe we should now try to do something about Hip Hop), and made the world look at what we were doing to our environment, celebrating the first Earth Day during our senior year.
For these reasons, it hit me hard when a classmate told me this week, "No, I'm not going to the 45th Reunion; I'll just wait until the 50th." Really? Although I did not say it, I wondered whether his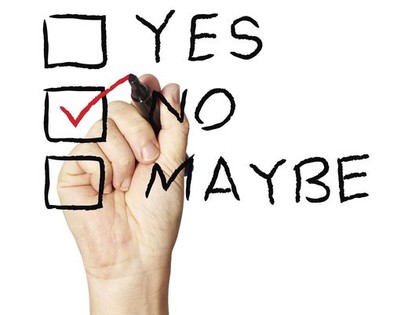 answer would be different if he were given a magical crystal ball—one that could see into the future to our 50th. What would his answer be if he could see who no longer could attend our 50th? Who knows, maybe that list would include him?
I asked myself how far I would travel and what I would pay if I knew that this was the last time I could see Bobby, Kris, Jim, David, Ricky, Doc, Janie, Cindie, Cal, Mitch, Warren, Steve, and the list goes on. I immediately knew the answer. I'd drive anywhere and spend anything to have one more time that is special with almost any of my classmates. After all, no magic can make an "old friend." These are vintage friendships. They really know you because they knew you before you were the you of today. Friendships that have withstood the test of time are to be cherished.
But at the 40th, a funny thing happened. As if by magic, a bunch of old acquaintances started to become old friends. Jim Lester and I have spoken about this often. We knew each other in school, but neither of us would have described the other as a friend. Over the past four years, that has changed. Today, we consider the other as not only a friend, but also as a brother. Heck, we know the name of each other's dogs. The line in the song "Reach Out of the Darkness" has a verse that encapsulates our journey:
I knew a man that I did not care for
And then one day this man gave me a call
We sat and talked about things on our mind
And now this man he is a friend of mine
Ricky, Jim and I thank you for that nudge, brother. And Jim, I can't dream of a reunion without you my friend.
How many "old-friends-to-be" will be waiting at our 45th? And if you are not there, you just might miss the chance to see that old acquaintance blossom into a vintage friendship to which you will cling for years. In fact, most of those from the Classes of '69, '70, and '71 whom I consider close friends today were, back in the day, nothing more than school acquaintances. And that, my friend, should be enough to make you "Believe in Magic."
If you have not completed "The New Reunion Deux" on the left Navigation Bar, please do so now. This survey will help us plan, so thanks in advance for taking the four-question survey ASAP. BTW, we already have 67, including spouses, committed to attend, and we are still almost 14 away.
Keepin' The Spirit "Magic" Alive
Richard Parker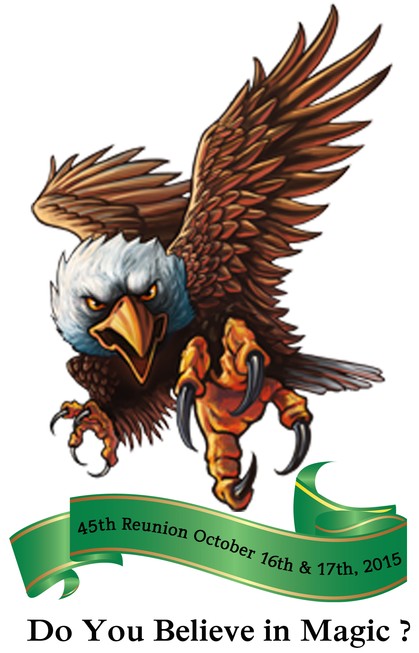 ---
September 2014

45th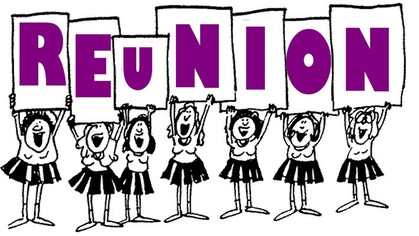 Well, it is official. The dates have been set. Our 45th Class Reunion will be held on Friday, October 16, and Saturday, October 17, of 2015. Yes, we know that some of you will miss sweltering in the summer heat, but this time, just to be different, we thought we would have the reunion when the weather is a little nicer in the subtropics.
Actually, we pretty much followed your wishes, at least the wishes of those 42 classmates who took the time to complete the online survey. When we asked the class what time of the year they preferred us to host the reunion, 33% (14) chose spring, 24% (10) chose fall, and 19% (8) did not really care. The facility that we rented was booked in the spring, so we moved it to the fall. Only 7% (3) chose the summer. Now, they tell us. After eight reunions—each during the summer months—we find that hardly anyone wanted that time. Isn't technology (like this survey) a wonderful thing?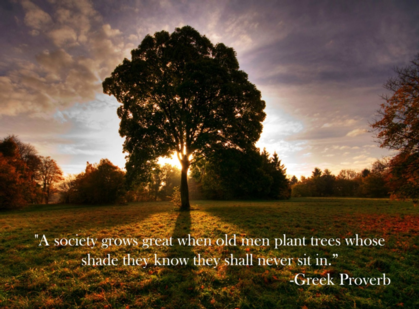 The next survey question dealt with the event's structure. Two separate catered events (Friday and Saturday nights) require much more time and work. They also drive up the reunion registration price. By a margin of almost 2 to 1 (29% compared with 54%), you said we should have a Dutch-treat Friday-night get-together at a local restaurant/bar and cater Saturday night. Your wish is our command.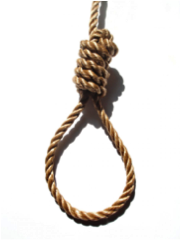 On the subject of whether we should bust our butts to do every task required to host the reunion or hire a party planner, you spoke loudly and clearly. By an almost 5 to 1 margin, you voted for the professional party planner—83% (34) compared with 17% (7). I deserve a pat on the back for this one. Why, you might ask? Because I fought the urge to send a congratulatory e-mail to the 7 who thought we should do all the work ourselves, letting them know that they had been unanimously elected chairpersons of the food, setup, and clean-up committees. Yes, at age 62, I still have a mean streak in me.
No one can say that this class is unwilling to lend a helping hand. Of the 42 responses to the survey, 31 were willing to help with the reunion. My slightly warped eye for detail noticed that 26% (8) volunteered to do anything by telephone, and 32% (10) said they would be glad to help with on the Internet and e-mail. So, I've devised a novel approach to increase attendance; I will have the 8 cold call everyone who has not yet registered each night at dinnertime, while the 10 spam them to death. Saying yes, I'm coming is easier than being targeted for abuse over the next 14 months. I bet that little plan will increase attendance.
What really warmed my heart was when we asked whether you would help with an additional donation of $25, $50, or $100 to pay for the reunion registration for any classmate who needs a financial helping hand. More than half the respondents raised their hand and said, "Count on me." Now, that's Eagle spirit, guys.
Here Are the Reunion Details:
Friday Night, we will have a Dutch treat evening at The Harbor Cove Restaurant (just over the railroad tracks headed toward North Beach; hang a right and go to the back of the Harbortown Marina). Thanks to Eddy and Debbie Reed for that recommendation and to Beannie Gartman Silverstein for taking care of making the arrangements at Harbortown. If you're watching your nickels and dimes, you can come to Harbortown and nurse club soda all night for a couple of bucks. Food and drinks will be Dutch treat, and we will begin the evening at 6:30. We will rock-and-roll until well past 8 o'clock (that's about as long as Bobby Harrell can make it these days).
Saturday Night, we will be at River Walk Center. Some of you will remember this location as the old Ft. Pierce Community Center. It is just to the south of the South Beach Bridge and actually abuts the Ft. Pierce Yacht Club where we had our 40th Reunion. This building is undergoing a multimillion-dollar renovation, and it will be beautiful when completed. Whereas the Ft. Pierce Yacht Club had a capacity of 120, River Walk has 150. Saturday night will also begin at 6:30 p.m.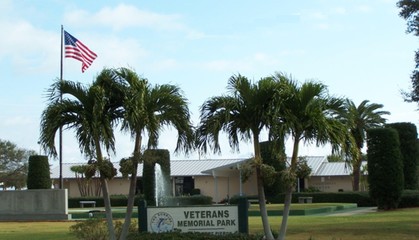 Our party planner is none other than the best party planner in all St. Lucie County—Tommie McDermid who also has the unlucky lot in life to be married to Cal McDermid (just kidding, Cal—you know we love you). Those of you who attended the 60th Birthday Party will remember that Tommie not only handled that event from soup to nuts but also allowed us to hold the party in her and Cal's backyard. She is already doing a great job with planning. By using a party planner, not one person in the class will be required to set up, clean up, or make sure the buffet is well stocked—well, almost no one. Jim Huck, you must accept that when barbecue is as good is yours, there is not a snowball's chance you will get out of catering the event.
And yes, Mitch, for the ninth consecutive reunion, you and your band will provide the musical soundtrack for our reunion. Hey, gang, do you want to hear something funny? Mitch asked me whether I thought people were getting tired of hearing his band with a dash of the remnants of Tradition's Children thrown in for a set playing at the reunion. When I stopped laughing, I told him that it would not be an official reunion without him and his band rocking the night away. Yes, Mitch, I'm sure. We love you brother, and thanks for providing the soundtrack for our reunions for 45 years.
Our promotion for the event will be exclusively digital. For our 60th Birthday Party, the only promotion was through the class website. That produced the largest attendance of any reunion we've had in recent years with more than 300 for the night. But you each can have a powerful impact on our reunion attendance. As of today, you have more than 14 months before the event. I would like to ask every person in this class to post our 45th Reunion dates on his or her Facebook page and websites and Tweet it to the top of your lungs. (Or is that thumbs? Technology is so confusing!). Be sure and direct your readers back to our class website. The URL is difficult to remember—www.DanMcCarty70.com
When you see people in a store or at a restaurant, do not assume that they know about the reunion. Ask them whether they are registered. We will open registration on the class website as soon as we firm the price. We intend to keep the prices as low as possible, certainly well under $2,000 a person. Just kidding, Beannie.
Now, I've heard all the excuses.
•

It's a long trip back to Ft. Pierce. It's not that far, and besides, I understand that Dana Longino just bought a new motor coach and said he would be happy to pick you all up… Road Trip!

•

It costs too much to attend. I do not want to hear it. We have 23 people already volunteering to pay your way. No one will know that you receive a reunion scholarship. Money should not deter your attending. In addition, Kris Metzger told me to tell you all that you could sleep at her house. Pretty cool.

•

I'm not going because I have to go to the bathroom every 25 minutes. Our first requirement in a reunion location was plenty of bathrooms. We are all in the same boat here.

•

I'm not coming because I got old and fat, and I'm sure no one else in the class did. Right! BTW, have you seen the Class of '69? Those dudes really got old. Everyone except Jimmie Anne.
Let's recap. Dana is picking you up, some mysterious donor is paying your way, you are spending the night at Kris' house, and you look much better than anyone does in the Class of '69. It just doesn't get any better than that, folks!
Here's a newsflash. None of us is getting any younger, and if you don't come to the 45th Reunion when will you make it home again? For our 75th?
A special thank-you to those who helped us pick the location for Friday and Saturday nights—Ricky and Beannie Silverstein, Kay Culbertson, Eddy and Debbie Reed, and of course, Miss Tommie, who met us at River Walk with key in hand and was wonderful and professional while being sick as could be.
Keepin' the Spirit Alive - Heading to 45
Richard Parker
---
July 2014

I Hate Steve Jobs!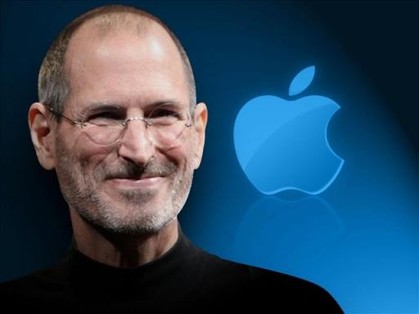 More accurately, I hate Apple TV. To clarify further, I hate the slideshow mode of Apple TV and the spotlight it places on my last 40 years. Yes, come to think of it, the slideshow is the culprit.
I'll admit it. Over the last 20 years, I have turned into something of an arms-length geek. Technology can both excite me and frustrate me… sometimes simultaneously.
This year, we retrofitted all three televisions in our motor coach (we need three TVs crammed into 40 linear feet) with Apple TVs. For the nongeeks reading, Apple TV is not a TV. It's a little black box measuring 4″ x 4″ and a mere 1″ in thickness (it could be any size because my wife says men are notoriously prone to exaggerate lengths) that connects to both the Internet and the HDMI (I told you I was a geek) plug on your television.
Apple TV comes with another remote, bringing the total to somewhere around 11 at last count. Once the remote juggle has been mastered, Apple TV gives you tremendous connectivity enhancement. For example, my Apple computer can connect to the television, and the TV can connect to the Internet through this little black box allowing me to watch YouTube videos and cruise the DMHS website, boastfully showing guests each WDMH radio show with blow-by-blow live narration of my upcoming recorded narration.
It has allowed me to access (my wife might say become addicted to) Netflix and, by extension, House of Cards, Hulu, HBO GO, PBS, Bloomberg, the Weather Channel, Red Bull TV, and my and my granddaughter Brittney's favorite, the History Channel.
So, with all the entertainment supplements at my fingertips, you might ask why I hate Apple TV.
The seeds of my discontent found germination in the Settings tab. There, you will find the screensaver mode. Mine is set on two minutes, thereafter automatically invoking the screensaver mode and retrieving the photographs, hundreds of them, highlighting my life for the past 40 years. More than 600 photographs in random succession transition on and off the screen showing my wife, my kids, and my grandkids and even me as the ravages of time slowly, yet incessantly, wreak havoc on my face, hair color, and waist.
From time to time, I catch myself pausing as I am magically transported to a different place and time. There are shots from my childhood, graduation from dear old McCarty High, and there is the shot from a 35mm camera mounted on a tripod, flashing at the precise moment that I asked Joan to marry me (BTW, she said yes, for reasons I'll never understand). There is the pose on the accursed SS Norway as we prepared to leave Barcelona, Spain, for what seemed a 12-year crossing of the Atlantic Ocean. (The crossing took only six days, or so they tell me, it still seemed like 12 years).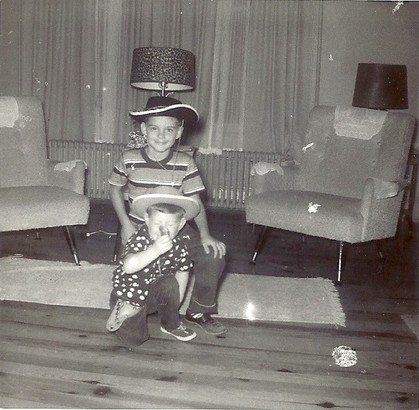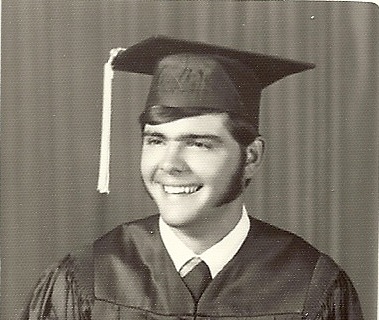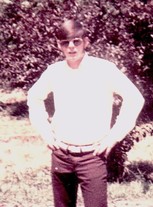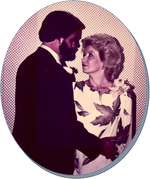 There are pictures from a sleek and slim 30-something couple on the ridge of the Grand Canyon, in Pedro's Castle on Grand Cayman, preparing for our first glider flight in Colorado, in a gondola in Venice, California, by the Christmas tree in our first home, and snowmobiling the Rocky Mountains.
As we reached our forties, my hair showed a distinguished splash of gray in the temples, the crow's feet around my eyes lengthened to what might be confused with the claws of a Therizinosaurus, and my waistline bragged that life at the Parker House was always fun. That decade showed us traveling extensively to the Caribbean, Europe, Japan, and Australia, usually dragging at least one grandchild with us. There was an array of photographs of us and our business partners who helped us build our brokerage firm.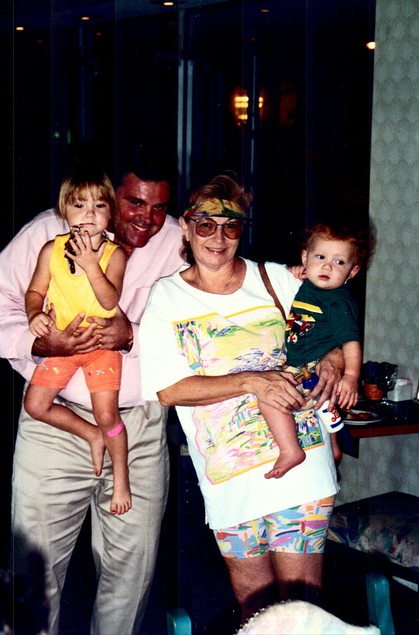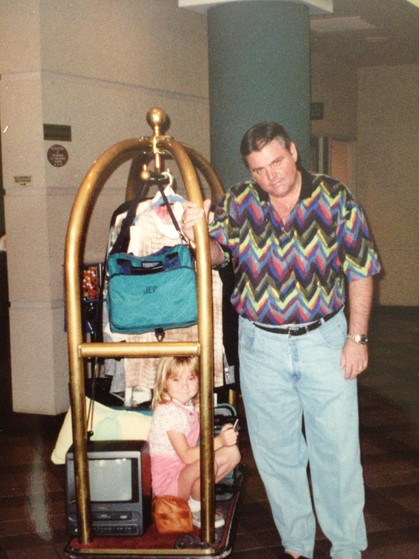 During our fifties, we began to RV, garnering many photographs attesting to our wanderlust disposition. There were concerts of Jimmy Buffett, Lynyrd Skynyrd, ZZ Top, and more, even photos of a smiling couple posing, while just over their shoulder, bears fed on fresh salmon. My white-knuckled fear of heights was cleverly disguised as I smiled for the camera just before our hot air balloon ascended high over Napa Valley. We documented snowstorms in Banff, Canada, more trade shows than I care to remember, deep-sea fishing in the Atlantic Ocean, horseback rides in Texas, two Olympics (Los Angeles and Atlanta), and putting on more silly hats than I care to confess.
With a nostalgic smile, I viewed the photographs of our faithful family friends: Willie, Rufus, Boomer, and of course, Sargent (#1, #2, and #3—what can I say? We like the name.). Good dogs, everyone.
I watched with a little sadness, as before my eyes, three beautiful grandbabies—Brittney, McKenna, and Beau—grew up. And I fought back a tear as I saw little Josh who was tragically and suddenly taken at only 2½.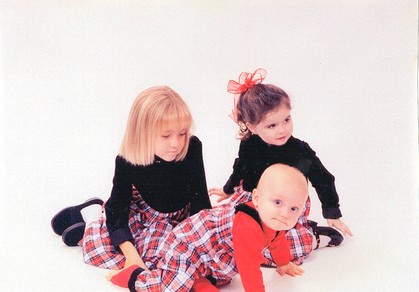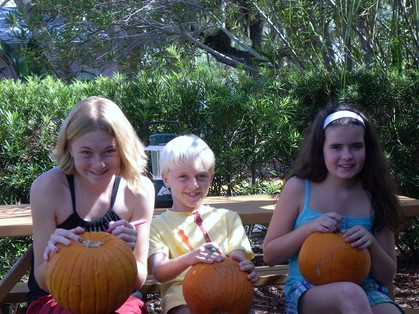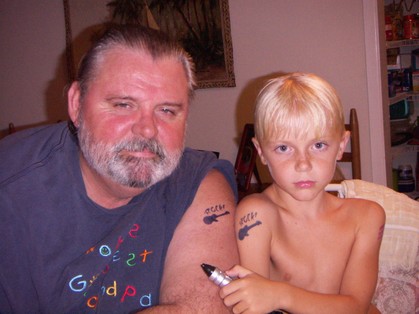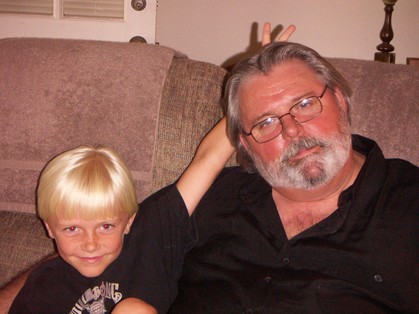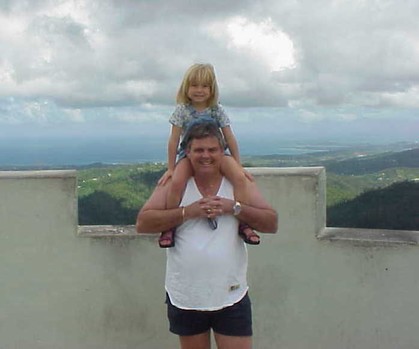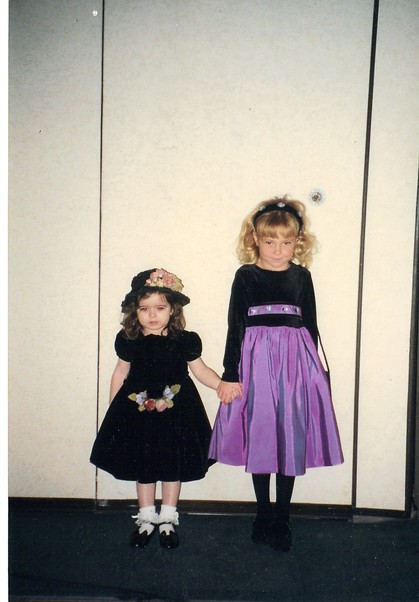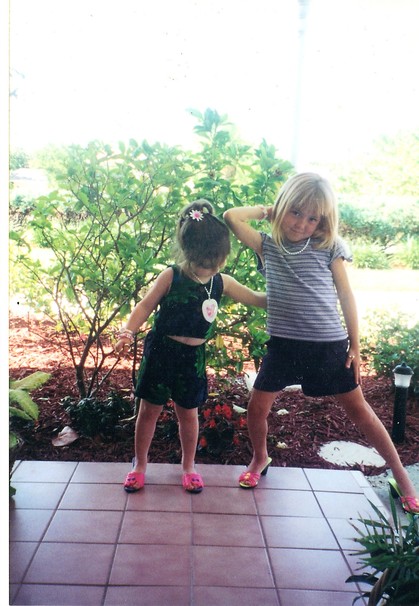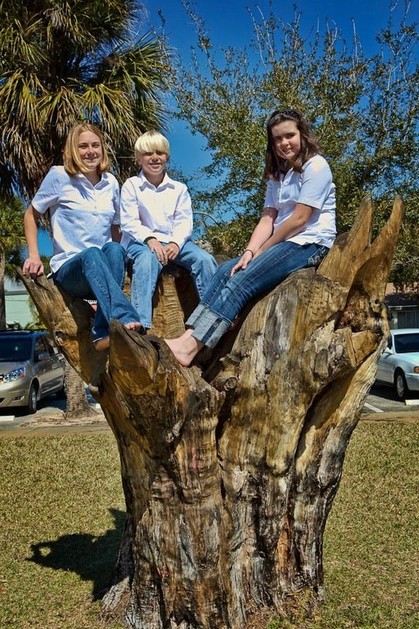 I saw photos of holidays and vacations, birthdays and anniversaries, happy times and sad. We were dressed in formal attire and bathing suits during times of stress and leisure through our successes and failures. It takes many photos to document 40 years.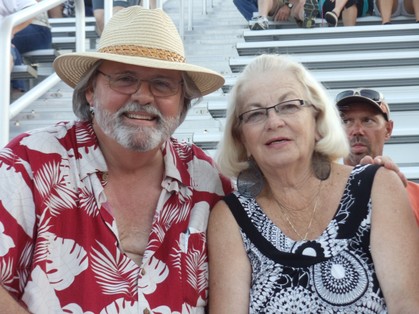 I cannot help wondering whether, if I could have seen these photos on the day we left McCarty High, they would have influenced my life. Would I have taken a different road, and if so, which?
After many minutes watching the ingress/egress of the photos of our life slide on and off the screen, I answered that question much the same way that Frank Sinatra answered for the generation before us...
I've lived a life that's full
I traveled each and every highway
And more, much more than this
I did it my way
Regrets, I've had a few
But then again, too few to mention
I did what I had to do
And saw it through without exemption
I planned each charted course
Each careful step along the byway
And more, much more than this
I did it my way
Yes, there were times, I'm sure you knew
When I bit off more than I could chew
But through it all, when there was doubt
I ate it up and spit it out
I faced it all and I stood tall
And did it my way
I've loved, I've laughed and cried
I've had my fill, my share of losing
And now, as tears subside
I find it all so amusing to think I did all that
And may I say, not in a shy way
Oh, no, oh, no, not me, I did it my way
I wonder what the next 40 years of photos will look like. But then again, who cares what I look like. The graying hair does not matter (at least I still have some) and the ever expanding waistline is not going to become skinny anytime soon. But, as I look back on my own long and winding road I am reminded that...
Beginings are usually scary
Endings are usually sad
But, it is what is in the middle that counts
Make the middel count Eagles!
Keepin' the Spirit Alive,
Richard
May 2014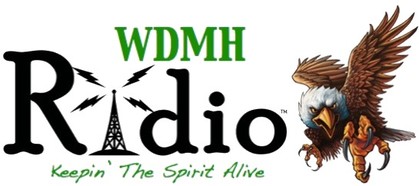 Welcome back gang, to our
May 2014 WDMH Radio Show
The Psychedelic Sixties
So sit back, and buckle your seatbelt as together we,
Keep The Spirit Alive!
FYI - Part of the YouTube business model is to drop in ads at the bottom of videos like ours (see the Legal Nurse Consulting example below).
To Remove the Ads justclick the X at the top right of the Ad

Also the Open Brackets at the bottom right, just to the right of the YouTube logo will allow you to view the show in Full Screen - the best way to view it.
Ready, Set, Click the Play Button
(Don't forget to take the WDMH Radio Survey on the Navigation Bar to the left)
---
July 2014
Maybe You've Read This - It Is Worth Reading Again

The 56 Who Risked Everything
It was a glorious morning. The sun was shining and the wind was from the southeast.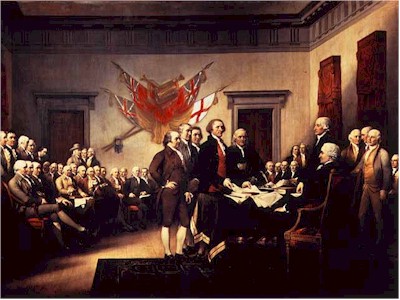 The temperature was 72.5 degrees and the horseflies weren't nearly so bad at that hour. It was a large room, with gleaming white walls. The chairs were comfortable. Facing the single door were two brass fireplaces, but they would not be used today.
The moment the door was shut, and locked, the room became an oven. The tall windows were shut, so that loud quarreling voices could not be heard by passersby. Small openings atop the windows allowed a slight stir of air, and also a large number of horseflies. Jefferson records that "the horseflies were dexterous in finding necks, and the silk of stockings was nothing to them." All discussing was punctuated by the slap of hands on necks.
On the wall at the back, facing the president's desk was a panoply -- consisting of a drum, swords, and banners seized from Fort Ticonderoga the previous year. Ethan Allen and Benedict Arnold had captured the place, shouting that they were taking it "in the name of the Great Jehovah and the Continental Congress!"
Here in this hall Patrick Henry had once thundered: "I am no longer a Virginian, sir, but an American." But today the loud, sometimes bitter argument stilled, and without fanfare the vote was taken from north to south by colonies, as was the custom. On July 4, 1776, the Declaration of Independence was adopted.
There were no trumpets blown. No one stood on his chair and cheered. The afternoon was waning and Congress had no thought of delaying the full calendar of routine business on its hands. For several hours they worked on many other problems before adjourning for the day.
Much To Lose
What kind of men were the 56 signers who adopted the Declaration of Independence and who, by their signing, committed an act of treason against the crown? To each of you, the names Franklin, Adams, Hancock and Jefferson are almost as familiar as household words. Most of us, however, know nothing of the other signers. Who were they? What happened to them?
I imagine that many of you are somewhat surprised at the names not there: George Washington, Alexander Hamilton, Patrick Henry. All were elsewhere.
Ben Franklin was the only really old man. Eighteen were under 40; three were in their 20s. Of the 56 almost half - 24 - were judges and lawyers. Eleven were merchants, nine were landowners and farmers, and the remaining 12 were doctors, ministers, and politicians.
With only a few exceptions, such as Samuel Adams of Massachusetts, these were men of substantial property. All but two had families. The vast majority were men of education and standing in their communities. They had economic security as few men had in the 18th Century.
Each had more to lose from revolution than he had to gain by it. John Hancock, one of the richest men in America, already had a price of 500 pounds on his head. He signed in enormous letters so that his Majesty could now read his name without glasses and could now double the reward. Ben Franklin wryly noted: "Indeed we must all hang together, otherwise we shall most assuredly hang separately."
These men knew what they risked. The penalty for treason was death by hanging. And remember, a great British fleet was already at anchor in New York Harbor.
It was principle, not property, that had brought these men to Philadelphia. Two of them became presidents of the United States. Seven of them became state governors. One died in office as vice president of the United States. Several would go on to be U.S. Senators. One, the richest man in America, in 1828 founded the Baltimore and Ohio Railroad. One, a delegate from Philadelphia, was the only real poet, musician and philosopher of the signers. (It was he, Francis Hopkinson not Betsy Ross who designed the United States flag.)
Though the resolution was formally adopted July 4, it was not until July 8 that two of the states authorized their delegates to sign, and it was not until August 2 that the signers met at Philadelphia to actually put their names to the Declaration.
William Ellery, delegate from Rhode Island, was curious to see the signers' faces as they committed this supreme act of personal courage. He saw some men sign quickly, "but in no face was he able to discern real fear." Stephan Hopkins, Ellery's colleague from Rhode Island, was a man past 60. As he signed with a shaking pen, he declared: "My hand trembles, but my heart does not."
"Most Glorious Service"
Even before the list was published, the British marked down every member of Congress suspected of having put his name to treason. All of them became the objects of vicious manhunts. Some were taken. Some, like Jefferson, had narrow escapes. All who had property or families near British strongholds suffered.
· Francis Lewis, New York delegate saw his home plundered -- and his estates in what is now Harlem -- completely destroyed by British Soldiers. Mrs. Lewis was captured and treated with great brutality. Though she was later exchanged for two British prisoners through the efforts of Congress, she died from the effects of her abuse.
· William Floyd, another New York delegate, was able to escape with his wife and children across Long Island Sound to Connecticut, where they lived as refugees without income for seven years. Coming home they found a devastated ruin.
· Philips Livingstone had all his great holdings in New York confiscated and his family driven out of their home.
· Louis Morris, the fourth New York delegate, saw all his timber, crops, and livestock taken. For seven years he was barred from his home and family.
· John Hart of Trenton, New Jersey, risked his life to return home to see his dying wife. Hessian soldiers rode after him, and he escaped in the woods. While his wife lay on her deathbed, the soldiers ruined his farm and wrecked his homestead. Hart, 65, slept in caves and woods as he was hunted across the countryside. When at long last, emaciated by hardship, he was able to sneak home, he found his wife had already been buried, and his 13 children taken away. He never saw them again. He died a broken man in 1779, without ever finding his family.
· Dr. John Witherspoon, signer, was president of the College of New Jersey, later called Princeton. The British occupied the town of Princeton, and billeted troops in the college. They trampled and burned the finest college library in the country.
· Judge Richard Stockton, another New Jersey delegate signer, had rushed back to his estate in an effort to evacuate his wife and children. The family found refuge with friends, but a Tory sympathizer betrayed them. Judge Stockton was pulled from bed in the night and brutally beaten by the arresting soldiers. In jail he was deliberately starved.
· Robert Morris, merchant prince of Philadelphia, delegate and signer, met Washington's appeals and pleas for money year after year. He made and raised arms and provisions which made it possible for Washington to cross the Delaware at Trenton. In the process he lost 150 ships at sea, bleeding his own fortune and credit almost dry.
· George Clymer, Pennsylvania signer, escaped with his family from their home, but their property was completely destroyed by the British.
· Dr. Benjamin Rush, also from Pennsylvania, was forced to flee to Maryland. As a heroic surgeon with the army, Rush had several narrow escapes.
· John Martin, a Tory in his views, lived in a strongly loyalist area of Pennsylvania. When he came out for independence, most of his neighbors and even some of his relatives ostracized him. He was a sensitive and troubled man, and many believed this action killed him. When he died in 1777, his last words to his tormentors were: "Tell them that they will live to see the hour when they shall acknowledge it [the signing] to have been the most glorious service that I have ever rendered to my country."
· William Ellery, Rhode Island delegate, saw his property and home burned to the ground.
· Thomas Lynch, Jr., South Carolina delegate, had his health broken from privation and exposures while serving as a company commander in the military. His doctors ordered him to seek a cure in the West Indies and on the voyage, he and his young bride were drowned at sea.
· Edward Rutledge, Arthur Middleton, and Thomas Heyward, Jr., the other three South Carolina signers, were taken by the British in the siege of Charleston. They were carried as prisoners of war to St. Augustine, Florida, where they were singled out for indignities.
· Thomas Nelson, signer of Virginia, was at the front in command of the Virginia military forces. With British General Charles Cornwallis in Yorktown, fire from 70 heavy American guns began to destroy Yorktown piece by piece. Lord Cornwallis and his staff moved their headquarters into Nelson's home. While American cannonballs were making a shambles of the town, the house of Governor Nelson remained untouched. Nelson turned in rage to the American gunners and asked, "Why do you spare my home?" They replied, "Sir, out of respect to you." Nelson cried, "Give me the cannon!" and fired on his magnificent home himself, smashing it to bits. But Nelson's sacrifice was not quite over. He had raised $2 million for the Revolutionary cause by pledging his own estates. When the loans came due, a newer peacetime Congress refused to honor them, and Nelson's property was forfeited. He was never reimbursed. He died, impoverished, a few years later at the age of 50.
Lives, Fortunes, Honor
Of those 56 who signed the Declaration of Independence, nine died of wounds or hardships during the war. Five were captured and imprisoned, in each case with brutal treatment. Several lost wives, sons or entire families. One lost his 13 children. Two wives were brutally treated. All were victims of manhunts and driven from their homes. Twelve signers had their homes completely burned. Seventeen lost everything they owned. Yet not one defected or went back on his pledged word. Their honor, and the nation they sacrificed so much to create is still intact.
And, finally, there is the New Jersey signer, Abraham Clark.
He gave two sons to the officer corps in the Revolutionary Army. They were captured and sent to that infamous British prison hulk afloat in New York Harbor known as the hell ship Jersey, where 11,000 American captives were to die. The younger Clarks were treated with a special brutality because of their father. One was put in solitary and given no food. With the end almost in sight, with the war almost won, no one could have blamed Abraham Clark for acceding to the British request when they offered him his sons' lives if he would recant and come out for the King and Parliament. The utter despair in this man's heart, the anguish in his very soul, must reach out to each one of us down through 200 years with his answer: "No."
The 56 signers of the Declaration Of Independence proved by their every deed that they made no idle boast when they composed the most magnificent curtain line in history. "And for the support of this Declaration with a firm reliance on the protection of divine providence, we mutually pledge to each other our lives, our fortunes, and our sacred honor."
There is no more profound sentence than this: "We hold these truths to be self-evident, that all men are created equal, that they are endowed by their Creator with certain unalienable rights, that among these are Life, Liberty, and the pursuit of Happiness..."
This 4th while enjoying the fireworks take a minute to remember the 56.
Keepin' the Spirit Alive,
Richard
May 2014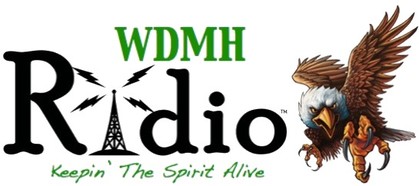 Welcome back gang, to our
May 2014 WDMH Radio Show
The Psychedelic Sixties
So sit back, and buckle your seatbelt as together we,
Keep The Spirit Alive!
FYI - Part of the YouTube business model is to drop in ads at the bottom of videos like ours (see the Legal Nurse Consulting example below).
To Remove the Ads justclick the X at the top right of the Ad

Also the Open Brackets at the bottom right, just to the right of the YouTube logo will allow you to view the show in Full Screen - the best way to view it.
Ready, Set, Click the Play Button
(Don't forget to take the WDMH Radio Survey on the Navigation Bar to the left)
---
June 2014

Bonus Man's Day Rambling
(Re-Post From Father's Day 2011)
Hope You (or Your Man) Had a Bad Father's Day
But I do hope you (or your Mr. Special) had a great Man's Day. Now, before I start, let me say to you ladies that we men love and respect you. And 364 days a year, our focus is to put you on a pedestal. But I must say, as the self-appointed spokesperson for all men worldwide, it is sometimes difficult to give you what you say you want. If you ask most women what kind of man they would like to have, they reply, one who is nurturing, kind, caring, and who will listen without trying to fix every problem. Pardon me, ladies, but that sounds a bit like you are really looking for… another woman.
Don't Fix It—Just Listen
Hey, guys, by viewing that video, we just might discover why women outlive men, on average, by six years. It just might have something to do with the fact that they don't have to marry women—just kidding, ladies; settle down, there is a reason these words of wit and wisdom are called Ramblings.
That said, Man's Day is our only day of the year, but somewhere along the way, most likely with a little help from Hallmark, we stopped celebrating men and started celebrating fathers. My question is do we stop being men when we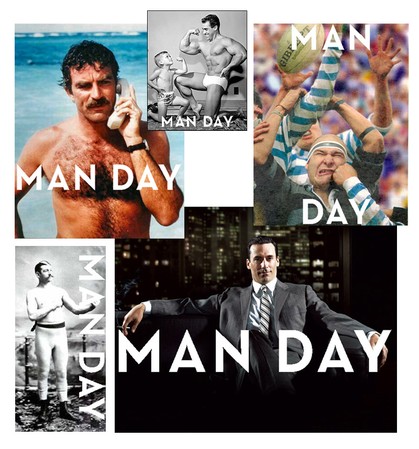 become fathers? And my follow-up to this thought-provoking probe of the innermost recesses of the mind is how many fathers were not first men? So, isn't Father's Day a bit exclusionary? And of course our trusty PC dictionary tells us that to exclude is a no-no.
After all, the entire basis of Father's Day is for the family to say thanks to dear old Dad. So, that brings me to my third question—thank you for what? Would it be for working hard, caring for others, providing emotional and financial support, and generally just being a good guy? How many plain old men (as opposed to fathers) do you know who have these same attributes?
So, here it is. I am off on a one-man mission to change Father's Day to the more inclusive Man's Day. After all, it seems that, in many cases, the line of demarcation between a simple man and an all-American dad has more to do with a case of Fallopian Russian roulette than any deliberate act—at least that was the case in high school—can I get an amen, guys? It's seems more about how fast your little guys swim and their dogged determination to reach their goal. Therefore, good swimmers equal Happy Father's Day. Lazy backstrokers, Happy Man's Day.
The point is simple. Both men and fathers have affected all our lives positively. So, now that this year's Man's Day is over, I would like you to take a moment to think back on all the men who have positively influenced your life. And on this, their only day of the year, why not cast a wider net and wish all men Happy Man's Day?
By the way, if you want to make my Man's Day wish come true, go to the Message Forum on our class website and tell us about one man who has made your life a bit better. It is easy to do, just click on Post Reply, and start typing.
Keepin' the Spirit Alive,
Richard
---

I hesitated in posting the below email not wanting it to seem boastful or bragging in any way. I sought the advice of several classmates asking their opinion. After that council I looked at the sharing of the email a bit differently.
I recognize that we have as a group built and continue to manage our class website. This group includes but is certainly not limited to; David Barnes for co-producing the WDMH radio shows, Cindie McNeil helping with the initial building of the site, Robert Darling scanning and posting the yearbook photos, Garry Morrison helping locate our classmates, Barbara Furr personally contacting so many of our classmates, Ronnie Griffith "Mr. Happy Birthday", all our financial sponsors (see financial sponsor link on the yellow navigation bar) all of you that post on the Coconut Telegraph a regular basis, those who allowed me to interview them for a Spotlight, the classmates that have sent better than 49,000 emails to each other via our website, the many of you that have sent in hundreds of photos, my fellow webmasters Jimmie Ann Nourse (69) Billie Sue Huck (67) and Vic Beaty (71) who share so freely with me. And the list goes on.
So this letter is actually to all of you. Marla Bryan (the sender of the email) found our WDMH shows on an admin site for the webmasters of Class Creator to post helpful hints. The posting was from Jimmie
Anne of the Class 69. The Class of 70 is now sharing our Radio Show and Ramblings with Western Heights High School in Oklahoma City, Oklahoma Classes of 81 & 82. The "Eagle Reach" continues.
The last reason that I posted Marla's email is to let the many volunteers that help with the site to know their work has made and continues to make an impact. I would encourage each classmate to thank each of these Eagle volunteers on a regular basis – your thanks are the only "compensation" they receive for their many hours of work.
I hope you enjoy the email.
Keepin' the Spirit Alive
Richard
Hello Richard,
Compliments and praisings from a non-member of your Class of 70 site. Thank you!
WDMH Radio Shows is… in a word…AWESOME!!! Since I am not a member of your site, I cannot reply to the survey, so wanted to write you an email to let you know your Class website and Radio Shows are truly AWESOME and probably ONE OF THE BEST class websites I have had the pleasure to enjoy!
I am the root admin for Western Heights High School in Oklahoma City, Oklahoma… www.whhs81.com and the class behind me www.whjets1982.com utilizing Class Creator and found your site via a posting by Jimmie Anne Haisley (March 23, 2014) stating 'awesome website' on www.facebook.com/classconnectionfanpage and I do agree... www.danmccarty70.com is a superbly awesome site!!! I truly enjoyed the WDMH Radio Show - May 2014 – Psychedelic Sixties!!! Thank you Richard Parker –Mr. Keepin' the Spirit Alive, Host/Co-Producer and David Barnes, Co-Host/Co-Producer!!! This show was so great I had to visit past shows! I've viewed April and March and plan to see others soon.
Even though I am 11 years behind your class (graduate Class of 1981---this might muster a giggle… just finished kindergarten when your class graduated), all the music in the WDMH Radio Shows IS exactly what I and my fellow classmates grew up listening to all the time! Please don't go to any trouble, but if you had versions of the shows you would be willing to share without the classmate spotlights to share on my class site, I would so enjoy doing so! Even, if you do not have such versions and are still willing to allow me to share 'as-is' on my site with full credit due to you, Richard Parker and David Barnes, Co-Producer's and Dan McCarty HS, Florida -Class of 1970, and I am sure my site's members would appreciate, as your classmates before and now pics are truly wonderful and particularly applicable to the era of music covered in your radio shows!
I must tell you… I definitely loved Richard's semi-focused ramblings…. with a dash of pretty good stuff (EXCELLENT STUFF)! Your tribute, Richard, to your Mom is truly touching and inspirational! Plus, I loved "Random Acts of Kindness" and "The Friends of Our Youth" contains so much open simple truths! I would be honored if you would allow me to share the Random Acts of Kindness and The Friends of our Youth on my site, with full credit to you of course, as a mentor for my 50-51 year old classmates.
So that is why your Radio Shows and Ramblings… with full credit to you and your site… would be such an addition to my two sites. However, I must stress, please, do not feel obligated, as I completely understand if you would prefer not to share and will not be offended by a 'no' response. There's tons of labor invested in all that you have done and it is truly a labor of love for your Class of 1970! Hope I have not offended you in any way by asking. Thank you for your consideration!
Your Class of 1970 website "ROCKS" with AWESOMENESS! Thanks for making it available!
Blessings always!
Marla Bryan (aka in high school… Marla Percifield)
---
May 2014

An Orphan Remembers Mother's Day
She is within—although I am without. She played basketball, applied bandages and love, and for 64 years, loved one man. She was a GRITS (girl raised in the South) who had a delightful sense of humor offered through a smooth Southern drawl and an unmatched ability to forgive even the most boneheaded mistakes two precocious little boys could make, concealed by a smile of understanding.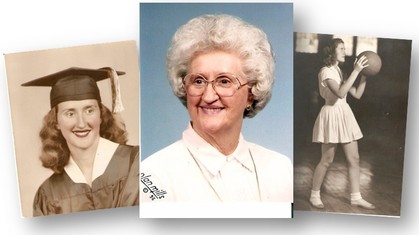 She was a mama bear in every sense of the word whose lifework was trying to protect my brother Roger and me, even on her deathbed. She was prepared to love us whether we became a governor, gangster, or anything between.
S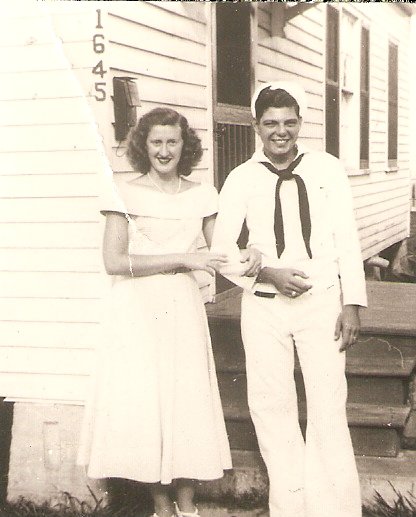 he squeezed $1.38 from each dollar that came through our family's all too small pastor's paycheck as she distributed each greenback as a general allocating troops for a battle in which he knew he was grossly outmanned. In the financial arena, she did such a good job that it never occurred to me that we were poor until I left the hallowed halls of Dan McCarty High.
Part angel of mercy, part tutor, and full-time referee, she moved with grace, spoke with charm, and never had a bad word to say about anyone. I sometimes felt, growing up as a pastor's son, that there was a spotlight, if not microscope, on our family. She took it all in stride, whether consoling a girl with nowhere else to turn, offering quiet support to our Southern Baptist preacher father after an anything but holy deacons meeting, or when offering some not so quiet "suggestions" about the choices facing my brother and me growing up.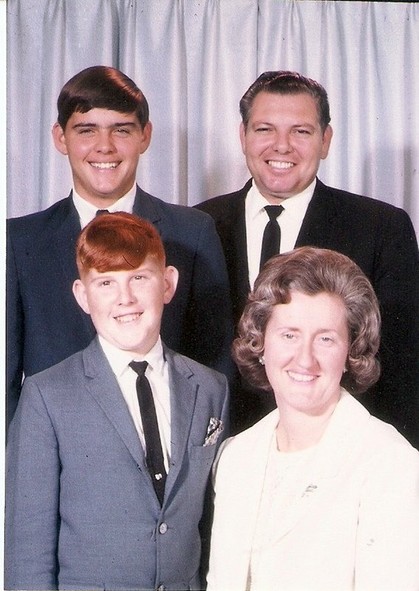 She taught me to always treat a lady as one, to walk on the outside of the lady on a sidewalk (to keep mud from splashing from the nonexistent passing carriages, she explained), and to not take myself too seriously.
Yes, this Godly woman taught Roger and me much about living. So, I do not know why it came assuch a surprise that she would also teach me much about dying. As she lay in the hospital bed, too weak to raise her arm from the crisp clean sheets, the doctor explained that without an operation she would die within days. When he left, I took her hand and asked her what she wanted to do. She smiled the smile I had always counted on and announced, "I'm ready to go home." That sentence hit me like a ton of bricks. Yes, I understood why. After all, she had been in pain and declining far too long. But within seconds, every fiber of my body wanted to protest. "I'm not ready to lose you yet, Mom," I stammered, unable to produce any words commensurate with my feelings, or should I say, my fears?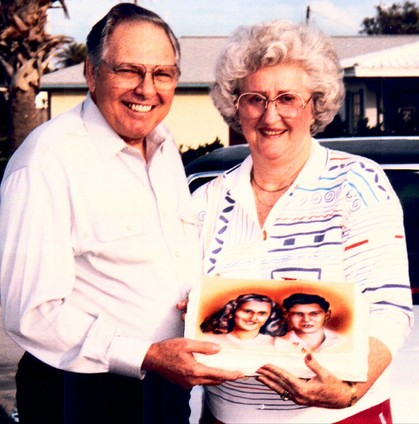 She smiled again as she lightly squeezed my hand and announced, "You'll be fine. This is the way it should be. I've had a good life; I'm certain of my salvation. I'm so very tired, and I'm ready to go home." Yes, the woman who had been the principal architect of the man I am today was teaching me one more lesson—how to accept the inevitable—death—with grace and dignity. I'd never been prouder, yet more afraid.
My father was already deep in the throes of what Nancy Reagan described as "the long goodbye," or the accursed disease known as Alzheimer's. My mother had watched for more than a decade as my dad's misplacing the car keys transitioned into misplacing the memories of his life, of their life.
After my wife Joan so graciously offered our home to my parents so we could better take care of them in what would be their final year, I was amazed to see firsthand how well this amazing woman I called Mom helped guide my father while silently affording him as much dignity as that horrendous disease allowed. She never lost her temper, never huffed in irritation or frustration, but quietly and patiently answered whatever question he asked repeatedly with a love that should be the standard for sainthood.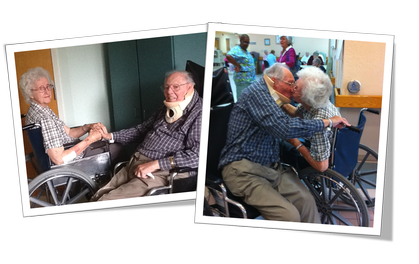 Although I am willing at least to discuss the improbable possibility that my mother might have not been perfect, I am unwilling to give up the notion that without her love and guidance, I would not be the man I am today. Without her, I would not have been raised to believe that almost anything is possible, many a young lady would have, I am sure, been splashed with carriage mud, and I would not have a roadmap, for not only life, but also death. I do not profess to know why in God's infinite wisdom I was blessed with a woman like this as my mother, but I am more grateful than words will allow me to proclaim.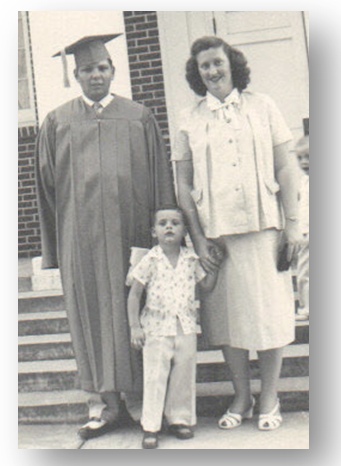 A year after her death, my father joined her in heaven. Although I have no proof, I instinctivelyknow that she was the first person to meet him. I'm sure she straightened his coat, brushed back his now replenished and perfect head of hair he had so hated losing on Earth, and arm in arm walked with him into eternity.
Shortly after my father's passing, my brother Roger mentioned that at 60, I was an orphan. I thought about it and then smiled knowing that my mother's glass-is-half-full outlook would've been, "Yes, but for 60 years, you were not."
Although I am also certain of my salvation, I am unsure of all the specifics of our earthly transition into eternal life. But, I somehow feel certain that my mother will be the first person I see when my day comes. And yes, she will probably say, "I told you that you could do it son."
I miss you, Mom.
Your Loving Son,
Richard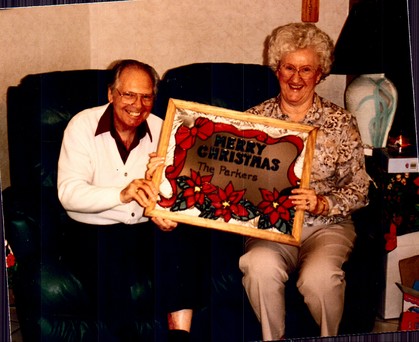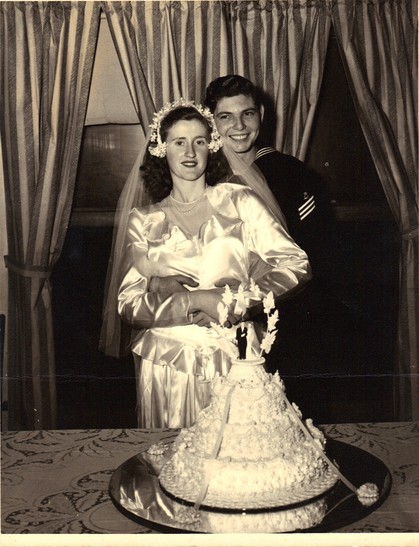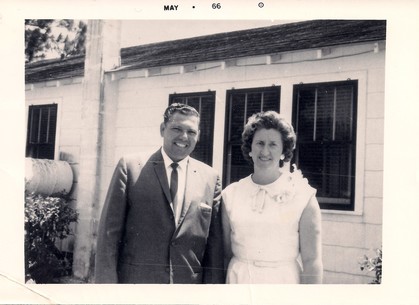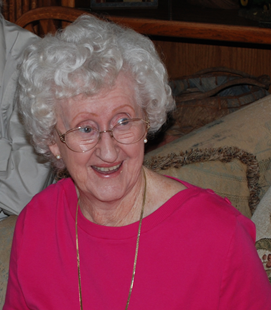 ---
April 2014
Random Acts of Kindness
Every day, life's hustle and bustle happens all around us, usually at hyper-speed and certainly in a flash of living Technicolor™. Dozens, if not hundreds, of times weekly, we are presented many opportunities, with just small effort, to make someone's life a bit better. A helping hand, a kind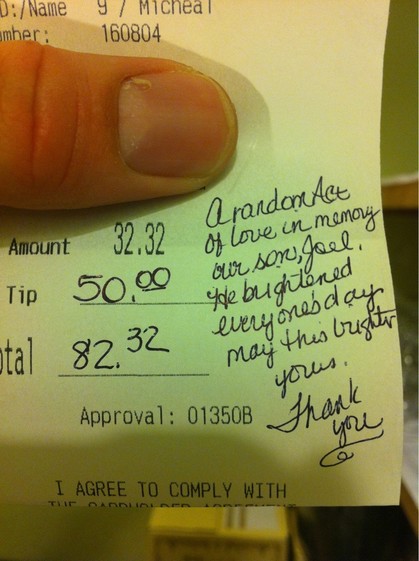 word, or just a smile can change the trajectory of another's day—maybe even his or her life.
If most of us found ourselves exposed to a major life-changing event such as witnessing a car wreck, a burning building, or someone being mugged, we would certainly help, maybe by getting involved hands-on or maybe it would be by something as simple as calling 911. But we would help; that is just how we good ol' Southern boys and girls were raised.
This month's Rambling is not about those life-changing moments. Today, I want to ramble a bit about the thousands of random acts of kindness that can be witnessed around us daily.
This short video explains graphically how a single act of kindness can begin a domino effect—a tsunami of kindness, if you will. And like the ripples from a single stone tossed into a pond, you never know where or whom the ripples of that random act of kindness might reach.
Before you continue this Rambling, please click on the following video.
I have a challenge for the Classes of 1967, '69, '70, and '71. Collectively, we have more than 650 active classmates on our four websites. Just imagine if we each found just a few ways each month to perform a random act of kindness toward another. That would be almost 12,000 acts of kindness in the last nine months of 2014.
But, wait a minute. Remember the video—the construction worker who helped the young skateboarder? His single random act of kindness set in motion a chain reaction of kindness. Can you remember how many?
The construction worker helped a skateboarder.

The skateboarder carried a woman's packages across the street.

She gave a girl a coin for the parking meter.

The girl returned the wallet to the man who dropped it.

That man then helped unload a suitcase.

The suitcase owner bought an extra hotdog.

The hotdog vendor offered the bottle of water, also for the homeless man.

The homeless man returned a girl's phone.

The girl bought flowers for the woman eating alone.

The flower vendor gave a flower to the girl.

The woman left the server a $100 tip.

The server gave a glass of water to the same construction worker who began this chain reaction of kindness.
Eleven acts of kindness followed an initial random act of kindness.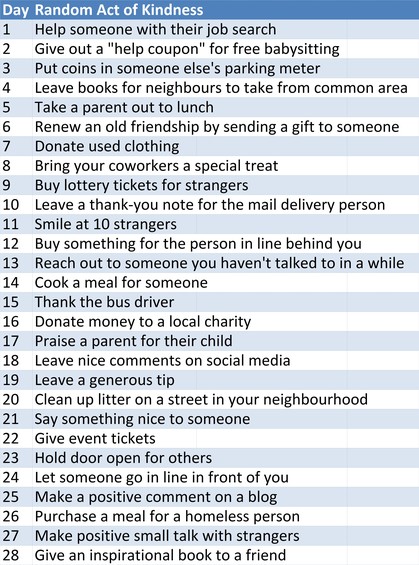 If our four classes are capable of 12,000 acts of kindness this year,
is it impossible to believe that we, too, could see eleven additional acts to follow ours? Why, that would be more than 130,000 acts of kindness this year. What if the number is only half that amo
unt? What if it is double?
In my younger days, I was quick to blow the horn when I found myself behind one of our Yankee snowbird guests clogging up our beach roads. With each horn honk of the horn, I told them to get out of my way. I was busy, and I reminded them that some of us were
not
on vacation. Three years ago, I lost my mother, and two years ago, my father. Now, when I see someone else's mother or father doing 30 miles an hour in a 40-mile-an-hour zone, I instinctively think, would I want someone tailgating and beeping at my mother?
Maybe that is the way we should approach our random acts of kindness. How would I feel if someone took the time to walk my mother across the street, return her wallet, or buy her flowers? When I look at a random act of kindness through those eyes, it does not feel qu
ite so random.
So, you see, the same baby boomer generation that has changed everything it has touched from cradle to grave can again change the world… one random act of kindness at a time. And remember,your act of kindness does not have to be life-changing. A simple gesture of kindness can unleash an avalanche of kindness that sweeps up everyone in its path, enveloping each it touches with an unexpected, but sometimes desperately needed, random act of kindness.
I dare you to be kind to someone today.
Keepin' the Spirit Alive,
Richard Parker
One Day
Matisyahu
Sometimes I lay
Under the moon
And thank God I'm breathing
Then I pray
Don't take me soon
Cause I'm here for a reason
Sometimes in my tears I drown
But I never let it get me down
So when negativity surrounds
I know some day it'll all turn around
Because
All my life I've been waiting for
I've been praying for
For the people to say
That we don't wanna fight no more
They'll be no more wars
And our children will play
One day, One day, One day, One day, One day, One day
It's not about
Win or lose
Because we all lose
When they feed on the souls of the innocent
Blood drenched pavement
Keep on moving, though the waters stay raging
In this maze you can lose your way (your way)
It might drive you crazy but don't let it faze you no way (no way)
Sometimes in my tears I drown (I drown)
But I never let it get me down (get me down)
So my negativity surrounds (surrounds)
I know some day it'll all turn around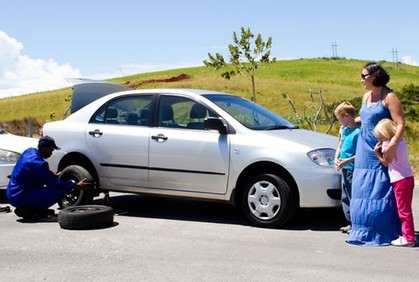 Because
All my life I've been waiting for
I've been praying for
For the people to say
That we don't wanna fight no more
They'll be no more war
And our children will play
One day, One day, One day, One day, One day, One day
One day this all will change
Treat people the same
Stop with the violence
Down with the hate
One day we'll all be free
And proud to be
Under the same sun
Singing songs of freedom like
One day, One day, One day, One day, One day, One day
All my life I've been waiting for
I've been praying for
For the people to say
That we don't wanna fight no more
They'll be no more wars
And our children will play
One day, One day, One day, One day, One day, One day
---
---
Febuary 2014
This month Richard Rambles about
"The Friends of Our Youth"
The friends of your youth, some would say, are your only true friends. For they knew you before the world had its way with you… before the discovery of your imperfections wrought by or at least chosen through your journey.
They were a friend before you knew limitations… before your vocabulary included no or can't and certainly before careful or slow.
For these friends of your youth, you will always have a smile that lights a room, a
twinkle of expectation in your eye, a throw-caution-to-the-wind attitude… and a 28-inch waist.
For most of us, in those sun-soaked beach days of the sixties, our primary wish was simple—to be older. And it is with good reason we wasted our wishes on this dream of shifting our life into a chronological hyperdrive. Because once we were older, we would have the freedom that only a driver's license could bring. Once older, we could do all those other things adults could do. And yes, that included love. Oh, yes, we could love.
Now that we are older, wouldn't you know it… our wish is to be younger. The irony of it all—first, we want to add years and then to shed those years and more. Truthfully, youth is certainly wasted on the young.
I guess in our fictitious, just out-of-reach perfect world, we would somehow be both young and old… at the same time. But alas, we now know that is not how it works.
Now that our childhood wish has been granted (be careful what you wish for, you just might get it), we see that it comes with an unforeseen byproduct, the silver lining to our cloud, if you will—a great gift really. We have so painfully acquired this gift, the gift of knowledge. Yes, these six decades have provided us with boatloads of knowledge about people, places, and things—knowledge about life and, of course, about love, that lump-in-the-throat jump from the high dive, near-drowning experience that changes everything. The love that allows you to remember vividly, a half century later, that red dress she wore on your first date or what song was playing on WQAM as he made his 11th trip around Bill's Burger, showing you off.
Our earliest version of love was referred to as puppy love, meaning that we, the puppies, were too young to understand real love, much less be in love. But all you have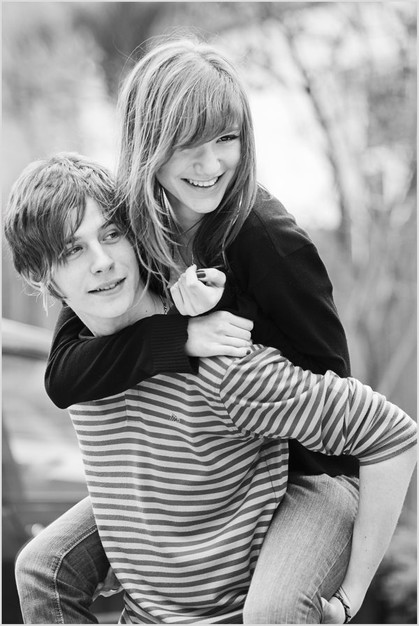 to do is flip through the Santa Lucian to see the host of paired pups who still share their lives and love to disprove that theory in spades.
You only get a few moments that can change your life. One of those life-changing moments is falling in love. Love can change you quickly and forever because it is so powerful and all encompassing.
There is the man and woman love that often can determine whether your life will be happy or sad, sharing or selfish, bright and half-full, or dark and half-empty.
Many of us had to swing at that pitch a few times before we were safely on base, whereas others knocked that first pitch out of the park as a puppy.
Then, there is the love of a friend. In the days of our youth, it was more difficult, much more difficult, to use the word love when talking about a friend. It seemed out of place. Or maybe it was our adolescent minds, still bombarded with a truckload of raging hormones causing girls to develop curves and boys to notice, that prevented us from calling something as simple and pure as a dear friendship, love. But today, we can recognize that old friendship for what it is—love.
In any case, our unwillingness to use the "L" word as a juvenile seems to have spurred us to overcompensate in our sixties if a recent gathering of twenty-two poker pals is any indication. The phrase "love you, brother" was used so often that any self-respecting hippie would have thought he was at a Haight-Ashbury love-in.
Yes, there was an abundance of lovin' and huggin' going on, but none was as strong as when one of our old friends emerged from death's doorway. Clearly, we all loved our old friend David Feibelman.
One could argue that this love of a friend, especially a lifelong friend, is as strong and enduring as the man and woman variety. If you want an example of that, you only have to look at the way so many have rallied around Feibs.
Bobby, I promised you that I would not make you and Tammy feel the heat of the spotlight, and I am a man of my word. But what I will say is that the grumpy persona you have so carefully honed throughout the years is pretty much shot… you old softie.
Mitch, only a few of us know your heartfelt offer, and it will stay that way. You are and have been a friend to so many—must be why you were "blessed" with four deuces after a straight flush… or maybe it was just a bad shuffle.
Or you, Janie, who dropped what you were doing to make sure Bobby wasn't alone during surgery.
These old friendships are not germane to just our class. Lynn, Dan, Mary Jo, and so many more demonstrated it. I just realized I have dug myself into a hole of guaranteeing that I will forget someone. So just remember you did not do what you did for recognition, which makes your actions and even your quiet prayers so loving.
These life-defining moments are fleeting, oh so fleeting, and then they are gone. Often, they are not recognized until viewed in the rearview mirror of life.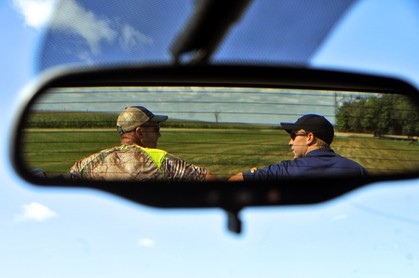 But one thing we all know is that falling in love with someone can begin with something oh so simple—a kind
word, a helping hand, a red dress, or just sitting quietly when someone is in need.
So, I have an idea. Why don't we commit this next year, 2014, to being a friend? To making it all but impossible for someone not to fall in love with us. If it is one of your classmates, that is fine, but maybe it will be the friend at work, down the street, or at your church.
With no expectation of reciprocation, with no ulterior motives, give them no choice but to fall head over heels… in love with you.
And you know, with all this love flowing, I predict a good 2014.
Keepin' the Spirit Alive
Richard Parker
Welcome back gang, to our February 2014 WDMH Radio show. So sit back, relax and get ready for a rock and roll stroll down memory lane as we together… Keep The Spirit Alive!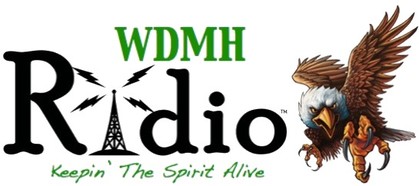 FYI - Part of the YouTube business model is to drop in ads at the bottom of videos like ours (see the Legal Nurse Consulting example below).
To Remove the Ads justclick the X at the top right of the Ad

Also the Open Brackets at the bottom right, just to the right of the YouTube logo will allow you to view the show in Full Screen - the best way to view it.
Ready, Set, Click the Play Button
(Don't forget to take the WDMH Radio Survey on the Navigation Bar to the left)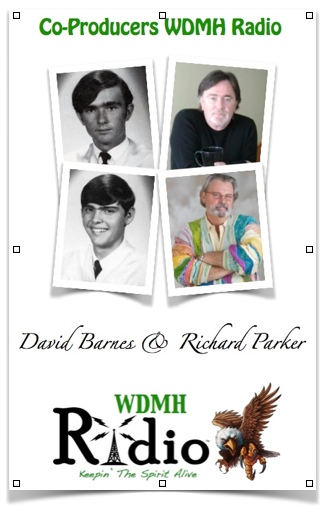 ---
January 2014
As we welcome 2014 full of its unlimited possibilities, we want to give all Eagles from all classes a New Year's gift—the keys to their very own
radio station.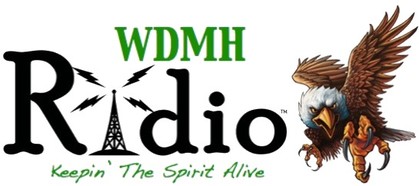 I would like to give a special thanks David Barnes for raising his hand and volunteering to help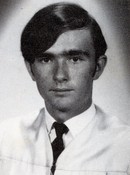 with the WDMH Radio project. Send David an email thanking him for his contribution to the WDMH Radio rollout. It is David's voice you'll hear announcing this first show.
Maybe your 2014 Resolution should be to raise your hand also. We can use your help on the class website, making phone calls, collecting old photos and a bunch of other simple tasks. Don't worry about your knowledge level, it is your willingness to help that matters. Just email Richard at Richard@ESAnow.com if you want to help.
We hope you enjoy this, our first installment on our ongoing musical walk down memory lane. So, turn up your speakers loud enough to make your grandkids think you have really lost it this time. Punch the Play Button on the Paul Revere and the Radiers video below and try to now scream Groovy too many time, as you settle back and enjoy. But be sure to keep your eyes wide open, because you just might see some familiar faces.
FYI - Part of the YouTube business model is to drop in ads at the bottom of videos like ours (see below example).
To Remove the Ads just click the X at the top right of the Ad


Also the Open Brackets at the bottom right, just to the right of the YouTube logo will allow you to view the show in Full Screen - the best way to view it.
Ready, Set, Click the Play Button
(Please Take the Survey On the Navigation Bar to the Left)

Happy New Year Eagles
---

Ready or Not Here Comes 1990, 2000, 2010, 2014
Do you hear that roaring sound? It's not a runaway freight train, but 2014 coming in like a bull in a china shop. So, ready, or not, another lap around the Sun is about to begin.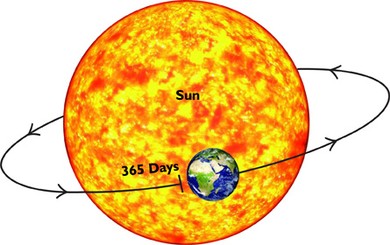 How is that even possible? Wasn't it just a few years ago that we were all buying big cans of pork and beans and the Sam's Club size of double-A battery packs, preparing for the impending Armageddon with the catchy name Y2K. That reminds me of a quote from Will Rogers: "Of the things I've feared the most in my life, every now and then, one of them actually occurred." Oh, well, moving on.
So what are your New Year's resolutions? I mean, besides being skinny and rich by June. FYI, I gave up on both those resolutions long ago, but that does not mean I've given up on all New Year's resolutions. So, here is a peek into a few of my 2014 resolutions.
I resolve to remember that work is what I do, not who I am.
I resolve to let my kids and grandkids make their own decisions, no matter how they seem through a pair of 62-year-old eyes.
I resolve to be emotional—crying when I feel sad, laughing when I'm happy, and becoming easy with bear hugs, leaving little doubt about my feeling for the huggee. And I further resolve to take a nap when all this emotion ties me out.
I resolve to be quick to say, "I love you." I find the older I get, the easier it is to love and tell others when it applies to them. This goes for both men and women. Flashback: Can you imagine one of us guys calling out between third and fourth period, "Hey, Bobby, I love you"? So, to all the husbands of my Class of '70 female classmates, just chill out; I'm harmless. And it's likely that I do love your wife, maybe even before you did.
I resolve to pay special attention to old friendships, understanding that you can always make a new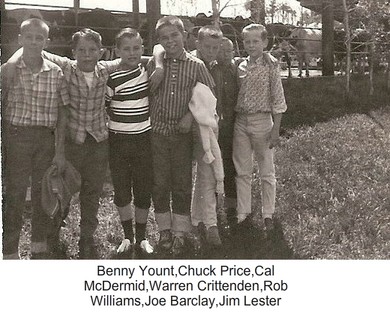 friend, but not an old one.
I resolve to use my talents to make others' lives just a little brighter. I have learned over 60+ years that we get better at the things we do, each day—a honing of our talents, if you will. Although I might not be able to run, jump, or surf as I did at 17, my mind is still "tarp as a shack." And giving credit where credit is due, I recognize what talents I do have come from God. He gave them to me or allowed me to develop them, and therefore, it makes sense that He wants me to share those talents with you, my classmates, my neighbors, family, and church. Actually, this website began as my feeble attempt to do just that.
I resolve to help at least one young person significantly in 2014, controlling my urge to tell him that his hat is on backward and his pants are falling down in favor of listening to him and offering encouragement, when possible.
I resolve to help foster communications between people with whom I do not agree and myself. I remember a time in our country when Democrats and Republicans could speak to each other. When our elected officials could stick to their principles but still search for a middle ground on which to compromise and in the process lead our country. It is said that all politics are local. If that is the case, then it makes sense that the way to begin to fix these big political problems should also begin locally. So, I volunteer to get that ball rollin'.
I resolve to find new and creative ways to keep you, the great Class of 1970, coming back to this website. It amazes me when I realize that in the last three years, we have had 41,000 logins to the website, 8,100 e-mails sent among classmates through the website, and 42 Spotlights and Ramblings written and posted. We now average 10 to 15 logins daily with some days exceeding 50, but the most impressive part is that 43 years after graduation, if one of us is in need, you can count on the rest of us to rally.

So, with life happening everywhere you look, how can 250 old friends be expected to make time to visit the Class of '70 site every month? Glad you asked. What if I gave the Class of '70 the keys to your own radio station?
Classmates, I give you…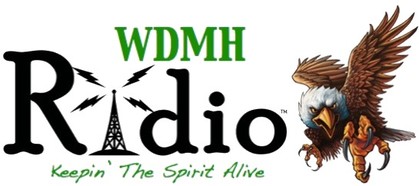 And although you won't hear our WDMH DJ with a smooth silky baritone voice whispering
This is Mrs. Barr's little baby boy,
195 lb. of jiving joy,
Saying be ye round
Or be ye square,
We got sooooound
To rock a bear.
But I can tell you that you should enjoy this, our first installment in our musical walk down memory lane airing soon. And, keep your eyes open; you just might see some familiar faces. I'll post the show in a few days.
Oh, yeah, and for those of you who just cannot help yourselves from making those old standbys, the top 10 most popular New Year's resolutions, I offer you this Parade Magazine article that comes with a corresponding app for each resolution, proving once and for all that those 20-something smarties were right when they said, "There is an app for that."
http://www.parade.com/243793/viannguyen/10-most-popular-new-years-resolutions-with-apps-to-help-achieve-them/
Happy 2014, Class of '70, and don't waste it.
(Please Take the Survey On the Navigation Bar to the Left)
Keepin' the Spirit Alive,
Rchard
---
Coming in January of 2014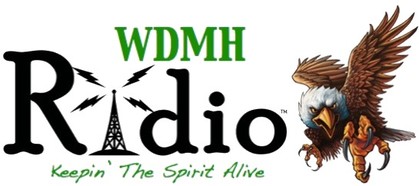 It Will Keep Ya Dancin'
---

Grandpa, Tell Me 'Bout the Good Old Days
(Christmas 2013 Recycled from Christmas 2011)
I made myself a promise when I launched this website in 2010, that I would generate at least one "fresh/new" Rambling or Spotlight each month. I look at it like my gift back to the 400 some odd classmates that began this long and winding road with me, now more than four decades ago. I had and have no intention of "recycling" articles. After all, I love to write (hopefully that is apparent) so by golly write I will.
At the beginning of the month we posted Doc's third and final installment in his cross-country magical mystery tour. Therefore, this is technically the second article for December 2013. So with that in mind, I'd like to renege a bit on the promise I made myself and "recycle" at least "a portion" of my December 2011 article; "GrandPa Tell Me Bout' the Good Old Days".
I have a simple wish list for Christmas this year. In fact, I'm now down to a single wish on my got-to-have-this-or-I'll-die list which by the way has shrunk noticeably over the past few decades. I wish us American all would just lighten up a bit and learn to respect others' views, whether political or religious, whether we agree with them or think they could not be further off base. As another year draws to a close, we should all strive to cultivate a newfound civility when it comes to others. Who knows, if it begins with us, it might just be paid forward all the way to Washington DC. Now, wouldn't that be a nice Christmas present?
But being civil to others does not mean I must give up my belief to prevent them from being exposed to those beliefs, and vice versa. I believe that Americans have morphed into copping the feeling that all we have to say is I'm offended, and a horde of lawyers will swing into action to prevent our feelings from being hurt. I think we should all learn to stop taking ourselves so darn seriously. My feelings were hurt when I asked one or more of you young ladies out in high school and got a "thanks, but no thanks" or when my Little League coach decided to have me make sure the bench in our dugout did not run away while our team took the field. But, guess what? I survived both and a thousand more twists and turns that life and others have thrown my way, and let me check… yes… it's true… no lasting scars to body or mind.
One of my favorite TV shows is CBS' Sunday Morning, and one of my favorite commentators is Ben Stein. Actually I have met Ben several times; the first at the Republican National Convention in 2000 while I was serving with the Florida Delegation. We both are writers and speakers, (in the same way the giant redwood and a scrub oak are both trees) but it mean we have a more than just our politics in common.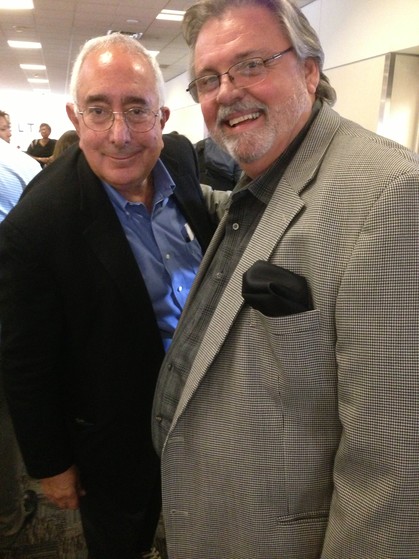 I recently ran into Ben in the Atlanta airport and spent about an hour sitting down and catching up. Ben is really a wonderful and gracious man and fun spend time with.
During our airport meeting I pulled out my computer and showed him this "GrandPa Tell Me Bout' the Good Old Days" article where I intertwined his "Christmas Commentary" into my article. He seemed genuinely excited to read it. We talk about our Class of 70 website as he thumbed through it asking more than a few questions.
He commented that high school friendships were among the strongest we ever make. I could not agree more.
He told me of three of his Montgomery Blair High School (Silver Springs Maryland) classmates; Carl Bernstein of Washington Post/Watergate fame (Class of 62), Goldie Hawn (Class of 63) and Sylvester Stallone who was in his Montgomery Blair, Jr. High.
He reminisced that he was a speech writer for President Nixon, trying to help navigate the administration's course through the unfolding Watergate scandal, while his high school pal Bernstein was bringing the administration to its knees with his investigative reporting. Guys, you can't make this kind of stuff up.
The following is a small excerpt from a commentary he wrote a few years ago, and I think he can teach us a lot about tolerance and not taking our views or ourselves too darn seriously.
My confession: I am a Jew, and every single one of my ancestors was Jewish. And it does not bother me even a little bit when people call those beautiful lit up, bejeweled trees, Christmas trees. I don't feel threatened. I don't feel discriminated against. That's what they are—Christmas trees.
It doesn't bother me a bit when people say, "Merry Christmas" to me. I don't think they are slighting me or getting ready to put me in a ghetto. In fact, I kind of like it. It shows that we are all brothers and sisters celebrating this happy time of year. It doesn't bother me at all that there is a manger scene on display at a key intersection near my beach house in Malibu. If people want a crèche, it's just as fine with me as is the Menorah a few hundred yards away.
I don't like getting pushed around for being a Jew, and I don't think Christians like getting pushed around for being Christians. I think people who believe in God are sick and tired of getting pushed around, period. I have no idea where the concept came from that America is an explicitly atheist country. I can't find it in the Constitution and I don't like it being shoved down my throat. Or maybe I can put it another way: where did the idea come from that we should worship celebrities, and we aren't allowed to worship God as we understand him? I guess that's a sign that I'm getting old too. But there are a lot of us who are wondering where these celebrities came from and where the America we knew went to.
I raise a Christmas toast, or should I say a Hanukkah toast, to my friend Ben. I don't believe this wonderful season is about a Winter Festival or the ever politically correct Happy Holidays; it is about Christmas, complete with Nativity scenes, Christmas trees, colored lights, children's smiles, and Christmas Eve church services. And I do believe that I can celebrate Christmas without doing harm to a Buddhist, Muslim, or for that matter, an atheist.
Our generation has seen so much fade away—door-to-door trick-or treating, drive-in movies, saying Merry Christmas, simple forgiveness, and some might say civility. All have gone or are going the way of Little Joe and the Cartwright boys. But we are still here; my fingers can still type; and my shaky memory still allows me to remember most of what I wanted to say when I began writing this rambling, so there is still hope. But, yes, things have changed—a lot.
I love the lyrics of the country song "Grandpa (Tell Me 'Bout the Good Old Days)"by the Judds.
Grandpa, tell me 'bout the good old days
Sometimes it feels like this world's gone crazy
Grandpa, take me back to yesterday
When the line between right and wrong
Didn't seem so hazy

(Chorus)

Did lovers really fall in love to stay
And stand beside each other, come what may
Was a promise really something people kept
Not just something they would say
Did families really bow their heads to pray
Did daddies really never go away
Whoa oh, Grandpa, tell me 'bout the good old days

Grandpa, everything is changing fast
We call it progress, but I just don't know
And, Grandpa, let's wander back into the past
And paint me the picture of long ago

We are all old enough to remember when lawyers worked their entire career, writing wills and closing real estate transactions, and like politicians of that era, both were respected. When almost nothing we bought came with a warning label. When your main concern after tripping in a store was looking to see if someone saw what a klutz you were, instead of quickly finding a way to blame someone else in an effort to unjustly become the new owner of the place.
Yes, in a couple of generations, life has changed from the Andy of Mayberry world where we learned to ride our spider bikes into the fast-paced, text versus talk, reality TV, random violence world our grandkids now inhabit. Lest you think I am some backward-thinking old fuddy-duddy, viewing life only in the rear-view mirror, I'll admit that much of the change we have seen has been positive—technology (don't touch my iPhone), increased life expectancy (getting more important by the day), equal pay for women and racial equality (both too slow in coming), and … and… and…give me a minute; I'm thinking. There has to be more. Well, that can be ammo for a future rambling.
Anyway, we, the class of 1970, are tied together with the threads of a long since passed life of drive-in burger joints (can you say Bill's Burger), school spirit (say Go Eagles), TV rabbit ears (with or without the aluminum foil wadded on the ends), and where Peyton Place was as close to pornography as you were likely to see. A time when kids played outside until dark with no one worrying about them and went home on their own at dusk for a dinner that everyone sat down for at the same time. When your next-door neighbor had standing permission from your parents to swat your butt if you misbehaved (without threat of lawsuits or Protective Child Services being called) and when you began every reply to an elder with yes, sir or no, ma'am. When the song "Dixie," the Bible, nor Christmas offended anyone, and no one was surprised to hear a prayer over the PA system during homeroom and before the football game.
We built the foundation of our lives on those times. For better or worse, they helped make us become what we are, now some half century later. So, this Christmas, why not go out of your way to spread just a dash of civility and practice a bit of tolerance. If you want to have a positive impact on the future, maybe you should do something a bit different this year. Maybe Christmas afternoon, after the gifts are opened and as your midday nap looms, you should pick up your grandbabies and tell them:
How lovers really fall in love to stay
And stood beside each other, come what may
How a promise was really something people kept
Not just something they would say
How families really bowed their heads to pray
And daddies really never went away
Go on, Grandpa, tell 'em 'bout our good old Ft. Pierce days
Love is more of a decision than an emotion; decide to love.
Merry Christmas to The Class of 1970,
Richard
---
It Is Not About the Turkey-You Turkey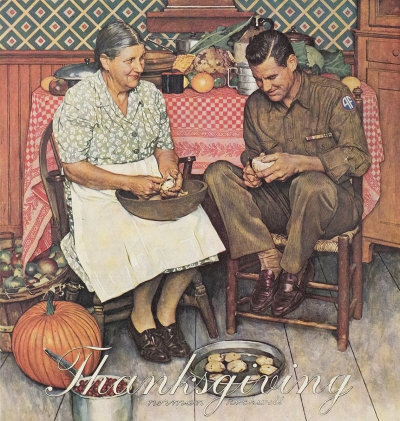 Well, here it comes—Thanksgiving 2013. Maybe I'm mistaken, but wasn't it Thanksgiving 1988 just a couple of years ago? As difficult as it is for me to believe, 1988 Turkey Day was a quarter of a century ago. OMG, what is happing to us? It is like we've collectively "fallen and we can't get up". No, that is another TV commercial. Yet I digress. But then again, why do you think I call these Ramblings?
This is the first year that my wife Joan and I will not the center of our family's holiday festivities. Having sold our Melbourne Beach home of 23 years a mere 3 months ago, we are now "off to see the Wizard," motor coach and all. After talking it through, we have decided not to go back to… uh… home. Wait a minute, isn't home now where we park it? So, this year, I know our turkey might be a bit smaller, but that does not mean that I have any less thankfulness. Come to think about it, I have much to be thankful for.
I am thankful that I have family to miss during the holidays; many do not.
I am thankful that I have a wonderful wife to share my life with, whereas so many are alone.
I am thankful that I can gripe and complain about the craziness going on in Washington (both sides of the aisle); in many countries, that can cost you your freedom or more.
I am thankful for my health, whereas so many live in constant pain.
I am thankful that I have a long list of new churches to visit, as we search for a new church home in our new South Alabama h
ome; I know millions live without that option.
I am thankful that we have all the things we could want and so much of what we don't need that it takes two storage units to hold it all—a bit embarrassing knowing so many have so little.
I am thankful for a brain that still works well and the humility to know I'm not that smart; many have lost or are losing the wonderful memories that make their life a thing to cherish.
I'm thankful that I have the sight to see the sunrise and the vision to cherish what possibilities that day might bring; so many cannot or will not.
I am thankful I can hear the bird outside my window, the wind rustling through the trees, an old dog barking, a young child laughing, whereas so many live in a silent world.
I'm thankful for the disappointments life has given me so, by contrast, it helps me more enjoy life's delights.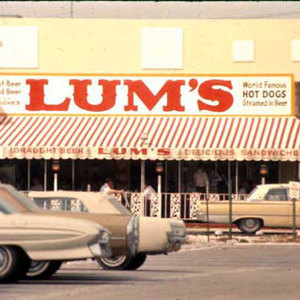 I am thankful that in my lifetime, I was fortunate enough to experience trick-or-treating without fear, neighbors who cared about me almost as much as my parents did, doors that were never locked, drive-in movies, Lums steamed-in-beer hot dogs, and an Indian that was burned every year.
I'm thankful that I've learned how important it is to be positive and think differently.
I am reminded of a story that makes my point better than I could say it:
A blind boy sat on the steps of a building with a hat by his feet. He held up a sign that said, "I am blind; please help." There were only a few coins in the hat.
A man walked by. He took a few coins from his pocket and dropped them into the hat. He then took the sign, turned it around, and wrote some words. He put the sign back so everyone who walked by would see the new words.
Soon, the hat began to fill. Many more people gave money to the blind boy. That afternoon, the man who had changed the sign came to see how things were.
The boy recognized his footsteps and asked, "Were you the one who changed my sign this morning? What did you write?"
The man said, "I only wrote the truth. I said what you said but in a different way." I wrote, "Today is a beautiful day, but I cannot see it."
Both signs told people that the boy was blind, but the first sign simply said the boy was blind. The second sign told people that they were so lucky that they were not blind. Should we be surprised that the second sign was more effective?
One thing I am most thankful for is that 43 years after we left the hallowed halls of McCarty High, I have more classmates that I call friend than I did then. For that, I am truly thankful.
Happy Thanksgiving My Friends
Keepin' the Spirit Alive
Richard Parker (Class of 1970)
---

Every Generation Has Its Innocence Assassinated
I remember November 22, 1963. Just two days earlier, I celebrated my 12th birthday. We lived in New Orleans as my father attended the Baptist Bible Institute, preparing for the pastorate.
We lived with the families of many other pastors-to-be in student housing. I will never forget the look on my mom's face: red swollen eyes, furrowed brow, and handkerchief in hand, as she came to retrieve me from my sandlot football game with my fellow PKs in waiting. She pulled her sweater tight against the rapidly dropping temperature and damp north wind that clipped across Lake Pontchartrain. I instinctively knew something was wrong. I could have never fathomed how wrong.
Her face and the faces of the other adults I saw over the next few days is what I remember the most. Those hollow stares gave gravity to the events that would ultimately change the direction o
f a nation, yea a world, for the rest of my life.
Before that fateful November day, our country seemed somehow younger and more optimistic. This charming and articulate young president elected at only 43 seemed the right man to lead the WWII generation into the prosperity for which postwar America was destined. But, as three rapid shots rang out in Dallas, that man became frozen in time at the age of 46.
Our parents' generation seemed to age before our eyes, unable or unwilling to move forward with the zeal and excitement they processed in the days of Camelot. Like a car shifted into neutral, they collectively lost their forward motion, their bright-eyed assurance
of a positive improving future, and at least for a moment, settled back with a long sigh and rested. Their optimism was replaced with cynicism. Their dreams of what could be were dashed on the jagged rock of what was.
We boomers in our youth, as youth always seem to do, began to look to our future with a bit less trust for the world that our parents and grandparents prepared to hand to us. Stained at least somewhat by the fact that a single man with a $20 mail-order rifle could change our world forever, we lost at least a bit of trust, and we rebelled.
We rebelled against much of what our parents' world came packaged with—against their morals, their wars, their clothes and music, and even their values. We felt we somehow knew better and learned "not to trust anyone over 30." As we chanted defiantly, "Hell, no,
we won't go," our hair grew longer and our patience shorter. Ozzie and Harriet were packed away with Camelot, as we stepped into the love-the-one-you're-with era, clad in our generation's uniform of the day: bellbottom jeans, beads, and flowers in our hair. We had it all figured out.
That innocence remained intact until the JFK assassination for our generation—9/11—stole the same optimistic excitement that Oswald's three quick shots stole from our parents.
All this happened in only 50 very short years.
Keepin' the Spirit Alive,
Richard Parker
---
Veterans Day 2013
Last year on Veterans Day, I got a call from my friend Bobby Harrell. Usually, his calls are most entertaining and leave me with sore cheeks (the ones on my face) from laughter. But this time, he told me he was calling to thank me for my service to my country, a simple gesture that was certainly not earthshaking. No trumpets blared, the sky did not open, but it did bring a smile to my face, and along with, a flood of memories.

I must admit that I was not the guy the recruiting poster was looking for when it stated, "We Want You." In fact, if the truth were told, the military did not want me any more than I wanted them. The U.S. Coast Guard and I had a marriage of convenience. It was convenient for them to have me doing whatever manual labor they needed done and as a bonus sending me out to rescue whatever idiot neglected to notice a dad gum hurricane was coming. It was convenient for me because it gave me the opportunity to skip the rice paddies of Viet Nam. This marriage of convenience seemed to work for us both.
But no one would have ever described me as gung ho or as lifer material. In fact, the happiest day of my life between 1970 and 1974 was the day I walked out of the St. Pete Air Station with my honorable discharge papers clutched in my tight little fist and a smile the size of a sinking cargo vessel painted in what I was sure would be a permanent position across my face.
For many years, I did not feel like a veteran. After all, no one ever shot at me. And the only battle I fought was the Battle of Clearwater Beach, and it was fought bar to bar. (Oh, the days of our misspent youth!) I simply did not think of myself as a veteran, even on Veterans Day.
Today, it is different. Last year, when Bobby thanked me for my service, almost 40 years melted away, and a feeling slowly enveloped me like a warm blanket on a cold winter's morning; that feeling was pride. Pride that I served my country. Pride that at a football game, I could stand and be recognized as a veteran with that small group of other men and women standing tall, yet a bit embarrassed, at the applause of our neighbors. Pride that looking back on my life, I knew I had given something back.
So, on this Veterans Day, why not take a few minutes and send a quick e-mail to or maybe call those in your class who served their country. The list is below. I can promise you it will make them smile.
Thank you, Bobby—your butterfly wings are still flapping.
Keepin' the Spirit Alive
Richard
| | | | |
| --- | --- | --- | --- |
| First Name | Last Name | Married Name | Military Service |
| Robert | Barrett | | Air Force |
| Vernon | Beaty | | Army |
| Connie | Blackford | Sanders | Navy |
| Sherry | Bowen | | Air Force |
| Michael | Broom | | Navy |
| Mike | Butcher | | Army |
| Neil | Combs | | Army |
| James | Gilbert | | Navy |
| Pamela | Horner | Bylone | Air Force |
| David | Hutchinson | | National Guard |
| John | Jenkins | | Army |
| Dana | Longino | | Air Force |
| Richard | Parker | | Coast Guard |
| Harry | Pope | | Air Force |
| Eddy | Reed | | Army |
| Gary | Sams | | Navy |
| Kent | Tuthill | | NAVY |
| Steven | Utter | | US Army Chaplains Corps |
| Ernest | Walker | | Army |
| Frank | Williams | | Army |
| Jay | Joiner | | Army |
| Garry | Morrison | | Army |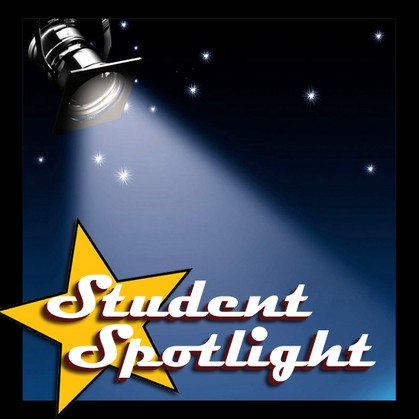 Doc McKinney's Magical Mystery Tour
Well this is my travel log, or Doc's Magical Mystery Tour, which began in Miami on April 30, 2013, and ended in Seattle, Washington, about three months hence. I must admit that I was seriously looking forward to this jaunt as it promised to take me many places I'd never been, and I intended to enjoy every minute of the trip.
To make this even better, my employer footed the bill for my personal voyage of discovery for my conducting a series of trainings at auto dealerships across America. They paid the bills, and I talked while taking in many sights, people, and places that make this country great. How cool is that?
Over the next three installments of this travel log, it is my hope that you will feel like you are my copilot as we cruise the highways and byways of the good old US of A together. So, buckle your seatbelt, give it an extra tug, and let's roll.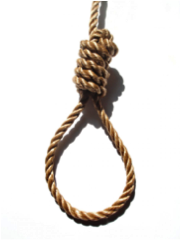 My Cross-Country Route – The Trip of a Lifetime
The morning of my departure, I stepped outside and breathed deeply the sweet warm subtropical air of Miami. In the days of our youth, my thoughts of Miami were mainly that it was the home of WQAM Radio and, of course, "Rick Shaw and Chicken Man—BAACCKK, BAACCKK, BAACCKK—He's Everywhere; He's Everywhere." Today, Miami more closely resembles Northern Havana. But the weather is nice in April—not much humidity, good for walks and enjoying the ever-present Florida sunshine.
The 50,000-Watt "Flamethrower"
Palm Beach is the first stop on my journey. After all, my employer expects me to put in a bit of work for this all-expenses-paid excursion. We stayed on the beach in Palm Beach, but as the storms rolled in for the evening, my activities were limited to looking out the window and contemplating my trip. If sixty years on this big blue marble have taught me nothing else, it is not to tangle with a beach squall. I did have a great view of the ocean, and the crashing waves on the beach below reminded me of our teenage days at the North Beach Jetties.
Ft. Pierce North Jetties

My next gig was in Daytona two days hence, which allowed me to stop by Orlando Speed World to help a friend race his late model—we finished second. Boy, did we have a great time!

Of course, Deland is just down the road from Daytona, the city where Billy Sue Huck went to college. Every time I'm there, I think of when Jim Huck and I went up to see her. Boy, we had fun! I would tell you more about the trip, but the statute of limitations has not expired on some of those events… right, Jim? Billy Sue is like a sister to me, and I just love Deland; it is such a laid-back little town.

Sanford was the next Florida hamlet I came to, followed by Winter Garden, home of the new LEGOLAND (no, I didn't go there). But I beat feet across Rd 60 to watch my "Grandmonster" Carlei perform in a concert at Vero Beach High School. Now, I know what you're thinking—those darn Indians; most of us have not forgiven them for the 61–0 shellacking they gave us at Homecoming our junior year. OK, lighten up, guys. Carlei can't help it; she lives in Vero Beach. By the way, the music performed by those kids was just awesome.

Naples, Florida, was next on the schedule. I must admit that the Gulf Coast has some beautiful beaches, sugar-white sand, and crystal-blue water is at every turn. I believe that long walks on the beach are as necessary as fresh seafood for the soul, but let's face it; it ain't really the ocean without the waves. Hang ten, dudes!

Florida's Gulf Coast – Nice, But No Waves
As I picked up a head of steam, Port Charlotte and Bradenton were soon in my rearview mirror, but not before I spent some "quality time" in a few Gulf Coast tiki bars, enjoyed a few more sandy beach walks, and yes, indulged in my share of good ol' Florida seafood.

While in Tampa, I went to the site of the old Golden Gate Speedway on Fowler Ave. Sadly, it has now morphed into a flea market. But when we were much (much, much) younger, I went to that track with my dad to race in the Florida state championship event called "The Governor's Cup." This race began in the mid-1960s, and it is now held at New Smyrna Speedway. The trophy for this event is kept in the Governor's office in Tallahassee. It gave me a neat feeling to see the old grounds and reminisce a bit. Thanks for the memories, Dad. I wish you could be on this trip with me—you'd love it.
The Governor's Cup Trophy
The middle of the following week, it was time to make the trek to Pensacola for my next training. On the way, I had to pass the Don Garlits Drag Race Museum just off I-75. I've driven by "Big Daddy's" place so many times, I've lost track. But for the last few decades, I have always been in such a hurry and have simply never taken the time to stop. I always said to myself, "I'll stop on the way back." I wonder how I could have been in such a hurry for 40 years.
"Well, Doc," I said to myself, "how has that being in a hurry thing been working for you?" Not this time, and not on this, my soak-up-America trip. So, I hung a right, and boy, am I glad I did! Wow! That place was awesome to say the least. I know everybody isn't as eaten up with cars and racing as I am, but if you just think you like cars, this is a must-see. It has monster engines and so many cool cars; just do it. In fact, give me a buzz, and I'll go with you.

With visions of me in one of Big Daddy's rail jobs, I was off to Pensacola, with one eye on the rearview mirror watching for one of those Florida Smokies. The speedometer registered about 70, though in my mind, I was clearly clipping along at about 200 mph.
Pensacola is the home of the Blue Angels, the Navy team of precision pilots. Dana Longino knows all about precision flying and putting a jet through its paces. Dana, I'll stick to racecars, thank you very much.

From Pensacola, I headed to New Orleans, more precisely pronounced "Nawlins" by any self-respecting, Southern-born guys and gals. But, on the way, I called Dick Parker who was in Gulf Shores, Alabama, in his motor coach. Because it was "kinda" on the way, I elected to hang a left, taking another of my increasingly frequent side trips, this one to see my old buddy and his wife Joan. As fate would have it, I arrived on what happened to be their t anniversary. They took me to a restaurant called The Tin Top, and they bought lunch. Because it was their anniversary, I think it should have been the other way around, so I owe them one.
They told me about a dish called Oysters Fenton, I ordered an appetizer, and the rest is as they say culinary history. I cooked some Oysters Fenton at my break during Memorial Day. Man, it was an awesome dish! Here is the recipe if you want to try it.
Oysters Fenton

1/3 cup butter
2 T Lea & Perrins
2 T soy sauce
2 t pepper
1 t minced garlic
pinch of rosemary
2 lemon slices
10 oysters
French bread

Sauté all ingredients for 2–3 minutes until oysters start to curl, serve with French bread.
With Rev and Joan Parker on their 32nd Anniversary
The rest of the way to "Nawlins" was a nice ride with all the bridges over the bayou along the way. When I got to my hotel, the guy I'm working with, Charlie, says, "Let's go down and listen to a little jazz tonight; I know a place."
"That sounds good to me," I said, "but I have to get up at 5:00 a.m. to catch a flight to Palm Beach." This racecar junkie was backtracking to Orlando just to drive in a 50-lap race. Oh, yes, and to see my wife Bess—sorry, honey.
Charlie says, "No worries; we will be in by 11:30." Well, I made it in at about 1:00 a.m. A friend of ours that lives in the area and works as a trainer for our company came out to visit us. Thankfully, he realized that he had to work the next morning. So, as he called it a night, I was lucky enough to hitch a ride to my hotel with him. The last I saw Charlie, he was enjoying the jazz music and the atmosphere.
Now, this is funny. I told my wife we were going to Bourbon Street to have a beer and then to Beer Street to have a bourbon. Instead, we ended up in a Japanese joint and had warm sake.
The jazz bands were awesome. You know, resting in New Orleans is not the norm, anyway, and the nights just don't last long enough. The morning came quickly, but I made it to the airport on time and headed to PBI. My buddies picked me up at the airport, and we made it to the track just in time for the race. Just what a racecar driver wants—a race to the race.
I was running fifth about halfway through the race. We had a restart, and the guy behind me misjudged the corner entrance and plowed into the back of my hot rod. I lost a few laps trying to repair the damage and decided not to continue. Oh, well, it was fun while it lasted.
I had a week off now and many things to catch up on around good ol' Ft. Pierce, but the week flew by in a flash, and I found myself back on a plane boomeranging my way back to Nawlins.
First day back in the home of jazz was June 2. I headed with wide eyes and an empty stomach to Acme Oyster Company for some fantastic seafood. They have been around since the 1940s, and they really know how to cook some great Cajun style seafood.
Then, it was on to Louisiana Parish and the booming metropolis of Gonzales. Now, as difficult as it was for me to believe, one of the first people I met in Gonzales was a sales tech named Speedy Gonzales; I kid you not. I thought they were pulling my leg, and I asked for his driver's license. Sure enough, that was his name, not a nickname, printed on his driver's license for the whole world (and the arresting officer) to see—Speedy Gonzales. He was a descendent of the Gonzales Family the town is named for; I thought that was cool. I also wondered how angry his momma was at him, post-labor, to have saddled him with the name Speedy.
I then bid a fond farewell to Speedy and the boys of Gonzales and headed toward Lafayette, Louisiana. On the way, I called my old buddy Donnie March. He has been all over the country, and he is a great travel guide. Donnie told me not to miss the Tabasco Museum. Alas, arriving late with an early morning departure time made me miss the museum and the heartburn I am sure would have accompanied my visit.
First Leg; 18 Cities and 1,716 Miles
Well, that pretty much completes the first third of my cross-country odyssey. Next month, we will pick up on my way to the "Big D" for my trip through Texas and into the most beautiful mountain range in North America—the Rocky Mountains.
See You Then,
Eagle Proud
Doc McKinney
Part Deux
Well, welcome back to my little Magical Mystery Tour of America. Last month, when we said goodbye, we had Gonzales, Los Angeles, getting smaller and smaller in my rearview mirror and Dallas, Texas, looming on the horizon. Now, most who know me will agree that I am one lucky guy. To demonstrate my ongoing "luck," I found myself in the "Big D" at the same time as the NASCAR Truck Series, which runs at the Texas Motor Speedway with the IZOD Indy Car Series.
I thought I'd found heaven… and glory be, it was in Texas.
My coworker Charlie has family in and around the Dallas/Ft. Worth area, and he snagged a single Friday night ticket for the truck race and Indy Car qualifying and handed it to me. Baby, I had a blast! Fast time for the Indy Car race was a little over 219 mph; now, that's flying low, my friends. The truck race was cool as well. Texas is a 1.5-mile track and provides lots of action.
For those of you who think I don't do anything unless it includes a racecar, this is for you. Because I was in Dallas, I thought I'd add a dash of history into my tour with a side trip to the Sixth Floor Museum, housed in the building where Lee Harvey Oswald shot President Kennedy. Although I had been there once before, I decided to go again and see whether I missed anything. Wouldn't you know it—I missed a lot. After all, I can't remember what I had for breakfast this morning, let alone what I did or saw years ago.
Walking into the museum, the memories of 1963 rushed back. I think we all remember what we were doing and where we were on November 22, 1963; I know I do. If you get the chance to see this museum, take it from me, and make it happen.
After the museum, I visited the Texas Theatre where Oswald was found after he allegedly shot Officer J. D. Tippet. I then completed the Oswald trifecta by adding visits to the site where he shot Officer Tippet, and then the old jail where Jack Ruby killed Oswald. Wow! I never knew these three were so close together—what a history lesson!
On June 12, I was off to the first of five additional Texas stops, beginning with Silsbee, a small town near Beaumont, then Houston, and then on to the Alamo city, San Antonio.
As luck would have it, I arrived in San Antonio during the basketball finals. You can bet I wasn't about to tell the locals I was pulling for the Florida team; but rest assured, I was cheering inside. That decision helped me make it out of the Lone Star State alive. For the record, the Miami Heat did win. All is well that ends well.
With the b-ball game still fresh in my mind, I set my course due south for a four-hour drive to McAllen, Texas, smack dab on the Mexican border. After work that day, I went to dinner with a couple of the guys who worked at the local dealership. They told me they were taking me to a "real" Texas BBQ joint, and I was ready.
OK, I'll level with you; I am on a secret mission to find someone who can cook beef brisket as well as Jim Huck can. And the survey says… nope, Buddha is still the best. However, I still cleaned my plate… a couple of times. After all, I didn't want those Texas boys to think I was ungrateful.

Next up on my hit parade of Texas cities was Willie Nelson's old stomping grounds, Lubbock. Now, any Texan worth their 10-gallon hat knows Lubbock as the "Hub City," which derives from its being the economic, education, and healthcare hub of a multicounty region commonly called the South Plains. On the way, I passed so many little old cow towns, that I lost count; it was very cool.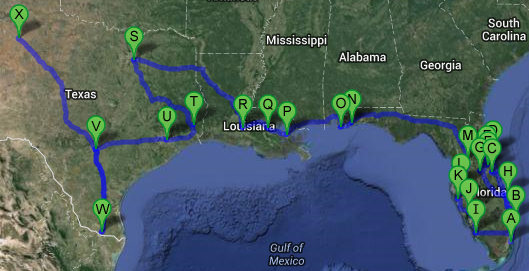 To Date, 24 Cities and Counting, More than 4,000 Miles and a Ton of Fun

After my Lubbock training, I began my ramble through the Badlands to Albuquerque, New Mexico. My route resembled that of a drunken snake winding its way across the desert. While in Albuquerque, I went to the Unser Racing Museum. Yes, I know; I am hopeless.
The Unser Family settled in Albuquerque in the 1930s, and I must say that the museum was really a fun stop. Although I arrived just over an hour and a half before the museum closed for the day, I certainly got my money's worth. I spent an hour in the first building and decided to move on to the next building before I ran out of time.
As I walked between the buildings, I glanced at an older guy who was busy watering plants. He looked vaguely familiar, but I could not place him at first. As I searched what little was left of my badly abused memory, I finely placed him—it was Al Unser himself.
I gave him a wave, and he returned the wave with that same, "Do I know that guy" look. As I walked into the building, I thought, "Why didn't I stop and say hello?" At 30, I most likely would not have sauntered over and introduced myself. As I continued to walk away, I thought, "What the heck," so I turned on my heels and walked right back to him, stuck out my hand, and introduced myself asking if he would mind my snapping a quick photo.
Al (yes, we are on a first-name basis now) was so humble and even seemed a bit surprised that I'd want a photo. He quickly stopped watering, dusted off his clothes, and gave a big smile. We struck up a conversation, and the next thing we knew, we were sitting on a curb chatting like two old friends. The conversation soon turned to people we knew, and one by one, we kept finding that we had a number of mutual friends. Soon, Al smiled, and with a sideways glance, said, "Isn't it funny that we both know so many of the same people."
All too soon, a woman who worked at the museum came around the corner and said, "OK, Al, the museum is all closed up. See ya tomorrow." I then realized I only spent about three minutes in the second museum building, but what the heck, instead I had snagged one of those once-in-a-lifetime opportunities I will never forget. I had just spent thirty minutes becoming friends with a man who won the Indy 500 four times. Not only had I gotten a photo to prove it, but I also now had a great story to boot. Not bad, huh?
Al walked me to the parking lot and said, "It was nice talking to ya," and I replied, "Hope to see ya again, hero." He smiled so big, I thought his face would turn inside out.
On a side note, the company I work for, and, therefore, the company who paid for my Magical Mystery Tour across America, is partly owned by Al's nephew Johnny Unser. It is a small world after all.

I will say that I was not the least bit sad to leave behind the 102-degree heat of Albuquerque in favor of a bit of what John Denver called a "Rocky Mountain high" as I headed for Denver, Colorado.
About 200 miles south of Denver, I saw a sign on the side of the road with a picture of a bear. I hadn't gone another 1/2 mile, and I couldn't believe my eyes—a huge brown bear ran across the highway right in front of me. I tried to get my phone camera out, but by the time I did, all I could see was bear butt squeezing under the guardrail on the other side of the highway. Man, I wish I had gotten a photo of that "buddy bear" to share with you, but you will just have to take my word for it.

I made the on-the-spot decision to stop in Colorado Springs for the night. While there, I learned that Colorado Springs is the home to the Pikes Peak Hill Climb. Acquiring a bit of local knowledge, I learned that Pikes Peak is locally called Unser's Mountain because the family has won the Pikes Peak Hill Climb so many times.
Sadly, I couldn't stay for the climb because I was scheduled to fly to Atlanta for a last-minute job. It is tough to be in such high demand. So, I made the quick trip to Atlanta, and then squeezed in a flight to Orlando to meet the family for some R&R. That was nice getting to spend some time with them. Our digs were sweet, the pool was huge, and by golly, it had a lazy river running through it. Weekends like these are the ones we will always remember.
Bess and I drove home Saturday morning, washed my clothes, and the next morning, I was off to the airport for a 7:00 a.m. flight, winging my way back to Denver and the final leg of my expedition.
I have really been looking forward to this part of the trip because I've done very little travel in that Western area of the country. After a short stay in the Denver area, I was off to Salt Lake City. I decided to swing through Steamboat Springs, and I am glad I did; it was such a nice place.
While there, I took the chair lift to the top of the ski run and snagged a wonderful view of the town below. That night, I went out for a fresh trout dinner that was just excellent.

Sadly, that evening, I received a call from my old buddy Jim Huck who passed on some bad news—Pat Longino, Dana's dad had passed away. What a bummer! I'm really going to miss him. He was a good friend, and my family for my whole life. RIP, buddy. Dana and family, our hearts go out to you all; you were blessed with a great dad. Turn the page.

I started out early the next morning for the drive to Salt Lake City. It was just over 300 miles with very little traffic. In fact, it seemed the only vehicles on the road were pickup trucks—those boys out West love their pickup trucks. So, I settled back and enjoyed soaking in the scenery. About halfway there, I saw a lone deer standing on the side of the road waiting for the traffic to pass. I went by, and she looked both ways and slowly walked across the road behind me. l think that was her personal intersection.

I pulled into Salt Lake City on Friday July 19 for another dealership training session. While there, the training manager for the company, Andrea Case, came down to say hello. She is a lot of fun, and it is always nice when she stops by.
Of course, we decided to sample a bit of the local cuisine and ended up at a place called Moochie's. The food was awesome. We found that Moochie's had been featured on Diners, Drive-ins, and Dives. They are best known for their meatballs and Philly cheesesteaks. As Guy Fieri says, "Welcome to Flavortown."
Friday afternoon, we were off to Jackson Hole, Wyoming. It just seemed like a good idea. I stayed in a cabin a mile or so away from town with a view of the Grand Tetons that caused me to say wow more than a few times.
Charlie and I went to The Wort Hotel Friday Night for some "sport beverages and scenery." A jazz band put on a fine performance, and all had a good time. Saturday, I went to town and enjoyed their very cool town square. It came complete with the Antler Arches, stagecoach rides, gunfight, great stories of the Old West, and many great people watching.
That evening, the entire town turned out for the Jackson Hole Rodeo. We found ourselves tagging along with a quite rowdy bunch determined to cheer on all the rodeo cowgirls and cowboys. Caught up in the Western spirit, at the end of the night, Charlie purchased his first cowboy hat. I must say that it goes well with his new fly-fishing outfit. Together, we took to the area mountain streams to cast some flies and try our luck as Western trout fishermen. In full disclosure, I discovered that I am much better at retrieving trout from the area restaurants than those cold, clear, mountain streams.
Well, that about winds up our second month in my travel log. Next month, I will share my third and final installment as I head through the Teton National Park and then on to the Yellowstone National Park. You really don't want to miss that one.
Thanks for being my copilot, and I'll see you in December.
Eagle Proud,
Doc McKinney (AKA World Traveler)
The Third and Final Installment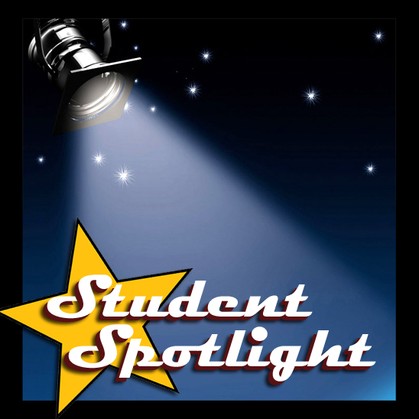 It is somehow fitting that as we bring 2013 to and end we Spotlight the end of Doc's cross-country trip. We hope you have enjoyed tagging along with him over the highways and byways of America. Now here is the 3rd and final installment in his Spotlight.
Keepin' the Spirit Alive
Richard
When we parted last month, Charlie and I had just finished a great night at the Jackson Hole Rodeo with a bunch of, shall we say, very "lubricated" locals. So, I begin this third and final installment of my magical mystery tour, with my sidekick Charlie, newly purchased cowboy hat and all, rolling toward the Teton National Park with plans to continue to Yellowstone National Park.
With two-thirds of my trip in the rearview mirror, I began to dread this once-in-a-lifetime trip ending. Well, enough of that—I have places still to go and people just waiting to be met.
Sunday brought us to Pocatello, Idaho, which was more or less on the road to Helena, Montana. But I must say that my decision to route myself through the Tetons and then into Yellowstone was the right decision. It turned out one of the best parts of my trip. My most used word was definitely wow! I must have used that exclamation a hundred times that day.
I ended up at Old Faithful right on time to see America's most famous geyser blow sky high. Boy, was that a
cool sight to see, or should I say, wow, that was a cool sight to see! Far too soon, it was time to continue my journey to Seattle and the deep blue waters of the Pacific Ocean. But Yellowstone was not quite through with me, at least not yet. As I headed for Yellowstone's west exit, what should cross my path but three local Yellowstone residents: an elk, a moose, and a huge buffalo. It was as if they all came to bid me farewell.
The buffalo just moseyed down the road as if he owned it. But I guess he did. By comparison, the buffalo made even the van I drove look small.
Heading out of the park, I felt as though I was in a Jellystone cartoon and half-expected to see Yogi and Boo Boo amble across the road in search of a picnic basket to snag. But that sighting was not to be. With all the wildlife to view, the one that eluded me the most was the one I most wanted to see—a bear. I was on constant lookout for them, but my path was bare of bear.
Maybe it was good that I was bear-less, because my eyes were on perpetual overload throughout that leg of the trip. That place had so many sights to see, and every one will stay with me for a lifetime.
As I continued on my last leg of the trip, I found myself headed toward the aptly named Big Sky Montana to spend the night. It was late when I got in, but the morning sunlight brought even more scenic WOWs. The rest of the drive to Helena was just one beautiful mountain and river after another—the most scenic drive I've ever taken. I sure wish you all could have been there with me.

I then struck a southerly heading, zeroing into Boise, Idaho, taking a route through some scenery that could have easily been the backdrop for a John Wayne movie. I could almost see the Duke himself astride his horse waving, hat in hand, as I rolled past, feasting my eyes on this great big country of ours.
I stopped at the Big Hole Battlefield. After watching a 30-minute historical film, I considered that a better name might be Big Hole Massacre. On August 9, 1877, gunshots shattered a chilly dawn on the sleeping camp of a tribe of Nez Perce Indians. By the time the smoke cleared on August 10, almost 90 Nez Perce were dead, along with 31 soldiers and volunteers. The Big Hole National Battlefield was created to honor all who were there.
On my drive, I passed through Stanley, Idaho, population 62. I had hardly stopped smiling, thinking of the stories that small town must have had, as I came to Clayton, Idaho, population 7. Yelp! I had more people in my homeroom than could be gathered on Election Day in this booming metropolis. Poor little Clayton
consisted of only one house on the right and one on the left. I counted four people on one porch and two on the other—not sure where the seventh resident was. Maybe he or she was in the bathroom.
I had another cabin waiting for me in Stanley, nestled majestically on the Salmon River. What an awesome little place! Talk about back to basics—no AC, no TV, just the sound of the river and the smell of good food. But come to think of it, what more could a man need?
That night for dinner, I had a plate full of good ol' Western beef, with a loaded Idaho baked potato and a beer called Moose Drool—yep, that name will definitely make ya slobber.

Now, before you start to feel sorry for my lack of air conditioning, let me tell you that there was a good reason. I went to sleep with my cabin windows open, drifting off to sleep to the babbling sounds of the Salmon River as it rolled by, and woke at 4:00 a.m. in a very chilly 42-degree room. It was tough getting out from under those covers to shut the windows, but it felt good when this Florida boy slid back under that warm blanket.
The next morning, I was off to the Idaho Rocky Mountain Ranch, built in 1930. Charlie and I had breakfast there, and folks, it was simply awesome! Log cabins surround the Ranch with the Sawtooth Mountains as a backdrop. Now, that was a sight to behold. I am so glad I took a road less traveled on that portion of the trip, which might be a lesson the entire Class of '70 should take to heart.
After Boise, I was off on the last leg of my wonderful adventure, headed to civilization—Seattle, Washington. I decided to break the eight-hour drive into two parts, stopping first in Yakima to, you guessed it, go to the stock car races. Sorry, guys, it is in my blood.
Alas, I got there on the wrong weekend and found a "Closed" sign on the track. It seems that on that weekend, the races were held at their sister track, a 200-lap annual event. A quick consult with my map showed me the event was "only" seven hours away. After serious contemplation, reason prevailed, and I decided maybe next time. So, my stock car urgings had to be replaced with a nice dinner and early start the next morning. Oh, well, life is not perfect, and even my perfect adventure had its share of twists and turns.

My next night was spent at a nice hotel in Everett, Washington. After my arrival, I discovered that right next door was the Boeing Museum. After work the next day, I decided to tour the Boeing plant, and I am most glad I did. No cameras were allowed inside, so I only have my tiny brain to keep all those visuals. Let's not forget that this brain is a product of the 1960s, so most likely, those memories will not last long—don't feel sorry for me, guys; I did it to myself.

Then it was back to work for a while as I conducted dealership trainings in Bellevue, Everett, Bremerton, Port Angeles, Puyallup (good luck pronouncing that one), and a few more cities all around Seattle. I put my van on a ferryboat once and took a thirty-minute ride across the Sound to save a three-hour drive to the next city. Now, that is the way to travel.

I took the Light Train to the EMP Museum in downtown Seattle, at the base of the Space Needle.
My motive for the EMP was to see, or should I say "to experience," the Jimi Hendrix exhibit, which was great. Just think, the guy has been dead for forty-three years, and still, people come to view his exhibit. Now, that is saying power. I remember the first time I heard Hendrix at Jim Lester's house, "The Ponderosa." I am just as amazed now as I was the first time I heard Jimi shred that guitar—what talent, what a loss, what a shame.
I could not leave Seattle without a trip to Pikes Place Market, a public market overlooking the Elliott Bay waterfront of Seattle. The Market opened August 17, 1907, and it is one of the oldest continuously operated public farmers' markets in the United States.
At the market, I had some great fried fish. While there, I saw a man who looked familiar. He turned out to be Seattle Chef Mario Batali from The Food Network. He was walking out of the fish market. I went to get a picture of him, but he was in his blacked-out Cadillac SUV, so I got a picture of that instead. Too bad he wasn't nice enough to roll down the window. Oh, well, superstars are like that.
How about a town named Mukilteo? Try that on for size, and see whether your tang don't get toungled up. Mukilteo is a waterfront community on Puget Sound about 25 miles north of Seattle. This scenic area has views of the Olympic Mountains to the west and the Northern Cascade Mountains to the north and east. I wish I had had more time to spend in Mukilteo, but then, that pretty much goes for the entire trip.
I talked to Dick Parker as I was traveling toward Seattle. He told me I needed to take a side trip to the Mt. St. Helens Observatory while I was in the area, but my schedule precluded that on this trip. Maybe next time, Rev. While on my trip, I read Richard's Ramblings about Your Butterfly Effect, and I could not help thinking about the ripple effect we all have. I thought of the way each of these ripples affects not only us, but also so many others. On the train ride back to the hotel, I saw a young man sitting by the window. He was smiling and seemed very happy about something. His smile just got bigger and bigger. I looked around, and it seemed he and his smile, one by one, were affecting, or should I say infecting, all those around him. Soon, the entire car seemed to be beaming. Dick, I guess he was flapping his butterfly wings.

I read three books while on this trip, mostly on plane rides, but sometimes, I pulled up a chair by the pool at whatever hotel I was at and just read, disappearing into a story as if magically transported to a different place and time.
The first book was about Don Garlits. You might remember that I began this tale with a visit to Don's museum just off I-75. This was a fun book for gearheads like me. The second book was about Daytona and its history of racing—from the beach to the fantastic Super Speedway known worldwide. The third book was about Jack Nicholson, one of my favorite actors. These three books helped me pass the time on my nationwide odyssey, during which I logged more than 9,000 miles, enjoying every click of the odometer.

I arrived back at my Sunshine State home on Friday evening, 8/2/13, just three days over three months since I started my trip in Miami. Three months and a lifetime of wonderful memories.
I hope you enjoyed my travel log. I consider it a milestone in my life. I just wish I could have taken each of you along for the ride. Maybe, in some small way, this travel log has accomplished that.
Although the trip was great, I must admit that I'm glad to be home with family and friends. Some say I'm lucky; some say I'm blessed. As for me, I think it might be a little of both. All I know is that I'm still livin' the dream.
On a personal note, I'd like to close with a thank-you to each of you for your thoughts, prayers, and the messages on the DMHS website through my treatments. You will never know how much they helped.
"Go Eagles"
Doc McKinney
.
---
Homeless, Happy and Hyped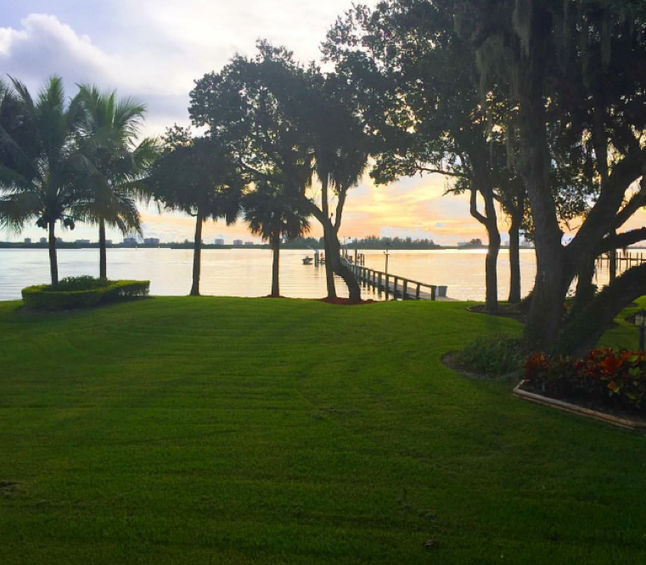 Well folks, if my marriage survived the past month, I guess it is destined to last the rest of my days. Yes, if my wife Joan did not divorce me after selling her Melbourne Beach home of the past 23 years right out from under her I would guess I'm pretty much safe in the "I-think-I'll-find-a-new-husband-to-replace-this-idiot category".
We moved into 417 Magnolia Ave. on December 31, 1989. The 2,400 sq. ft. house was in a great location, only 3 blocks from the beach and two from the river. We loved the sleepy laid-back atmosphere in the one square mile town known as Melbourne Beach. While the house was in a great location it was, using a technical term, a piece of crap. We immediately set to work gutting the 5 bedroom 3 bath home. And guys when I say gut I mean exactly what the dictionary describes - verb (used with object) "to destroy the interior of".
We tore out the bathrooms, kitchen, knocked down walls, ripped up the carpet and tile, yanked out the windows, doors, and roof. We even removed every blade of grass off the lot. The renovation cost was near the purchase price but in 3 months we had turned a beachfront house into a home. A home that saw 22 separate Christmas trees light the front window. A home constantly rattled by the aftershock of dozens of shuttle launches. A home that successfully weathered hurricanes, gales and welcomed and watched grow four wonderful grandbabies. In the backyard we left three faithful family dogs buried near the tree swing. From our front porch we have watched the neighbors bring home new born babies, seen them learn the walk, graduate college, get married and have babies of their own.
As we built our nationwide stock brokerage firm in the 90s, we hosted a Thursday – Saturday training class for the new financial advisors who joined our firm each month, usually 20 to 30 per class. Every one of them and their families would come to our home for dinner around the pool on Friday night. After we took the company public, each year the Melbourne Beach Police would cordoned off our block for a little lunch where we severed 500 to 1,000 of our shareholder after our annual meeting. Virtually every elected official in our part of the state has attended one or more of these shareholder lunches. Joan and I estimate that we have fed well over 5,000 at that beachfront home.
Summit Shareholders Meeting 2000 - As CEO I was a bit more clean-cut
We fed several hundered each year after our Annual Shareholders Meeting in our back yard, thank to Joan and her staff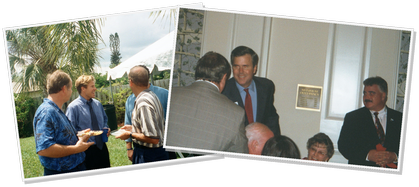 Every politician in our part of the state made our Shareholder meeting and therefore our back yard an annual scheduled stop – here Governor Jeb Bush and soon to be President of the Florida Senate Mike Haridopolos takes time to work the crowd
Now we have begun a new chapter in our lives. As we begin the hand-n-hand walk through our 60s we are focused on making our life more simple and enjoying the days ahead.
The one thing that hosting our class website has done for me is to make me appreciate how fragile life really is. Every time I receive notice of another classmate's illness or see another join the "In Memory" section of the site, I again am forced to reexamine my life. Am I doing what I want to do? Am I making a difference in the lives of others? Am I providing for my family? What if this is my last year? Would I be proud of that "last year" of would I have regrets? Am I going to leave my family and yes my world a bit better because I was her? That is at least in part why we have made what some I know will consider a "radical" move. But for Joan and I it is really just another chapter is the long and twisted novel known as our lives.
For us, this new chapter began with us selling and giving away about half the "stuff" we have accumulated over the past three plus decades of marriage. Boy can we collect some junk. One entire bedroom was dedicated to photos. You remember those don't you? They pre-dated digital photos, iPhones and iPads and were developed at the drug store on photo paper. When you consider that I have drug my loving wife and when possible one or more grandkids all over the world snapping photo as fast as the shutter would allow, that equates to boxes and boxes and more boxes of photos and mementos. Weeding through those was by far the hardest task. But with the help to the U-Haul storage facility we have now made that transition.
Moving Day, August 27th 2013 - Goodbye old friend, you served us well
On Tuesday the 27th of August with our motor coach loaded to the gills, Joan and I along with our three year old beagle; Baby Boomer, put Melbourne Beach in our rearview mirror feeling a mixture of melancholy, sadness and the excitement that only comes with beginning a new adventure. Yes we are "off to see the wizard – together".
For the next few months we will call Gulf Shores Alabama, another quaint beachfront
community nestled on the Redneck Riviera our home. We will be exploring the area from Louisiana to Tennessee to Georgia. If you live in that area, watch out we may just show up on your doorstep like our own version of National Lampoon's Christmas Vacation looking like Clark and Ellen Griswold's crazy cousin the homeless nomad Eddie (Randy Quaid). So if you peak out of your front window to see a 40 ft. motor coach dragging a car, pulling to your curb, you may be well advised to turn off the lights and be real quite. Remember we will eventually need water and fuel and therefore will move on. The bad news is we are self-contained for about a week.
If you would like to follow our new adventure you may join our blog; Richard & Joan's On The Road Travel Log http://richardandjoan.blogspot.com/ Be sure to register if you want to be notified of updates and while there check out the Blog Archives.
Now before you start feeling too sorry for poor Joan who now must be being forced to clean our cloths by pounding them with rocks in a nearby stream let me assure you that she is not truly homeless; or at least not long-term. While our downsizing has been in a slow death spiral for almost 25 year, we still have options. At one time we had 156 rental houses and today are down to only 4. Joan has her eye on one in the beachside village of Indialantic, which abuts Melbourne Beach. Half the size of our recently sold Melbourne Beach home and a couple of bedrooms and baths short she seems to have laid claim to that one for nesting purposes once the renter's lease has expired. But until then we will be sharing 300 sq. ft. with Boomer – you guys pray for us.
OK, so now you know what we are up to. I sent the photo at the top of this Rambling to my buddy of almost 50 years, Kris Metzger. When she replied, I believe her comment when learning of our home sell followed by our version of running away with the circus, was something like, "You two are crazy but look blissful – so I guess I'll just wish you both Happy Trails."
We hope you will wish us the same. And I know I am going to regret this this next request, but I'd like you to share your thoughts on our own "Coconut Telegraph" The Class of 70 Message Forum". Go ahead I am a big boy, I can take it. Tell me what you think or our little adventure. How do you feel about change in your life; both wanted and unwanted change. What are your hopes and dreams for your future? Your comments are what keeps the site fresh; otherwise it is just me writing a rambling each month. So take a couple of minutes and post your thoughts.
In closing let me tell you about a real treat for the next couple of months. Beginning in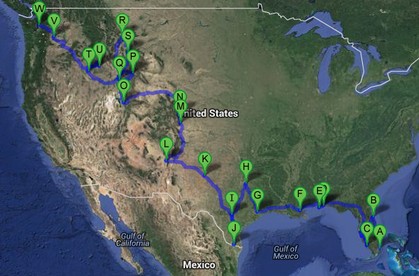 the October Rambling we will be following Doc McKinney's cross-country journey from Miami to Seattle Washington. This is a real once in a lifetime trip and he has been kind enough to invite our entire class along for the ride via his blow-by-blow travel log. So buckle your seatbelt and give it an extra tug and be sure to not miss the October Rambling.
So until next time, as we say in the motor coach world - Keep Rolling!
Keepin' the Spirit Alive
Richard Parker
---

Your Butterfly Effect
We never know the impact the little things we do or don't do may have on the lives of other; even the unborn.
In 1963, Edward Lorenz, an American mathematician, offered a hypothesis to the esteemed New York
Academy of Sciences, which he later named "The Butterfly Effect." The effect related to the theoretical example of a single butterfly flapping its wings, which moved molecules in the air, and like one billiard ball hitting another, these molecules began a chain reaction that ultimately led to a typhoon forming on another continent. Granted, on the surface, this sounds esoteric and most unlikely. So unlikely that Lorenz was promptly laughed off the Academy stage.
The Butterfly effect in chaos theory is the "sensitive dependence on initial conditions." More simply stated, this means that even very small moves or changes at one location or time can result in great differences at another location or time. Further, these future results are unpredictable. Today, these results are called deterministic chaos, or simply chaos.
The butterfly effect spawned a science-fiction psychological thriller by the same name released in
2004 and starring Ashton Kutcher and Amy Smart. It also inspired my fellow author/speaker Andy Andrews to write the New York Times bestseller, The Butterfly Effect: How Your Life Matters, which is a short read. In less than an hour, Andy shows, using two powerful examples, how everything we do in our life, every move we make, every action we take, matters.
For this Rambling, I share one of Andy's examples. In 2004, ABC News named Norman Borlaug, then 91,
"Person of the Week." Although you might be unfamiliar with the name, it is reported that he is responsible for saving more than two billion lives through his work to hybridize high-yield, disease-resistant corn and wheat to grow well in dry climates. Borlaug's hybridized crops soon were growing worldwide; Western Africa to the plains of Siberia and everywhere saw these amazing seeds thrive and regenerate.
However, if you take a closer look at the butterfly effect on Norman's life, and you might think that
someone else deserved the "Person of the Week" moniker—someone such as Henry Wallace. Although I'm certain that few of us recognize Wallace's name, he was Vice President of the United States under Franklin Roosevelt. Yes, I understand that because of the atomic bomb, we immediately think of the Vice President who followed Roosevelt into the Oval Office—Harry Truman.
However, let's look at a little American history here. Roosevelt had three vice presidents. The second vice president who served from 1941 to 1945 was Henry Wallace whom was named Secretary of Agriculture after he was dropped from the reelection ticket for Truman.
During his tenure at the Department of Agriculture, he opened a facility in Mexico whose goal was the hybridization of corn and wheat for arid climates. Secretary Wallace was solely responsible for hiring young Norman Borlaug to run this Mexican research facility in the 1940s.
Although history remembers Norman Borlaug, an eventual Nobel Prize winner, because his life's work was the catalyst for saving the lives of two-billion people, maybe Henry Wallace deserved the credit… Or could it have been George Washington Carver?
Yes, we each know about Carver's work with peanuts, but what you might be unaware of is that when Carver
was 19 studying at Iowa State University, one of his professors allowed his 6-year-old son to go on what they described as "weekend botanical expeditions" with his brightest student, George Washington Carver. The 6-year-old boy's name was Henry Wallace. Wallace later wrote that while he was still a boy, Carver installed in him his lifelong love of plants and a vision that plants could change the planet.
Think of George Washington Carver's butterfly effect as he so profoundly affected the life of the young Wallace and along the way developed more than 260 uses for the peanut and almost 90 uses of the sweet potato. Maybe George Washington Carver deserved to be named Person of the Week. Again, it might have been that Missouri farmer…
The farmer's name was Moses, and although he lived in
the South, he was very much opposed to the concept of slavery, not a popular stance for a Southerner during the Civil War. His vocal condemnation of slavery made him a target for Quantrill's Raiders, the sadistic group of criminals who cloaked themselves in the gray uniforms of the Confederacy as they terrorized Yankee soldiers and Southerners alike.
In 1864, Quantrill and his Raiders rode through Moses' farm, burning several buildings and killing several of the farm's inhabitants. George's mother Mary Washington was kidnapped by the Raiders but refused to let go of her newborn son; both were taken.
There's a strong friendship between Mary Washington and Moses' wife Susan. She was distraught over losing her friend Mary and began a letter-writing campaign to area farms asking for information about Mary and her infant son. Eventually, she succeeded in setting up a meeting with Quantrill.
Moses rode the farm's last horse into Kansas for the late-night meeting. The white Southern farmer offered Quantrill the only thing he had of value—his horse. They took his horse, and in return, the bandits tossed on the ground a filthy wet burlap sack. As the thunder of hooves became fainter and fainter, Moses pulled from the bag a naked, cold, and almost dead black baby boy.
The only way to keep the baby warm was by placing him inside his shirt skin to skin, as he walked a full day back to his farm. Moses and Susan committed that they would do all in their power to see that this tiny boy was cared for and educated to honor the memory of his loving mother Mary. On that first evening, Moses and Susan gave the boy their last name Carver.
So, you could say that Moses saved the two-billion people, or are maybe it was Susan. Unless it was…
Yes, if we could go back and drill into each of these people's lives, we would learn even more details—details
that shaped their lives. I believe we can all agree there were many people responsible for saving those two billion lives, to either a large or a small extent.
How about you? How far forward would we have to look to find someone who, because of you, made a difference? How many people yet unborn will live a better life because you were here? As Andy says in his book, "Every single thing that you do does in fact matter."
You are a unique person created by God to differ from anyone else who ever lived. You have your unique way of looking at things, of taking action, of making a difference. You have always had, and you still have, the seeds of greatness deep inside you. The question is how
you will use those seeds. Will your seeds save two billion as the seeds developed by Borlaug did? Or will you make someone else's life just a little bit better. So I encourage each of the Class of 1970 to flap their butterfly wings and create your own typhoon.
I close this Rambling with the same words Andy used to close his book. "Your life… and what you do with it today… matter forever."
Keepin' the Spirit Alive,
Richard Parker
I encourage you to read Andy's book The Butterfly Effect.
http://www.andyandrews.com/ms/the-butterfly-effect/
---

Spring Wind
My friends are gettin' older,
So I guess I must be too.
Without their loving kindness,
I don't know what I'd do.
Oh, the wine bottle's half-empty—
The money's all spent.
And we're a cross between our parents
And hippies in a tent.
https://www.youtube.com/watch?v=ulH-8k013_Y
With now three score firmly under our belts, we collectively and individually plunge headlong into our fourth. How is that even remotely possible? I don't know about you, but I find myself in recent years pausing to take in a view just a little longer, listening a little more intently to songs, sermons, and friends and soaking in all that I can of that which fills these days I've been so blessed with.
It amazes me that for the first forty or fifty years, I was so busy, in such a rush to get wherever I was going, never thinking to slow down and just be appreciative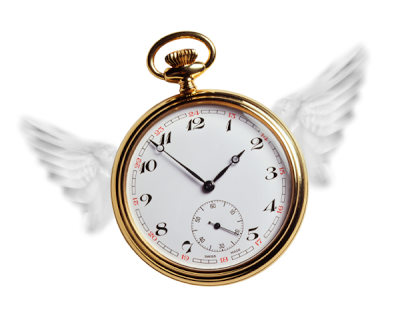 for where I was, right then, on my journey through life.
This website has done a lot for me personally. Yes, there is the obvious; it has brought me closer to many of you, and for that, I am thankful beyond words. But little did I know how becoming the self-appointed keeper of the log would so profoundly affect me at the core of my being, how it would change my outlook, and yes, how it would begin to change me.
In the few years since we launched the site, it has been my job to pass along the news from our classmates. I have to chuckle when classmates preface some tidbit
by saying, "Now, this is off the record," as if they are speaking to some super-sleuth newspaper man with a stub of an unlit cigar hanging from the corner of his mouth and a press badge tucked securely in the band of his fedora.
Sometimes, these revelations bring a smile linked to a joyful childhood memory. Other times, they are unwanted, and they tear at our hearts. The most unwelcome are always the medical diagnoses; scary and riddled with uncertainty, they stop us in our tracks because we know that there but for the grace of God, go I. We would each gladly do anything to help, but alas, all we can really do is lend an ear, offer a word of encouragement, and say a prayer; all three have proved helpful.
Anytime I'm tempted to throw myself a one-man pity party for some trivial disappointment life has placed squarely in the middle of my journey, I try to put things in perspective by taking a stroll through the In Memory section of our website remembering those classmates who were taken too soon. These things make me appreciate how fragile life can be and how important it is to live today. It has prompted me to say I'm sorry a bit more quickly and bite my tongue a bit longer.
I remember the early days of our class website when Robert Darling was uploading our classmate photographs plucked straight from the pages of the Santa Lucian. All those pictures of your smiling faces—a bunch of scrawny seventeen- and eighteen-year-old kids sporting ear-to-ear grins, faces laced with wide-eyed innocence—still make me smile. Yes, we thought we knew everything. If we only knew then what we know now, most of us would have run back to the safety of homeroom, begging Principal Terry not to make us go—but go we did.
Like a swarm of butterflies released into a warm summer Florida morning, we were
off, each in a different direction with different objectives and each realizing a different outcome—some quickly starting families, some businesses, and some trouble.
We went north, south, east, and west. Some put down roots quickly, whereas others still consider its merits—no sense in hurrying. For some, the financial side of life was easy, for others, most elusive. Some were quick to give a hand to those in need, whereas others found it difficult.
Some of us became communicators, whereas others mastered the fine art of listening. Yes, the great Class of 1970 produced leaders and followers, doers and watchers, Democrats and Republicans, cheerful people and our share of old grumps.
As I perused those photographs, I was bathed in a flood of memories as strong as any incoming tide that ever coursed through the Fort Pierce Inlet.
Those memories made me think of a verse from the Jack Johnson song, "Spring Wind," which I opened this article with
My friends are gettin' older,
So I guess I must be too.
Without their loving kindness,
I don't know what I'd do.
Oh, the wine bottle's half-empty—
The money's all spent.
And we're a cross between our parents
And hippies in a tent.
As that Spring Wind blew across our graduation ceremonies, we were convinced that we could and would change the world. In many ways, we did just that. The tsunami of humanity known as the baby boomer generation has changed nearly everything we have collectively touched. Born during the demographic Post-World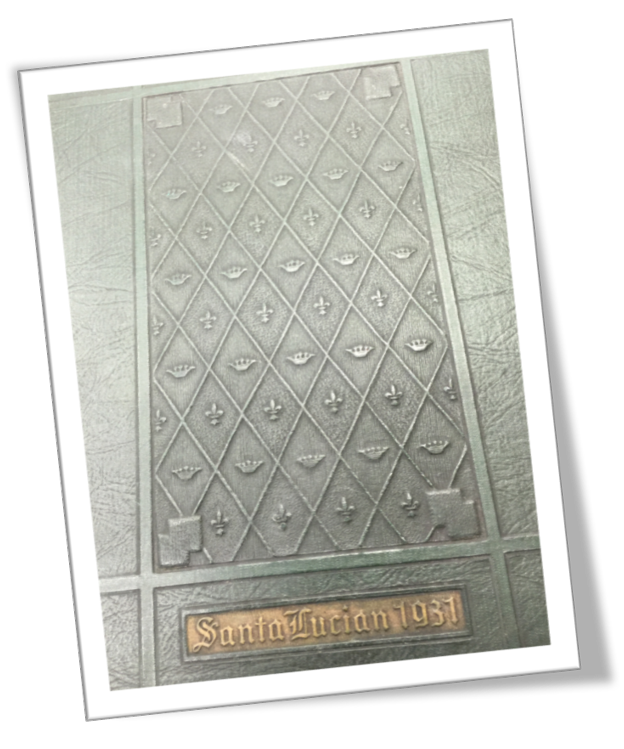 War II boom of newborns that began in 1946 and continued through 1964, we initially exploded sales of baby-related items—diapers, bottles, cribs, and the like. As we grew, we made household names of the companies we touched, including Schwinn Bikes, Mattel Toys, and Swanson with their aluminum-trayed, heat-and-serve TV dinners.
As we went to college, we created the rental apartment boom that circled nearly every university campus across the country. We were gasoline tossed on the fire for the real-estate explosion of the seventies and eighties. We were the target market for the muscle car, the mutual fund, and, eventually, the SUV. You can rest assured that we will bring a new dimension to the word retirement. We even changed the way people view our planet.
On April 22, 1970, of our senior year, we with the world celebrated the first Earth
Day, now celebrated in more than 192 countries. Think about it. In our junior year, it was perfectly acceptable to pitch out the window of your car the yellow wrapper of a thirty-eight-cent McDonald's cheeseburger as you cruised across South Bridge headed to your Endless Summer. By our senior year, that atrocity landed you in the same category as the captain of the Exxon Valdez.
In a mucked up lovely river,
I cast my little fly.
I look at that river and smell it
And it makes me wanna cry.
Oh, to clean our dirty planet,
Now, there's a noble wish,
And I'm puttin' my shoulder to the wheel
'cause I wanna catch some fish.
But most of us boomers grew up in an Ozzie and Harriet world with great parents who assured us of their love, making our world safe and us unaware that the world held even the slightest bit of evil. The only bad that befell most of us was certainly self-imposed and in a smaller dose than we had coming.
That blanket of innocence was draped around us in a consorted effort of good parents, teachers, schools, and churches. In that cocoon of innocence, the foundation of our life was laid, giving us the stable footing on which to build our lives as good husbands and wives, parents, grandparents, and citizens.
Children go to sleep now—
You know it's gettin' late.
I know you don't like to miss nothin'
And school ain't that great.
Oh, I'll dance with you when you're happy,
And hold you when you're sad,
And hope you know how glad I am,
Just to be your dad.
So, with gratefulness, I thank each of you. For without you, there would be no reason for this website, and without it, I would be missing at least part of who I am today. I certainly would not have any excuse for my monthly therapy sessions, aka Richard's Ramblings with a Dash of Pretty Good Stuff. Without you, friendships across our class would not have been renewed, smiles not smiled, and comfort would not have been given when needed the most. You see, this Rock 'n Roll Generation is still changing everything we touch… one life at a time.
Keepin' the Spirit Alive,
Richard Parker
---

Bonus Man's Day Rambling
Hope You (or Your Man) Had a Bad Father's Day
But I do hope you (or your Mr. Special) had a great Man's Day. Now, before I start, let me say to you ladies that we men love and respect you. And 364 days a year, our focus is to put you on a pedestal. But I must say, as the self-appointed spokesperson for all men worldwide, it is sometimes difficult to give you what you say you want. If you ask most women what kind of man they would like to have, they reply, one who is nurturing, kind, caring, and who will listen without trying to fix every problem. Pardon me, ladies, but that sounds a bit like you are really looking for… another woman.
Don't Fix It—Just Listen https://www.youtube.com/watch?v=-4EDhdAHrOg
Hey, guys, by viewing that video, we just might discover why women outlive men, on average, by six years. It just might have something to do with the fact that they don't have to marry women—just kidding, ladies; settle down, there is a reason these words of wit and wisdom are called Ramblings.
That said, Man's Day is our only day of the year, but somewhere along the way, most likely with a little help from Hallmark, we stopped celebrating men and started celebrating fathers. My question is do we stop being men when we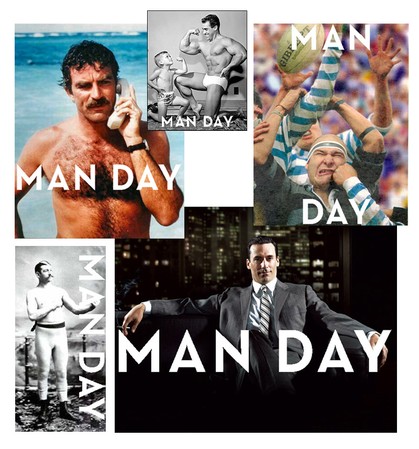 become fathers? And my follow-up to this thought-provoking probe of the innermost recesses of the mind is how many fathers were not first men? So, isn't Father's Day a bit exclusionary? And of course our trusty PC dictionary tells us that to exclude is a no-no.
After all, the entire basis of Father's Day is for the family to say thanks to dear old Dad. So, that brings me to my third question—thank you for what? Would it be for working hard, caring for others, providing emotional and financial support, and generally just being a good guy? How many plain old men (as opposed to fathers) do you know who have these same attributes?
So, here it is. I am off on a one-man mission to change Father's Day to the more inclusive Man's Day. After all, it seems that, in many cases, the line of demarcation between a simple man and an all-American dad has more to do with a case of Fallopian Russian roulette than any deliberate act—at least that was the case in high school—can I get an amen, guys? It's seems more about how fast your little guys swim and their dogged determination to reach their goal. Therefore, good swimmers equal Happy Father's Day. Lazy backstrokers, Happy Man's Day.
The point is simple. Both men and fathers have affected all our lives positively. So, now that this year's Man's Day is over, I would like you to take a moment to think back on all the men who have positively influenced your life. And on this, their only day of the year, why not cast a wider net and wish all men Happy Man's Day?
By the way, if you want to make my Man's Day wish come true, go to the Message Forum on our class website and tell us about one man who has made your life a bit better. It is easy to do, just click on Post Reply, and start typing.
Keepin' the Spirit Alive,
Richard

Let's Hang On To What We've Got
Let's hang on to what we've got
Don't let go girl, we've got a lot
Got a lot o' love between us
hang on, hang on, hang on to what we've got
https://www.youtube.com/watch?v=4GEzSQOhS40\
I know I am a fortunate man. In fact, a bit more than fortunate, some would say. Blessed might be a better word choice for this slightly rotund wordsmith. F
or as I've managed to hang on by my fingernails to this big blue marble as its made now sixty-one very quick trips around the sun, I recognize that I've been able to hang on to more than just my grip. And of course, 50 percent of the challenge is, as Frankie Valli said, hanging on to what you've already got in this ever-changing world.
I've managed to hang on to so much that, at times, I feel a bit like a pack rat. I've held on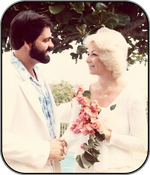 to a wonderful woman who has shared my life for now thirty-two years, although sometimes, I am sure she has questioned her decision in that little arrangement. Until this year, I was able to hang on to two loving parents who always cheered me from the sidelines of my life, postponing the category of orphan for more than six decades. I've held on and, at times, held my breath as I've watched my two boys become men, and three grandkids follow that trek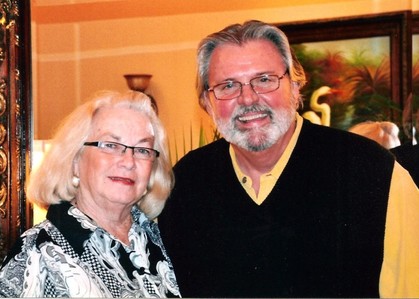 toward adulthood. As for the boys, it could not happen fast enough, and the grandkids somehow made that leap from cradle to college in somewhere around eleven days.
Then, there's you. Yes, somehow, I have managed to hang on to all of you—more than two hundred graying kids I grew up with. A bunch of kids who still think it is cool just to hang out as we hang on. To pick up the phone and call just to
say, "What's shakin', dude?" One of those kids gave me a jingle and swung by my motor coach on his way to New Orleans. Doc, you were a great thirty-second anniversary gift for Joan and I. Weren't the Oysters Fenton great?
My good fortune has stretched over a lifetime. Not only have I been able to hang on to all these great people in my life, I was even lucky in my geographic destiny. Imagine my surprise when three score ago, I emerged from my comfy nine-month incubator stay to discover that I had won the birthplace lottery—born in America, and better yet, to find this bouncing baby boy was Southern to boot. Well, it just don't get no better than that, ya'll. And you can count on the fact that my Southern roots are at the top of the list of things I intend to hang on to.
After spending my career in the financial industry, the last decade has been spent in and around the luxury RV resort business. And because RVers travel, I have met thousands, mostly snowbirds fleeing the frozen tundra for a few months in the sunny South, or so they say. But, are they really after the sun? I hypothesize it might be more than just those warm rays on a cold winter day. I think, maybe, they just want to spend time with God's folk—Southerners.
You see, it's not difficult to argue that we Southerners are just downright good people. Not perfect, mind you, but as a group, pretty much at the top of the heap of the seven billion inhabitants of this crazy mixed-up world we share.
I think part of the reason is that, as a group, we were simply raised better. We were taught to recognize what is truly important in life. To recognize the little things and be thankful for them. To add at least a dash of the Golden Rule when dealing with others, something you might find in short supply on the streets of New York or Philadelphia.
We Southerners are partial to a cool breeze on a summer night as it wafts through Spanish moss swaying from a live oak, fast horses, mint juleps, rockers on front porches, and peaches. Some would say we have our own language. If you get a mess of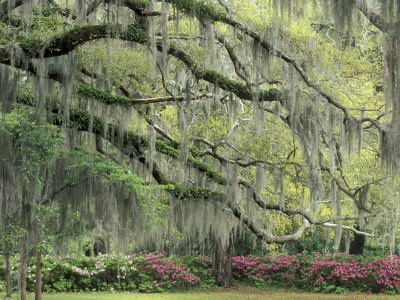 Southerners in one place, you can be pretty sure you're going to hear, "Well, I never," "Hey to your mamma and daddy," "I reckon so," We're fixin' to," "I might could of," "mean as a snake," or the cornerstone statement of Southern pity, "Well, bless his little heart."
Speaking from a man's viewpoint, there are of course those Southern girls. Yes, I must admit it. I love G.R.I.T.S. (Girls Raised in the South). You see, these Southern girls know from their raisin' that macaroni and cheese is really a vegetable, that they are the cutest when they are just a little bit sassy, they like their okra fried, their BBQ prepared by Jim Huck, and they always reply with a respectful "Yes, ma'am," no matter how stupid they think that Yankee is. They prefer
daisies in a Mason jar to roses in Waterford crystal, love their mama, and they are sure their daddy hung the moon in his spare time. And the only thing sweeter than their iced tea is their smile.
https://www.youtube.com/watch?v=74rOqQL402Y
Southern girls make things so easy to understand. Yes, you never have to wonder where you stand with a Southern girl. I overheard two sixty-something Southern belles talking the other day and could not help smiling as one said, "Since food replaced sex in my life, I can't even get into my own pants." After a short chuckle, the other replied, "Well, honey, I figure the Lord don't want me to have a waistline anymore, so in seeking His will, I have changed my prayer. Now, it is "Lord, if you won't make me skinny, so be it, but will You please make my friends fat?" Amen, sister!
Then, there is that good, old-fashioned, Southern cookin'. It is said that you are what you eat. If that is true, when I wandered the halls of DMHS, I must have been fast, cheap, and easy, and on a side note, I'm sure I smelled like a Lum's hot dog steamed in beer. Today, carrying forward that "you are what you eat" thought would defiantly make me as Southern as biscuits and gravy.
You see, to be real Southern food, it takes more than taste and texture; it also must have location. In most Southern homes, everyone seems to gather in the kitchen. And the Southern kitchen is a special place where the bacon is sizzlin', the grits are simmerin',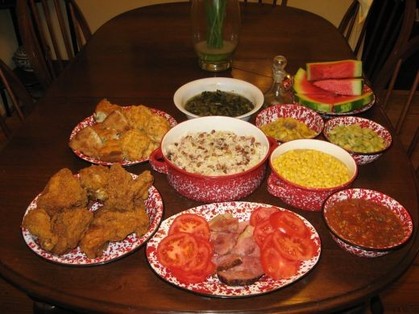 fried chicken is a-poppin', green beans are boilin', biscuits are bakin', collards are stewin', nana puddin' is sittin', and a pecan pie is coolin' on an open windowsill. And all this activity is laced together with a heapin' helpin' of love.
Now, all that Southern food tends to add a midge of girth to many Southern boys and girls. My Southern doctor, Doc Beauregard, has for years "recommended" that I "trim a few pounds." Now, Southerners pretty much shoot straight, and Doc Beauregard is no different. I remember his most recent prescription when, with a sigh, he moved his glasses atop his head and pronounced, "Well, Richard, I've done all I can do to get your weight down. Now, all I can suggest is for you to learn to be jolly." But I do have an excuse; with the way my memory has slipped, I just sometimes plum forget that I already ate. Lately, I'm just happy when I find my glasses before I forget what I wanted to read.
In the South, everyone has a dog. And how can you trust anyone who doesn't like something that laughs with its tail?http://https://www.youtube.com/watch?v=eiEPb36mSq0
In the South, we are known for our small towns dotted throughout Dixie. There's a lot to say for small towns. Where your neighbors know you from the cradle to the grave and where you were just as likely to get a spanking from the momma next door if she caught you misbehavin' as from your own. In a small town, if you don't know what you are doing, you can count on the fact that someone else always does. For all these reasons and more, I'm hanging on to my Southern roots.
So, in closing, let me state the obvious. If you, as I do, love Southern women, raise your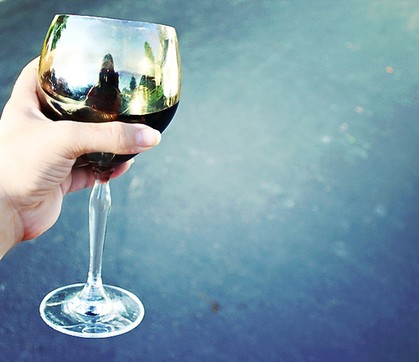 glass, and to the rest of you, raise your standards.
Keepin' the Spirit Alive,
Richard
---

Are You Making a Joyful Noise?
As I get older, my movie preferences seem to have swung like a tire swing suspended under a 150-year-old live oak. No longer do I stand in wide-eyed amazement as the robot version of Arnold Schwarzenegger mows down legions of bad guys with an AK-47 that never seems to run out of ammo. Today, much to the horror of my testosterone-ridden, chest-thumping high school buds, it is possible to find me willingly watching a chick flick with my wife Joan on a Sunday afternoon.
Now, before I begin my trek into this month's Rambling, let me state without equivocation that I am not yet senile, nor am I experiencing the lasting effects of the sixties that would cause me to forget that it was only last month I reviewed the movie The Best Exotic Marigold Hotel. So, even at the risk of being known from this point forward as the one-man version of Siskel and Ebert for the Class of '70, I will share with you my Rambling thoughts on one of the most uplifting (because we all need a bit of uplifting in this crazy world) and toe-tapping movies I've seen in quite some time. It is Joyful Noise, starring Dolly Parton and Queen Latifah. This music-filled flick follows a choir from the small town of Pacashau, Georgia, as they pursue their collective dream of winning the National Joyful Noise singing championships.
Movie Trailer: https://www.youtube.com/watch?v=rlR_vDzDNyE
Like our lives, like this movie is laced with family problems, egos out of control, adolescent growing pains, young love, and the struggle to do what's right in a sometimes too competitive world. Simply put, it reminds you a bit of life at Dan McCarty High School.
The film's soundtrack smoothly merges two genres: pop and gospel. And I just dare you to try not to sway to the beat at least once. This movie would even make Bobby Harrell want to dance, and that would truly be a sight. I love you, Bobby!
As in each of our lives, this choir faces overwhelming competition and some hurdles just a bit too high to muster the courage to even begin to try to compete. But each member of the great Class of 1970 has learned firsthand that the most difficult
part of any journey is simply suiting up, showing up, and then taking that all-important first step. How many times has each of us been ready to quit—in business, in family relationships, and even in friendships? But that last push, the extra 10 percent of effort, ultimately brought us a joy that today has made another of those memories that last a lifetime.
The choir in this movie faces just such a moment when their pint-sized competition, led by Michael Jackson soundalike Ivan Kelley, brings the crowd to its feet with
their rendition of Billy Preston's "That's the Way God Planned It," another classic from the era of the best music created—our era.
https://www.youtube.com/watch?v=MOSBEtSKRpY
This movie is worth watching just to hear this song. One thing I enjoyed about this film the most is how many of these songs come straight out of the sixties and seventies—"Maybe I'm Amazed," "The Man in the Mirror," "I Want to Take You Higher," and this Preston/Beatles tune "That's the Way God Planned It."
Should their small town choir quit in the face of overwhelming odds? Do you quit when facing challenges? You can just see the "who can beat that" expression on their faces as eyes widen and mouths gape they listen in stunned silence from backstage to the crowd who, in no uncertain terms, signal their rafter-rattling approval for the competitors of our heroes and heroines.
Isn't that the same type dilemma life has thrown at us all, sometimes in large doses, throughout the six decades we have traveled this magical mystery tour together. But by now, we know that things are never as bad as they seem, and of the things we have feared most, now and then, one actually happened. So remember, the way to overcome these seemingly insurmountable obstacles of life is simply to extend your left foot first, right foot second, and then repeat the process. Yes, forward motion can be the best cure for many of our darkest days.
I remember one of my darkest. In October of 1998, a phone call at 6:00 a.m. woke my wife and me from a deep sleep. On the other end of the phone was our sobbing son. The message was the worst news that could have been delivered. In the middle of the night, our 2½-year-old grandson Josh had died. Trust me, my friend, the news
doesn't get any darker, nor the pain more severe. Even today, fifteen some odd years later, in a busy airport or mall, I glimpse a 2½-year-old boy with flaming red hair, giggling loudly, as he runs to escape the open arms of a chasing parent, swinging his half-full bottle by the nipple, and my heart breaks.
Yes, there are times in life that it might seem that God is using you for target practice. If so, it might be helpful to remember that after all, He is God, and therefore, He would not miss if He had the crosshairs centered on you. So, because you are still standing, it wasn't Him.
But, if I am honest, now that the pain has subsided, I can look back and acknowledge that although Josh's death rocked me to my core, some positive things occurred from the terrible day. Josh's foundation has built several churches in Cuba, helped hurricane survivors who needed generators, and provided help for a twenty-something widower forced to raise two children alone when their young mother died.
So, however dark the night, we should remain confident that the sun will rise again tomorrow, so the trick is to follow the instructions that Mitch Hilburn sang to us all at almost every victory dance—"Don't Let the Sun Catch You Crying."
In the movie, the improvisational shift from traditional gospel to the Sly and the Family Stone classic, "I Want to Take You Higher" shifted the momentum back to the Pacashau choir. It is amazing how changing a few words can change the entire meaning of the song—boom laka-laka-laka, boom laka-laka-laka, and all. You will enjoy watching the transformational chameleon-like change as the auditorium goes wild.
https://www.youtube.com/watch?v=NTicJVR3R_c
This, too, is commonplace in our lives. How many times have our best-laid plans simply turned to mush right before our eyes? That is the time our improvisational shuffle kicks into overdrive. Drawing on the lessons we learned from the blood, sweat, and tears of our many past mistakes, as we blindly feel our way thought the zigs and zags of the long and winding road of our life.
Just as the Pacashau crew emerged victorious against what seemed overwhelming odds, we, too, can overcome those obstacles that block us from what we desire the
most in life. But remember that all success comes at a price, be that hard work, sacrifice, or the risk of all we own. Only you can determine whether that price is too high or a virtual bargain.
But I can assure you, without doubt, that if you are willing to believe in yourself and deliver the effort required to seize what you desire with all your heart, it will be yours. And when you have your cherished prize firmly in your grasp, don't forget to… Make a Joyful Noise.
Keepin' the Spirit Alive,
Richard
---

Forward Motion
"In the end, it will all work out, and if it has not worked out, then it must not be the end."
This line from a wonderful movie, The Best Exotic Marigold Hotel, focused on a group of seven down on their luck British retirees who traveled to India to stay in what an Internet ad touted as a newly restored luxury hotel. After their arrival, they
find that the "Best Exotic Marigold Hotel" was not luxurious, certainly not the best, in fact barely a hotel.
This movie caused me to ponder the many twists in this journey we have trod for now more than six decades. I was struck by how the seven responded, each viewing what was obviously less than they had expected. Some were angry and demanded a resolution to their dilemma, while others seemed quite excited about the adventure on which they had embarked.
I could not help thinking of a quotation from Aldous Huxley: "Experience is not what happens to you; it's what you do with what happens to you." If I'm honest with myself, I must admit, that over the past forty years, many of the highest points of my life immediately followed an event that had been unexpected, untimely, and certainly at the time unwanted.
Now, don't get me wrong. I am certainly not a gray-haired, slightly rotund version of Tony Robbins, always seeing the half-full glass, never having a down day, and
waking each morning with a bluebird perched on my shoulder. But, like most of you, I have acquired a bit of wisdom that comes only with age. That wisdom has taught me to fear less while simultaneously grabbing the reins of the chariot of my life with a simple understanding that, of all the things I have feared the most in my life, now and then, one actually happened.
As past decades begin to stack like cordwood, life's aches, pains, and problems can become more frequent and, yes, more severe, which is why it is imperative that we all commit to exercise the six inches between our ears more today than when youth's vigor made it easier to ward off life's blunders.
In our twenties and thirties, we perceived ourselves as indestructible with a passion for life that made all things seem possible. Today, I have better learned the merits of patience. After all, patience does not replace passion; patience is simply passion tamed. So, when we are disappointed that things in our life did not turn out the way we expected, it can be helpful to remember that they seldom do. And I do believe with every fiber in my body that the only real failure is the failure to try and that true success is not measured by the size of our bank account, rather in how we deal with these inevitable disappointments that are part of life. After all, our only real job is to get up, suit up, and do our best; nothing else matters.
It is normal from time to time to wish for the wide-eyed innocence of youth to return, if just for a day. But no amount of longing can bring back those days. Like a faded photograph or torn ticket from the Magic Carpet Sweetheart Dance, pressed neatly in a scrapbook, it can conjure up memories of days past, but that's it. The good news is that living in today, living in the present, enables us to chart our course forward, free to embark in any direction we choose. But this takes forward motion. Planning alone is not enough. Those plans must be put in action just as the steering wheel on the boat is useless until the propellers are engaged—forward motion is needed to steer a course.
Nothing drives me crazier than to hear someone speak as if his or her life is over. "I'm too old… Not at my age... May
be when I was younger… As Hillary Cooper so eloquently said, "Life is not measured by the number of breaths we take, but by the moments that take our breath away." I, for one, am determined to have my breath taken more times than I can count.
To me, getting older is not about fretting over drooping this and sagging that, the inability to read without my bifocals, or being a member of the 50-50 club (the club for all men over fifty who need to go to the bathroom every fifty minutes). For me, it is the fear of being marginalized, of not mattering, of not having anything to contribute. And I, for one, promise on this issue of mattering not to go quietly into the night. Whether in my work, in my family, in my church, or maybe just by helping a friend in need, I am determined to matter, to contribute, and when my day comes, I am determined to be missed, to create my own little void in the world.
As I've said several times in these ramblings, I am certain that I get more enjoyment out of writing these ramblings than the collective lot of my classmates gets from reading them. But I must admit the fuel that feeds my passion to write can be as simple as a few words in an e-mail telling me that a particular rambling made someone smile. Talk about easily stroked. Oh, well, c'est la vie.
But everything in life comes with a price. Even the enjoyment I get out of penning these ramblings is tempered with the unpleasant task of being the keeper of the In Memory log and usually being among the first to be notified when another of our classmates reaches the end of his or her journey. Although this unpleasant task makes me more cognizant of how truly precious life is, I refuse to allow the loss of a friend to rob me of all the joy I know still lies ahead. I will not focus on what part of my life is in the past, only what joy and excitement still lie ahead.
Yet, this ringside seat to the cycle of life, in itself, has made me more grateful. As I've already told you, just a couple of short weeks ago, I lost my eighty-four-year-old father, Richard Sr. And as fate would have it, today is the one-year anniversary of the loss of my mother. Although I miss them, those two recent clouds in my life has a brilliant and unforgettable silver lining.
How many people can say that more than forty-three years after graduating from high school, not one, but five, of their classmates would drive more than an hour to attend those two funeral services just because of their love for me. Those wonderful friends—Jim Lester, Doc McKinney, Bobby Harrell, and Ricky and Beanie Silverstein—will never know how their display of support and love for my family and me moved me to the core of my being.
So, instead of looking to the future and worrying about what lies ahead, let us all
understand that the only thing certain about our future is that it will be different. Let us resolve to drink in all that life has to offer, not in dainty little sips, but in big messy gulps, with the excess of all we cherish streaming down our chin and pooling at our feet. Let us work hard, so one day, many years from now, many will miss us.
If we do this, be confident, my friends, that in the end, it will all work out, and if it has not worked out, then it must not be the end.
Keepin' the Spirit Alive,
Richard
---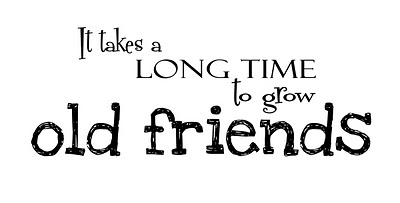 This Rambling is Dedicate to the Rev. Richard L. Parker Sr.
10/23/28 to 3/15/13
Camaraderie… blazed like a match tossed into a pile of dried palm fronds.
Backs were slapped, hands were shaken, hugs were exchanged, and laughter rang loud as a dozen friends of almost a half-century gathered to share a meal, laced with old stories, current news with more than a dash of exaggerations all tied neatly with a couple of downright lies.
This group might have resembled, from outward appearance, a meeting of the local chapter of AARP, complete with receding gray hair and more than one bulging waistline. But, in actuality, it was a gathering of Eagles, decades-long friends from the DMHS Class of 1970 with two '69ers, Greg Simmons and Joel Swain, thrown in as our token adult supervision—a job all will agree they failed miserably.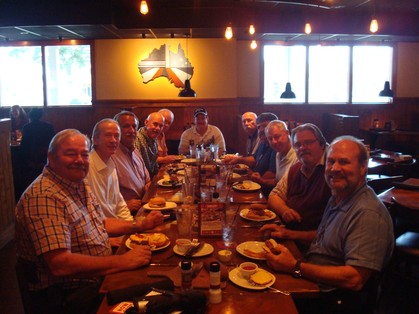 The reason for the gathering was simple and unpretentious. It was because this is what friends do; they get together, and they enjoy one another's company. Maybe this enjoyment was "greased" with a bit less "lubricant" than in the old days, but the enjoyment was apparent nonetheless.
It started innocently enough. I've been traveling with no opportunity to spend even one night in my Melbourne Beach home since January 5. Because most of these guys and I talk much more frequently now than we did forty-plus years ago, we all seem to know what's going on in the ebb and flow of one another's lives today more than we did in our busier years, I wanted to see a few of my old buds and spread my share of exaggerations and little white lies. Simply put, I needed a recharge, and anyone of them is good for a quick pick-me-up and certainly a quick smile.
Speaking separately to Jim Lester and Bobby Harrell, both offered the invitation issued from friend to friend for centuries—"let's do lunch." A date was quickly set, and each told a couple of others, and before you knew it, our ranks had swelled to nineteen with twelve actually making it. By the way, Cal, Buckwheat, Rob, Ronnie, Eddy, Mike, and Stephen, we missed you all, but never fear, each of your names was taken in vain more than once.
By high noon, Doc and the hearty unmistakable laugh of Jim Huck joined Kenny, Ricky, Mitch, and Pete. But the highlight of my day was seeing, for the first time in more than thirty years, an old friend, Warren Crittenden.
For the next hour and a half, I reveled in the warmth and comfort of these time-tested friendships. Although I enjoyed the lunch, I think I enjoyed the trip home even more. I never turned on the radio or touched my cell phone. Instead, I rambled down that long dusty road of memories we all keep tucked away in that special place, reserved for those few friendships who have become forever woven into the tapestry of our life. One by one, I thought of these guys who have become not just friends, but more important, old friends. I couldn't stop smiling.
I thought about the fact that, throughout my sixty-one years on this big blue marble, I've called a number of people my friend. Some, it turned out, justified that special designation, while others, no. As the Irish writer and poet, Oscar Wilde, said, "A true friend is one that will stab you in the front." Although I've probably disagreed and, yes, even argued with nearly every man sitting at this table, not one has ever left a scar between my shoulder blades.
I realize that these guys understand me, and I understand them. When we are together, there is little pretense but a certain joy that comes from knowing our friendships have withstood the test of time. Many times in the last half-century, we each could've found a reason to end our friendship, yet each one, for his reasons, has chosen to do just the opposite. The ability to put aside misunderstandings and disagreements and even the occasional competition for the fairer sex to guard jealously a friendship is the mortar that holds the old friendships together.
Even that evening, after receiving half a dozen follow-up phone calls from my "lunchmates," I still felt a warm and comfortable glow from the day, much like the feeling of quietly rocking in front of a blazing fire on a cold winter night.
I pondered why this group seems to be much closer today than we were forty years ago. I think our friendships, like each of us, have matured. Gone is the fear of what others might think, replaced with gratefulness that we each have somehow managed to sidestep the Grim Reaper for the past six decades. Most of us know full well that, on more than one occasion, had God not guided us to zig instead of zag, we could've (and should've) been prominently featured in the In Memory section of our website.
Thinking back on that day, it occurred to me that, as each arrived at the restaurant, handshakes were mostly replaced
with bear hugs. And as we left, I heard one after another of these aging baby boomers issue the parting phrase "I love you, brother." On my drive home, I could not help smiling, thinking about how that phrase would've been interpreted by our peers, if as the third period bell rang, I had turned Bobby Harrell and said, "I love you, Bobby," and he replied, "I love you, too, Richard."
Yes, our friendships have matured along with our receding hairlines and expanding waistlines. But it's a good maturity, a comfortable one—one that wears like an old shoe, one that allows us to continue, after forty years, to want to share in each other's triumphs and tragedies, accomplishments and failures, joy and pain.
These guys have taught me that a friend is one who walks beside you, never getting in your way, unless, of course, it is to keep you from falling flat on your face. Someone who can say just the right thing, without saying a word, someone who makes you understand that you are understood. And from time to time, when that inner fire flickers in danger of being extinguished, and it can in all of us, a true friend is there to rekindle it, without fanfare or recognition, but simply for the joy of seeing his friend's spirit renewed.
I realize that one benefit of old friends is that they have had an opportunity to witness your stupidity… repeatedly. So,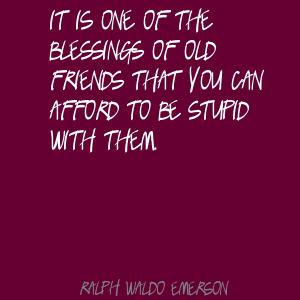 a friend is not surprised when you do something stupid; quite to the contrary, he knows you well enough to be surprised when you don't. Yet through it all, he is still your friend.
Without saying it, I believe we each work to keep these friendships alive because we each understand just how quickly things can change. We know that each time another is added to the In Memory section, a small piece of fabric is abruptly torn from our life's tapestry. Torn and lost forever.
Little did I know this would be brought home to me in a very real and personal way less than twenty-four hours after our final luncheon farewell. The next morning, I found myself speeding to the hospital as the doctors worked on bringing my eighty-four-year-old father through yet another heart attack. Having lost his wife of sixty-four years less than a year ago, the rate in which he continued to slide deeper into the dark recesses of the horrible disease known as Alzheimer's had quickened.
Nancy Reagan described this accursed disease well when she referred to it as "the long goodbye." I feel we have been saying goodbye to Dad for a decade. Like helplessly watching a man just out of reach sink slowly into quicksand, we have watched this wonderful man, father, husband, and pastor slowly slide into darkness, being not with us or gone, but hanging somewhere between.
As his second bypass failed, leaving him with less than 10 percent blood flow through a single artery, I found the joy of the reunion abruptly and callously replaced with a sense of renewed helplessness as I watched this next chapter in his and my lives begin, not by choice, but by destiny.
As a writer, I find solace in putting pen to paper. As I sat alone Wednesday night in a dark hospital room watching the flickering number on the heart monitor change to the soft cadence of beeps and alarms, I penned my e-mail to you as
if talking to an old friend.
Almost three years ago, I decided to build our website and to write this monthly Rambling. For me, it has become therapeutic, a way to tell my feelings, some of which you might share, and some, not so. Other times, it feels as if I am laying bare my soul. It is not always comfortable, but the only way I know how to write is from my heart. But I understand I cannot do this halfway, and having embarked on the journey, I have committed to myself to do it to the best of my ability.
To my great surprise, the response to this decision has been such an outpouring of love from both old and new friends that it has humbled me. You, as a group, have become one of the great blessings of my life. Classmates I passed in the breezeways of DMHS with little more than a nod, today, mean more to me than I can put in words. It is said that everyone has a story, and that so many of you have allowed me to become aware, and in many cases, a part, of so many of these wonderful stories is more gratifying than I can put in words.
I speak often in these Ramblings of the friendships and love I have for this growing group of a few dozen guy pals. I
guess the Southern gentleman in me makes it a bit more difficult to profess outwardly my love for so many of you ladies. But rest assured that you, too, are deeply loved and your friendship appreciated more than you will ever know. You each know who you are.
Over the past few days, I have received a torrent of prayers and kind words, helping so much. My wish is that the same tsunami of support will be given to each of our classmates as he or she travels the long and winding road of life.
"As I hasten to close" was a phrase my Southern Baptist preacher father often used as he wrapped up a long-winded Sunday sermon. It never ceased to amaze me how he could stand in the house of the Lord and tell a bald-faced lie without being struck by lightning—he was not hastening to close; he was only warming up.
So let me be a bit of a chip off the old block when I now say, "As I hasten to close," remembering a quote from that great American philosopher, Mitch Hilburn, memorized in my June 2011 Rambling/Spotlight of Tradition's Children.
I asked him whether, when looking back over his life, he had any regrets. Mitch floored me with his insight and wisdom as he replied:
"Dick, as a bail bondsman, I see people at their lowest point—in jail, desperately wanting to get out. I always ask them for a name of someone who can vouch for them. It is so sad to see how many people have no friends. No one has their back. Not a single person to count on in times of trouble. We do." He went on. If you Dick, or Doc, Silverstein, Lester, one of my band mates, or a dozen other friends from the Class of '70 called one of us needing help, we would all come. No hour would be too late, no distance too far, because we are friends, we are brothers, and we've shared a time in our lives that will always keep us close. My only regret is that everyone in our class could not feel what we feel."
Mitch, my brother, reading back over your words of wisdom from almost two years ago, I still do not know how could I add anything to that.
So, today, as I hang on with white knuckles to this emotional rollercoaster I find myself riding, my mind keeps drifting back to a growing group of friends for whom I would not take anything.
Many of you have asked whether you can do anything to help. I have thought about that, and my answer is yes, you can. You can pick up the phone or type an e-mail to someone in this great Class of 1970 and tell him or her that you are grateful for his or her friendship. Do this today, for none of us knows what tomorrow might bring.
Keepin' the Spirit Alive (with a little help from my friends),
Richard Parker
Thank you Dad for giving me an example of what a truly wonderful father, husband and man looks like. I will strive to emulate you and your life in all I do.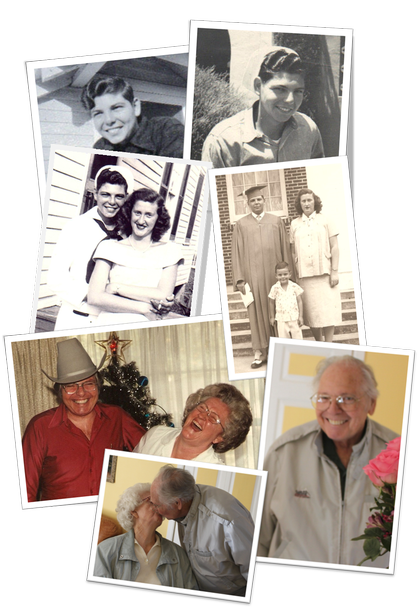 ---

Don't Blink
I love technology—that is, when I don't hate it.
Growing up when we did, we had the unique opportunity to witness first-hand the development of a vast array of technology that has changed every aspect of, business,
our world, and our lives. I remember the first fax machine I bought for my office in 1975. It came with a roll of paper that resembled wax paper. The image was burned onto the chemically treated paper. You then simply tore off your copy in the same manner you would tear off a paper towel. I can remember as if it were yesterday the first time I left a newly received fax sitting in the front seat of my car on a hot Florida summer day; the sun turned the entire paper black. Honestly, I cannot remember life before fax machines, copiers, and, of course, the machine we all love to hate—the computer.
Does anyone remember looking words up in the dictionary? I was never very good at it. Although I've authored ten books, I still can't spell cat. I always wondered how I was supposed to look up a word I didn't know how to spell. I'm sure some of you intelligent kids would be happy to explain it to me, but for forty-two years, it has completely mystified me.
Today, just typing the first few letters of a word in Google will quickly provide its spelling,
definition, and roughly 20,000,000 sites where that word or phrase can be found. Oh, thank God for Mr. Google. It has made this aging baby boomer look almost intelligent himself. The next thing you know somebody will be calling me one of the smart kids. As I write this article, my feet are on the desk, my arms crossed across my chest, a microphone strapped to my head, and my Dragon Dictation is typing this Rambling for me. Maybe I'm turning into my version of the lyrics from the Zager & Evans song "In the Year 2525."
"In the year 5555, your arms hangin' limp at your sides, your legs got nothin' to do, some machine's doin' that for you."
https://www.youtube.com/watch?v=WhNM2K8cmU8
Well, maybe we are not to that point yet, but the other night as I watched a late-night television infomercial, I was tempted to order the exercise bike that peddles itself and sweats for you while it provides power for a George Foreman grill and bamboo steamer to prepare a healthy meal. All that is done with the musical backdrop provided by Richard Simmons' "Sweatin' to the Oldies." But that is a story for a different Rambling.
As you can tell from several of my previous Ramblings, I have become hooked on YouTube. Think of a song, want to know how to cook a meal, or just want a good laugh, and YouTube is there at your service.
Because I travel so much, my constant sidekick has become my iPad. It allows me to answer e-mail in the airport, surf the Web, and listen to my ever-changing, always expanding iTunes account. Today you can tell much about a person by simply looking at their iTunes song list.
A few nights ago, I watched the video, "Don't Blink," from Kenny Chesney." This certainly
struck a chord in me. Can you remember when sixty seemed old? We all might be marching in cadence toward our mid-sixties, but this aging baby boomer promises not to go quietly into the night. I have come to believe that life is not, nor should it be, simple or pretty. It is a menagerie of good decisions and bad, laughter and tears, mixed with a heaping helping of ups and downs. But I for one will not be accused of looking pretty and well preserved in my casket.
I intend to slide broadside into Rick and Jimmy Anne Halsey's funeral home parking lot thoroughly used up and totally worn out, a bit disheveled, eyes still wide with excitement, and the look of "WOW! what a ride my life was" permanently etched on my haggard and weathered face. And I intend to ring ten seconds of life out of every two the good Lord has granted me.
I have always refused to live my life in a predictable middle-of-the-road safe manner, much to the dismay of my loving and supportive wife Joan whom I'm sure has thought many times, "Why didn't I marry a postal worker?" When given the chance, I seem to have always opted for the road less traveled. So many times, I've zigged when, in retrospect, I definitely should've zagged. But, as the Fifties crooner, Frank Sinatra, made so famous in his song, "My Way," by many accounts, "my way" was not necessarily the right way, but I take great pride that I did it my way.
That is one reason that it bothers me so much to hear people talk about being at the end
of their life. I choose to believe that the end is nowhere in sight. I think the best years are yet to come. And I darn well intend to continue to live with the full expectation that God is not finished with me—that I am a work in progress that can cause the future to be exciting, fun, and productive.
I have received several e-mails over the last couple of months asking me where I've been. Yes, I've sent fewer e-mails to you and posted fewer YouTube videos on our forum over the past few months but still managed to hobble together a Rambling for you each month. And I believe you all deserve an explanation.
At sixty-one, I've taken on the largest business project of my life. I expect this will be the grand finale of my business career. Win, lose, or draw, I'm determined to swing for the bleachers. I might strike out, but I can guarantee you I will not be called out with the bat resting comfortably on my shoulder. My contract in this business venture is for a one-year period that began on January 1, 2013. After that, we'll see what happens.
For this opportunity, I feel both blessed and more excited than I've felt in years. I know that this will test the skills I've honed over the last almost forty years of business. Will I be successful? Who the heck knows? But I promise you that, with every fiber of my being, I believe I can be.
So, why did I decide to tell you this? Well, there are two reasons. First, I thought I owed you an explanation about where I have been. I guess you could say I've been hiding right here in plain sight, and because, for the last two years, I have chosen to willingly opened my life to you, telling you the things that excite me, upset me, that fire me up and bring me down, baring my soul to you at times as I Ramble on about the big and small things that, well… the things that make me, for better or worse, me. It's not always been easy or comfortable to share these feelings. But it certainly has been rewarding and I hope it is broader than that of enjoyment to you. The second reason is that with all I have on my plate, I could use a little help from my friends.
I fully intend to continue to post these ramblings every month for the best class ever to graduate Dan McCarty High School. But I can certainly use some help in keeping our website fresh, and more importantly you coming back month after month. The simple fact is that the website is worthless and my Ramblings worth even less if it doesn't bring you back. So many of you over the last few years have thanked me for the website and even offered help. Now, I would like to the answer to your question is absolutely! Your help is both needed and appreciated.
Don't get me wrong, I'm not asking any of you to take a full-time job or to become some computer whiz smart enough to teach your
grandchildren how to play Xbox. I'm simply asking each of you to take a moment to post one simple article, joke, adage, or YouTube video on our forum every month or so. Your e-mail inbox is jammed with some great stuff, and it only takes a few seconds to copy and paste it to the forum. Don't worry; you cannot break it, so try it—just copy and paste something. After all, what really keeps people coming back to our website is new and fresh postings, and it is the real reason I began to write my Ramblings—to give you a reason to come back to the website every month and read my words of wisdom and wit. OK, my Ramblings might be short on both wisdom and wit, but they made you come back, didn't they?
Maybe all you do is send a few congratulatory birthday e-mails to your classmates. How about providing a link to a funny video or something that has touched your heart? You see, this is our website, not my website. Although I do not intend to stop my involvement with something I've truly grown to love—our class site—I could really use a little help.
A good first step would be to update your profile. I know that at least one thing is different in your life since the time you originally logged on
to DanMcCarty70.com. So, why not post a new picture, brag about a grandbaby, or just deliver your own words of wisdom. You should not plan to do this next week; rather, take a stab at it right now. Go to the left navigation bar, under Member Functions, Edit Profile or Upload Photo. The new Notify Me option will notify you when someone changes his or her profile. You can track the updates of a single classmate or the entire class. It's simple, and it's easy.
On the home page, there is a list of upcoming birthdays over about the next two to four weeks. If you would like to have a real fun job, why not volunteer to be the official-unofficial happy birthday kid for our class. It's a real tough job—click the link and type happy birthday. It might seem small and even a bit simple, but when it's your birthday and you
receive a birthday wish from someone you've known for more than fifty years, it can really make your day. Just imagine if three or four of us did that.
I recently heard an interview with the young country artist Taylor Swift. They asked her what's the most important lesson she's learned in her long twenty-two-year life. Although I expected her to describe the shade of lipstick she wears, I was taken aback to hear the depth of wisdom in her reply. She said, "Just because I'm having a bad day, it does not give me the right to make someone else's day bad." Another way of saying that is you never know when someone is having a bad day. But some simple note or gesture from you can turn it around on a dime. So, why not take five
minutes a month, click on the happy birthday list, and in the words of that great American philosopher Clint Eastwood, go ahead and make their day!
But I do like the idea of having our own unofficial-official birthday kid. So, why not waive your hand high above your head like you know the answer to one of Mr. Diggs classroom questions and volunteer? See how this works? I asked for help, and you volunteer. What a team!
Now, for the guilt trip. The next time you read one of my articles, I want you to remember that even with what I have on my list of things to do, I somehow found the time to write this month's Rambling. I want you to feel very badly that, over the previous month, you have not found just a few minutes to help make your website the best website in cyberspace.
On that subject, when someone does something nice for you, didn't your mama and daddy teach you to say thank you? When someone looks good, you were taught to say you look nice today. So, when you read something on our website, whether from one of your other classmates or me, take a moment to share your comments. Your comments do more to bring people back to the website than my Ramblings ever will.
So, let me raise a glass of Diet Coke high over my head and toast the new volunteers from the Class of 1970 who have now been inspired to reach deep down inside and muster the energy from their aging bones required to type some words. Ready—set—type.
Keepin' the Spirit Alive,
Richard Parker
P.S. And to all the following classmates...
Happy Birthday Almost.... https://www.youtube.com/watch?v=YMBC9Ji1WJY
---

Where I Came From
A few years ago, I sat on the beach with my granddaughter watching the summer swells roll in. I value a day at the beach, but one on which my granddaughter puts down her cell phone and talks to me is priceless. During a lull in the conv
ersation, without taking her eyes off the gentle surf, she asked me a simple, yet oh so thought-provoking, question, "Pa, where did you come from?" Like a magic carpet, her six unassuming words carried my thoughts away to another place and time—to that wonderful place and time I came from.
As I pondered my reply to her innocent question, I couldn't help allowing a small warm smile to begin at the corner of my mouth and spread across my gray-bearded and weathered face. For thinking of where I came from is always sure to bring that smile and a warmth in my heart that is sometimes difficult for me to put in words.
"Well, Brittney," I said as I slid my arm around the little girl who taught me years before how deep one could really love, "since you asked, I'd be happy to tell you where Pa came from." As I looked past the swells and to the horizon, staring at nothing in particular, I remembered that gentler time and simple, safe place… where I came from.
"You see, sweetheart," I began, "the place I came from, our doors remained
unlocked day and night, and no one seemed to give it a second thought. You never lost your car keys; they always hung right there in the car's ignition. If you were late for church or had detention, everyone knew it and at least thought they knew why. In fact, where do you go to church was usually a question asked when you met someone new. Not so much to know where they went, but who they were. And around our church, moss hung from the live oaks like the long gray beard of old Southern general providing shade for that most southern of traditions, Sunday dinner on the ground.
"Where I came from, boys were taught by their fathers that you must stand for something, else you would fall for anything. That you respected women—all women—and you showed it in little ways such as opening the door for them, even
if it was easier and quicker for them to do it themselves. That it was not the end of the world if two boys fought after school. That you never sought that fight nor did you run from it. It was assumed that one would lose, and one would win, and everyone knew the only thing used in that fight was your two hands and to stop it was as simple as saying uncle. More important, where I came from, parents, the school, the police, and certainly not a lawyer were ever involved, and somehow, we all seemed to survive. In fact, many times, the two young fisticuffers left as friends. Imagine that.
"Where I came from, we would never think of missing the Fourth of July parade, and when the flag passed, we stood, took off our ball caps, and held our hands
over our hearts. Our water came from the kitchen tap, and you could not buy a bottle of the stuff if your life depended on it. Because, where I came from, no one would pay for water, not with all those garden hoses lying around.
"Where I came from, we surfed, and in our town, the surf was bigger than Miami, but the beaches less crowded than Cocoa. Paddling the inlet was a rite of passage; Monster Hole was yet to be named; Hobie Altar and Corkey Carroll were young, Gary Proper and Skinny English were younger, and we were still younger. The beach was coolest when the sand was hottest, and Archie's was old, even then. About as close to vandalism that we came was when we took wheels off any car from Miami parked at our North Jetty and stacked them on the roof—still an acceptable exercise where I came from. Jaycee Park was the end of civilization, and there was nothing south of there, except some really great make-out spots, as I recall."
"What is a make-out spot, Pa?" my granddaughter asked, which quickly redirected my attention from that spot over the horizon that had held my gaze and back to those wide innocent eyes that could always look into my soul. "That is something older people do, sweetie, much older," hoping to regain the momentum of my story without admitting that the "much older" I described was really about 16, just a handful of years more than she was. Lord, perish the thought!
"Anyway," I stammered, "back to your first question," as I searched the horizon to that more comfortable spot and away from her second.
"Where I came from, going to a Little League ball game was a social event, and who played could not matter less. The water in the lagoon was clear, while my future was still hazy. 25th Street was still unpaved and more like a washboard than a road, and in the summer, the black sand turned the bottoms of your feet dark as coal. Your Nanna, my mom, would swat my butt if I put those dirty feet in the white
sheets of my bed. Butt swatting was a regular event where I came from, performed with vigor by my mom, dad, the neighbors, teachers, and any other grownup who caught you misbehaving. No one got angry if a neighbor swatted your butt; it was assumed that the grownup was right, and you were again wrong. My parents thanked them and then made me do the same. Somehow, though, I not only survived all that butt swatting, but also grew up without therapy.
"Where I came from, our school breezeways were as open as our hearts, and we could cram more into our lockers than Doc McKinney could pack into the truck of his '57 Chevy. The perfect lunch was fried clams and a dog steamed in beer from Lum's, and we were free to leave school and drive there because the school was fenceless and without gates, guards, and fear. No one ever thought about coming to a school to hurt a group of kids where I came from.
"Where I came from you could breathe deeply the smell of the Dandy Bread baking as you caught air over Tickle Tummy Hill. And it was a fact that Jinx dolls really
worked… sometimes. Shirts were madras. Shirttails were long. Terry loops seldom stayed attached, and the National Shirt Shop was the only place to shop. There was no "west of town," unless you wanted to go boar hunting with Jim Huck, and Orange Avenue was "pre-extension."
"Where I came from, the TVs were black-and-white and had no remote. I hurried home from the bus stop to watch Paul Revere and the Raiders on "Where the Action Is," and all three channels came in fine if you adjusted the rabbit ears or the aluminum foil wadded around the ends of the antennas. On that black-and-white set, I watched the Beatles introduced on The Ed Sullivan Show. I could not stop my foot from patting to their beat… nor for the next 50 years.
Where the Action Is Intro
https://www.youtube.com/watch?v=2GeD4cHMNk8
The Turtles - Where the Action Is
https://www.youtube.com/watch?v=1jYBtbL-Ntc
The Beatles
https://www.youtube.com/watch?v=WHuRusAlw-Y
"Where I came from, most greetings were followed by 'Did you eat,' followed by a plate of high-in-calories and high taste Southern cookin' warmed by my mom's willing hands and warm heart as she hummed around a half-dozen small pots on the stove. Where I came from, most of the restaurants served biscuits, grits and gravy by a waitress who called you baby. As you left, that waitress called out, 'Y'all come back now, y'hear.'
"You know, Brittney, come to think of it, I am not sure why I was in such a hurry to leave where I came from. I guess I thought I was grown. After all, I had a good Christian raising and a 12th-grade education, and I thought nothing could stop me. Thinking back, part of being so sure of myself then and whatever degree of success I've achieved since, was also tied to where I came from."
I paused, wondering whether I had answered her question. The quiet lasted for a while, interrupted only by the slow and gentle cadence of the waves. Then, in her tender nine-year-old voice, she said simply, "Sounds like a nice place."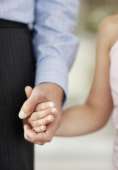 We together stood and turned to face each other, brushing the sand from our jeans, as if choreographed. I put my arm around her, and we began to walk to the car, as I said, "It was Brittney; it really was."
Keepin' the Spirit Alive
Richard Parker
---

From Despair to the Hope that Only Christmas Can Bring
"I Heard the Bells on Christmas Day"

With the horror of the Sandy Hook elementary school massacre still fresh in our minds, and only days before Christmas, it leaves all of us a bit shaken and wondering what is happening to our world?
During our barefoot childhood, running the washboard sand roads of Ft. Pierce, the thought of a school shooting never crossed our mind. Schools were bastions of safety, and the thought of someone hurting us in that innocent environment was all but absurd. Doors were not only unlocked but many times left wide open. In high school, we walked freely to the parking lot to fill a car with six or eight laughing pals as we freely drove off campus, music blaring, for a lunch of dogs steamed in beer at Lums, or greasy burgers at South Dixie or Bills Burger. Never was there the slightest thought that evil could be waiting upon our return.
But, that was then and this is now. Life has certainly changed – some for the best and some not so. In our short lifetime, we have seen much come and go. We have seen airplanes turn from props to jets and, in the process, go from luxury travel to cattle cars; seen the birth and subsequent explosion of the Internet; discovered thousands of new ways to kill one another; watched the Berlin Wall go up and come down; seen phones go from party lines to palm-sized computers. We've seen Tickle Tummy Hill shrink, and the Sunrise Theater go from everyone's favorite make-out spot to the spot to hear everyone's favorite aging rock band.
Some things are gone, never to return—drive-in theaters, trick-or-treating, the cross atop the St. Cloud water tower, and some would say modesty and civility, at least during political campaigns and all year round inside the DC Beltway. Of course, our alma mater McCarty High is gone forever, along with the safety its students felt nestled in shelter of its classrooms.
As difficult as it is for me to believe, today, Christmas even seems in danger of being lost. I wonder what
Christmas in America will look like in the year 2050. I dare say that our grandkids will not see the same Christmas we grew up loving—one with Nativity scenes, an angel atop the "Christmas" tree, and carolers singing such radical songs as "Come All Ye Faithful" and "O, Little Town of Bethlehem." I wonder if we as a country, losing the Christmas of our youth may be in some way linked to the type of violence we now find manifesting itself in the most unlikely of places like Sandy Hook.
Today, all this is in danger of going the way of longboards and Senior Skip Day, all for political correctness and fear that someone within earshot might disagree with the Christmas message and, God forbid, is offended. America, it seems, has forsaken the wishes of the majority for the few.
Now, don't get me wrong. I do not feel I have the right to hurt others' feelings intentionally. But, for the life of me, I do not know how my Christmas tree, manger scene, or Christmas carol can offend anyone, unless he or she is trying to be offended.
I remember the joy of my childhood Christmases and still strive to enjoy Christmas and spread the spirit of Christmas any way I can. I believe it is worth the time and effort to do so. If not for Jeff Foxworthy and all those redneck jokes, I would be tempted to leave my Christmas lights up year round. Alas, I already talk like a hick, and the lights up in June would seal my Southern redneck fate.
But as we age, our kids and now grandkids grow up and move on to living their lives, and as more and more of our friends and family go home before us, it can make getting in the Christmas spirit more difficult than it was just a few decades ago, even without 24/7 TV coverage of another school shooting. The trick is to try. Get up, turn off CNN and Fox News and just try to take in a deep breath of the spirit we call Christmas. Just as we have to work at other things in our life—family communications, earning a living, being patience, losing weight, and the list goes on—we to must work harder at letting into our heart the wonderful spirit of Christmas. We must understand that, with that spirit, we lay ourselves vulnerable to painful memories and our less than perfect traits and those of others.
It might be helpful when trying to rekindle that elusive Christmas spirit to see what we still have to be thankful for, by comparison.
As a writer, I love to read of the lives of other writers. As Christmas 2012 steadily approaches, I am reminded of one of my favorite American poets, Henry Wadsworth Longfellow. It seems old Hank kept a diary, and each Christmas, he would write all he had to be thankful for. He did this year after year. Of course, he, like us all, had difficult times in his life.
While on a trip to Europe, his first wife Mary died during a miscarriage. Henry sent her body back to Cambridge for later burial and continued his journey in the fog of depression that brought him near suicide. His hope was that the travel might lessen his pain.
Relief finally came but, with it, a new form of suffering. A coincidental meeting in the Swiss Alps brought him together with the affluent Appleton family of Boston, which was when he first met and almost immediately fell in love with the Appleton daughter, Frances (Fanny). Fanny Appleton became the great love of Henry's life, but she did not return his affections for more than seven years. Each of those years, he faithfully added his entries to his Christmas diary.
Longfellow's acclaim and his persistence finally paid off, and Fanny accepted Henry's marriage proposal. The couple married in 1843 with Fanny eventually giving birth to six children. So much for turning a no into a resounding yes—way to go, Hank. Longfellow settled in to a happy life grinding out one literary masterpiece after another and his Christmas journal entries.
The later and diminished phase of Longfellow's writing career began with the heartbreaking death of his beloved Fanny. She had cut the hair of their youngest daughter and was sealing the hair in a memory envelope using melted sealing wax when the candle she was using caught her dress on fire. With women's clothing of the day bound tightly, layered, and made of a gauzy material, she was quickly ablaze from head to toe. Henry, napping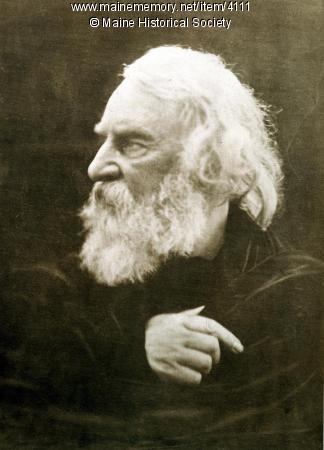 in the other room, was awakened by their daughter's screams and attempted to smother the fire using a rug on the parlor floor. He sustained severe burns on his hands, arms, and face. His attempt to save his wife was to no avail, and Fanny died the next day. The wooly beard he grew in his later years was to cover the facial scars.
A mere month after his beloved Fanny's death, on August 18, 1861, he offered voice to his anguish in a note to Mary Appleton Mackintosh, Fanny's sister. He wrote, "How I am alive after what my eyes have seen, I know not. I am at least patient, if not resigned; and thank God hourly—as I have from the beginning—for the beautiful life we led together, and that I loved her more and more to the end." Even at the height of his misery, he found something to be thankful for. This, too, went in his journal in 1861.
I am hopeful, that once the cutting edge of loss begins its slow and painful healing process, the families of the 26 lost at Sandy Hook can also celebrate the time, although too short, which they were blessed with. Speaking as the grandpa who has lost a grandbaby at age 2 ½, I know firsthand that the pain will eventually
subside and the memories of the time you had with your cherished baby will, one day, again bring a smile to your face; a smile of the way things were.
The same year of Fanny's death, the Civil War began, and in 1863, Charley, Longfellow's son, left without his dad's permission and joined the Union army. During the war, Henry was called to Washington twice to care for Charles—once because of illness and the second in 1863 because of battle injuries sustained at Gettysburg as he fought along with the Massachusetts 20th. By Christmas 1863, his son's injuries were still serious and thought still life-threatening.
On Christmas morning, 1863, as the American poet and abolitionist rose early in his Cambridge, Massachusetts, home, depressed by his son's injuries and concerned at the slow and costly pace of the war, he heard a jubilant rhapsody from the bells in the nearby church belfry. He was overcome with emotion as he considered his and his nation's state of affairs. Burdened with these feelings, he turned to paper and ink. In his bedroom near a warm fireplace, he wrote the poem "I Heard the Bells on Christmas Day." As he poured his heart through the pen to waiting paper, he was immersed in the pealing of the church bells. Longfellow, a devout Christian, later said that he was drawn to the Bible where he found God's promise in the second chapter of Luke that the tolling of the bell seemed to underscore "Peace on Earth, goodwill to men!"

While the words flowed into what was destined to become an American literary classic and eventually a popular Christmas carol, Longfellow's despair can still be read in the line, "and in despair I bowed my head… there is no peace on Earth, I said… for hate is strong and mocks the song of Peace on Earth, goodwill to men."
To hear this powerful Christmas carol https://www.youtube.com/watch?v=M7670CXvPX0
This line concisely pronounces the national sadness that engulfed the North and South alike. Still, it took two more full years to end the bloody war. But even in one of the worst eras of our country, with his heart laden heavy with the sorrow of a wounded son, a crippled nation, and the loss of his cherished wife, Longfellow could still find the spirit of Christmas.
Longfellow's son Charles survived, and ultimately, America returned to peace and, eventually, prosperity. Longfellow's "I Heard the Bells on Christmas Day" poem that mourned the death of peace was printed in most newspapers nationwide beginning in 1867.
Although I have no way of knowing for sure, I bet that old Henry would be most surprised to know this poem written during some of his and his nation's darkest days has become a beloved Christmas carol.
Maybe in this lies the real reason that this powerful poem has become a staple during this Christmas season, known for the renewal of hope and peace. For it matters little how fierce the ill winds blow across this great nation, we, as a people, hope that each Christmas will bring peace to our hearts and to our country.
I am sure the families of those slain at Sandy Hook can today relate to those Longfellow lines; "and in despair I bowed my head… there is no peace on Earth, I said… for hate is strong and mocks the song of Peace on Earth, goodwill to men." But, while today those words can seem all too true, we each have the power to light a single candle that can do its small part to replace despair with hope – the hope of peace. The hope of turning back the pages of time to a place and time we all once enjoyed; a time that a warm Christmas spirit engulfed a sleepy costal community known as Ft. Pierce and we, with the innocence of a child, began our journey without fear of the evil of the world. And if one candle can pierce that darkness, what could a candle held high by all of us do?
So, whereas the world might wish you a politically correct "Happy Holidays" while drinking their low-fat eggnog and lighting their "holiday" tree, my family and I will stand proudly and wish you each a very Merry Christmas as we place the angel atop our traditional Christmas tree while always remembering the true reason for this most joyous of seasons.
May this Christmas bring you the peace and love you deserve and may you not rest until you have found a way to share it with another.
Merry Christmas, my friends, and Happy 2013.
Keepin' the Spirit (Christmas Spirit) Alive
Richard Parker
---

Technology Sucks… and I'm Thankful!
As is normally the case, my Ramblings are just that—ramblings. Like a Ping-Pong ball dancing down a staircase, I seldom have predetermined crystal-clear thoughts or a defined direction for them. Rather, the inspiration might begin with a fleeting thought, an image, TV commercial, or even a single word. Then, my God-given imagination unceremoniously blends with a dash of my unique warped outlook. Voilà, my newest Rambling emerges like a chick cracking through the warmth and safety of its shell, so do my thoughts leave the dark, yet safe, recesses of my mind, appearing for all to see and judge.
Yes, this creative process can be a bit unnerving but, in the end, worth the risk when a single word of praise or passing thank-you underpins the effort. This month, these Ramblings seems to have the velocity of Niagara Falls after an upstream monsoon. An avalanche of these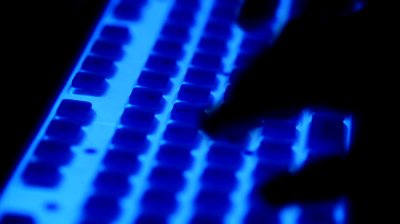 thoughts just keeps tumbling to my awaiting keyboard, much to the delight of some and the dismay of others. Anyway, for better or worse, here is another—enjoy.
This month, four November events caught my attention: Veterans Day on November 11, which produced my last Rambling; my 61st birthday (can that be true?) on the 20th; and, this year, a rare sharing of Thanksgiving and the anniversary of the Kennedy assassination, conjuring two diametrically opposed thought processes nestled snugly on the 22nd day of the Topaz month.
As for the first part of this Rambling's title—Technology Sucks—I should finish my thought… Technology Sucks, until it works. I, like you, was born pre-e-mail. Ah, those were the good old days when talking to others or writing them a note was the only acceptable method of communication. I did hear tell of some Vero Beach Indians using smoke signals, but that is a thought for a different Rambling. Go, Eagles!
Then enters the cyber-fast, ever-intrusive e-mail, stacking like cordwood in our inbox—a never-ceasing inflow of sometimes useful, but usually not, information that someone feels we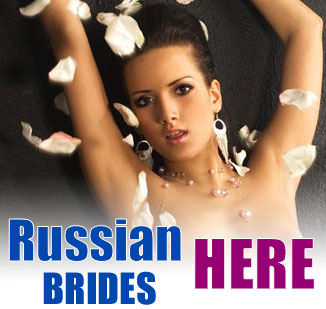 must have. Ways for us to lose weight, for men to gain inches (remember that would have made you blush), to find the love of your life (in Russia), and a foolproof way to claim $11,843,832.77 in unclaimed funds waiting for you in Uganda. Oh, yes, such very valuable bits of data flow into your always waiting inbox. Whatever did we do pre-e-mail?
Couple this with the minute-by-minute updates by Twitter and Facebook sharing such important information as what you are having for lunch and what you watched on TV the night before, and the Information Age has fully enveloped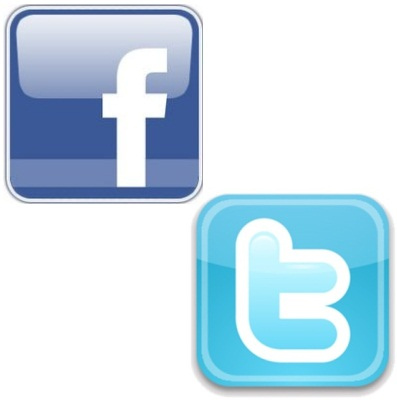 the Boomer generation—for better or worse.
On Tuesday morning, the 20th, with little more on my mind than a java jolt from slumber, I stumbled to the coffeepot. As I eased my well-padded butt into my well-padded home-office chair, awaking my computer screen from its hibernation mode, I was greeted by my ever-present Gmail inbox. Even through sleep-laden eyes, I could see my inbox indeed runneth over.
Oh, yes, it was my birthday, how could I have forgotten. This graying, plumper version of that
skinny 17-year-old kid who roamed the breezeways of DMHS, had just completed his sixty-first lap around the sun—without as much as a sunburn.
I could not repress a smile as it started in the corner of my mouth and slowly spread to an ear-to-ear grin. I had mail! And, boy, did I have a lot of it. Today, technology was my friend, as friend after friend sent me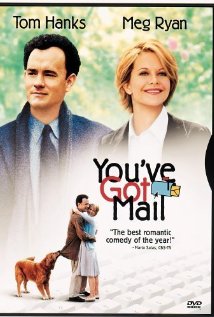 his or her birthday wishes.
Now, I am a Christmas guy. I've never been much for birthdays, even as a kid. But I am here to tell you there is something cool about more than forty friends remembering your birthday. OK, I know that most were not crossing off the days on their wall calendar, waiting to pop the champagne corks and throw the confetti. But dad-gum-it, they remembered my dad-gum birthday and they were hoping that it was a good birthday—how cool is that? My best buds, casual acquaintances, old girlfriends, cheerleaders, jocks, band members, Key Clubbers, Interact dudes, SLC, Keyettes gals (back when ettes was not sexist), the Campus Life gang, and even a horde of friends who did not know the glory days of the last graduating class of DMHS.
Through the class websites of '70, '69, '68, and '71, the birthday wishes rolled in, intertwined with postings on Mark Zuckerberg's billion-person playpen—Facebook. It seemed that everyone wanted me to have a great birthday. OK, maybe I am reading a bit more into this than I should, but after all, for fifty plus years, I was fortunate if more than a half-dozen nonfamily members even knew it was my birthday. Now, enough people to fill four football teams took the time to say Happy Birthday to a Christmas guy.
It made me think. How many people could I have brought joy to by just wishing them happy birthday? As Snoopy would say as he was again shot down by the Bloody Red Baron, "cursed, foiled again." Well, that mistake is easy to correct, and I strongly encourage you to do the same. All you have to do is go to the Class website home page, and on the right-hand side, you will see the upcoming birthdays. Click the name, and type a message. It is that simple.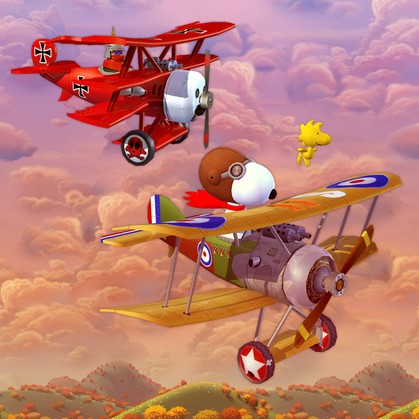 https://www.youtube.com/watch?v=ctMDbCM5nZA
Now, for the second half of the title of this Rambling—"and I'm Thankful." Do I really need to explain? Our little group of Boomers has so much to be thankful for. I was thinking today as I sat to write this Rambling that I really won the cosmic crapshoot. These are a few things I am thankful for today.
First, I am thankful I am not in the "In Memory" section of the class site. I'm still alive and kickin' and that is pretty cool within itself. Yea Richard!
I am thankful that I was born in America—free and able to do anything I choose and, sometimes, things I should not have chosen. The freedom to vote as I want and worship as I please without fear of precaution.
I am thankful I had to shovel very little snow growing up in Florida. (Remember 1977, hence, the "very little" part of this sentence.)
I am thankful for growing up with the best music of the century. (Thank God, pre-rap).
I am thankful for a group of friends like you who, in the words of Mitch Hilburn, "It only takes a phone call to bring an army of friends ready to help." I am also thankful I have not had to make that call… as of yet Mitch.
I am thankful for both old friends I've known and loved for fifty years and my new friends whom I maybe did not know well in school but today treasure more than they know.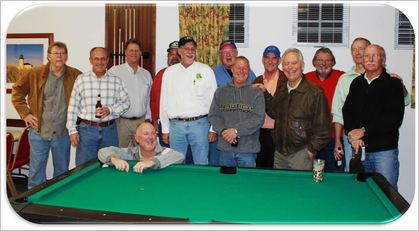 I am thankful for a wife of more than thirty years who has chosen, for some reason yet to be explained to me, to spend her life with a throwback to the sixties like me. Thank you, Joan.
I am always thankful for three wonderful grandkids (or, as Doc says, grandmonsters), and I am mostly thankful for my grown sons—just kidding, Wayne and Shane. I am also thankful for the 2 ½ years I had with little Josh before he was called home – I will see you there son. And that makes me thankful for my salvation that assures me that the best is to come.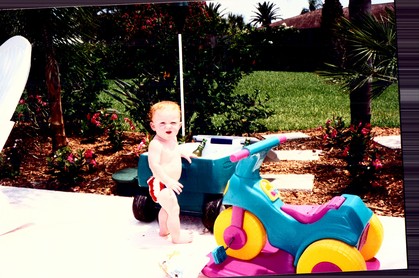 I am thankful for my oldest granddaughter Brittney who, by enrolling this fall at FSU, taught this long-time Gator fan that during this Saturday's Florida/Florida State game, there are two teams on the field and the short distance from a chomp to a chop it really is. I love you Kiddo
I am thankful for a country that can, as we just saw, elect leaders without tanks in the streets or one drop of bloodshed. In any case, thank God, the TV ads are over.
I am thankful for all the little things I have been able to experience in my lifetime: rock and roll; bellbottom jeans; space shots going up; the Berlin Wall coming down; light shows (can you say Chester's Left Leg); the burning of the Indian; victory dances, even when we lost; the birth of digital everything; the Internet, cast nets and of course fishnet stockings; the Civil Rights Act of '64 and Woodstock of '69; the burning of bras (I really liked this one); the creation of Earth Day; muscle cars, and VW Bugs; flower power and power to the people; WQAM, Jimmy Barr, satellite radio (and Cousin Brucie); the DMHS Band playing "Na na na na, na na na na, hey hey-ey, good-bye" after a win; Mr. Larsen, Mr. Diggs, and George Bass; Stunt Nights, Rat Day, All-School Parties, and Pep Rallies; driving around Bill's Burger while smelling frying onions, driving over Tickle Tummy Hill while smelling the bakery, surfing on North Beach, parking on South Beach, and paddling the inlet; Mad Magazine, the Santa Lucian, Halsey and Griffith, Simonsen's Restaurant, Joyce Motors, and Rubin's(the store and the girl). I am thankful for first cars, first dates, and first kisses, first best friends, and even first broken hearts—all of which happened in dear old Ft. Pierce.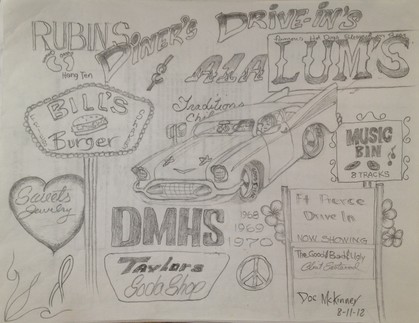 Thanks for the Origional Artwork Doc - you missed your calling :-)
I am actually thankful for technology because, without it, we as a class would not have gotten back together. We have more than 225 on our website, and I am certain that, without it, there would be fewer of us in touch, and I would get only a fraction of the birthday wishes I now get. By the way, I feel myself moving slowing from only a Christmas guy to a birthday/Christmas guy… Happy Birthday to me… Happy Birthday to me… etc. etc.
So, on this Thanksgiving Day, maybe we should all stop and think of all we have to be thankful for. And if that something turns out to be a someone, why not pick up your high-tech smart phone and call them to let him or her know. Or you could always help fill his or her inbox – then "They've Got Mail".
Happy Thanksgiving, my friends.
Keeping the Spirit Alive
Richard Parker
P.S. On a personal note, I an thankful for my Editor of many Years Susan Andres, who is always there and makes me look a lot better than I really am. Thanks my dear - how was that?
---

Thank You for Serving
It was 8:24 Monday morning, November 12, 2012. I was atop the Melbourne Causeway Bridge surveying the expanse of shimmering water, sunbathed shoreline, and array of bobbing blow boats at anchor. I was thinking just how blessed I was to live in this wonderful place known as the Space Coast of Florida, nestled just south of the nook of land that houses the Kennedy Space Center, the place America has turned its eyes and hopes to for decades as we led and subsequently won the race to explore the cosmos.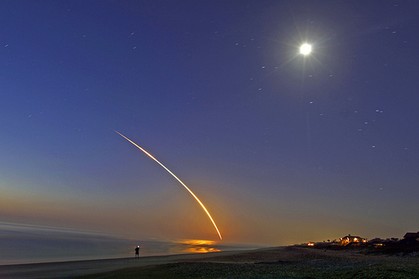 It has been exciting to see firsthand the smoke plumes and, yes, even to feel the ground shake and the windows rattle in our beachfront home as the launch of each space shuttle and rocket streaked out of the clutches of Earth's gravitational pull as they streaked toward the black cold nothingness of space. Those days have now been replaced with budget cuts and a war on terrorism that has stolen this great country's focus and dollars. Those were the days when mere mortal men with names such as Grissom, Slayton, Glenn, Schirra, and Shepard became almost immortal as they raced their small fleet of Corvettes on the sandy beaches of Cocoa and then their rockets into the history books.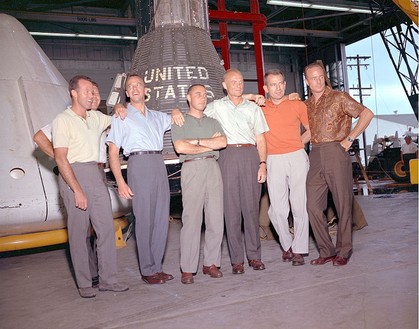 Then, the chirp of my cell phone drew me back to the reality of 2012. After my standard "Good Morning" greeting, I heard eight simple words: "I thank you for your service, Richard Parker. The words of my childhood friend, Bobby Harrell, instantaneously and magically transported me to a similar time and place.
In a fraction of a second, I was back in the summer of 1970 sitting and sunning myself in a lifeguard tower
on the South Beach of Ft. Pierce, Florida. My 9-volt-powered transistor radio was tuned to WQAM who, after every third song by groups such as the Doobie Brothers, Deep Purple, and Derek & the Dominos, announced another ten numbers for this country's first draft lottery. I guess I was born under a lucky star because I won, snagging the lucky number of 98, well below 195 skinny, wide-eyed boys who were actually called.
The thoughts of taking a year off between my graduation from DMHS and starting college (complete with its college deferment) seemed at that moment a tad less solid of a plan than it seemed the day before. This was my first great lesson in thinking things completely through before acting. Until that day, my deep thinking had been confined to whom I would ask to the victory dance.
As every young man leaving the radical sixties and heading into the disco-charged seventies (how did that happen), I had given more than a passing a thought to my alternatives should my number be drawn. There were three: 1) be drafted into a two-year stint in the Army with near certainty of sloshing through my tour of duty doing the rice paddy tango, 2) high-tail it to Canada, or 3) join another branch of the military, usually requiring putting my life on hold for four years as opposed to the Army's two-year demand. It wasn't a difficult decision.
Thinking of the beating my momma would give me had I even thought about a reverse-migration to the frozen tundra of our northern neighbors coupled with a deep love of this great country, option #2 was quickly off the table. Besides, there was no surf in Canuck-land, and the thought of standing for O, Canada before a ballgame, instead of The Star-Spangled Banner was more than I could have stomached. So, remaining American and learning to say "yes, sir" with vigor in Uncle Sam's military was how 1970 would end for young Richard.
So, it was with my draft notice requiring me to report to the Army's Miami induction center on Tuesday, October 20, 1970, tucked safely in the back pocket of my faded bellbottom jeans, that this 18-year old found himself raising his right hand and taking the Oath of Enlistment… "I, Richard Parker, do solemnly swear (or affirm) that I will support and defend the Constitution of the United States against all enemies, foreign and domestic; that I will bear true faith and allegiance to the same; and that I will obey the orders of the President of the United States and the orders of the officers appointed over me, according to regulations and the Uniform Code of Military Justice. So help me God." Yes, and I am sure I looked just this young as I began my first chapter into adulthood. https://www.youtube.com/watch?v=0JnEY6eC2Ig
.... As the newest member of the United States Coast Guard—Semper Paratus (Always Ready)
https://www.youtube.com/watch?v=9rC9WxzBPKw
I was off to boot camp and a fine new haircut paid for in full by my rich Uncle Sam.
The haircut: https://www.youtube.com/watch?v=fsLveuJ5nxI
Although I did anything but embrace military life—you see, I was Richard Parker from Ft. Pierce, Florida, and I had come to help them with their efficacy problem—they had other ideas. Want to guess who won that one? I must admit that I learned much from my military service, and I would not trade those experiences for anything. Well, I might trade the experience of tackling three hurricanes in four years at sea, but not much else.
It is funny, but for many years after my discharge, I never saw myself as a veteran. I guess it was because no one ever shot at me. But as time moved on, and I saw with more mature eyes what it took to "support and defend… the United States," I began to appreciate the roll that all branches of the service play in keeping this country safe, and so much more.
So, after sixty-one laps around the sun, this veteran has come to peace with my "military years," and as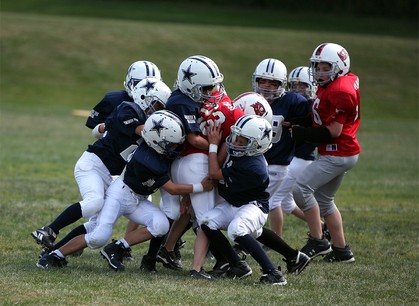 difficult as it is for me to say in front of God and you, I am grateful for those years. Yes, I might have been anything but a willing inductee, but today, I am a truly proud and thankful veteran. I, too, am proud of all those who served before me and after. As I look into the face of a 12-year-old boy playing Pop Warner football, I wonder whether this is a veteran-to-be to whom one day so many will be thankful.
I am also grateful for all you, my McCarty High classmates, who also served and equally for those who might not have had the opportunity to serve, but who have supported those who did. I must admit that I, too, sometimes forget to say thank you to all you who have done so much for our country. To try to rectify that little oversight—Thank you all.
They say that we never really know how your actions affect those around us, be those actions thoughtful and kind, or not so. I say to each of you that if my actions or words have ever caused any of you pain, I am sorry. If my actions have made your day even a little brighter, for that, I am humbly happy.
And to you, Bobby Harrell, the only one on that Veterans Day who thanked me for my service, I thank you. Your pebble tossed into the pool of my life has sent ripples into a corner not touched by others; for that, my friend, you should be proud.
I urge all of you to take a minute to send an e-mail or call those in our class who have served.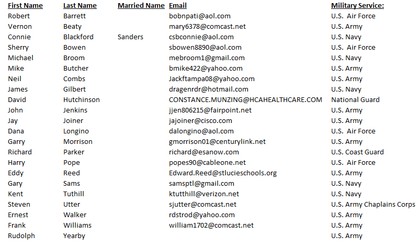 I, my friends, salute each of you.
Keepin' the Spirit Alive,
Richard Parker
---

Life's a Series of Moments
As the years flow by like the receding tide from the Indian River Lagoon through the jetty-lined Ft. Pierce inlet, I am struck by how our lives really boil down to a series of moments—some good, some not so, some special, and some forgotten shortly after they occur. This series of separate and oh-so-different moments weave to form the tapestry of our lives.
Thinking back on my life and the many things I've done right, and not so, I am reminded of the catchy little tune for the recent TV commercial for the new HP laser printer: "It ain't what you do… it's the way that you do it." Some of us, me included, have really done it.
https://www.youtube.com/watch?v=BduCTDh0SRY
At last week's All-Class Party sponsored by the Classes of '69, '70, and '71, I chatted with a high-school girlfriend, and we talked about all that had happened in our lives over the past four decades. I am unsure, but as she left, I could have sworn that I heard her praying a little prayer: "Lord, thank you for not sticking me with him. It is not what he does; it is the way that he does it."
I'm also almost certain that I've heard my sweet wife of thirty plus years uttering the same sort of comment: "I feel like killing him… not for what he does, but the way he does it." Anyway, I think it is time for me to get off this thought tributary and back to the main river again.
In my younger years, these moments of my life all too often slipped by without notice. Today, I work hard on preventing that at all cost. The young Richard was too busy earning a living and trying to be cool to pay much attention to many of these seemingly unimportant moments. The older more refined RP looks for reasons to stop and be thankful to absorb it all like a dry sponge.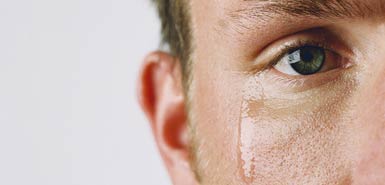 That younger version would never think of shedding a tear in public or professing his love for anyone of the male persuasion. The graying, plumper variety can tear up at the site of a puppy or a baby and can cry like that proverbial baby at something as commonplace as The Star-Spangled Banner, a flag-draped coffin, or a text from a busy grandbaby. I never hang the phone up after talking to Lester, Bobby, Ricky, or Doc without telling them I love them. Hey, guys, can you imagine us saying that in the shower after gym class? Yes, time changes much.
I had a few of those life moments at last week's All-Class Party. One of those new moments
was before the party as I spent a couple of very pleasant hours with Sheila and Greg Simmons.(Grego for many of you who grew up loving that gravel voice, crooked smile, and bright eyes. By the way, for the record, the gravel voice belongs to Grego, not Sheila.)
Before the party, I had another moment with Ricky and Beannie Silverstein who showed up an hour early just in case their old buddy needed a helping hand. I did. Beannie as always helped, and Ricky as always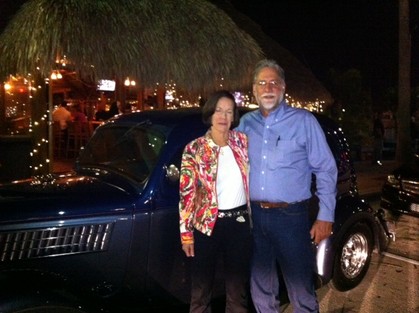 told her and me how we could do it better. Remember, Ricky, it ain't what you do, but the way that you do it.
During the party, I had several special moments. Hearing Gina Turner's laugh, I never get tired of that laugh. I think we should send her to the United Nations – I am sure worldwide peace would breakout as a result. Then there was Buckwheat trying to again explain which of the Walters twins are which - I give up on that one. There was seeing Robin Blanton, Ford Sloan & Colleen McDonald for the first time in 43 years, spending time with Mike Broom and his brother Larry (don't scare us like that Larry), Fast Eddie's rapid-fire stories (that will never change), Vic, Rick and Jimmie Anne's kindness and hard work, Robin's smile, Joel Swain's slow deep Southern draw (watch out ladies), celebrating Kathy Simmons birthday (great timing – or at least on your parents part), meeting Diane's beau Jeff (if he still loves you after meeting us, he is a keeper), Kenny and Audrey trying to pay me to take their photo (BTW it takes more than $20 bucks), Christal and Mike classing up the joint, Cindie's hug (thanks Heav), and seeing David Smith forgot to age. And then there was the realization that the big kids in the Class of 69 were not so big anymore and the little kids in 71, turned out OK after all, even if they did take their high school away.
The one and only Gina Turner
Kenny and Audrey with the payoff to Richard
Christal and Mike
Vic the Class of 71's fearless leader
Cindie and Heav
The 1969 Gang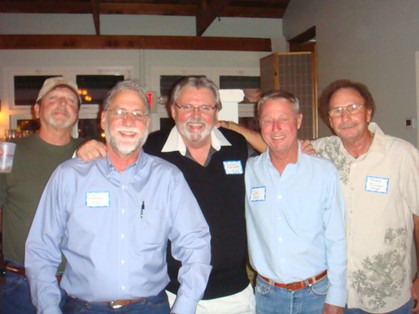 The Boys are Back in Town
Dale, Ricky, Richard, Doc and Ford
But there was two very special moments that standout that night. The first was seeing Debra Pitts and Doc McKinney. We all know they both have had some not-so-pleasant moments this year, each having battled cancer. I have been uplifted by both and so impressed by the courage shown by each and by their positive mental attitudes. This photo of the two of them together, hugging and smiling—well, that, my friends, was a very special moment I shall cherish for a long time.
Doc & Debra - Lookin' Good Guys
The other was seeing Kathy Thomas who has also had a difficult time over the last few months. Know you are in our prayers Kathy and it was great seeing you.
After the party, Bobby Harrell offered his coach as my home-away-from-home for the night. Because his Gator-crazed beauty of a wife Tammy was at the Florida/Georgia game trying to shake a pissed-off Bulldog from her ankle, I took him up on his gracious offer. We spent a few hours outside his coach engulfed in a cool clear Florida night, not a cloud in the sky, reminiscing of the separately experienced and jointly shared moments of our lives, as we together created a few new ones. Bobby, you thought I could not find a cigar in Ft. Pierce after 10:00 p.m. "Hey, man, how did you get in here… we are close".
Yes, all these special and unique moments comprise the sum of that which has become our journey—the journey of life. Each one of these thoughts and events, times and places, people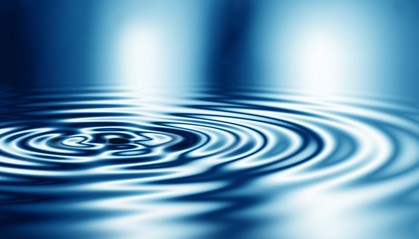 and memories are all connected—in our heads and in our hearts. Be these moments big or small, whether they make a big splash in the pool of our life or a single almost unnoticeable ripple, they are all still connected, all still related, all part of the landscape that lines this long and winding road we have traveled for now six decades.
So, as we near our retirement years and this next chapter of our lives, it is helpful to remember that everything we do today, next Wednesday, next year, and all the years still to come are moments we will look back on one day. The question is whether we look back with joy or regret. Will our journey be enhanced or worsened by those moments? The choice is ours to make, and the moments are ours to spend as we choose.
I think this older version of Richard will choose to make as many of these moments as memorable as possible. So, if you have the misfortune to find yourself in the same space and time as yours truly, watch out because you might wind up smack dab in the middle of one of my moments… or maybe me in yours.
Keepin' the Spirit Alive One Moment at a Time
Richard Parker
---

TheBest Years of Our Lives
You say your aches are increasing while your get-up-and go just got up and went. Well, this month's Rambling might be just what the doctor ordered. In this article, my goal is to prove to you that success is not exclusively reserved for the young. You do not have to dig very deep into the annals of those successful in business, politics, and the arts to find examples of those who were past the commonly viewed "productive years" before they snagged the golden ring of success.
As we find ourselves passing the magic six-zero, maybe we should look differently at what is perceived as normal. In my life, I have found that striving to be normal is just not all it is cracked up to be. And that, my friend, is good if you graduated with the DMHS Class of 1970, the class some would say wrote the book on abnormal. But that is a story for a different Rambling.
I remember when my grandfather died, the pastor at his funeral talked about his living a "long, long life" (he was sixty-eight). Today, many of our parents live into their eighties and nineties, yet we Americans look at sixty to sixty-five as the typical retirement age. If life expectancy is increasing, should not our productive years also increase? I think this Rambling will prove this.
Many longevity experts point out that the ages between fifty and eighty are and should become a time for reinventing ourselves and pursuing our true dreams. Around fifty, many begin to realize a renewed creativity. The graying boomer generation, those once longhaired adolescents who in days past touted the virtues of tuning in, turning on, and dropping out, is now empowered through their many live experiences. They have realized an inner freedom, laced with more than just a dash of confidence they might have lacked in their thirties, forties, or fifties.
Today is when we can blossom, spread our wings, and not just fly, but truly soar like eagles. The years have enabled us to turn our long delayed seeds of ideas into a garden of dreams that can now be realized. If you ever think it is too late for you to add a few coins to your coffers, maybe you should consider some of the following geezers who started late and still finished strong.
McDonald's and Ray Kroc
Ray Kroc started McDonald's when most people his age were preparing to retire; he was fifty-two. He was barely making ends meet as a milkshake-machine salesman. One day, he happened on a hamburger stand in San Bernardino, California, and instead of selling the McDonald brothers his machine, he bought the business. The rest is one of the greatest business success stories of our time.
We all know Ray Kroc became a pioneer in the fast-food industry developing a uniform system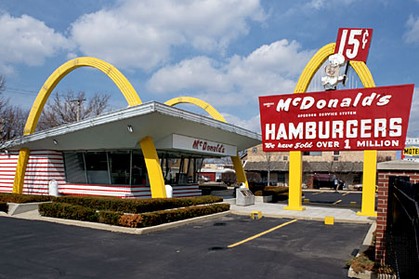 of production for hamburgers, milkshakes, and French fries, so the food tasted the same in each franchise countrywide and, eventually, worldwide. The real story is that, in 1960, Kroc had more than 200 McDonald's franchises in the U.S., but he barely earned a profit.
Many younger business owners would have quit, citing a flawed business model, but not this sixty-year-old. He had come too far and learned too much to quit. He started to prosper only when he started the Franchise Realty Corporation that bought property and leased it to franchisees. Kroc went on to accumulate $500 million in assets. Today, McDonald's has 33,000 locations, employing more than 400,000, and serving 68 million daily in 119 countries. Not a bad alternative to early retirement, wouldn't you agree?
Like Ray Kroc, we have learned so much more from the bumps and grinds of life than any textbook could ever teach. And yes, I know that many of us, like these success stories, might have begun our march to success with a thought process just a bit off center, a bit outside the acceptable normal zone. I know that I have spent most of my life in the mostly gray area just outside what is normal—guilty. Consider how much you would be willing to bet on a guy who thinks like this.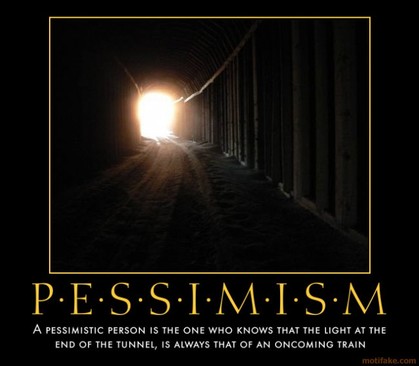 If I find myself needing to borrow money, my experience has taught me to seek a loan first from pessimists—after all, they don't expect it back. I know at this ripe old age that success is not that difficult; after all, I've learned that a full 50% of all I meet are below average. In my youth, I respected lawyers until I found that 99% of them give the rest a bad name.
I know that the best way to convince others that my plan is the right direction is by fortifying it with statistics, knowing full well that 82.7% of all statistics are made up on the spot. I've learned that a clear conscience usually indicates a poor memory. I know that however much I search for a rainbow, I find one only after a good hard rain.
Colonel Sanders
Speaking of rain, look at Harlan Sanders, known worldwide as Colonel Sanders of Kentucky Fried Chicken fame. We all know he was a success, but what most don't know is that he bounced from job to job until, at forty, he started a service station selling chicken dinners out a side window to his patrons. As the demand for his special pressure-cooked chicken grew, he sank his life savings into opening a full restaurant on the adjoining property.
As fate would have it, a major interstate was built, which diverted traffic away, all but
bankrupting the restaurant and dear old Harlan. In a last-ditch effort to save his business and at sixty-five, Sanders decided to franchise his business, and Kentucky Fried Chicken was born. Harland was five years older than we are today when he started franchising.
As for this writer, I've learned that the hours I work have little to do with the success I achieve and that I do not have to get up earlier than all my competitors do to succeed, having long since seen the folly in that "early bird gets the worm" stuff. But today, I am convinced that usually the second mouse gets the cheese.
So, while others focus on moving at the speed of light, a healthy dose of the contrarian view makes me ponder the age-old question of what is the speed of dark. I try to avoid depressed people, convinced that they usually house a fair dose of anger but without enthusiasm.
Consider These Late-Blooming Writers and Painters
No matter what card game you play, it is due to Edmond Hoyle. He was the first to write down and copyright the details of the rules of many card games, chess, backgammon, and other games of his time. His claim to fame in card game rules came about when he was seventy, a decade older than we are today.
Laura Ingalls Wilder became a journalist in her forties, and she was sixty-five when she started to write The Little House on the Prairie series. Wallace Stevens won a Pulitzer Prize for his Collected Poems when he was seventh-six. Raymond Chandler was forty-five when his detective story "Blackmailers Don't Shoot" was first published in a magazine. He was fifty-one when his first novel The Big Sleep was published, and Grandma Moses began to paint at seventy-five.
Just think, you could take a fifteen-year nap and start dead even with Grandma Moses or Wallace Stevens. I will guarantee you that things did not always go right in the lives of these writers and painters. Neither do I expect everything always to go right in my life. Age has taught me that when everything is coming your way, it usually means you are in the wrong lane.
I've learned that if I have a good idea, I need to act on it—quickly. I have never subscribed to the pessimistic view of "If that is such a good idea, someone else would have already thought of it." If so, wouldn't it have been true when that "other guy" thought of it? I've learned that 93.73% (again with the statistics, Richard?) of success is about simply suiting up and showing up. It might be in the future that hard work pays off, but I'll guarantee you that laziness pays its dividends right now.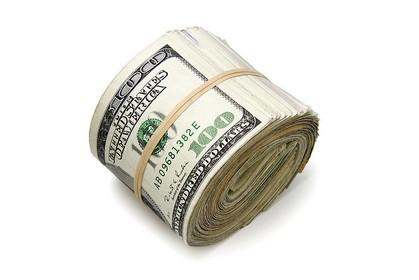 In today's tough financial times, we could all use a little extra money—right? Thirty years in the financial industry has taught me to break down complicated matters in easy to understand bites. For example, what do a $100-a-week, part-time job and a $100,000 investment portfolio have in common? Answer: They represent the same amount of income. $100 a week X 50 weeks = $5,000 and $100,000 X 5% return = $5,000. The question is, if you need more retirement income, which is easier to do—amass an additional $100K or land a part-time job?
It is important to believe that, at our age, life is not over; quite to the contrary, it can be just beginning. Consider the following late bloomers.
Other Late Bloomers
Lew Wallace was fifty-three when his book became the best-selling novel of the nineteenth century. That book, Ben Hur, has never been out of print. Now, consider, at fifty-one, he became the New Mexico Territory governor from 1878–1881, and it was while serving as governor that he wrote Ben Hur.
Sam Walton was forty-four when he started WalMart and died the richest man in the world with $23 billion.
Lest you think that I connect all success with the thickness of your wallet, let me solidly state that wealth alone does not make a person successful. Money is certainly not the most important thing in life, but from zero to rent, let me assure you that it ranks up there at the top. And money has proved quite useful throughout our life.
And as for my slightly slanted view of life, I know that I will not live forever... but, so far, so good
. Age has also changed the way I view popularity. In my youth, I cared more about being popular than I do today. Popularity became much less important when I had granddaughters and realized that even Barbie had to buy her friends. And it seems normal to find the "age-enhanced" at the reins of political power.
Leaders of Countries and Politics—Success at Any Age
At seventy, Golda Meir became the fourth prime minister of Israel. The average age of the men who have been president of the United States is fifty-four years and eleven months. The youngest was Teddy Roosevelt, forty-two, and the oldest was Ronald Reagan, who became president sixteen days before his seventieth birthday. Carolyn McCarthy became a U.S. congresswoman for the first time at fifty-six to advocate gun control after her husband was killed and her son injured in a random train shooting.
Nelson Mandela became the oldest elected president of South Africa in 1994 when he was seventy-four. Before this, he was imprisoned for life for antiapartheid activity. He was released after twenty-seven years in 1990, and he led his party toward a multiracial democracy.
I'm sure it takes soul searching and deep thought to lead a country. I, too, find it helpful to get by myself from time to time and just think. The problem is that when I am deep in thought, I never can predict where my mind might wander. For example, I wonder how you tell when sour cream has expired. I ponder what would be the result of being scared half to death… twice. I ask myself why psychics have to ask you your name. I contemplate why experience is something you get only after you need it. I consider if my car could travel at the speed of light, would my headlights work? Then there is that age-old question, what is the opposite of antibacterial soap?
Yet, I again digress… which seems to happen more and more these days. Now, back on track, Richard. Now, what was I talking about? Statistics? No, that was not it… Oh, yes, late bloomers. I'll bet you never considered Franklin and Ford late bloomers, did you? Well, read on, my friend.
Ben Franklin and Henry Ford
Ben Franklin could also be considered a late bloomer. Although he had done much in his youth, he continued to expand his genius throughout his life. He was forty-six when he experimented with electricity, and he invented bifocals at forty-seven and the catheter at forty-nine. He was elected to the Continental Congress at sixty-nine. At seventy, he signed the Declaration of Independence, making him the oldest signer. When he was seventy-seven, he negotiated the Treaty of Paris, which ended the Revolutionary War. At eighty-one, he signed the U.S. Constitution.

Henry Ford introduced the Model T automobile when he was forty-five, but he was our age, sixty, when he created the first car assembly line.
After you get a few hard-fought decades under your belt, the obvious is a bit easier to spot. For example, the more people I meet, the more I think the gene pool needs a lifeguard. It's clear to me I can't make every deadline. I've learned that if I am going to fall behind, it is best to do it early, so I have as much time as possible to catch up. I believe that we are all born with a photographic memory, but some of us just have fewer rolls of film than others do.
Yes, these are but a sampling of the slightly off-center thoughts that cascade mostly unchecked just below the surface of my full head of graying hair. In closing, I'd like to leave you with quotations that might hit a bit closer to home than is comfortable.
Age is an issue of mind over matter. If you don't mind, it doesn't matter. ~Mark Twain
A man is not old until regrets take the place of dreams. ~John Barrymore
At 20 years of age, the will reigns; at 30, the wit; at 40, the judgment. ~Benjamin Franklin
Men do not quit playing because they grow old; they grow old because they quit playing. ~Oliver Wendell Holmes
·Listen to Your Heart—Your Passions and Dreams Await You ~Anonymous
So, don't think it is too late to pursue your dreams. If you listen to others, you can easily fall for the "You are too old to start your own business, to be a writer, or to invent the next great thing" lie. The truth is that those people don't know a thing about you, and if you wait for their permission, you could easily miss opportunities. A little fear is fine. The goal is not to remove the butterflies from your stomach; it is to get all those little suckers to fly in unison. Neither the ordinary nor the great among us need be bound by the barrier of age. With the right determination, attitude, and some luck, you can see these successful people are no different from any one of us.
So, after seeing these examples of how so many others reached their stride only after the world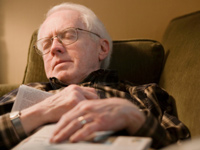 considered them past their prime, you might be inspired to get fired up and focused… then again, maybe you will find it time for a nap.
Keeping the Spirit Alive,
Richard Parker
P.S. Don't Forget the "All Class Party" at Cobb's Landing Saturday October 27, 2012, at 6:00 p.m. The Classes of '69, '70, and '71 will have a combined class party (but all classes are invited) at Cobb's Landing in old downtown Ft. Pierce at 200 North Indian River Drive, Fort Pierce, FL 34950.
For the details go to http://www.danmccarty70.com/class_reunion.cfm?ReunionID=12109
While this is Dutch Treat we do need a head count so please register at the bottom of the that linked page.
---

Milestones
Last week, I passed another of those milestones in life as I dropped my granddaughter off at FSU to begin her freshman year. The three days prior, I drove alone, nearly two thousand miles on a business trip, armed with only my memories and Cousin Brucie of the Sirius satellite radio sixties channel. This combination is guaranteed to conjure an eclectic range of emotions from a warm smile that can
instantly turn to a belly laugh and then trigger a single tear disappearing into an increasingly graying beard, all in the span of a single Beach Boys love song chorus. Yes, the boomer generation has morphed from the "don't trust anyone over thirty" generation to a bunch of crybabies craning their necks for one more glimpse of the golden days of their youth.
This month's Rambling is the by-product of the convergence of a quartet of thought-provoking ingredients that came together on that "perfect storm" of a drive: a hefty chunk of alone time, the fond memories of days gone by, the best music ever created, and another milestone of life fading in the rearview mirror. Yes, indeed, time marches on as we each pass the milestones of our life.
In the early years, our milestones passed with the blazing velocity of a Florida Softshell Turtle, waddling under the blaze of the Treasure Coast subtropic sun, and with a lack of fanfare that could easily induce a much-needed afternoon nap for an aging boomer. These milestones did not seem like much of a happening as they passed; they just happened, as we continued to plod though our life. That first day in the first grade, Jr. and Sr. High, and graduation all come to mind interlaced with other memorable milestones.
The milestone of that first all-by-yourself bike ride around your home block was eventually replaced with the grand theft of that first awkward, yet long-awaited, kiss.
Today, it is impossible for me to hear Tommy James sing "I Think We're Alone Now," without sparking an inner glow as I remember that wooded area behind the 25th Street Little League ballpark. The small patch of trees was strategically located just outside the floodlight-bathed area that was our pre-Internet social gathering place. This place whose lack of direct lighting, proximity to a required periodic accountability check for the ever vigilant eyes of parents, was shrouded in low-hanging scrub oak branches and a comfy foliage-covered ground, combining to make the perfect place to recline into the newfound bliss of adolescent experimentation.
https://www.youtube.com/watch?v=wIeRqPFJvXM&feature=related
Children behave
that's what they say when we're together
and watch how you play
they don't understand
and so we're running just as fast we can
holding onto one another's hand
trying to get away into the night
and then you put your arms around me
as we tumble to the ground
and then we say

Chorus:
I think we're alone now
There doesn't seem to be anyone around
I think we're alone now
The beating of our hearts is the only sound

Look at the way
We gotta hide what we're doing
Cause what would they say
If they ever knew
and so we're running just as fast as we can
holding onto one another's hand
trying to get away into the night
and then you put your arms around me
as we tumble to the ground
and then we say

Chorus
Children behave
that's what they say when we're together
and watch how you play
they don't understand
and so we're running just as fast we can
holding onto one another's hand
trying to get away into the night
and then you put your arms around me
as we tumble to the ground
and then we say

I think we're alone now
There doesn't seem to be anyone around
I think we're alone now
The beating of our hearts is the only sound
Next, it was the milestones of college for some, the military for others, with both the prelude to a lifetime of hard work for all. Some of us zigged while others zagged, thinking little of milestones, as we entered and exited matrimonial amalgamations, some at a frightening pace. The ebb and flow of these unions littered the landscape of our lives with offspring and step-kids that would cause us to bite our nails, hold
our breath, and on occasion, beam with pride as we pinned a bit of our dreams to their lapels. As the younger generation began to pass their milestones, we were slowly, yet steadily, relegated to the unholy trinity of spectator, cheerleader, and, sometimes, safety net for their journeys, which ambles on with an eerie resemblance of our own less than perfect passage. Yes, indeed, time marches on.
With a mishmash of battle-hardened experience, a splash of pride for remaining upright and out of jail, mixed with maybe just a dash of regret, we march toward more of life's milestones, some of which we willingly seek, and some we would have given anything to avoid. The passing of a parent is by far one of the worst. The event is accompanied with a rush of memories, of words left unsaid or deeds undone, and an undeniable emptiness of being alone for the first time in our life. So many times since my wonderful mother left for her heavenly home, leaving my brother and me only one fragile life away from becoming an orphan, I have thought of something I wanted to share with her or a question I wish I had asked. But, indeed, that milestone, now passed, makes both impossible, adding just another small regret of life.
But through this all, we all still have many exciting and bright moments to look forward to. In my case, nothing shines more brightly than the love I have for and the excitement I feel, as I watch the lives of my grandkids blossom.
Because of falling in love, now more than three decades ago, with a woman a few years older than I, whose family seems blessed with the "I can't wait for kids" gene, I find myself, at age 60, blessed with three wonderful grandkids: Brittney, 18, the catalyst for this Rambling and the state's newest FSU Seminole; 15-year-old McKenna, who would bleed Gator Blue and Orange if cut; and my namesake, 12-year-old Beau (how is that for a Southern name) Parker Cole, whom we might need to send to UCF or Miami just to make sure the state is covered and that there is never peace in the family during Thanksgiving dinner.
Let me warn you, the word step has never been nor will it ever be a prefix to any of this group. As Sister Sledge put it, "We Are Family." That sense of family has this lifelong Gator fan willingly trading in his decades-long and perfected Gator chomp for a Seminole chop.
This past week at 8:30, "the family" converged on the south parking lot of Kellum
Hall at Florida State University. We looked to be a cross between a supply-laden wagon train beginning its journey west and a band of gypsies heading to the carnival. Our unstated, yet universally, understood twofold missions: 1) to move Brittney into her dorm and 2) to, one last time, embarrass the hell out of her. I believe that most viewing our well-orchestrated operation from the sidelines would agree that we kicked the ball through the uprights on both counts.
We all brought our level of skill, expertise, and resources to the party. While Britt and her mother followed the rules, patiently waiting in the long line of students signing in and retrieving their dorm room key, I greased the palm of a maintenance man at the back door of the dorm to gain early access through the bowels of the almost fifty-year-old building. It was worth the well-placed cash to see Brittney's face when she arrived at her doom door to find the 700 cubic feet of "absolute necessities" lining the hall on both sides of her door ready for the Keystone cop-type act that would follow, as she, her mom, and her Wow (Parker-speak for grandmother) attempted to stack, store, and eventually cram it all into 50 percent of the 150-square-foot dorm room.
Well, after the microsized microwave, coffeepot, and octopus bedspread had been
properly installed, and all closets, drawers, and desk had been stuffed to just past capacity, I began the less than exciting task of taking the 500 cubic feet of "not-so-absolute necessities" back to the half dozen vehicles that had arrived at the 161-year-old campus a mere three hours earlier.
Too soon, it was time for us to leave and allow Brittney to begin her new life, one in which she will set her hours, choose what and when she eats, and succeed or fail on her merit. As I pressed the accelerator and gained speed heading east on I-10, I thought back on the past eighteen years, years in which my primary concern was to keep her safe and protected, the many business trips that it took to earn the money to make this day possible. Now, I was just driving off and leaving her to fend for herself. I could not help thinking that the on-ramp in my rearview mirror was another milestone passed.
Good luck with your milestones, Brittney. Pa loves you… more than you will ever know.
Keeping the Spirit Alive,
Richard Parker
P.S. Don't forget to register for the "All Class Party" hosted by the Classes of 69, 70 and 71 being held on Saturday October 27th at Cobb's Landing - No cover charge and Dutch Treat tabs. Register today on the left Navigation bar near the top. The room only holds just over 100 and today, still two months out, we are over 60 reservations. Don't be left on the curb watching us have a blast - register today.
---

We Can All Make a Difference
I love to write. It is odd because, until my first book written in my early forties, I had never considered writing even a short story. I did not know whether I could write; for sure, I knew I could not spell, and who ever heard of a writer that could not spell? I just assumed that writers were all brilliant brainy-acks who read six newspapers each morning and never had a comma out of place. Let me assure you; I'm not one. The fact that I caused not a sliver of worry for the spelling bee kids was only one of my many literary shortcomings. For years, I've kept my editor Susan Andres quite busy. In fact, she just finished editing my tenth book, Don't Trust Anyone over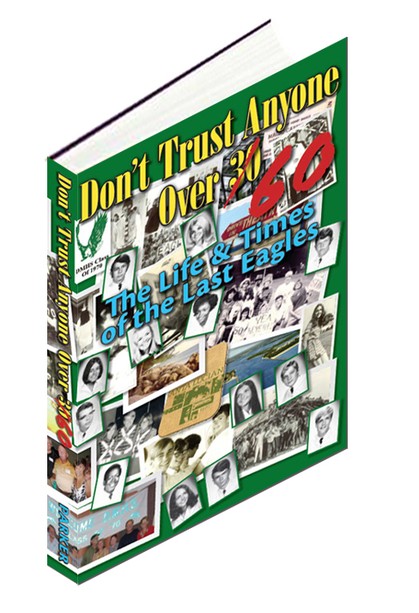 60—The Life and Times of the Last Eagles, a tribute to you, the final graduating class of Dan McCarty High. Thanks, Susan; you do make me look good.
I assure you that, with my abundant weaknesses, not the least of which are those of a literary nature, plus sixty years to become acquainted with each of you on a first-name basis, it is easy for me to remain humble. If that were not enough, I am married.
But I do look forward to writing this Rambling for you each month. Whatever enjoyment I have been told you have received pales in comparison to the joy this gives me. But I also seem to have unexpectedly become the class depository for every Internet story and neat piece of trivia that a couple hundred of graying baby boomers can lay their hands on. Rest assured, I read every one and enjoy most, so keep those cards and letters coming.
So, you can be sure that when I surrender the space allotted for my Rambling to one of those shared pieces, I think it is pretty cool. That's the case for the below. This story touched me on several levels, being a patriotic vet who loves dogs. For me, few things are sadder than a faithful pup who cannot understand where his dead master has gone, longing only to run with him and fetch a thrown ball. I hope you enjoy it.
Subject: Best Dog Story Ever
They told me the big black Lab's name was Reggie, as I looked at him lying in his pen. The shelter was clean, no-kill, and the people really friendly. I'd only been in the area for six months, but everywhere I went in the small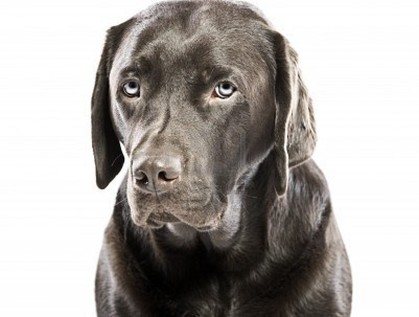 college town, people were welcoming and open. Everyone waves when you pass them on the street.
But something was still missing as I attempted to settle in to my new life here, and I thought a dog couldn't hurt. Give me someone to talk to. And I had just seen Reggie's advertisement on the local news.
The shelter said they had received numerous calls right after, but they said the people who had come down to see him just didn't look like "Lab people," whatever that meant. They must've thought I did.
But at first, I thought the shelter had misjudged me in giving me Reggie and his things, which consisted of a dog pad, bag of toys almost all of which were brand new tennis balls, his dishes, and a sealed letter from his previous owner.
See, Reggie and I didn't really hit it off when we got home. We struggled for two weeks (which is how long the shelter told me to give him to adjust to his new home). Maybe it was the fact that I was trying to adjust too. Maybe we were too much alike.
I saw the sealed envelope. I had completely forgotten about that. "Okay, Reggie," I said out loud, "let's see if your previous owner has any advice"
To Whomever Gets My Dog:
Well, I can't say that I'm happy you're reading this, a letter I told the shelter could only be opened by Reggie's new owner. I'm not even happy writing it. He knew something was different. So let me tell you about my Lab in the hopes that it will help you bond with him and he with you.
First, he loves tennis balls. The more the merrier. Sometimes I think he's part squirrel, the way he hoards them. He usually always has two in his mouth, and he tries to get a third in there. Hasn't done it yet. Doesn't matter where you throw them, he'll bound after them, so be careful. Don't do it by any roads.
Next, commands. Reggie knows the obvious ones—"sit," "stay," "come," "heel." He knows hand signals too: He knows "ball" and "food" and "bone" and "treat" like nobody's business.
Feeding schedule: twice a day, regular store-bought stuff; the shelter has the brand.
He's up on his shots. Be forewarned: Reggie hates the vet. Good luck getting him in the car. I don't know how he knows when it's time to go to the vet, but he knows.
Finally, give him some time. It's only been Reggie and me for his whole life. He's gone everywhere with me, so please include him on your daily car rides if you can. He sits well in the backseat, and he doesn't bark or complain. He just loves to be around people and me most especially.
And that's why I need to share one more bit of info with you... His name's not Reggie. He's a smart dog; he'll get used to it and will respond to it, of that I have no doubt. But I just couldn't bear to give them his real name. But if someone is reading this... well, it means that his new owner should know his real name. His real name is "Tank." Because that is what I drive.
I told the shelter that they couldn't make "Reggie" available for adoption until they received word from my company commander. You see, my parents are gone, I have no siblings, no one I could've left Tank with... and it was my only real request of the Army upon my deployment to Iraq, that they make one phone call to the shelter... in the "event" ... to tell them that Tank could be put up for adoption. Luckily, my CO is a dog-guy, too, and he knew where my platoon was headed. He said he'd do it personally. And if you're reading this, then he made good on his word.
Tank has been my family for the last six years, almost as long as the Army has been my family. And now, I hope and pray that you make him part of your family, too, and that he will adjust and come to love you the same way he loved me. If I have to give up Tank to keep those terrible people from coming to the US, I am glad to have done so. He is my example of service and of love. I hope I honored him by my service to my country and comrades.
All right, that's enough. I deploy this evening and have to drop this letter off at the shelter. Maybe I'll peek in on him and see if he finally got that third tennis ball in his mouth.
Good luck with Tank. Give him a good home, and give him an extra kiss goodnight—every night—from me.
Thank you,
Paul Mallory
I folded the letter and slipped it back in the envelope. Sure, I had heard of Paul Mallory; everyone in town knew him, even new people like me. Local kid, killed in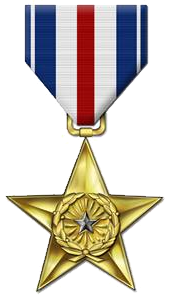 Iraq a few months ago and posthumously earning the Silver Star when he gave his life to save three buddies. Flags had been at half-mast all summer.
I leaned forward in my chair and rested my elbows on my knees, staring at the dog. "Hey, Tank," I said quietly. The dog's head whipped up, his ears cocked and his eyes bright. "C'mere, boy." He was instantly on his feet, his nails clicking on the hardwood floor. He sat in front of me, his head tilted, searching for the name he hadn't heard in months. "Tank," I whispered. His tail swished. I kept whispering his name, over and over, and each time, his ears lowered, his eyes softened, and his posture relaxed as a wave of contentment just seemed to flood him. I stroked his ears, rubbed his shoulders, buried my face into his scruff, and hugged him.
"It's me now, Tank, just you and me. Your old pal gave you to me." Tank reached up and licked my cheek. "So whatdaya say we play some ball?" His ears perked again. "Yeah? Ball? You like that? Ball?"
Tank tore from my hands and disappeared into the next room. And when he came back, he had three tennis balls in his mouth.
If you can read this without getting a lump in your throat or a tear in your eye, you just ain't right. In our cynical world ruled by the 24/7 news cycles, we seem intent on shining the spotlight on everything and everybody, trying to discover the blemishes and warts that we all possess. Maybe we should all just give it a rest. While the above might be fictional, similar situations happen daily. Yes, we have all had some low points in our lives and things we wish we could have changed. But placing our lives on a balance scale—the good and the bad—we would all be hard pressed not to agree that our lives have been blessed.
I view a veteran as someone who, at one point, wrote a blank check made payable
to "We the People" for an amount of "up to and including my life." Since the great Class of '70 left the hallowed halls of DMHS, the attitude in America toward vets has seen a roller coaster ride. From a low in the way many returning Vietnam vets were treated to the height of patriotisms displayed just after 9/11. The best I've ever heard it put is "The true soldier fights not because he hates what is in front of him, but because he loves what is behind him."
Whether Paul and Tank actually lived is not the point. I believe it is that we all can make a difference in the lives of those we share our brief stay on Earth with, be they human or of the four-legged persuasion. Try this month to look for someone whose life you can touch in a positive way, and if you do your month will soar. And after all, that is what Eagles do; they soar.
Keeping the Spirit Alive,
Richard Parker
P.S. Don't forget to register for the "All Class Party" hosted by the Classes of 69, 70 and 71 being held on Saturday October 27th at Cobb's Landing - No cover charge and Dutch Treat tabs. Register today on the left Navigation bar near the top. The room only holds just over 100 and today, still two months out, we are over 60 reservations. Don't be left on the curb watching us have a blast - register today.
---

It Is a Florida Thing, Y'all
AKA Tryin' to Reason with Hurricane Season
You know, if you think about it, we were all fortunate to grow up in good old Ft. Pierce, Florida, that is, taking the large leap of faith that you have grown up. Although Ft. Pierce was not perfect and was never confused with a subtropic version of either Ozzie and Harriet or Haight and Ashbury, it was… well… a great place for a kid to call home. Besides, it left you with the highly respected moniker "Floridian" for life.
Now that summer again has us in its death grip, I don't know about you, but I don't remember it being this hot growing up in Florida. I sometimes think Jim Lester and Bobby Harrell have the right idea by turning tail and running about the time we are ready to file our tax returns—Lester to the mountains of North Carolina and Bobby for who knows where that RV will take Tammy and him next.
I get a kick out of people who hear my Southern accent and ask where I am from, expecting to hear Alabama or Georgia. They always look shocked when I reply Florida. And I take great pride in asking them, "How far south do you have to go before you are in the South?" For this Floridian, going south means
driving around northern Havana (AKA Miami) on the Sawgrass Expressway on my way to the Keys. And we always call it "the Key." No need to stick "Florida" between those two words; we know what state it is in. I know if I am intelligent on my jaunt down the Overseas Highway, I'll stop in Marathon and skip the foolishness Jimmy Buffett launched on Duval St. before he left our southernmost city, hightailing it north (around northern Havana) to his new little casita in the glitz and glamour of Palm Beach. Isn't that the American way—make millions singing songs about Southern beach life so you can live with New Yorkers?
Yes, I know my state is often called the upside-down state and for good reason. The farther south you go, the more northern you get. By the time you get to Miami, you are back in New York City. Any real Floridian knows Miami is a region (some would say its own state—maybe the state of confusion would be more appropriate) more than a city that begins just south of Jupiter and extends to just north of Homestead.
Growing up in the subtropics has taught me that a good parking place at the only grocery store worth shopping, Publix, has more to do with snagging a small slice of shade than distance to the door. I have given up carrying an umbrella because the Florida showers are over in three to five minutes, so what is the use?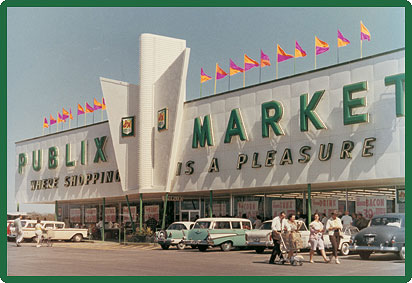 We kids from the Sunshine State still have a habit of calling any temperature below 70 a cold snap. But, those Yankees who say we have no change of season are just showing their ignorance. We also have four distinct seasons: hurricane season, love bug season, tourist season, and summer.
Speaking of hurricane season, my sixty years of hot, humid, laid-back Floridays has taught me that nothing under a category 3 is worth bothering with. No self-respecting Floridian would use the word hurricane to describe a passed tropical tempest, as if it were the storm's first name. We know they are simply called Andrew, Charley, Wilma, Frances, Ivan, and Jeanne. When the newest category 2 is about to pass the Bahamas, I have been known to meet fellow Floridians in the parking lot of a Home Depot. We dangle our legs from the dropped tailgate of the pickup truck, pour some salted peanuts in our Diet Cokes, and watch the wild-eyed, panicking recent transplants try to load thirty-four sheets of plywood on the roof of their Toyota Prius. Don't you just love those guys? My question is how did those guys win the War of Northern Aggression? Now, if we could just get them to stop feeding the seagulls on the boardwalk—hello!
I have not put the prefix alli- on the front of the word gator in my adult life. I know a 6-foot gator and a 100-pound boar hog are usually described by real Floridians (and Jim Huck) as "cute little things."
As a son of the South, I know there really is a place called Yeehaw Junction and saying its name does not make me grin and look around to see if others are laughing also. In addition, I know that it is one of the only named locations (I struggle to call it a city) in Florida with fewer buildings than it had fifty years ago. If you ever want to test the authenticity of someone claiming to be a real Floridian, the acid test is to ask them to pronounce Kissimmee, Withlacoochee, and Thonotosassa; their genuineness, or lack thereof, will be apparent. And I am happy to say that I have been way down upon the Suwannee River.
Although I love the dollars sno
wbirds bring to our great state, it is getting more difficult by the year not to affix the bumper sticker I bought a few years ago that reads, "Would you please press the gas, some of us are NOT on vacation." I got a chuckle from a bumper sticker I read on a pickup in St. Pete (the home of the newly wedded and nearly dead) shortly after the 2000 election. It read, "If you think we can't vote, wait until you see us drive."
In Florida, we have our special tropic-casual dress code b
uilt on the solid and time-tested foundation of flip-flops; I own nine pairs, the most expensive well over $100, and I think that it is normal to pay a C-note for good flip-flops. After all, as a Southern Baptist minister's son, I was taught to dress nice for church. I guarantee you will never hear the phrase "Sunday-go-to-meetin'-flip-flops in New Jersey."
It is difficult for me to see a pair of lace black dress shoes and not think about how my friend Greg Simmons describes his life as an insurance agent, which followed many years of owning a surf shop—"I now wear big boy pants and shiny shoes." Good for you, Grego, you showed Principal Terry you could grow up, even if it took you a few decades longer than some.
As a Floridian, I understand the logic of having several friends with nice boats instead of one of my own. Mitch and Buckwheat, I really love you guys; let's go fishing.
Growing up in Ft. Pierce, I thought everyone was born knowing how to swim. I was 18 and in the Coast Guard boot camp before I met my first nonswimmer adult. I think I could write another Ramblin' on what would possess a person who could not swim to join the Coast Guard. Oh, yes, I almost forgot. Can you say Vietnam?
So next Christmas Day afternoon when you are calling Sammy Durham to fix your broken air conditioner because it is 90 degrees outside and your walking the beach carrying your flip-flops on New Year's Dayt while your Northern friends are shoveling their driveways, say a little prayer of thanks that you won the cosmic crapshoot and headed down the birth canal in Ft. Pierce, Florida, or shortly thereafter found yourself here in our special version of semiparadise. Because in retrospect, we could have done much worse.
Here's to the sand in your shoes.
Keepin' the Spirit Alive
Richard Parker
P.S.

If you enjoyed this Ramblin' post your comments on the Message Forum AKA The Coconut Telegraph

- it is the only pay I get from you cheapskates.
P.S.S. Now, for those classmates who were not "born" here in Florida and who have been going through your special identity crisis while reading this Ramblin'. All is not lost, you might have morphed into a native Floridian if…
You think New York driver's License should only be valid in New York.
You understand that sweettea is one word, and it can be served anytime—yes, even for breakfast.
You feel cordial greetings such as "So, how'd you make out in the hurricane?" and "Hot enough for ya?" are natural and interchangeable.
You know it's not soda, cola, or pop; it's Coke, despite brand or flavor. "What kinda Coke you want?"
You exhibit a slight twitch when introduced to anyone with the first names of Charley, Frances, Ivan, or Jeanne.
Your winter coat is made of denim.
You're looking at paint swatches for the plywood on your windows to accent the house color.
Your pool or porch is more accurately described as "framed in" than "screened in."
You go to theme park for an afternoon and know when to get on the best rides (Space Mountain) during the Electric Light Parade!).
You now understand what that little "2% hurricane deductible" phrase means, and you are still waiting to hear from your insurance adjuster from Charley.
A mountain is any hill 100 feet above sea level, including Mt. St. Lucie Landfill.
You now own five large ice chests and can cook anything on a propane grill.
You stop what you're doing to clap and wave at a convoy of power company trucks coming down your street. You're depressed when they don't stop.
You smirk when a game show's Grand Prize is a trip to Florida.
You now think the $6,000 whole-house generator seems reasonable. Your therapist calls your condition "generator envy."
Finally, you might be a Floridian if…
You understand the futility of exterminating cockroaches.
RP
---

I had just sat down to write an article for the 4th of July and I received an email from my friend and fellow speaker and author Andy Andrews. I read his 4th of July posting and it really hit home. Knowing when I have been out classed I decided to run his posting verses mine. I hope you enjoy it. Happy 4th of July to all my classmates and oh yes, Happy Birthday America.
This morning, I am looking at a "letter to the editor" that I cut from our local newspaper. It's been professionally framed and I'm deciding where in my office it should hang. As I sit at my desk, looking for the perfect spot, I am thinking about our upcoming holiday…
When I was growing up, the 4th of July wasn't just an excuse for a long weekend.
Do you remember? The 4th of July was one of the "big four" holidays and uniquely celebrated. Thanksgivings held lavish feasts. Christmas was for hot chocolate and a manger and we actually got to put a tree inside the house. Easter meant new shoes for church. New shoes that mama liked and I didn't. But Independence Day was totally different. Firecrackers and homemade ice cream. Ribs on the grill. We spent long summer evenings at the lake or a swimming pool or even in our own backyard.
I noticed then that everything about "the Fourth" was more relaxed. Daddy cooked. Mama laughed with her friends, who walked around in baggy Bermuda shorts drinking lemonade out of that special pitcher that was "just for the adults" while we caught fireflies or hit sweet gum balls over the fence with a wiffle bat. Mae Mae and Granddaddy were always there. So were my other grandparents, Nana and Daddy Mac.
Families—sometime whole neighborhoods—would gather, pausing to connect in a way that seems almost embarrassing now. Grandmothers fed kids they didn't even know from their own plates after they'd already had the spoon in their mouth and shushed anyone who dared object. One daddy might teach another daddy's boy how to stand when he held a bat or how to make a sound with only his hand and an armpit. Children fell off swing-sets and cried like their legs had been cut off, but nobody threatened to sue anybody or even acted mad.
Later, when it was completely dark…when we were tired of catching frogs under the street lights, when the big kids had said goodbye and left in their cars to do whatever big kids did in their cars…a lot later, after all the "black-cats" and bottle-rockets and cherry bombs were used up, after the little kids had burned all their sparklers…much, much later, when the cicadas were droning in the darkness…the grown-ups gathered together.
It always seemed an impromptu moment to me, but it happened every 4th of July, so maybe it wasn't. The location varied ("maybe over there, by the side of the house to catch the breeze") but we kids could hear the adults closing a lazy circle as the aluminum lawn chairs scraped across the concrete driveway.
Lighters flared and more lemonade was passed around as we crept closer to the proceedings. It was a fact, known by all kids and passed down through generations of kid-dom, that if we could just stay quiet—snuggle in close to the bare, sunburned legs of our mamas and daddies and stay still—they wouldn't make us leave. No one would tell us to go to bed. Sometimes, if we waited long enough—lying there on the cool concrete in our damp bathing suits, smelling like chlorine and barbeque sauce—we got to hear our grandparents talk about the time "during the war."
Quietly, they would "remember out loud" about crackly newscasts from Europe and victory gardens and the ways folks helped each other here at home. They talked about places like Italy and France and Saipan. I remember Saipan because that was where Timmy Underwood's granddaddy had fought. It was a neat word to me. Saipan. I remember saying it several times when I heard it just because it was so unusual. Saipan. Saipan. It seemed dark and wet and mysterious.
Sometimes, we fell asleep there with somebody's grandma propping her worn out bare foot on our backs or legs as we listened to their soft, old voices drifting through the hot summer night, fireworks booming in the distance. Saipan seemed far away.
It's even farther away now. My boys, Austin and Adam, eight and ten, lost their last grandparent this year when Polly's mom—Patsy Jones—passed away. The true stories of our Greatest Generation are fading now as their souls leave this earth. There no longer seems to be time or even a desire for families and neighbors to gather and love and listen to each other. Our backyards are barricaded with prefab fences, our front yards don't welcome visitors with porches anymore, and our old people have been silenced, taking their stories—historical perspective; lessons that could save our lives—to their graves.
As an amateur historian, I know how easy it is for history itself to be rewritten. Those with any agenda at all can shift and change an event to make it fit the point of their movies or books or stories. Knowing this, my wife and I are purposing to insure that our boys grow up with a unique perspective in today's society—the unvarnished truth. Without it, how, I ask you, can our children make a future that is bright and pure?
This Fourth of July, I urge us all to take advantage of the lives and wisdom in our very midst before it is too late. In our neighborhoods, let's endeavor to find the eighty-something year old Billy Stimpsons or Cliff Callaways or Violet Cowdens (who flew a P-51 Mustang during the war) and give our children the opportunity to learn from the best among us.
Let us encourage our older friends to tell our kids what it still means to them when someone salutes our flag. We need to ask questions in front of our children. Were you scared? Why did you fight for our country? How did people act when you got home?
Back to that "letter to the editor" which is resting for the moment beside my keyboard…At present, it has been prepared for my office. To inspire me. To encourage me. But really, I framed it for my boys.
When I am gone, I want them to remember the truth about those who went before. I want them to know that one can choose the way in which we live our lives and fight for that right if he must…that one can choose to sacrifice time or money or life itself so that our families or another person whom we might never know may prosper. I want my boys to be grounded in the simple examples contained in the wisdom of their grandparents. That includes the words they choose to use as adults.
And that's why I framed the letter to the editor. It is just one tiny piece of truth that has been forgotten already. One day, it will be important for my boys to read and understand.
You can read that letter below.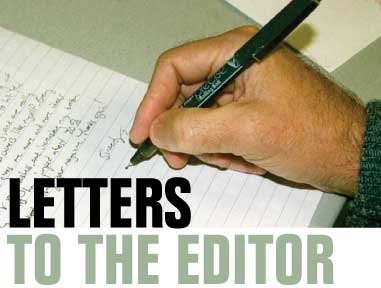 Letter to the Editor:
Blue Ribbon Letter: Plenty of bombs during WWII, but they weren't F-bombs
Published: Thursday, June 10, 2010, 5:27 AM
I am an 88-year-old veteran of World War II who served proudly with the 1st Marine Division in Okinawa and China.
As I viewed the recent series, "Pacific," on HBO, I was angry and embarrassed at the constant use of the F-word while depicting Marines in battle.
I went into the front line in Okinawa on May 9, 1945, with the 1st Marine Division. The fighting could only be described as pure hell. I never heard the F-word.
We lost 70 of our 160 men in one push. I never heard the F-word. During six days of vicious fighting at Kunishi Ridge, I never heard the F-word.
It may be commonplace for people to use that word nowadays, but it was not commonplace during the 1940s (when most everyone went to church on Sundays). I resent the fact that modern movies shed a disrespectful light on the Marines and those of us who were actually there.
We have been called the "greatest generation" and given Honor Flights to Washington, D.C. We are not the generation who spoke the F-word in every other sentence — even when in battle.
Help me set the record straight for history.
H. PAUL BAILEY
Reprinted from Al.com
http://blog.al.com/press-register-commentary/2010/06/blue_ribbon_letter_plenty_of_bombs_during_wwii_but_they_werent_f-bombs.html
---

---

So This Is Me?
It never ceases to amaze me how much more understanding and caring we become as the years roll by like some lazy river ambling toward its yet unseen destination. Not only do we become kinder to others, but also if life has taught us anything, it is that the baby boomer in the mirror is not such a bad dude after all. If we are to be happy, we eventually learn to dial back a notch the incisive self-criticism that drove us in our never-good-enough younger days. As I've aged, I've learned to become my friend. I have watched too many cherished friends depart this world, too soon, never feeling the liberation that can only come with half a dozen hard-fought decades under their belt.
I've concluded that it is no one's business if I choose to read a book, surf the Net, or watch TV till dawn and then sleep till early afternoon. I have no problem with dancing alone to songs from the only era of music that matters—sixties & seventies. And if listening to Bread sing "I Want to Make It with You" brings a tear to my eye and a smile to my face as I remember a once true, but long since lost, love, then I will hit the replay button on the CD player to my heart's content.
https://www.youtube.com/watch?v=riBsOHkApmU
Click the Above Link for a Magic Carpet Ride Back to a Simpler Time
I now choose my shoes first for comfort and then for style. (Don't you wish we could find a good pair of desert boots again?) I take advantage of living in the best state in this great nation—Florida. And make myself take the time to walk the beach in a pair of baggies that has been stretched tight over my bulging body, remembering the days that hanging five on my 9-foot, 6-inch Gordon & Smith just once could make my week.
Today, the surf knots might be gone, and the surfboards might have shrunk. However, that does not mean that I cannot dive headfirst into the warm gentle waves of the Atlantic with the abandon of a seventeen-year-old if I choose to do so, ignoring the pitying stares from the oiled-up Generation X, Y, and Net Set staring in horror from their beach blankets. It helps to remember that they, too, will get old, if they are as fortunate as you and I.
Yes, I know that I have become a bit forgetful, many times walking into the center of a room and slowly turning in a circle, scanning its contents for just a clue of why I might have walked in there. But I have concluded that being a bit forgetful is not a bad thing because much of what goes on in life is best forgotten, anyway. Besides, I know I will remember most important things… eventually.
And yes, over the decades, my heart, like yours, has been broken—often. Broken by kids finding their way in life while trying to one up the sheer volume and depth of my life-changing, record mistakes. Broken by friends and once-friends, by lovers and would-be-lovers, and by the unfair and senseless things that just seem to roll into our lives one after another, like the endless sets of waves crashing on the North Beach jetty. The bizarre thing would be a sixty-year-old heart that has not been broken many times from losing friends and loved ones, the suffering of precious children, and even the traumatic grief coming from the loss of an oh-so-dear pet, a family member much more loved than a few of your more crazy extended members.
But just as the pain of lifting weights in the gym builds muscle, so does a broken heart give us strength, understanding, and yes, the compassion we need to become an ever better person—one filled with love, empathy, and the joy of life. As the ever-mounting number of broken hearts stacks in our lives like firewood outside a mountain cabin, we become us—a product of our unique journey. After all, a heart never broken is sterile, and it will never know pain and joy as an imperfect person in an oh-so-imperfect world.
Long life assures you that God has a sense of humor. I can almost hear Him saying, "I think I'll have some fun today. See that guy down there? I think I'll stop the hair from growing on his head, but just for kicks, I think I will blow it out his ears and nose like there is no tomorrow." I am pleased and more than a bit grateful to have a full head of hair, even if it, by the day, becomes a bit more salt than pepper. The way I view it, any color beats scalp, or so my good friends Mitch Hilburn and Pete Wells tell me.
Then, there is my sweet, but aging, baby face. There, I am again most blessed to have my youthful laugh lines forever etched into deep and now permanent grooves on my smiling face. It takes only a trip to our In Memory section to see so many taken early, too early, cutting short their laughter and depriving them of this gray hair and all it brings with it, good and bad.
As the years roll by at ever-increasing speed, I find it easier to be positive. I seem to care less about what others think and work harder to make myself happy. I don't question my decisions or myself as I did in my youth. You could say that, in the last sixty years, I've earned the right—to be wrong. So, big deal, if I try to do what is right, and it does not work; whoops, my mistake, let's do that differently the next time. No harm, no foul.
So, I guess, overall, I am warming to the idea of getting old. If I am honest, I must admit that my age has done much to set me free. And when I look in the mirror, I kinda like the person I have become; although I wish I had not laughed quite so much in my youth. I understand that I will not live forever, but by golly, I'm not dead yet, and while the case, I will not waste a single minute lamenting of what could have, should have, or would have happened had I zigged when maybe I should have zagged. Whatever I did or didn't do was by choice—my choice and I can live with that. The result of all those roads taken or avoided is why I am who I am today. I do not intend to become someone else; I have grown to enjoy being me.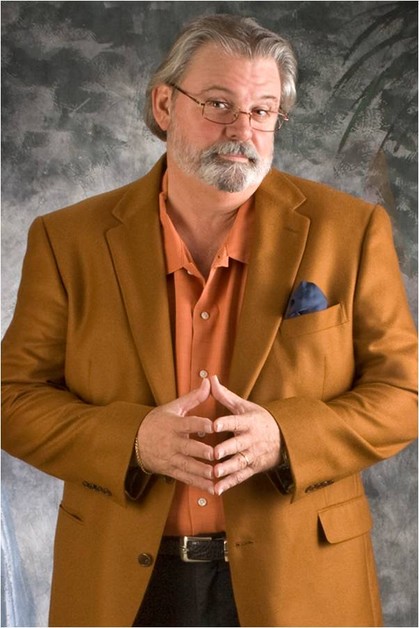 So, folks, what you see is truly what you get, complete with all my wisdom and stupidity, my successes and failures, a host of positives and negatives all bundled in my handcrafted version of me. I hope when you look in your mirror, you, too, like what you see—a slightly aged boomer showing your well-earned laugh lines, whom I trust, is mostly happy.
Life is too short to skip dessert… so dig in!
Keepin' the Spirit Alive
Richard Parker
---

In the days of my youth, I never took the time to ponder the true meaning of the words from the Lennon-McCartney song, "All You Need Is Love," a song written for the first live global TV link, "Our World," simultaneously viewed in twenty-six countries by almost half a billion people. Over the last thirty days, I have.
My life seems to have been shoved into hyperdrive over that period. Only 730 hours ago, with high expectations, the Birthday Party team applied the final touches to what would become the most successful reunion/party since we closed our McCarty years, going on a half century ago. No sooner did I wake on that post-party Sunday morning, March 18, with what seemed a permanent smile tattooed on my face that my world turned upside down; my mother began her rapid journey from home to hospital to hospice to her new home. In a world with 7 billion people, the death of a single 81-year-old woman in Florida is not big news for most; to me, it was the biggest of my life.
I recently read John Grisham's new novel Calico Joe, and I was taken by the chapter that described the funeral of the story's villain, Warren Tracey, which began with only three present, all grudgingly. How sad, I thought, at the end of your life to have no one who cared that you were gone. In the Grisham yarn, three more who, by all accounts should not have attended Tracey's Earthly sendoff, came bearing a gift—forgiveness.
I think that most approaching the end of their life ask themselves the same questions that humans have been asking for centuries as they prepare to make the journey from here to there—who will care, who will remember me, what difference did my short stay on this Earth make? In the case of my mother's death, you, my extended family of classmates, showed me that Lennon and McCartney were right—all I needed was love—your love.
I knew that, since the launch of our website, I had become closer to many of my classmates of old. With some, I have rekindled friendships, some have blossomed into brand new friends, but I never imagined the number and depth of those friendships. I never considered the support you as a family could and would provide at a moment's notice. The outpouring of love and support that flowed to my family through me was more than I can fully express with mere pen and paper. So many e-mails, calls, cards, and support were received that it became a job answering them all. I needed this job to occupy the long hours in a hospital and hospice room. Reading and answering them brought a bit of joy to so many joyless hours.
I saw in them, hearts so full of love, while mine was breaking. Your efforts to provide what comfort you could in whatever way you could lifted my sagging spirit and enveloped me in a caring cocoon of friendship at precisely the time I needed it the most. Early, I began to copy and to paste your thoughts and assurances of prayer to a master list; at the time, I was unsure why. Today, I am so glad I did. I cannot read them without getting a lump in my throat and gratefulness in my heart.
I have removed your names to keep the your identity just between you and me, but your wonderful loving words and heartfelt support that meant so much to me are now posted on the yellow navigation bar to the left under "Thanks From Richard". The sheer volume amazes me, but the love and caring expressed in them is something I will cherish for a lifetime. I needed this special salve to help me begin my healing process.
On the day of my mom's funeral, I looked up and saw two of my closest friends, Jim Lester and Doc McKinney, walking into the church. My heart leaped, and at the time, I was unsure why. But, to see two of my classmates there made me feel much less alone than common sense would have dictated. Their presence made me feel connected to all of you.
After greeting them, I said to Doc, "I am surprised to see you here." For the rest of my life, I will remember his face and his answer. With a perplexed look on his face, my friend answered my statement with a one-word reply, why? That hit me like a ton of bricks as his simple, yet oh so powerful, reply entered my brain on its way to my heart. He added a follow-up sentence, something to the effect of "You are my friend, and I wanted to be here for you," but that further explanation was not needed, not at all. Doc defined our friendship in a single word—why.
Giving the eulogy was an emotional time for me, but seeing Jim and Doc in that church gave me a sort of calm inner peace I really needed. Guys, I will always love you both and for many reasons, but none more than you showed that day as you willingly invested a day from your life to make sure a friend knew he was not alone and that you loved him.
When someone we are close to loses a loved one, it is difficult to know what to say. So many times, we choose to say nothing because the words are hard to find, and we don't want to say something wrong. We lean toward the Latin phrase Primum non nocere, or "First, do no harm," long ago adopted by the medical community as the foundation of its Hippocratic Oath. With the pain of loss fresh in my mind, let me say that just letting them know you care is all that need be said.
My good friend, Bobby Harrell, said it as well as I think it could have been said when he wrote to me, ironically, to say he did not really know what to say and, in the process, reduced to words all that I needed to hear at that time.
Richard
I fall into the camp of those who never know the right thing to say at times like these. Know that we love you and care about you. Know that some folks will say something or write something truly weird or inappropriate but that they mean well nonetheless and took the time to express it. Know that some folks won't write or call because they don't know what to say, but that absence of expression is not indicative of their feelings for you. You were fortunate to have had your mom in your life, and she was fortunate indeed to have had you in hers. The best of her lives on in the lives of those she knew and touched and influenced positively. She did a good job with Richard.
Love,
Bob and Tamara
Bull's-eye, Bobby, and well put, buddy. You may want to consider a second career as a writer, because I could not have said it any better.
Audrey Short talked to me repeatedly, helping me navigate the maze of Medicare, hospital, rehab, and assisted living rules, regulations, and options, which were so overwhelming to me that I initially just did not know where to turn. Her love, support, cheery disposition, and knowledge gave me a beacon of light in a very dark time. Audrey, I think you have given me the subject for my next book. I believe the gift you gave me should be passed along to others forced to reluctantly travel this long and winding road.
I will not try to mention by name all of you who sent e-mails, personal notes, and cards for fear of missing someone. What I will say is thank you for taking the time to let me know you are my friend. The ballast that you each gave when my world was capsizing was more appreciated than you will ever know.
It is still difficult for me to get my arms around the fact that we are six decades old. This past month has caused me to think about what is important to me—family, friends, and the footprint on this old world I will one day leave. It has caused me to think about you and the special place you occupy in my heart.
I guarantee you that on that warm summer day forty-two years ago on Coon Island, as we laughed and shared our dreams, hopes, and fears on our Senior Skip Day, I would have never in a thousand years thought that we, as a class, could share the bond we now share. I would have never believed that, at the drop of a hat, you would all come together to lend a helping hand, providing much-needed support to one of your own. I have now seen this twice in the past one hundred days: once when Joanne Carlton Humphries' son Clay had his accident and, now, with my mother's passing. Once could be explained away as a fluke, but not twice. Face it; you have all turned into a group of old softies. No more Mr. Tough Guy—that toothpaste will not go back in the tube.
So, now that your macho image is a thing of the past, I have an idea. Let us all commit that we will go the extra mile for one another. As much as I hate to say it, we are at the age that makes it possible for each of us to lose a parent or, God forbid, a spouse. When that day comes for one of our own, I pray that each of us will take a moment to remember this Rambling and give that classmate the same support and love you have given me. After all, they are family, and when it is family—All You Need Is Love.
Keepin' the Spirit Alive,
Richard Parker
---
We Don't Get to Pick Our Family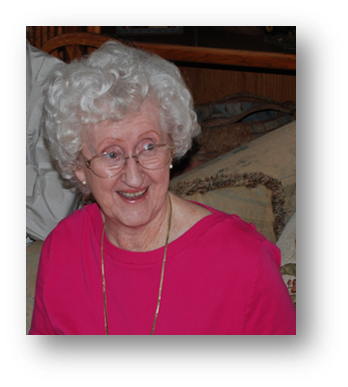 Doris Parker
7/5/30 - 4/4/12
As I sat in hospice watching my dear sweet mother slowly move from this world to the next, I was struck by a simple undeniable truth—we don't get to pick our family. In God's infinite wisdom, we emerge from the womb smack dab in the middle of the only family most of us will ever have. As we all have learned by now, for better or for worse, family is for life.
I sat beside my mom's bed holding her hand for hours, and at least in the beginning of her final journey, we talked—mainly about our family's early years. We fondly remembered days long past, told stories, laughed, and yes, cried a bit together. Early in the morning of Saturday, March 24, I sat in her hospital room, hand in hand, discussing the operation the surgeons claimed held her only chance for survival, while simultaneously admitting the same surgery had better than an 80% chance of taking her life. I looked at her and said, "Mom, if you are tired, it is OK to let go. I will take care of Dad and anything else that is needed."
My mom looked at me and said, "OK, son, and thank you. That is what I want. I just want to go home." And it was decided. The next day, she was committed to the loving hands of hospice for her final few days on this Earth.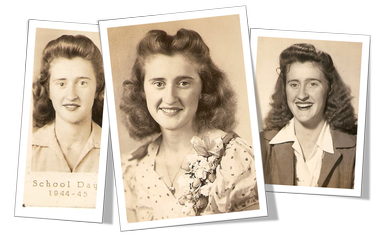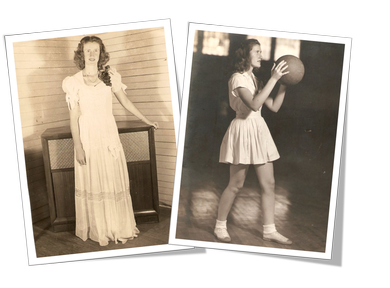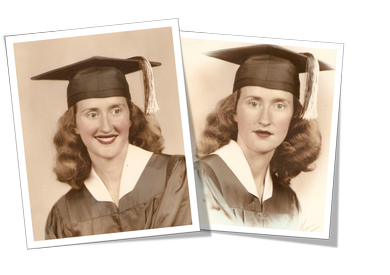 The first two days at hospice, she was lucid, and we talked and even laughed together as a family. That time with my mother at the end of her earthly journey is a time I will cherish for a lifetime.
As for Mom, her desires were simple—they numbered only two. The first, to be assured that in her family's eyes, she had been a good mother, wife, and person. That was an easy assurance to give her. Her last desire was to finish her journey. She was very tired, yet most assured that her next stop would be in heaven; she was ready to go.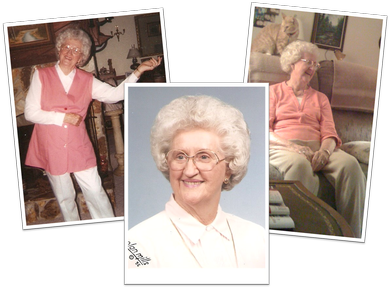 It was only last December that my wonderful wife Joan and I welcomed my parents into our home. Joan has always lovingly treated my parents as her own and vice versa. Dad, beginning the third and final phase of Alzheimer's depended on Mom for almost everything. Regrettably, the move to our home was followed by a series of falls that saw Mom move from home to the hospital to rehab to hospice in a few short weeks.
As she and I sat and talked, she reminded me of the day, 56 years ago, that she and dad brought home my brand new baby brother Roger. It seemed to me, at the ripe old age of 3½, that this newcomer was requiring an awful lot of my mom's time and directly reducing my own personal mommy time. Finally, I asked her the question that needed to be asked, "How long is he staying?" I was ready for him to be returned to whatever place they had found him and let our comfy little family of three get back to our lives.
She hugged me as she broke the news to me that the screaming little red-haired brother was home; he was now part of our family—for life. I was devastated. How could things change so quickly and forever?
Much the same is true of our graduating class of 1970. No action was required by most of us to find ourselves winning the birth and geography lotto that landed us square in the middle of the last graduating class of Dan McCarty High. Once in those hallowed halls of learning, all 400 plus of us also became a family of sorts—not by blood, rather by fate. Nevertheless, here we are, some 42 years later, still tied together through the threads that make up the tapestry of our lives. None of us in the Class of '70 can be "sent back" to whence we came; we are now and forever family.
In my birth family, there is quite a collection of colorful characters—some wonderful, and some, well, not so. But as I was so recently reminded, they are now and will always be family. That screaming little red-haired baby brother is still redheaded, but not so little. And I have long since reconciled that I am glad Mom and Dad decided to keep him. I guess he just kind of grew on me. I do not know what I would have done over the past couple of weeks without him.
I have an eclectic menagerie of aunts, uncles, and cousins who could make a circus troupe look as conservative as a Lutheran ministerial convention. A few of these you must really work on loving.
As my mom lay on her deathbed, she asked me to make sure to "overlook" words and deeds of one of the most opinionated and vocal of our clan. She reminded me that no matter whether I agreed with the people in my family, they were still family, and family is forever.
My brother and I sat on each side of her bed as she drifted in and out of consciousness. Once she opened her eyes and spoke softly, drawing us closer to her to hear. She asked that we not forget to love each other.
Just like my mom to be dying and still trying to make others feel better. This is the mother I was given—talk about having the luck of the draw.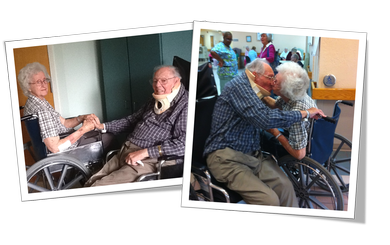 Maybe we all can learn from this. The next time someone from our "class family" should do or say something you disagree with, or think should have been done differently, I hope you will remember the words of my dearly departed Mom, and if the truth be told, your own mother, too—"we are still family, and family is forever."
So, Mom, this is for you… If I have ever said or done anything mean, wrong, or even inconsiderate to any of you, I am sorry; please forgive me. After all, the only way never to do something wrong in life is to never do anything, and trust me, I'll never been accused of that. I commit that I will try always to remember and to show that you are not just someone I graduated with 40 some odd years ago, but that you are family.
Your Brother,
Richard Parker
---

Happy Birthday...You Are Busted!
My friend Steven Covey, the author of the bestseller Seven Habits of Highly Effective People, coined a phrase that has become a cornerstone in today's business community: Begin with the end in mind. That is where I'd like to begin this Rambling—at the end.
At 11:00 p.m., Saturday, March 17, 2012, the Ft. Pierce Police SWAT unit, battering rams in hand, forcefully entered 904 South 11th St., the home of one Calvin McDermid, aka "The Voice." McDermid was yanked from his wheelchair while he sang a rendition of "Love Me Two Times" that would have made the late Jim Morrison proud. He was slammed to the ground and cuffed and hauled to the pokey as he screamed a garbled mixture of '60s slogans that included Stop the War, Love the One You're With, and Don't Trust Anyone under Sixty. Two hundred and fifty gray-haired, aging hippies chanted in unison, "The whole world's watchin', the whole world's watchin'," as they rattled their canes and walkers at the retreating cops who hid behind clear plastic shields with billy clubs and mace at the ready. One cop took four stitches over his right eye when he was hit with an empty Viagra bottle and then tripped on an empty Ensure can.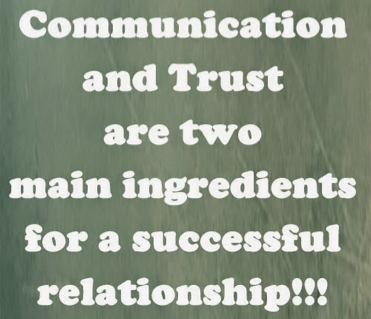 Well, would you believe… two nice female officers from the Ft. Pierce Police Department finally had enough of "I promise this is the last song" and shut Tradition's Children down in midsong?
So, to give you a bit more of the flavor of the evening, let me now go back to the beginning. In the beginning, God created dirt and several members of the DMHS Class of 1970. Well, maybe that is going back a bit too far. After all, poetic license can only carry a writer so far.
The 60th Birthday Party of the DMHS Class of 1970 was scheduled to begin at 6:30. Cal and Tommie McDermid graciously provided their lovely home for our party venue, and it was just the perfect setting. I am sure if they had known that the 50–60 attendees we hoped for would eventually swell to better than 250, they might have reconsidered their offer. By 6:00 p.m., a full thirty minutes before the party's scheduled start time, fifty attendees were already onsite. It seems that the aging process evidently affects our ability to tell time, among other things.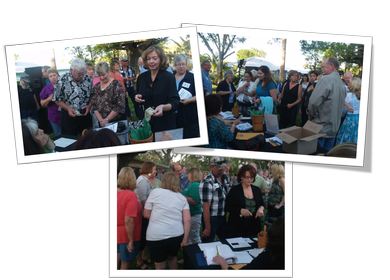 By 6:30, more than 150 were packed in front of the registration table waving $20 bills as if they were at one of Mark Walter's auctions, as Cindie McNeal, Diane Mossman, Marcie Keen, Sue Norman, Linda Bravakis, Candy Willey, Rhonda Hilson, and Debra Pitts worked feverishly to hand out name badges and sell drink tickets.
As the sun began to set over the Carlton Ranch, the party took on a Disney World-like atmosphere, as the trees and bushes came alive with thousands of tiny white lights. The aroma of slow-smoked, mouthwatering BBQ provided by Jim and Karen Huck of Huck's Catering drifted through the crowd, as Keith Andersen's Boozgeois Saloon crew kept the revelers and their attitudes well lubricated.
Tommie McDermid and Janice Norvell of Epic Events, had the place looking just perfect, with balloons, posters, a collage of photos spelling out "60," tie-dyed tablecloths, jellybean-filled vases, and beautiful centerpieces with tie-dyed ribbon framing clear plastic boxes filled with twinkling lights adorning the oval tables that dotted the backyard and tennis court. For appetizers, revelers feasted on more jumbo shrimp than we could eat and the best tasting fish dip I've ever eaten, provided by Dennis Macy.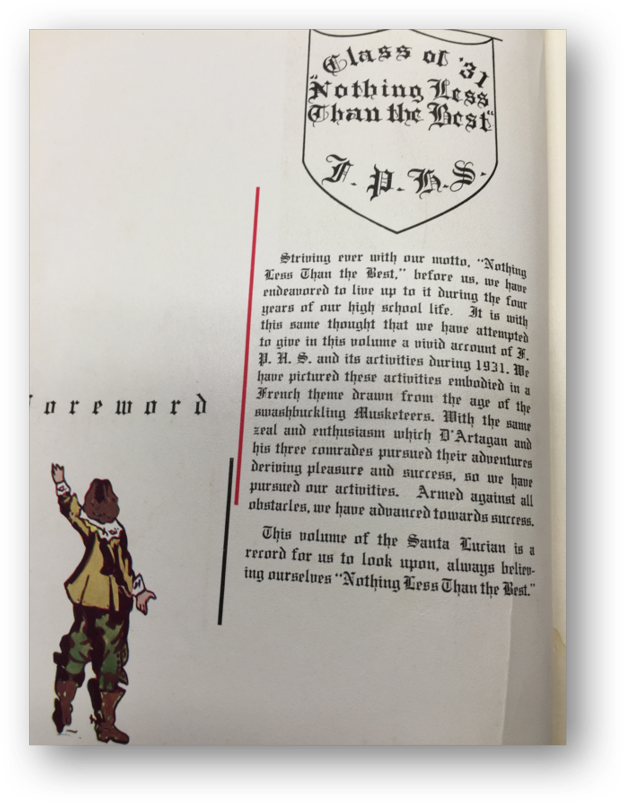 Mitch Hilburn's band, Out on Bail began the night with a Jimmy Buffett classic, "Tryin' to Reason with Hurricane Season," and the night was officially underway. The band set up under a 150-year-old Florida oak framed in Spanish moss and, of course, those beautiful white lights. It was breathtaking!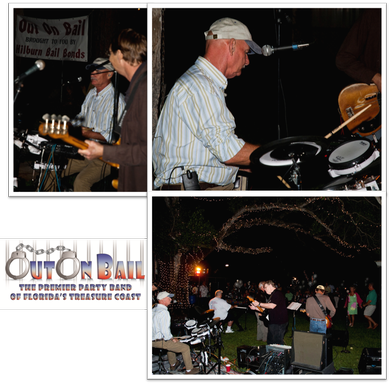 This all played out under a cloudless sky as hundreds of twinkling stars intertwined with the thousands of white lights adorning the backyard under what seemed to be the direct supervision of an almost full moon smiling down on its favorite sons and daughters—the great Class of 1970. The temperature remained in the mid-60s with a 3-knot offshore wind creasing the partygoers throughout the evening. Simply put, it was a perfect night for a perfect party.
Yes, the music, food, and decorations were all textbook perfect, but that was not what made this party; it was the people. Sometimes, the best plans can be upstaged or enhanced by pure dumb luck. This was the case on that Saturday night. At each of our previous reunions, we have welcomed attendees from other McCarty classes and, why wouldn't we, because they were such an important part of our McCarty experience?
However, this birthday party was the first time we openly encouraged other McCarty classes to attend. It was not a deep thought-out plan; I'm not that smart. It was more, "Hey, we're having a party, why don't you come?"
It reminds me of the verse from the old Beatles song:
Oh, I get by with a little help from my friends,
Mmm, I get high with a little help from my friends,
Mmm, I'm gonna try with a little help from my friends.
Yes, the friends of the Class of '70 made the night so special. That "help from our friends" would not have been possible without help from two very special friends, two ladies whom I have come to love and respect over the past few years: Jimmie Anne Nourse Haisley, Class of '69 and Billie Sue Huck, Class of '67. Both are webmasters of their class websites, and we three have shared much to try to help one another make our sites collectively better.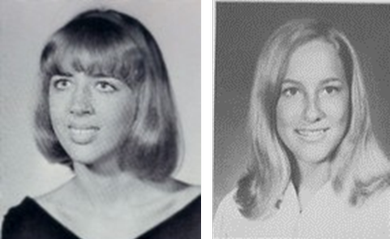 Early, I saw there was interest from many Eagles who preceded our graduation. I asked both Jimmie Anne and Billie Sue if we could promote the party on their websites also. Not only did both quickly agree and both register, but both made me an administrator on their class sites. At the time, I had no idea that their simple act of friendship would have such a powerful and positive effect on the creation of the "perfect party."
Because of this cross-pollination between the classes, the siblings in whole families found it easy to share this magical night together. We were all drawn together through the common thread of our formative years in Ft. Pierce. The Simmons, Huck, Sinnott, Suggs, Andersen, Gottardo, Macy, and Turner siblings and more came to laugh together, share memories, and renew friendships that, in many cases, had lain dormant for decades.
In retrospect, it seems so natural that we share that night with those who played such a big part in our high school experience. I wish I could take credit for that, but alas, it was simply the byproduct of extending the hand of friendship to friends who had touched so many of us in so many ways. I heard from a nonattendee that the immense turnout was "not our class." I can only say that had they experienced that enchanted night as we who attended experienced it, they would understand how off base that thought really was. All who attended were our "extended family," and we were all blessed by their attendance. On a personal note, I can only hope this is not the last time we encourage a "family reunion" of this type.
I know that anyone who has heard Mitch's band Out on Bail will agree they are musically one of the best bands in the state. Everyone truly enjoyed them. Then, about 9:00 p.m., I had the honor to take a minute to thank all the volunteers who made the night a success. We planned to end that recognition with Cal and Ronnie Griffith joining Mitch and Billy Smith and the Out on Bail band in a type of revival of our Tradition's Children, the band that provided the soundtrack of our high school years. Even in the party atmosphere, there was also a bit of sadness, when we remembered the two deceased band members, Glen Burrell and Mark Moore, who are no longer with us. But the night really began when the four surviving Tradition's Children band mates took the stage.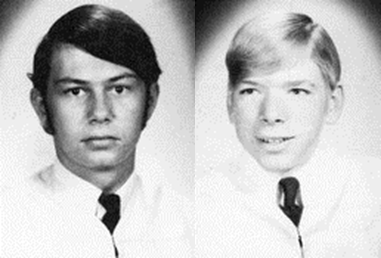 As I left the mic, exiting stage left, I looked back and saw a sight that warmed my heart and brought a lump to my throat. Nearly every person at the party stopped what they were doing and began to form a circle around our grass-covered dance floor. They were not just listening; they were experiencing this band of our youth. Sixty-something couples hugged a bit tighter, smiles were a bit wider, and there was a sense of community in the air wrapped around us like a warm blanket on a cold winter's night. That feeling was so powerful that it is still difficult to reduce to words.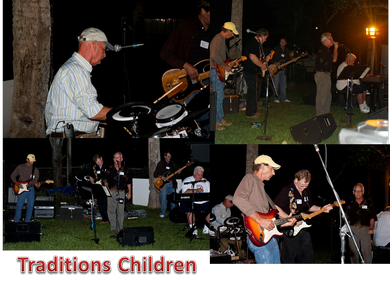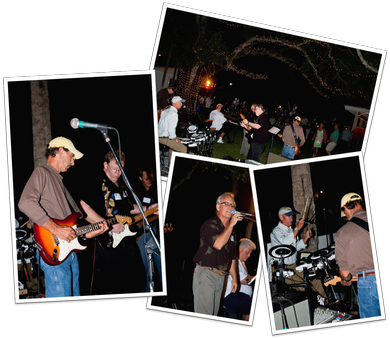 We all were then mysteriously transported to a varnished basketball court, and suddenly, we were all seventeen with our special honey at a Dan McCarty victory dance. I felt chills, and I was never more proud to be an Eagle. As I sit in my office writing this Rambling, it is difficult for me to stop smiling, although it has been almost a week. If you were there, you understand; if you were not, my written description cannot take you to that place. That train has left the station, my friend.
For that one delightful evening, those fond memories again became reality for 250 blessed friends of yesteryear.
Then, we got busted!
I could have never scripted a better ending to this 60th Birthday Party if I tried. It restored our street cred and forever made this night a memory guaranteed to bring smiles until the last Eagle has left this Earth. It will be remembered at future reunions, funerals, and retold over coffee or beer shared by attendees and nonattendees alike. It will be remembered with smiles and laughter, and I am sure will be repeated, recounting the events much more closely to my exaggerated opening paragraph than what happened. Then again, over time, reality ceases being reality, and the perception of reality becomes the only true reality. So, for the record, here is what really happened.
About 10:00, the cops arrived, the first time citing the city noise ordinance. Cal handled this with a bit of name-dropping and his million-dollar smile.
Then, about 11:10, Rodney Clasby said, "Dick, come quick; there is someone asking for you" as he tugged on my arm, pulling me toward the street. As we rounded the first parked car, the two Ft. Pierce cops stood without a single smile between the two of them, which is when Rodney stopped and pointed to me, telling the cops, "It's his party." Thanks, Rodney, the view from under the bus was… interesting.
I put on my best howdy ma'am smile and asked how I might be of assistance, as if I did not know. "You are going to have to shut this down," they said. "We have a noise ordinance, and this is our second trip to this location tonight." I thought I heard what she said, although it was a bit difficult with Cal McDermid belting the words to "Jumpin' Jack Flash" at a decibel level a bit higher than a fighter jet Dana Longino once flew.
For a second, I thought about pulling a "Rodney" and asking the cop, with a pointing finger, if it was that guy on stage whom they had told to tone it down an hour earlier, but I took one for the team. I assured Ft. Pierce's finest that this would be the last song. They said OK and returned to their cruisers, but did not leave.
Thirty seconds later, Cal's voice again rang clear and strong with the Kinks classic, "You Really Got Me." A quick look over my shoulder, and I saw the two cops fly out of their cruisers as if they had run over an IED.
I made a 180-degree turn and quickened my paces with the goal of getting far enough from the house to keep the cops from seeing it was the forewarned Cal singing with his forked tongue. You remember Cal, the guy who told these cops we would tone it down at 10:00 p.m.
With my best aw shucks smile that showed my wisdom teeth and my hands extended above my head in mock surrender, I tried to explain that my earlier promise that the band was on our last song was my mistake, and this was really our last song.
Again, they returned to their cruisers, but again, did not leave. I made my way to Mitch to tell him that we needed to wind it up. As I walked to the registration table to continue my earlier interrupted conversation with Cindie McNeil, I heard to my surprise our old buddy Cal asking the gray-haired mob, would you like to hear one more? What do you guess was the crowd's answer? Ronnie Griffith and Billy Smith began to bang out the familiar licks to the Jim Morrison oldie, "Love Me Two Time."
I started in a slow trot toward the driveway (slow is all I have left at 60) on a mission to intercept what I knew was coming. But alas, I needed more horsepower than these old legs could provide. Twenty feet from the gate, I saw my two buddies in blue making a beeline to the band, and this time, they would not be denied. In midsong, the music halted.
My first thought was what a bummer, but after a few minutes, it became clear that getting your 60th Birthday Party shut down because you were partying too loud and too long was really a decent way to end the event.
But when the "music died," the party did not end—far from it. Everyone was just having too much fun, and no one wanted it to end. By midnight, there were still 100–125 people left. By 1:00 a.m., 50–60 remained.
One thing that made the event so cool was how we promoted it. We did not mail any letters or postcards to promote the party. We promoted the night only with the websites of the Classes of '67, '69, and '70 and some calls to those not on our site. Barbara Furr headed up the calling team that also included Nancy Pyles, Ginny Simms, and Debra Pitts. You could say the Class of 1970 has officially entered the Internet age. Who says you can't teach an old dog new tricks? Ruff! Ruff!
The party promotion greatly benefited from the great PR efforts of Sam Yates of Yates and Associates. Sam knew that papers normally do not print articles on "reunions". He needed an angle to get the coverage. He used the release of my new book, Don't Trust Anyone Over 60 – The Life and Times of the Last Eagles as that little twist to get the coverage we needed.

Writing this book, my 10th, is my way of using my God-given talent as a writer to help all the classes of McCarty High "Keep the Spirit Alive". The book will also become an ongoing fund raiser for the class of 1970, with 20% of all book sales dedicated to our 45th reunion.
Sam's press releases resulted in dozens of online articles and a great post-party article in the local paper. Click this link to view.
http://www.tcpalm.com/news/2012/mar/20/dan-mccarty-highs-last-graduating-class-shows-it/
The whole party happened under the watchful eye of our old friend, the Dan McCarty High Eagle mascot, which my old buddy Doc McKinney picked up and returned to the Ft. Pierce Museum. Don't worry, Doc, the fact that you dumped the eagle off the trailer will always be our little secret; I will not tell anyone.
I left about 1:30 a.m., and as fate would have it, headed for my second brush of the evening with Johnny Law.
My route of choice for my return trip to Melbourne Beach was A-1-A for two reasons: (1) it is a wonderful and relaxing drive down the coast; and (2) that road seems to be packed with a lifetime of memories for me. What better place to remember the evening than driving that memory-packed beach road.
My mind bounced between my old high school memories and the new memories created that night. And there were so many new memories created in that single night. I smiles when I thought of Bobby Harrell's booming jovial voice; Dianne Byrne's smile; Gina Turner's laugh; the organization of Cindie McNeil; Colleen Callahan's willingness to drive from Jacksonville and back in one night just to make the party; Joanne Carlton's hug; renewing friendships with Robbie Drumm, Ronnie Rohm, Chris Jacobsen, Steve Moose, Tim and Denise Macy, and Dickey Sinnott; spending a little one-on-one time with Janie Clark, Steve Isman, Wendy Walker, Robin Schmidt, Gary Key, Kris Metzger, Joe Barclay, Mike Jenkins and Audrey Short. It was great to see those whose friendships have grown out of the last reunion: Ricky Silverstein, Jim Lester, Mike Stuhr, Kenny Humphrey, Doc McKinney, Pete Wells, Eddie Reed, and oh so many more. If I did not mention your name, please forgive me, and think about cutting me a little slack—after all, I grew up in the sixties, so my brain is not firing on all cylinders.
Only five miles north of the North Jetties, the bottom fell out. The beautiful night so critical for the party's was now gone and replaced with a coastal thunderstorm that sent huge raindrops pounding on my windshield for most of the way through Indian River County. I felt the same feeling driving through that well-timed thunderstorm that I felt watching the Twin Towers fall on September 11, 2001, knowing I spent two months in the South Tower at the beginning of my financial career—I've learned firsthand that timing is everything.
I knew that the beach road would be light on traffic but heavy on law enforcement, so I set my car's cruise control and basked in the warm glow of a wonderful night. Coming into Melbourne Beach, a white car proceeding north quickly reversed direction and turned on its blue flashing light. Great! Just what I needed, more cops.
I pulled over and rolled down my window, digging through my wallet for my driver's license. As the Brevard County Sheriff reached my open window, I realized that my driver's license was nowhere to be found; I had lost it, presumably, at the party.
I was asked what I was doing out at almost 3:00 a.m. I told him honestly that I was returning home from getting 250 senior citizens crocked. He cocked his head similarly to the way my beagle does when he is unsure of what I have just told him. I followed up my "crocked" statement with a fuller explanation that shared info about our 60th Birthday Party, the Fighting Eagles, and ending with that I had not had a drink for twenty years and volunteered to breathe in his face if he liked. He passed on the 3:00 a.m. breath.
He shined his flashlight into the back of my SUV and saw all the party junk I was hauling, then to the name badge still on my chest that proudly displayed my senior class photo. Finally, he shone the light in my face. Then, I was forced to tell him that somewhere I had lost my driver's license. He sighed deeply and said, "Mr. Parker, you can go home; no one could have made up a story like that."
When I think back on the event, I am so proud of all who helped make it a reality and all who attended. Please consider the following:
We had more attendees than we have seen at any class reunion in years.

244 in attendance

89 from the class of 1970, plus their significant others which accounted for almost 2/3 of the attendees

We had a lower registration fee than has been charged in years ($20 including dinner).

We hired waitstaff and bartenders, and no classmates had to give up their night waiting on others. The dreaded cleanup was also hired out.

The weather was perfect, in the mid-60s with not a cloud in the sky.

The event was profitable. After all expenses including the seed capital from the 45th reunion fund, we will still make a profit although breakeven was our goal. But, as I've learned from many years in business, profitability is a good thing. Those extra dollars will go to help provide a great 45th reunion, which is, of course, right around the corner. (We will post an accounting next week when all bills are paid)
So, just as we can all tell you where we were when the Challenger exploded or when Kennedy was shot, all 250 who attended "the party" will never forget where we were on March 17, 2012.
Keepin' the Spirit Alive,
Richard Parker
---
Don't Wait
I don't know about you but this 60th birthday we all share rattled my cage just a bit. None of the others has. I never even slowed passing 30; 40 got barely a sideways glance; and I was just too busy to pay much attention to 50. I was 55 before I realized I forgot to have my well-deserved midlife crisis. But 60. Gosh, it just sounds old.
When I look back, and I do that often lately, I wonder where the decades have gone. Now, don't get me wrong, I am not whining. Eagles don't whine. And truthfully, I have very few regrets. I have had a wonderful and blessed life, and I'm optimistic that some of my best years lie ahead. But 60. Come on, man, that age is reserved for old geezers. And I just don't feel old.
Inside, I am still that 18-year-old who just can't wait for the burning of the Indian, the Sweetheart Dance, and Twerp Week. Well maybe I could have done without that nerve-racking Twerp Week, scared to death that I would be the only guy in the Class of '70 sitting home. Alas, pity was taken on me, and I got twerped.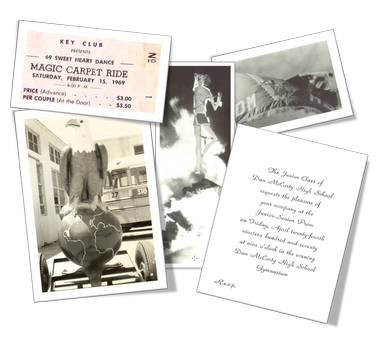 I am fortunate by so many methods of measurement. I have a wonderful wife, Joan, of almost 31 years who lets me act as if I make the decisions, two sons, and three of the most wonderful grandmonsters (a term lent to me by my good friend Doc McKinney). I've never spent a day in the hospital, never broken a bone, and except the spare tire that seems to have permanently lodged around my middle, I'm in good health.
Then, there are you, my friends. I have no idea what possessed me to just after our 40th reunion and begin to build this website. But it has done more for me than I could ever put in words. I have been told by so many how much they appreciate the website; but if the truth is told, I should be thanking you. Through that marvelous piece of cyber wizardry known as the Internet, the invisible pipe delivering preaching and porn, allowing you to bid on eBay and buy a book, so many of us have reconnected, and for that, I am so grateful. After 40 years being just fine without contact with most of you, I find it hard for a month to go by without a call to a couple of dozen of you, just to say hi and see what is shaking in your life. And I truly miss so many of our classmates who are gone. I wish they could share in this resurgence of Eagle Pride.
This year, we at the Parker house began a new chapter in our lives when my mother and father, Doris and Richard Sr., moved in with Joan and me. It was just that time. It has been wonderful to have them, and I am so thankful they have shared 63 years as husband and wife. They are so cute together, still taking care of each other after six decades. It gives me something for which to shoot.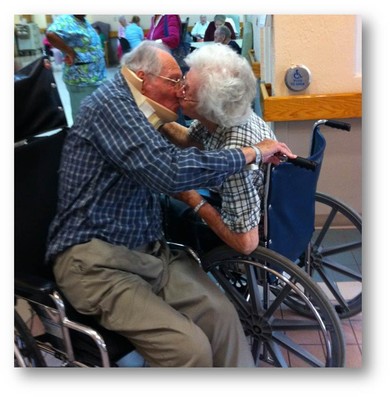 But through this transition, I've seen how difficult even the little things have become for them, which has crystallized my commitment to live my life and not to put things off.
Today, I'm reading and writing more and cleaning the garage less. I'm happy to sit in the swing in my backyard throwing the ball to one very happy beagle, without worrying a bit about the weeds creeping through the dark Florida sand. I'm finding it more difficult to put in 12- and 16-hour days and easier spending time with my family and friends.

I believe that we should learn to breathe more deeply and savor our lives instead of enduring it. I am working hard to recognize the nuggets of life that come my way and cherish them to the max. And if the mood hits me, I have no problem breaking into my own special version of Iron Butterfly's "In-A-Gadda-Da-Vida" straight from the 60s and complete with a few dance steps that would make a young rapper green with envy.

I want to use the good china even it is for lunch on a Wednesday, even if we're having a grilled cheese sandwich. I question why we have saved that china for 30 years stacked neatly in the cabinet under halogen lights. After all, I know in my heart of hearts that the kids will have those shiny plates piled on a table at the big garage sale barely three days after my funeral, so who cares if a plate or two has a chip.
I'm not "saving" anything that can make me feel even a bit better and enjoy my life a tiny bit more. I'm burning the good candles, wearing my nice sport jacket to the grocery store, and smiling while I do it. Maybe if I look successful, it will make paying $100 that Publix demands for a bag of food a bit easier to swallow.
I'm permanently removing from my well-honed Southern vocabulary "when I get some time" and "someday I gonna." If it is something I want to do, then by golly, now seems like a darn good time to do it; I've waited long enough.
Since building our website, I've thought often about our classmates in the "In Memory" section. If they could come back just for a day, I wonder how they would spend that single last day. Well, my friend, I want to live that day—every day.
Country recording artist Tim McGraw sang a song called "Live Like You Were Dying," and it really packs a powerful message.
He said: "I was in my early forties,
"With a lot of life before me,
"An' a moment came that stopped me on a dime.
"I spent most of the next days,
"Looking at the x-rays,
"An' talking 'bout the options an' talkin' 'bout sweet time."
I asked him when it sank in,
That this might really be the real end?
How's it hit you when you get that kind of news?
Man whatcha do?

An' he said: "I went sky diving, I went rocky mountain climbing,
"I went two point seven seconds on a bull named Fu Man Chu.
"And I loved deeper and I spoke sweeter,
"And I gave forgiveness I'd been denying."
An' he said: "Some day, I hope you get the chance,
"To live like you were dyin'."

Maybe that is the prize in the box of Cracker Jacks for all of us pudgy, graying 60-year-olds—a prize we should grab and hold on to for dear life. No, I'm not talking about jumping out of a perfectly good airplane on purpose, and it is a safe bet that you will not see me climbing on the back of a 2,000-lb. bull even if he does have a cute name like Fu Man Chu. But, I like the sound of loving deeper and speaking a bit sweeter and giving, and, I hope, receiving a bit of forgiveness up to now denied.
If I had a crystal ball and knew my life was down to hours, I'd be a bit pissed off. No, not about the end of this long and winding road, because I am prepared for that and know my next stop is assured. But my pissed-offness would come from the things I've left undone, unsaid, and untried. What would bother me the most are the calls I did not take the time to make, the thanks I neglected to utter, and the helping hand I did not offer.
Hey, but here is some good news. I doubt that bucket will be kicked this month, and I hope no time soon. So, we still have time. We might be 60, but baby, we ain't dead yet. And I intend not to put off those things I want to do any longer. I want to laugh, and cry and listen and talk and, yes, I want to dance. And I want to do them all with my wife, my family, my friends, and yes, that means you—the oldest friends I have. Because like it or not, we are all family, a family that for some of us goes back 50 or more years.

So, I dare you to put nothing off. Pick up your phone and call someone you meant to call and say what you meant to say. Write your unwritten letters. Get up from this computer now, and if you are fortunate enough to be with the love of your life, tell him or her what he or she means to you. Hold nothing back; save nothing—use the good china and enjoy every minute of it. Because these minutes are truly a gift from God and such an important gift should not be squandered, my friends.

I once read that a true friend will hold your hand in times of need. I see that a bit differently. I don't think a true friend needs to hold your hand; they just need to let you know that helping hand is always there for you.
I'm not going to worry about what others think or say. If I can't change it, I will let it go.
I know I forget things—many things. But you know something? Life throws many things at us worth forgetting. And I know if it is important enough, sooner or later, I'll remember it. Now, where did I put my car keys?
I'm OK with my salt-and-pepper hair and beard becoming much more salt than pepper. I just happy to have hair. (I love you, Mitch.)
I am at peace with what gravity has done to my body. Although it has pulled and stretched some body parts a bit more south than I ever thought they could be stretched, I am still high-steppin' six feet above casket level, so it is all good.
When I look into the mirror, it is difficult not to notice the youth of the '60s has been replaced with a more distinguished Southern gentleman that some might just call old. But with this age has also come a side order of wisdom, much gained from trial and error accompanied by periodic flashes of intense pain. Ouch, I won't do that again.
Through that pain-laced wisdom, I've learned some cornerstone truths, such as all puppies grow up, but not all kids; the cheapest and most expensive are usually both bad deals; announcing a fire is the only time that yelling doesn't make things worse; no one has it all figured out; knowledge is belief and nothing more; nothing is free if it takes time. Last, I've learned that there is a God… and I'm not Him.
So, when I stop and think about it, turning 60 beats the heck out of the alternative. And my life could surely be much worse. So, though life is not always a party… we might as well dance.
Keepin' the Spirit Alive,
Richard Parker
P.S. Speaking of dancing—I know a good place to try those dancin' shoes—at our 60th Birthday Party, March 17. See you there.
---
It Only Happens Once – Share It With Friends
It is hard to believe but our 60th Birthday Party is now less than two months away. We hope you are making plans to attend, after all how many times do you turn 60? We currently have over 60 RSVPs; and all we need to make it complete is you. Your classmates are flying in for all over the country to be enjoy a night of memories and fun. Jim Huck has the BBQ grill ready to fire up, Mitch Hilburn and this band have everything tuned up and ready to rock.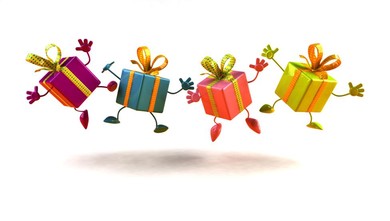 Time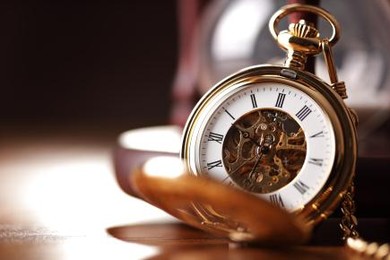 My fingers hurt! Then, what do you expect after hanging on to this big blue marble for dear life as it hurdled at 67,000 miles per hour for now sixty trips around the sun?
I can remember how slowly time moved as I headed toward my 16th birthday, my excitement level in the stratosphere. I just couldn't wait to get behind the wheel of my own car. That first rolling jewel was a 1962 Rambler Classic. My dad paid $300 for the automotive marvel, and I guarantee that if he knew that the front seat reclined all the way, he would have never bought it. More than one of you ladies knows of what I speak, but never worry, a proper Southern gentleman never tells. There is, after all, no statute of limitations on honor.
By the time we graduated, the speed of time had increased. By the '80s, it seemed to take barely eight months to lap that star at the center of our solar system. Today, don't blink or you'll miss the next trip completely.
By the time I had dried from the swim to Coon Island on Senior Skip Day and the subsequent Pomp and Circumstance had ceased ringing in my ear, the Class of 1970, and for that matter, my classmates, occupied little of my mental bandwidth. I had places to go, worlds to conquer, things to try—oh so many things to try. And did I ever try them. Yes, sir, I gobbled life in huge bites, barely stopping to breathe. As for smelling the roses—as they like to say in New Jersey, forget about it.
I did come back for our 10th reunion and then for the 20th and 25th. But Ft. Pierce, Florida, and the Class of 1970 were distant specks in my rearview mirror. Then, there was the 40th reunion just two short years ago.
At first, it was difficult for me to get my arms around a 40th reunion. The way I remembered it, only geezers had 40th reunions. After all, I was not old; I was still that wide-eyed, anything-is-possible kid who just had to be the first to ring the bell in the elementary school bell tower (if you can call two stories a tower) only minutes after graduation.
Then, one morning, as I went to my bathroom mirror to shave, the shock of all shocks—there was an old dude complete with chubby cheeks and distinguished-looking gray hair. It frightened me so much I stopped shaving.
I was unsure I wanted to go to the 40th reunion. After all, someone might notice that long gone was my 30-inch waistline, replaced with two. I was sure I was the only one who had aged. In my memory, you were the same kids who had just made it through the love-the-one-you're-with 1960s and headed off to join Disco Duck, the Bee Gees, and John Travolta in the 1970s. None of you got old, and all were still wearing your baggies, desert boots, and fading madras shirts complete with fairy loops.
Then, I saw the Class of 1969's website. I was floored. Those dudes looked as if they were ready for the nursing home. I had to take another trip to the bathroom mirror. Wow! The bearded dude did not look that bad after all. Maybe I would go to the 40th—if for no other reason, for someone to notice that I have fared much better than those old guys from 1969 have.
Boy, I'm glad I made that decision. I enjoyed that reunion more than anything I've done in years. There was a spirit in the room that is difficult to put into words. There were no hype, no airs, and no pretenses, as if we had accepted what we were and what we would be. We had finally become us.
After the reunion, I promised myself that I would call a classmate each month and just say hello. Maybe we would have lunch. Another decision I am glad I made. That decision has brought me more joy, entertainment, and laughs than I can put in words. I have renewed old friendships and forged more than one new one.
Then, the website came. I'll never know what possessed me to build our website. I am not a techie, but, from the first keystroke, it became a labor of love. I have had a blast. You might have noticed; I like to write. The site has given me an opportunity to share much of what I have in my heart that is sometimes hard for me to put in the spoken word.
To see the way so many have opened and shared has been so gratifying. When someone e-mails me or calls to say he or she enjoyed one of my Student Spotlights or Ramblings, it makes me feel great. In years past, I was fortunate to have two nonfamily members wish me a happy birthday. This year, I had more than thirty classmates share their hopes that I would have a happy 60th birthday. Cool, huh? With every additional birthday wish, it became a self-fulfilling prophecy; all those wishes cause me to have a happy birthday. With more than thirty people concerned about my birthday happiness, it gives me renewed optimism that I can still put together six pallbearers when needed.
From the beginning, I had only four self-imposed rules for the website: (1) make it fun; (2) give people a reason to come back regularly; (3) foster communication among classmates; and 4) stay clear of controversy, politics, and spin. I think we have achieved all four.
Most people have told me they really enjoy the site, and judging from the more than 180 who have joined, it seems the fun part has been achieved. As the webmaster, I can see who comes to the site and when. When a classmate logs on, I can hear a soft dinging sound. I get such a kick out of posting a Spotlight or Rambling and then leaning back in my chair to watch the covey of Eagles land. Soon, there is a ding, then a ding ding, followed by a ding, ding, ding, ding. What a hoot! I think we have (2) slammed; the articles have given us a reason to return regularly.
If you were wondering about (3), communication among class members, I have two numbers for you: 13,338 and 4,264. The first is the number of visits to the site by a class member in the first fifteen months, and the second, 4,264, is the number of e-mails sent from one classmate to another through the website in the same period, which does not account for the e-mails we have all sent outside the website or by Facebook.
As for (4), Bill O'Reilly is not the only one who has created a "no spin zone." When I saw the Class of '69 (you know, the big kids) throwing a 60th birthday party, I thought it was, well, groovy. (Now, that word dates me just a bit.) So, I thought, why not? Let's have our own 60th birthday party. If I remember correctly, many of you were ready to party at the drop of a hat for most of your McCarty years, so what the heck.
Some initially asked whether we were throwing a 60th birthday party or a reunion. You pick. By default, anytime we get together is a reunion. So, we could call our upcoming party our 60th Birthday/42nd Reunion/what-the-heck-let's-boogie/get-together/shindig/hootenanny. Whatever floats your boat!
One thing is for sure; the website has helped bring us together. Democrats, Republicans and Independents; Christians and Jews; men and women; white- and blue-collar; blacks and whites—we are all loosely tied with a 40-year-old thread woven into the tapestry of each of our lives. It's a thread that can be stretched and is sometimes frayed, but it will never be broken. Because, you see, my friend, you will always be a member of this class. You will always be an Eagle.
For all these reasons, I decided to write this book. After all, I am a writer; it is what I do. I began thinking how many times I have looked at my yearbook over the past forty-two years and thought this would be the perfect companion for your Santa Lucian.
I have been writing the book whenever I interviewed a classmate for a monthly Spotlight or felt the rumblings of a Rambling coming on. So, why not bring all them together and give you one more decision to make when weeding out your treasures for your next garage sale.
So, here is my gift to you, the Dan McCarty High School Fighting Eagle Class of 1970. I hope you enjoy reading it as much as I enjoyed writing it.
Are You an Eagle? Yes, I'm an Eagle, and I'll Be an Eagle Till' the Day that I Die…
Keepin' the Spirit Alive,
Richard (Dick) Parker
---
My Dog & the Class of 70 – Two Peas in a Pod
Not long ago, we became the proud parents of a three-month-old beagle puppy. A ten-lb. bundle of energy with very sharp teeth, Boomer was our little replacement model designed to divert a bit of the pain from losing my fifteen-year-old beagle sidekick, Sarg.
As I watched Boomer put his paw prints on our house, motor coach, and hearts, I thought of the parallel between our graduating class and this little puppy. Both Boomer and the graduating Class of '70 initially stood inquisitive, ready to begin a new chapter in our lives, full of energy, with a can-do-anything attitude. Bouncing with excitement, we both fear(ed) nothing, sometimes to our peril. We both learned through trial and error, and only discipline and training prepared us for life as a "big dog." Life could have taken either of us in many different directions. In our case, the direction taken was uniquely our own path; Boomer's remains to be seen. Of course, fate also played a role; we grew up in America's golden years, the Fifties and Sixties, in a loving family with a world of opportunity. Boomer did not get Michael Vick for a daddy. We both lucked out.
I've often wondered why most everyone remembers his or her high school years in such depth. Some have wonderful memories, some not so. But good or bad, we remember. It is the subject of endless songs, stories, books, plays, and movies. It seems no one forgets high school.
I believe a main reason this particular four-year period occupies such a place of prominence in our memory is because it was the last time we all lined up at the starting line together. We all entered the starting gate of life, for the most part, equal. A bunch of undereducated, know-it-all kids thinking the world was pretty much our oyster. Children of the Sixties with the world by the tail in a downhill pull. If you listened closely on graduation day, you could almost hear "let the games begin" floating in the wind of our beachfront community.
Almost from Day One, time began to speed up. Each year in high school, it seemed to take seven years to reach summer. By 1980, it only took seven months for a "trip around the sun." Today, that oh so familiar revolution seems more like seven weeks. What out, here comes 2012 right now. Wasn't it just Y2K a couple of years ago?
One thing that has not changed is how random acts of kindness can make a lasting impression on those around us. Stop and think. Can you remember something nice someone—a friend, classmate, or teacher—did for you during your school years? Do you still remember it? How about something mean? I'll bet it is easier to remember the good than the bad.
Since our class website launched last summer, three different classmates have related how they remembered and appreciated some small seemly insignificant gesture or phrase done or said to them in high school. I was first surprised, and then humbled. It was hard to believe in the few moments it took for those simple actions that they could have left ripples in the pond of their lives for going on a half-century. I hated to say it, but in two out of three cases, I could not remember saying those "kind words." It makes me wish I had focused more on making people happy over the past four decades than just getting the wheel in my personal hamster cage spinning faster. Well, I can't go back, so why look in life's rear-view mirror when the future is dead ahead?
Our class website has given us all some unique opportunities to put a smile on the face of another classmate. As in life, we might choose to seize these opportunities or let them pass. Here are some of the simple and easy things I have personally begun to do since last summer. Maybe you would like to consider one or more of them yourself.
I have committed not to just renew old friendships from our class, but to cultivate new ones. I cannot tell you how rewarding that has been. My wife Joan and I have had lunch, dinner, or just stopped by to say hello to a double-handful of old and new friends. Everyone in fact does "have a story" if we will but stop and listen.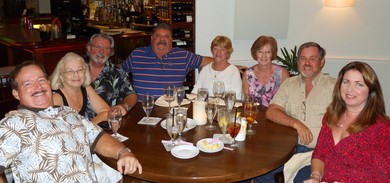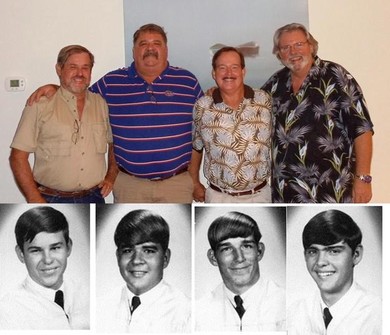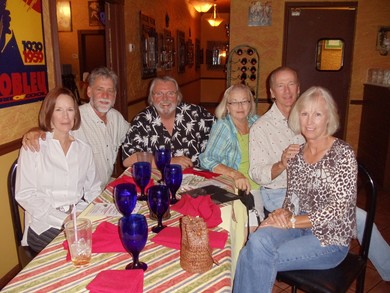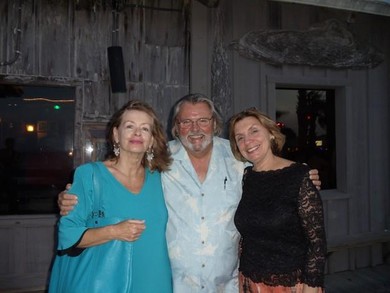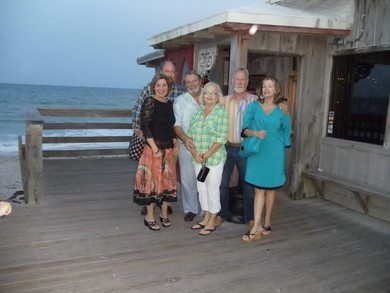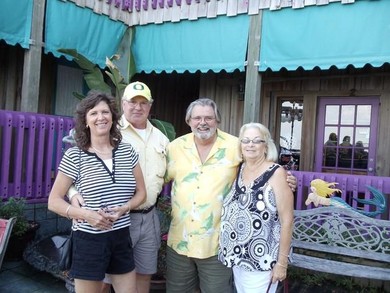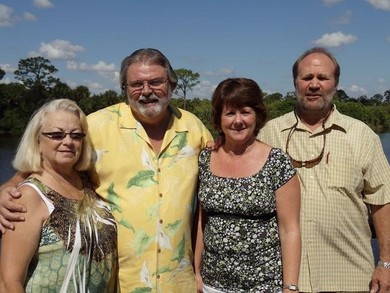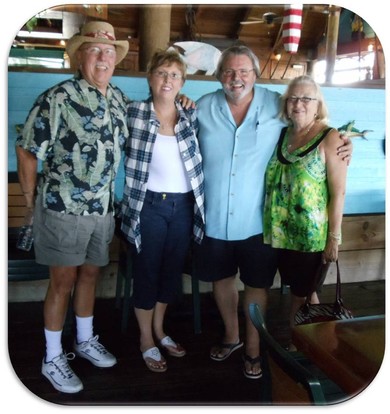 I have promised to call a couple of classmates every week—for life. At first, I thought, what will we talk about? But thirty seconds after hello, that worry vanished. I've learned so much from these calls. Maybe I've called you. I could almost hear some thinking, what does he want? Watch out, you might be my next call. If so, just humor me; the call won't take long.
Happy birthday to you! I have tried to remember to say happy birthday to as many classmates as possible in his or her birth month. The site has made that easy. On the home page, to the right, you will find a box entitled Upcoming Birthdays. I click on the name and view the yearbook photo and usually say, "oh yeah, I remember him or her," which is usually followed by a quick read of his profile to find out what they has been up to. Then, I shoot them a quick e-mail on the class e-mail system found at the bottom of his profile page. I am sorry to say sometimes I miss sending these birthday greetings, so maybe each of you could begin helping me out and begin sending a quick birthday greeting to our finely aged classmates on or near their birthday.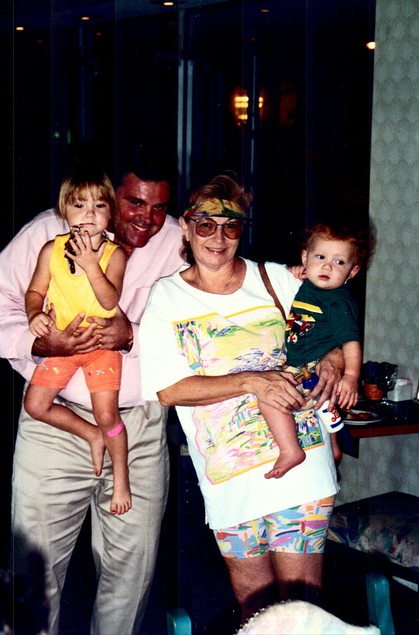 I send a thank-you greeting to the class veterans on Veteran's Day. It is easy—just click on the Classmate Profiles and then click on the American flag. A list of each classmate who served our country will magically appear. Click on their names and pop them an e-mail.
I try to comment on those who have updated their profile or added photos. This too is easy. Go to the home page and on the right you'll find the Profile Updates, don't forget the dropdown arrow at the bottom.
If I think of something I would like to share with the entire class, I just go to the left side of the home page and click on the Message Forum. This is easy to delete at anytime by clicking the Delete button. The class reads his, if you want to see just how much, take a look at all the prayers and messages of condolences sent to Joanne Carlton over the past week. Try it. Just post a happy new year wish to the class.
Want to share a comment with a classmate that is OK for the entire class to view, go to the bottom of their profile, and click the Post Response button. (I know the button should be renamed Post Comment, but I am tackling world peace first and will get to that later.)
So, you see my puppy Boomer and the Class of '70 do have much in common, and yes, the fact that we are both "Boomers" was not lost in this comparison. One more thing—when Boomer snuggles up he makes me feel like there is nowhere he would rather be at that point in time than with me, it brings a smile to my face.
When I get to spend a few minutes with a classmate it makes me feel the same way, and my smile is sure to follow—but, with my classmates, snuggling is optional.
Happy 2012 my friends
Keepin' the Spirit Alive.
Richard Parker
P.S. Please Register for our 60th Birthday Party held March 17, 2012
http://www.danmccarty70.com/member_ReunionSignup.cfm
---

Grandpa, Tell Me 'Bout the Good Old Days
(Christmas 2011)
No matter where you live, Christmas is now in the air. From the snow-covered North Carolina mountains to the warm sandy beaches of Florida, it is the time for caroling, exchanging gifts, and enjoying all that is Christmas. Christmas has become my favorite holiday for two reasons. Yes, the primary reason is that it is at the cornerstone of my faith, but it is also important to me because it is a time to share with family and friends. There is just something so warm about the entire season; I look forward to it all year long.
I have a simple wish list for Christmas 2011. In fact, I'm now down to a single wish on my got-to-have-this-or-I'll-die list which by the way has shrunk noticeably over the past few decades. I wish us American all would just lighten up a bit and learn to respect others' views, whether political or religious, whether we agree with them or think they could not be further off base. As 2012 draws to a close, we should all strive to cultivate a newfound civility when it comes to others. Who knows, if it begins with us, it might just be paid forward all the way to Washington DC. Now, wouldn't that be a nice Christmas present?
But being civil to others does not mean I must give up my belief to prevent them from being exposed to those beliefs, and vice versa. I believe that Americans have morphed into copping the feeling that all we have to say is I'm offended, and a horde of lawyers will swing into action to prevent our feelings from being hurt. I think we should all learn to stop taking ourselves so darn seriously. My feelings were hurt when I asked one or more of you young ladies out in high school and got a "thanks, but no thanks" or when my Little League coach decided to have me make sure the bench in our dugout did not run away while our team took the field. But, guess what? I survived both and a thousand more twists and turns that life and others have thrown my way, and let me check… yes… it's true… no lasting scars to body or mind.
One of my favorite TV shows is CBS' Sunday Morning, and one of my favorite commentators is Ben Stein. The following is a small excerpt from a commentary he gave a few years ago, and I think he can teach us a lot about tolerance and not taking our views or ourselves too darn seriously.
My confession: I am a Jew, and every single one of my ancestors was Jewish. And it does not bother me even a little bit when people call those beautiful lit up, bejeweled trees, Christmas trees. I don't feel threatened. I don't feel discriminated against. That's what they are—Christmas trees.
It doesn't bother me a bit when people say, "Merry Christmas" to me. I don't think they are slighting me or getting ready to put me in a ghetto. In fact, I kind of like it. It shows that we are all brothers and sisters celebrating this happy time of year. It doesn't bother me at all that there is a manger scene on display at a key intersection near my beach house in Malibu. If people want a crèche, it's just as fine with me as is the Menorah a few hundred yards away.
I don't like getting pushed around for being a Jew, and I don't think Christians like getting pushed around for being Christians. I think people who believe in God are sick and tired of getting pushed around, period. I have no idea where the concept came from that America is an explicitly atheist country. I can't find it in the Constitution and I don't like it being shoved down my throat. Or maybe I can put it another way: where did the idea come from that we should worship celebrities, and we aren't allowed to worship God as we understand him? I guess that's a sign that I'm getting old too. But there are a lot of us who are wondering where these celebrities came from and where the America we knew went to.
I raise a Christmas toast, or should I say a Hanukkah toast, to Ben. I don't believe this wonderful season is about a Winter Festival or the ever politically correct Happy Holidays; it is about Christmas, complete with Nativity scenes, Christmas trees, colored lights, children's smiles, and Christmas Eve church services. And I do believe that I can celebrate Christmas without doing harm to a Buddhist, Muslim, or for that matter, an atheist.
Our generation has seen so much fade away—door-to-door trick-or treating, drive-in movies, saying Merry Christmas, simple forgiveness, and some might say civility. All have gone or are going the way of Little Joe and the Cartwright boys. But we are still here; my fingers can still type; and my shaky memory still allows me to remember most of what I wanted to say when I began writing this rambling, so there is still hope. But, yes, things have changed—a lot.
I love the lyrics of the country song "Grandpa (Tell Me 'Bout the Good Old Days)"by the Judds.
Grandpa, tell me 'bout the good old days
Sometimes it feels like this world's gone crazy
Grandpa, take me back to yesterday
When the line between right and wrong
Didn't seem so hazy

(Chorus)

Did lovers really fall in love to stay
And stand beside each other, come what may
Was a promise really something people kept
Not just something they would say
Did families really bow their heads to pray
Did daddies really never go away
Whoa oh, Grandpa, tell me 'bout the good old days

Grandpa, everything is changing fast
We call it progress, but I just don't know
And, Grandpa, let's wander back into the past
And paint me the picture of long ago

We are all old enough to remember when lawyers worked their entire career, writing wills and closing real estate transactions, and like politicians of that era, both were respected. When almost nothing we bought came with a warning label. When your main concern after tripping in a store was looking to see if someone saw what a klutz you were, instead of quickly finding a way to blame someone else in an effort to unjustly become the new owner of the place.
Yes, in a couple of generations, life has changed from the Andy of Mayberry world where we learned to ride our spider bikes into the fast-paced, text versus talk, reality TV, random violence world our grandkids now inhabit. Lest you think I am some backward-thinking old fuddy-duddy, viewing life only in the rear-view mirror, I'll admit that much of the change we have seen has been positive—technology (don't touch my iPhone), increased life expectancy (getting more important by the day), equal pay for women and racial equality (both too slow in coming), and … and… and…give me a minute; I'm thinking. There has to be more. Well, that can be ammo for a future rambling.
Anyway, we, the class of 1970, are tied together with the threads of a long since passed life of drive-in burger joints (can you say Bill's Burger), school spirit (say Go Eagles), TV rabbit ears (with or without the aluminum foil wadded on the ends), and where Peyton Place was as close to pornography as you were likely to see. A time when kids played outside until dark with no one worrying about them and went home on their own at dusk for a dinner that everyone sat down for at the same time. When your next-door neighbor had standing permission from your parents to swat your butt if you misbehaved (without threat of lawsuits or Protective Child Services being called) and when you began every reply to an elder with yes, sir or no, ma'am. When the song "Dixie," the Bible, nor Christmas offended anyone, and no one was surprised to hear a prayer over the PA system during homeroom and before the football game.
We built the foundation of our lives on those times. For better or worse, they helped make us become what we are, now some half century later. So, this Christmas, why not go out of your way to spread just a dash of civility and practice a bit of tolerance. If you want to have a positive impact on the future, maybe you should do something a bit different this year. Maybe Christmas afternoon, after the gifts are opened and as your midday nap looms, you should pick up your grandbabies and tell them: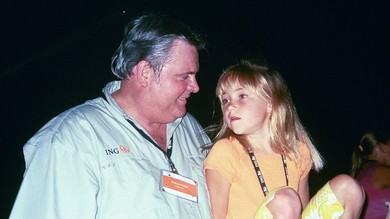 How lovers really fall in love to stay
And stood beside each other, come what may
How a promise was really something people kept
Not just something they would say
How families really bowed their heads to pray
And daddies really never went away
Go on, Grandpa, tell 'em 'bout our good old Ft. Pierce days
Love is more of a decision than an emotion; decide to love.
Merry Christmas to The Class of 1970,
Richard
---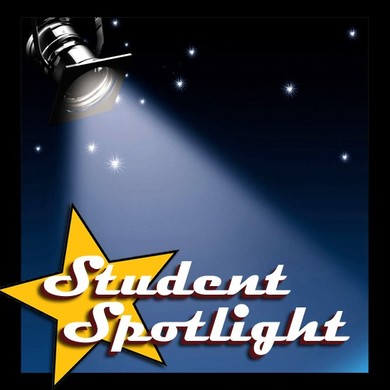 Our December, 2011
DMHS Class of 70
Spotlight
Kris Metzger
When this month's spotlight looks back on her Dan McCarty years, she remembers the fun—fun with friends, pep rallies, football games, and fun just beginning to learn what life was all about. It was a time without pressure, and while those years were not Ozzie and Harriet perfect, they seemed to flow, like the lazy river in no hurry to make its rendezvous with its salty destination, as was the case with the last graduating class of McCarty High.
I asked Kris if she ever thought what it would be like to go back to those days, to which she replied, "God no! Maybe I'd like to take a trip back to thirty-five years old, but I don't think anyone should have to handle fifteen to twenty-five again. That, my friend, should be a once-in-a-lifetime event for everyone. While there was no real pressure on a high school kid growing up in the 1960s, there was, as with all kids, a healthy dose of anxieties, mixed with feelings of inadequacies with a dash of insecurity. But I must say I loved the whole experience of high school. I will always hold fond memories of those years and, most of all, those friends."
Her three best friends in high school were Rose White, Janie Clark, and Denise Longstreet. In full disclosure, one of this writer's best buds my senior year and the five years after DMHS was Kris. Another close friend was Warren Crittenden who dated Denise Longstreet, and on more than one occasion, Kris and I could be found with Warren and Denise, having the time of our lives or just hanging out.
I remember one particular night during our senior year when we four went out on South Beach, partaking in a few cool ones. There was a cooler in the car, and we sat and talked on a concrete culvert, legs dangling as we sipped away, telling a lie a minute. There was a large open tract of land between the road and us. Warren noticed a single light bouncing across the open field heading straight toward us. A motorcycle, I stated with authority, processed only by a seventeen-year-old know-it-all. Soon, the single light stopped just fifty feet from us, and then four headlights on the St. Lucie County Sheriff's car came on. Simultaneously, we dropped our beers in the water with a splash. Did you know half-empty beer cans float? Who would have thunk it?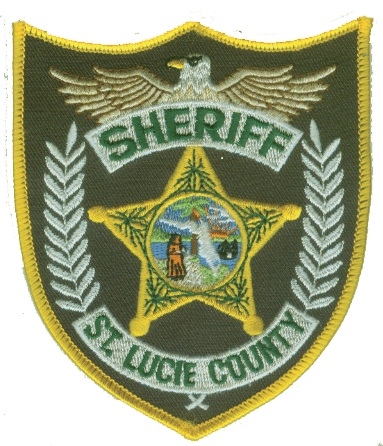 Obviously, Lana Norvell's daddy's deputy knew what we were doing, especially when he shined his light on four floating beer cans that just happened to be the same brand as the ones in the cooler he would soon discover in my car. He separated us and got each of our independent stories, which did not even slightly resemble one another. When it was my turn to talk to the nice law enforcement officer, and wanting to be a gentleman by protecting the ladies, I looked him dead in the eye, and then… threw up on his shoes. Oh, yes, those were some fun times.

Soon, it was graduation day, and our Spotlight was off to the U of F. She went through orientation with fellow Eagles David Perdue and Pete Wells. The three car-pooled between Gainesville and Ft. Pierce off and on over the next four years.
During the summer of 1970, the military instituted a draft lottery—and guess what? I won! Yes, I snagged #13, which I knew meant it was only a matter of time before I found myself knee-deep in a rice paddy. The all-American hero I am, I traded four years in the Coast Guard for eighteen months dodging bullets. I left for my first duty station in October of 1970, setting in motion my first Christmas away from home. To cheer up a very lonesome boy, five of my friends—Steve Moose, Warren Crittenden, Denise Longstreet, Janie Clark, and of course, Kris—came to my parents' home on Christmas Eve to call this homesick eighteen-year-old kid. I loved hearing from each of them, and after the call, I walked outside the Coast Guard station and cried my eyes out. Here are some photos from that call.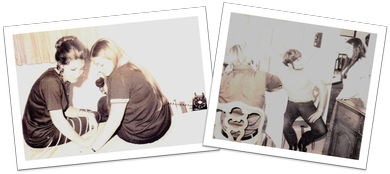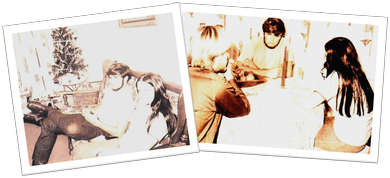 Kris spent her first two years in the dorm. I can attest to this since I was serving a tour of duty in the Coast Guard stationed in Cedar Key some sixty miles east during her sophomore year and spent a number of nights curled up on her dorm floor. Her junior and senior years she spent in the Zeta house, and alas, there was no room for me on the Zeta floor.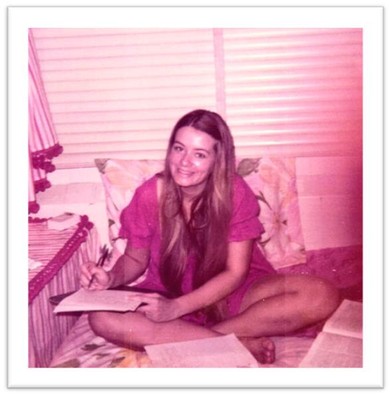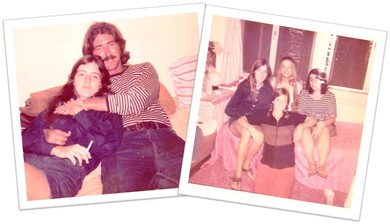 College Days at U of F
Kris's Roommates – I fell in love with all of them – It looks like Danny Davis (Class of 69) did too
Like most kids going to college, Kris had no idea what would be her major. Her mom was a librarian and guided her toward the same profession, if you call "I'm paying for your education, and you are going to major in something that you can earn a living with" guiding her. She was no stranger to the library, because that is exactly where she spent many of her afternoons, waiting for her mom to get off work. In 1974, she graduated with a degree in library science and promptly took a position as a waitress. Seems to be a trend with our class, right, Janie? Kris' stint in the hospitality industry was short lived. After only three months, she traded her apron and order pad for a position as the first librarian for Harbor Branch Oceanographic Institution where she remained for thirty-one years.
I learned during this interview that there are different types of librarians. Just as there are different types of retailers, Target on the low end and Neiman-Marcus on the high end, Kris is definitely a Neiman-Marcus librarian. As a science librarian, she researched scientific questions for the PhDs who worked for the institute. When she started, all the data was printed. In 1976, the electronic age exploded across America, and Harbor Branch was no exception. They installed a Texas Instruments TI-700. The phone receiver was place into the 700's cradle, and data passed, very slowly, over the phone lines. This was before Al Gore created the Internet.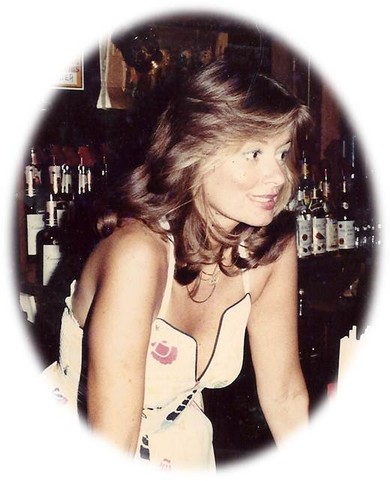 Bartending at the Boozgeois
During her early years, she also bartended at the Boozgeois on US 1, the bar attached to Roy's Liquor, the package store owned by her uncle Roy Anderson, Darcy's dad, and now run by her cousin Keith. I'm sure she stepped on more than one of your hands as you "walked" home from your younger days in that dimly lit tavern. This moonlighting was to rid her of a string of roommates who each proved worse than the one before as she trudged through a decade of "Sex and the City"-type dysfunctional relationships. Kristen made up her mind that she would live alone.
The Old Casa Caprona - Another of my "Floor Motels"
She then moved into the Casa Caprona, a building now on the National Register of Historic Places. Built in 1926 on St. Lucie Boulevard, it was designed in the Mediterranean Revival style and was envisioned as the crown jewel of the planned winter community of San Lucie Plaza, but the implosion of the Florida land boom spelled failure for the project. When Kris moved in, the Casa was just old. She remained there for seven happy years.
Having just finished my tour of duty in the Coast Guard, I lived in Lakeland and traveled between there and Ft. Pierce quite frequently. And you guessed it—Kris would let me sleep on the floor. Come to think of it, I have slept on many of her floors.
Kris remembered a story of how one of the days after she finished her day job at Harbor Branch, she ran to the Casa Caprona to change and then took off like the proverbial "bat out of hell" to the Boozgeois for her evening job. This one night, she noticed some pretty blue lights flashing in her rearview mirror. After she pulled her foot from the carburetor and stopped on the side of US 1, scrumming to the long arm of Johnny Law, a potbellied sheriff asked her to "step out of the car, young lady." Once she obeyed, driver's license in hand, the deputy studied her license, peeked over the top of his mirrored sunglasses and asked her, "What do you do for a living?" Kris replied, "I am a librarian." To this, Johnny Law let out a deep sigh, leaned forward, looking at her eyeball to eyeball, and said, "Now, ma'am, this here is a serious matter, best start by tellin' me the truth." Notice a pattern here? Kris seems to always be in trouble with the law.
During this time, she went to dinner with a scientist she had helped on a project—John Thompson. She was twenty-nine, and this January 15, they will celebrate thirty years as an item. I first met John on May 22, 1982, at the Casa Marina in Key West, Florida, where my wife Joan and I were celebrating our first anniversary. We ran into Kris and John who were celebrating Kris's thirtieth birthday. By the way, Joan and I had our own room, so I did not have to sleep on Kris's floor.
Christmas 1987 - Still Just Kids
John would spend the next ten or fifteen years asking Kris to marry him. Finally, she agreed—it took twenty-four years. She likes to say that wanting to marry after twenty-four years is a testament to their love. She says she loves a lot about John, but at the top of the list is his sense of humor. Simply put, he still makes her laugh. She illustrated her point with the following story.
"I was in New York City getting a ballet fix during the week of my forty-fifth birthday, a birthday that had me painfully aware that losing my looks had become an accelerated process. I was all dolled up and walking from my hotel to the opera house down a side street that was deserted, except for two homeless guys who were sitting on the sidewalk. As I walked toward them, I dreaded what was to come—crude comments, begging for money, making grunting noises. I smelled a whiff of marijuana, and just as I passed them, one of them very quietly said to the other 'she is gorgeous.' I was so thrilled it was pathetic. The next morning on the phone, I told John, 'I'm going back to the ballet tonight, and I'm going to walk the same route.' He said, 'Honey, don't push your luck—they may have run out of dope by now.'" You have to love this guy.
When they became a couple, John's two kids from a previous marriage—Joshua, six, and John, nine, took to Kris right away. Now, they are forty and thirty-seven, and there is even a grandson Drake, two. He calls Kris his Krissy. This name stuck once she explained to John that she would not be "Granny." John, like me, has learned not to argue with his Krissy.
Josh and John in the earlie days - New Orleans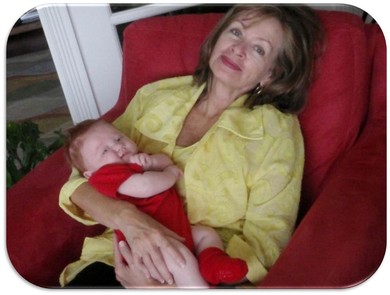 Drake with his Krissy
Drake is getting older but not his Krissy
John Drake and Josh
An interesting sidebar here: At six and nine, John's kids moved from Florida to Syracuse, New York. When Kris and her sister were six and nine, they moved from Syracuse to Florida. You are now entering the Twilight Zone. Wooooooo!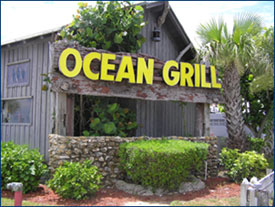 The Ocean Grill - Where memories are made
Their wedding was small, just one other couple in attendance. After the ceremony, they drove to the Ocean Grill in Vero for dinner, a thread that has run through her life since childhood. Kris can still remember, as a young girl, playing on the beach with her cousins, while her mom and Aunt Mary Lou watched from the boardwalk. They would then go to the Ocean Grill for lunch. It was dinner at the Ocean Grill on prom night, and recently, Kris, Janie Clark, and I along with our spouses met for dinner, at where else, the Ocean Grill.
Kris told me a story of traveling to Australia in 2005 when Hurricane Francis tore through Florida. She tried to learn all she could about what was happening back home. A blog she read stated that the Ocean Grill had been washed into the sea. She said, "I felt such a sense of loss; it was as if a part of my life washed away with the Ocean Grill. I sat down a half a world away and cried my eyes out for the loss of 'my' Ocean Grill." By the way, the blog was wrong, and the Ocean Grill was fine. So, after returning to Florida, it was, you guessed it, dinner at the Ocean Grill.
Our Spotlight has a self-described "passion for big cities." She loves New York City, Sydney, Paris, London, and Barcelona and travels to each frequently. Spurred by her love for both the ballet and Broadway, she has made forty trips to Paris since graduating from college. No that is not a round number, she just returned from her 40th trip to Paris. Initially, she and John went as tourists. Today, they just hang out at cafés, at parks, people watching, trying new restaurants; they just live there as they would live in Ft. Pierce. As you might have guessed, Kris loves to travel, and her trips have taken her around the world. She has enjoyed trips to France, Spain, England, Italy, Luxemburg, Canada, Australia, and even Iceland.
At the San Francisco Ballet
Cafe sitting in Paris
Coffee in Bryant Park NYC
In Bangkok with John
In the Place du Tertre,, Paris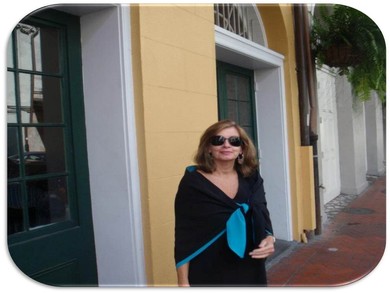 A hot chick in New Orleans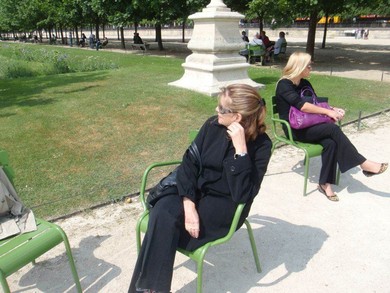 Sunny day in the Luxembourg Gardens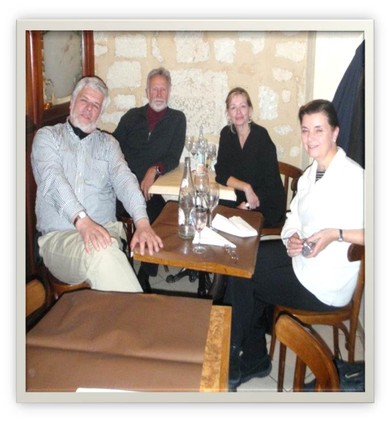 With a Chilean couple they had just met - Le Mesturet, Paris
In the "it's a small world" category, do you remember Mr. Van, our biology teacher at McCarty High? I am sure you ladies remember him and his Robert Redford hair. My understanding is that he made more than a few of you weak in the knees. Kris was in Virginia for a conference about ten years ago, and whom should she see but dear old Mr. Van. They chatted, and he told her the years he taught at McCarty High were some of the best of his life. By the way, he sends his love to you all ladies.
Kris remembers the day, after more than three decades working for Harbor Branch, because of budgetary constraints, she with sixteen others were fired—by e-mail. She started her job at Harbor Branch before they had a library. She built it from the ground up and, in the process, she earned a master's degree from the University of South Florida in library science. Suddenly, she was fifty-one and unemployed—by e-mail!
However, like the cats she loves, Kris landed on her feet. It only took six weeks, and she was hired as the librarian for CSA International, a marine environmental consulting firm in Stuart. It is hard to believe that, in such a specialized job, science librarian, she would hold two positions within fifteen miles of her home.
At CSA, one day, she might be researching all the governmental jurisdictions and regulations affecting the laying of a fiber optic cable up the African coast to serve twenty-three countries, and the next day, supplying data to scientists studying the long-term effect of an oil spill in the China Sea. John also works for CSA as a marine biologist and, just for kicks, owns some orange groves in Avon Park; he is a real live Floridian.
Kris does not see retirement in her immediate future. She loves her job and loves to travel. As she says, "It costs money to travel, and I need to work to do that." She adds, "Choosing free time and no money are incomprehensible to me. So, I plan to keep working."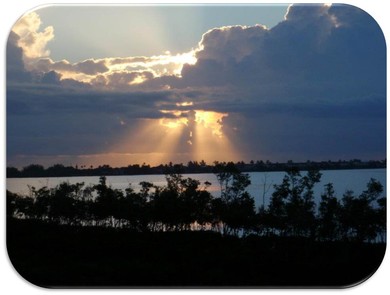 Views from their South Beach Condo, Ft. Pierce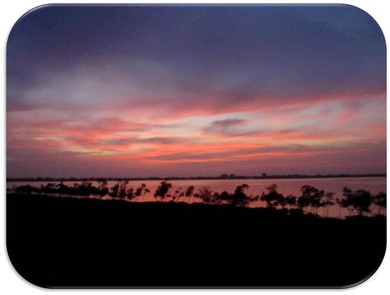 I asked her as I started to wind down the interview if she has any regrets. She paused for a long minute and said, "I used to regret not moving to a cosmopolitan city when I was younger, because I like them so much. But then, I fly home, and as I drive across that South Beach Bridge, I smile that same smile of contentment. The smile that comes from deep down inside of me that I have been smiling for many years. It is the 'I'm happy I'm home' smile, the 'I am so very happy I live in Ft. Pierce' smile, the 'I'm so happy my family lives here with me' smile. Even John calls Ft. Pierce 'a real town.'
Kris's sweetie for over 30 years John
"John and I just got home from Paris this week. And the next day, the thing that we both wanted to do most is to go to the Downtown Farmer's Market. It may sound like a bit of an overused cliché, but there is really no place like home. And all I have to do is drive over that south bridge and see what a beautiful place we live in, to see how downtown has been revitalized to see the acts coming into the old Sunrise Theater, and I know that I am truly home. So, no, Richard, I guess that I do not have any regrets. I'm actually a pretty happy Ft. Pierce girl who is glad I've lived and worked here on the Treasure Coast all my life. I'm pleasantly content with my life."
Kris, I am proud of you for a life well lived. If I can take my writer's hat off for just a minute, I'd like to say on a personal note, thank you for being my friend for the past forty-five years. You mean the world to me.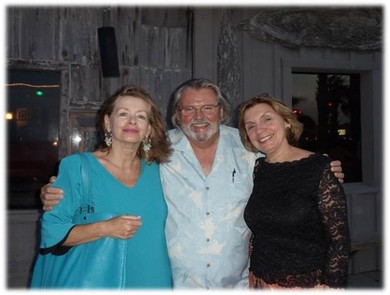 Oh, yes, and thanks for all those nights on your floor.
Keepin' the Spirit Alive,
Richard Parker
---

Thanksgiving at Plymouth
In September 1620, the Mayflower left Plymouth, England, with 102 passengers—an assortment of religious separatists and others lured by the promise of prosperity and land ownership in the New World. After a treacherous 66-day transatlantic crossing, they dropped anchor near Cape Cod, much farther north of the Hudson River, their intended destination. Later, they crossed the Hudson and established a village at Plymouth.

That first winter was so brutal that most colonists were forced to remain on the ship, where they suffered from exposure, scurvy, and outbreaks of contagious disease. Only half of the Mayflower's original passengers and crew were alive to see their first New England spring. In March, they received an astonishing visit from an Abenaki Indian who greeted them in English. Several days later, he returned with another Native American, Squanto, a member of the Pawtuxet tribe, who had been kidnapped by an English sea captain and sold into slavery before escaping to London and returning to his homeland on an exploratory expedition. Squanto taught the Pilgrims, weakened by malnutrition and illness, how to cultivate corn, extract sap from maple trees, catch fish in the rivers, and avoid poisonous plants.
The First Thanksgiving
In November 1621, after the Pilgrims' first corn harvest proved successful, Governor William Bradford organized a celebratory feast and invited the fledgling colony's Native American allies to share the feast. Today, this is remembered as American's "first Thanksgiving."
Now, 390 years later, we the Class of 1970 prepare to celebrate Thanksgiving. Maybe yours will be quiet, just you and your spouse at a local restaurant. Maybe you are lucky enough to have one or, like me, both your parents still with you to celebrate this American-only holiday. Possibly, you will be blessed with a gaggle of kids, in-laws, and the joyous sounds of, as Doc McKinney calls them, grandmonsters running wild through your home. Perhaps yours will be a quiet Thanksgiving with only a call from loved ones far away. In any case, do not forget the reason we pause on November 24—to give thanks for the rich blessings bestowed on each of us.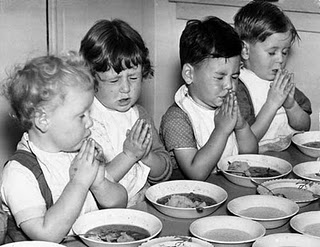 A Blessings Inventory
After almost six decades spent clinging to this spinning blue marble, a lifetime of highs and lows, a crescendo of failing body parts, and four years of navigating the worst economic recession of our lifetime, it is easy to feel, well, less than grateful. But it is worth the time to pause and truly take a "blessings inventory."
Geography Lotto
At the top of my list is something I have nothing to do with—where I was born. I could have been born in the war-torn Middle East, in Somalia, Haiti, or Libya. But instead, my entire life has reaped blessing after blessing because I had the good fortune to have been born in the right geographic location. Winning this geography lotto has allowed me to live my life without fear, to gripe as loud as I want, and succeed or fail, based on the decisions I was free to make.
Yes Ma'am
And as if being born an American was not enough, I had the good fortune to be planted smack dab in the middle of the "yes-ma'am-and-no-sir" part of America, the Hospitality Belt, the Bible Belt, the South. My family could be gathering for turkey day in the frozen tundra of Buffalo, New York, or the crime-ridden inner city of Detroit or East Los Angeles. Instead, this Thanksgiving, like the 58 before, I will be celebrating in the warmth of the Sunshine State with a balmy breeze off the Atlantic caressing the soft skin of my grandchildren.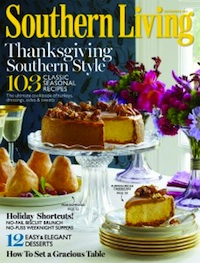 Only in the South
Last week, I attended the funeral of my great-aunt in Hanes City, Florida. It thankfully has been a while since I attended a funeral. As I drove near the end of the long line of mourners bound for the cemetery, I was surprised and touched by the number of vehicles traveling the opposite direction that pulled to the side of the road and stopped completely for the entire procession to pass; a full 90 percent of all vehicles did so. I looked into the faces of many who obviously offered their condolences to this stranger at the end of her earthly journey. I'll never forget one older gentleman behind the wheel of a minivan holding his worn hat over his heart while two young boys in the back gazed out the window, hands over their hearts—only in the South.
The Long Goodbye
As I watch Alzheimer's slowly steal a lifetime of memories from my father, leaving my mother scared and feeling very much alone, I am grateful that God has given them more than 80 years of life and 62 as a married couple and that he has given me the health and ability to care for them. I am equally thankful for a wonderful loving spouse, Joan, who loves them as if they were her own parents and has welcomed them into our home. Nancy Reagan described this as the "long goodbye." The past two weeks have been spent moving them into our home to better care for them—an act laced with bitter sweetness.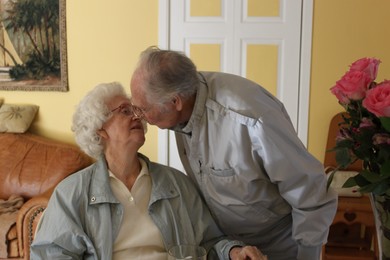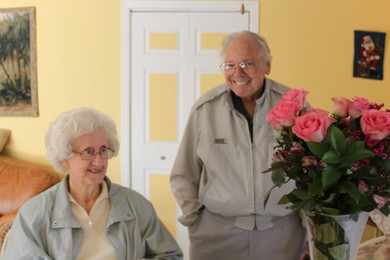 Losing My Marbles
During the renovation of our home in preparation for that move, I knocked over a basket of loose marbles (please hold the jokes about losing my marbles). I was less than excited as I watched the marbles rapidly roll to every corner of the room. A construction worker witnessed my clumsiness firsthand and offered a "praise God." I looked at him a bit irritated and said, "What does God have to do with this mess?" He replied, "Not with making that mess; that was all you. But he gave you the strength to get down on your hands and knees and pick them all up. Many people can't do that."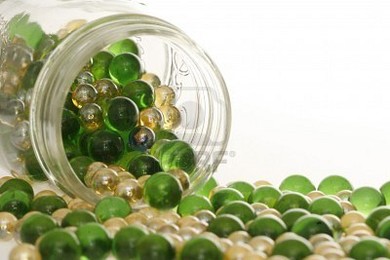 Wow! He was right. And that was a lesson I needed that day. God had blessed me with two parents who have remained married and alive my entire life, the financial ability to move them in with us, and both my wife and I with the health to do what we need to do to make their lives comfortable. It sure could be much worse. Suddenly, the recession and that group of Bozos in Washington seemed a bit less important as my marbles slowly came to a rest.
Random Acts of Kindness
I am grateful for unexpected kindness that comes from the most unexpected places. If you live in Central Florida, you have no doubt eaten at or at least passed by The Catfish Place on Hwy 192 in St. Cloud. In 2004, Hurricane Charley ripped through Central Florida with 150 mph winds and the eye passing over Kissimmee/St. Cloud. When the sky cleared, the small St. Cloud breakfast restaurant, The Coffee Cup had lost its roof. By 10:00 a.m., the founder/owner of The Catfish Place, Steve Johnson, stood by his competitor from The Coffee Cup and said, "Ya'll just move on down to our restaurant and start serving breakfast until you can rebuild." That was followed by the Southern tradition of a handshake, and the deal was done. No lawyers, no disclaimers, no caveats, nor contracts—just one neighbor offering a helping hand to another. For a year, The Coffee Cup crew opened for its breakfast customers at 6:00 a.m. inside The Catfish Place, and at 11:00 a.m., a mad scramble in the kitchen saw a well-orchestrated shift from breakfast to lunch, from The Coffee Cup crew to The Catfish crew. I am grateful for kindness, no matter where it comes from.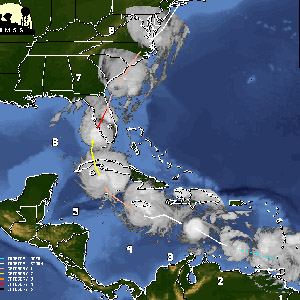 I'm Grateful for You
Without sounding too corny or uncool, I am grateful for you. So many do not have the bond we the Class of 1970 have.
I am reminded of the answer Mitch Hilburn gave to the question of "do you have any regrets" as I interviewed him for the Tradition's Children article in June. He said, "Dick, as a bail bondsman, I see people at their lowest point—in jail, desperately wanting to get out. I always ask them for a name of someone who can vouch for them. It is so sad to see how many people have no friends. No one has their backs. Not a single person to count on in times of trouble. We do." He went on. "If you, Dick, or Doc, Silverstein, Lester, one of my band mates, or a dozen other friends from the Class of '70 called one of us needing help, we would all come. No hour would be too late, no distance too far, because we are friends, we are brothers, and we've shared a time in our lives that will always keep us close. My only regret is that everyone in our class could not feel what we feel."
As the years march on, and time takes its toll on each of us, the friendships mean the most. It is indeed the fabric that holds the tapestry of our lives together. I am thankful for the years we have had together, for the memories, both good and some not so, that we have shared. We can still applaud one another's triumphs and shed a tear with one another's tragedies, but the point is that each of us is still only a phone call away.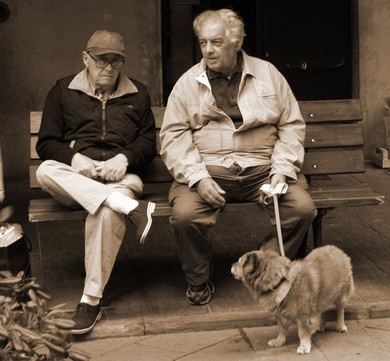 Reach Out and Touch Someone
I encourage each of you to take this holiday season to reach out to someone in our class and thank him or her for what he or she has meant to you. Maybe it is time to renew an old friendship or to forge a new one. The great news is all you have to say is "Hello, this is Dick Parker (best to use your own name) from the Class of 1970, and I just called to say hello." You will not believe how quickly 40 years will melt away and how happy he or she will be to hear from you.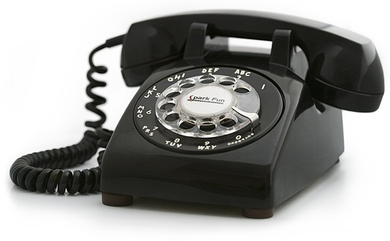 I encourage us all to set aside any petty problems of the past, to vow not to gossip or criticize others, and to make a concerted effort to strengthen our friendships. After all, what does the past matter? I can assure you that none of us knows when we will join the "In Memory" section of this website.
Happy Birthday to Us
Take every opportunity you can to spend time with your fellow classmates. And while on that subject, reserve the date of Saturday, March 17, 2012, for our class' 60th Birthday Party. It will give you the chance to visit with your classmates of old. If you click on the "Party Details" section in the Navigation Bar to the left, you will see the location and details of our party.
Birthday Party or Reunion?
I have been asked, "Why put so much time and effort in a birthday party?" Shouldn't we just wait until our 45th reunion? Here are my thoughts. We can call this a birthday party, a reunion, or a get-together, but by definition, anytime we get together as a class is a reunion. As time passes, we lose classmates, and it becomes harder for many to travel. How many will be able to attend this birthday party/reunion who cannot three years from now? If I only get to enjoy a single classmate's company 42 years after graduation, who would not be available 45 years after, wouldn't the effort be worthwhile? I think it is, and therefore, as Jackie Gleason used to say, "And away we go!"
So, I encourage each of you to mark this date on your calendar and do all you can to attend. We are finishing the budget now to see our cost, but rest assured, we are doing all we can to keep the cost as low as possible in light of these difficult financial times.
Thanks to Our Party Sponsors
One way we can keep the cost down is through donations to the party fund. Several of our classmates have already stepped forward to pledge support. You might want to take a quick minute to pop an e-mail to them thanking them for their generosity. They are Jim Huck, Mitch Hilburn, Cal and Tommie McDermid, Rick and Beanie Silverstein, Cindie McNeil Heavner, Mike Stuhr, David Apple, Jim Lester, Doc McKinney, and Sherry Bowen. So, if you feel a bit blessed this Thanksgiving and would like to join this illustrious group of "cool kids," just drop me an e-mail. It does not matter the amount you pledge. Every donated dollar will help us charge a little less, therefore increasing the number of classmates financially able to attend.
Signup Online—ASAP
I would like to ask you to go to the Yellow Navigation Bar on the left side of any website page and click on "60th Birthday Signup" and register for the party. This will allow you to sign up without paying, but if possible, please go ahead and pay so we can start accumulating funds to offset the party expenses. You may pay by credit card or by check.
Cancel By 3/1/12 for a Full Refund
Please note, if you pay and then must cancel, you may do so between now and 3/1/12 and receive a full refund. Even if you cannot pay at this time, please register so we can get an idea of how many to expect.
A Helping Hand
Would you like to help with the Birthday Party? Just head back to the Yellow Navigation Bar on the left, click the "60th Birthday Update," and pick any job with which you would like to assist. It is just that simple, and we will be back in touch with you soon.
Look What You've Learned
So, there you have it. In this issue of Richard's Ramblings, you've learned 1) who an Abenaki Indian was (not to be confused with the Vero Indians), 2) to be thankful, even when losing your marbles, 3) how to take a blessing inventory, 4) how the geography lotto has helped us all, 5) how unexpected kindness can really rock someone's world, 6) that petty problems and gossip should be things of the past, 7) how and why to reach out and touch a classmate, 8) that our Birthday Party is really a reunion, 9) how to become a party sponsor and what Jim, Mitch, Cindie,Cal, Tommie, Rick, Beanie, Mike, David, Lester, Doc, and Sherry have in common, 10) how and why to register for the party today and how much it will help to pay early, 11) that you can get a full refund up to 3/1/12, and 12) how to volunteer to help with the party. Wow! That is a lot.
Enjoy your Thanksgiving, and see you on March 17.
Keepin' the Spirit Alive
Richard Parker
---
Our November 2011
DMHS Class of 70
Spotlight

Inline Image Not Displayed
Janie Clark-Hinkle
Janie Clark was one of that handful of thirty students who started the second grade together and graduated from high school together. During our interview, I asked her how she remembered her years at McCarty High, and I can almost see her smiling through the phone as she said, "good memories, good times, good people, good friends, and good time to grow up." She continued, "It was the last time that we had no responsibilities and no pressure. We were in the last years of just being kids, and I had a blast." I think she nailed it, and I could not have agreed more.
How Manny Can You Name?
No, we have not change at all.... well maybe a little
She remembered that "best friends" changed frequently, but Kris Metzger, Barbara Furr, Janice King, and Wendy Walker are four with whom she shared the most. These five became friends for a lifetime.
Janie's Best Buds
She told me the story of how those thirty kids in her second-grade class were assigned to that class together. "It was done after the achievement test; the kids were grouped according to their test scores, and each of us was placed into a single class." I forgot to ask her if that class was advanced or remedial.
Janie was elected president of our sophomore and junior classes. After high school, she attended IRCC for one year, and then, it was off to FSU, first majoring in marine biology until, as she put it, "it became evident that it was way too left brain for me." She changed her major the next year to interior design and graduated with a bachelor of science in interior design. After graduating, degree in hand, Janie was thrust right smack dab in the middle of a full-born recession with no job, no prospects, and no idea what she would do next. (Janie, not much has changed over the past 36 years, has it?)
Her parents were proud when her high-priced education landed her a hostess job in a Ft. Pierce restaurant, which she parlayed into a lackluster real-estate career. (You go, girl! That sounds much like my first 10 years out of high school, Janie.)
Then, fate kicked in, and in October of 1977, Terry Kral, whose husband Jon was partners with Mike Hinkle in Jiffy Photo, set Janie up on a blind date at a Halloween party with Mike. She arrived at the party dressed as Superman, having borrowed the costume from Denise Longstreet, and met Mike dressed as Clint Eastwood straight out of the low-budget spaghetti western, The Good, the Bad, and the Ugly. They looked quite the pair. It must have worked for them because a year later, they were wedded in the First Presbyterian Church in Ft. Pierce.
On the beach (before kids about 1980) with their new husky puppy(on right) and the pup on the left is a wolf (Mochi) which they raised from 9 days old until he died at the age of 14. Janie said Mochi was an interesting playmate for the girls as they grew up.
32 Years and still going strong
Their honeymoon was a 2-week drive to Maine just as the leaves were changing, as were their two lives changing into one. On that trip, they made it to Niagara Falls where they watched an endless supply of water cascade down the 176-ft fall to the rocks below. The horseshoe shape of the falls seemed appropriate because the horseshoe is a symbol synonymous with luck, and just starting their life together, they could use all the luck they could get. Now, 32 years later, the fall flows, as does their marriage.
In 1981, Janie left a 3-year stint in the real-estate industry. In her words, "I just could not take the rejection; I need to be loved." (Janie, here is a news flash—the Class of '70 loves you.) Trading in her sold signs and open houses, she began to work at Jiffy Photo, running the lab and developing photographs. You guys remember developing photos, right?
Jiffy Photo
In 1983, the Hinkle household was blessed with their first child, Megan. Little Megan was raised in the backroom of Jiffy Photo in her swing and playpen. Both the customers and staff loved having her around, and it gave Mom a chance to work and keep an eye on her.
Today, Megan has a degree in English, and she is working on her master's degree at Rollins College while earning a living as a hairdresser. Janie calls Megan her articulate hairstylist. (Cute, Janie; sounds as if Megan's mom is on the articulate side also.)
In 1986, the family welcomed Megan's new little sister, Kristina, now studying to become a forensic anthropologist. Yes, she desires a life working with bodies. (Janie, it is too bad Kristina could not have been around during our McCarty days. As I remember, there were bodies lying around everywhere on Senior Skip day. What was the name of that island?)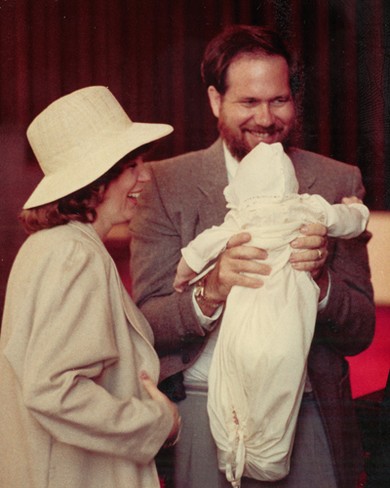 1983 at Megan's Christening
The Girls Megan & Kristina
Kristina's love of the macabre manifested during a trip with Janie to London when she announced what she wanted to do was take the Jack the Ripper tour of Whitechapel, retracing the murders of the unidentified serial killer active in the largely impoverished areas around the Whitechapel district of London in 1888.
England swings like a pendulum do Bobbies on bicycles,
two by two...
On that trip to England, Janie, her parents, and Kristina also stopped at Stonehenge on the Salisbury Plain. Who built this massive stone circle is a great mystery. Theories include Druids, the Greeks, UFOs, and Atlanteans. Although, the bigger mystery is why they built Stonehenge. Some say it was a sacrificial altar or that it was an astronomy tool. Back in the eighteenth century, it was even proposed that Stonehenge was used as a gallows.
What we know about Stonehenge is that it is aligned to many astronomical events. One alignment is the sun on the summer solstice rising directly over the heel stone (A) viewed from the altar stone (B).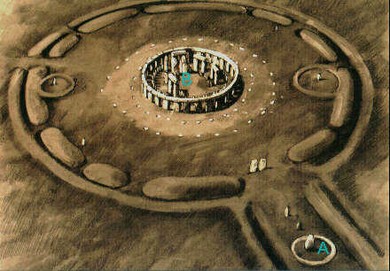 This is Freaky
Janie laughed when she remembered that on the summer solstice (June 21), the English government ignored the hundreds of hippies who show up each year for the solstice sunrise, all smoking pot and grooving to the solstice sunrise at Stonehenge. The authorities waited until both the sun and the hippies were high, and about 10:00, they would shoo away the stoned hippies, clean up the mess, and open to the public at noon.
In 1996, Janie traded the lab for the title of bookkeeper for the company, and in 2004, she put together the framing division for Jiffy Photo, which she manages today.
Janie loves to work with her hands; she always has. In the summer of her last year at FSU (this brainiac graduated from college in only 3 years), she wandered by the Constructive Design Department and saw what she considered her true calling. Students were working in pottery, spinning much more. Only a few hours short of her BS Degree in Interior Design, she called her Mom. (I wish I could have been a fly on the wall for that conversation.) "Hi, Mom, this is Janie. You know all that money you have spent on my education. Well, good news, I now know what I want to major in" was the jest of her conversation. Her mom approached this revelation practically, saying, "No! Finish your interior design degree, and come home."
The artsy-fartsy seed was planted deep in her heart. Today, she is an accomplished photographer with work hung in the Art Mundo (Art World) in the old Suntrust Bank Building on Orange Avenue. She specializes in florals, botanicals, children, and pets. Although you might have expected that she would turn her artistic eye toward photography, with her and Mike owning Jiffy Photo, what you might not have expected is that she is also a potter, basket weaver, spinner, and wood turner. Under the tutelage of Jack Shelton, she has honed her woodturning skills and now creates beautiful wooden bowls and my favorite wooden stemmed glasses.

Wood Turning
Photos
Her Downtown Studio
What an Artist
She and Mike live on Indian River Drive in Ft. Pierce and have a second home in Maggie Valley, North Carolina, near Mike's hometown of Asheville.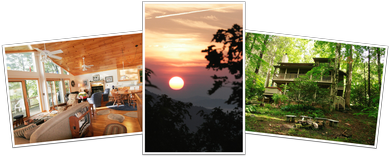 North Carolina is Calling
Janie's family hails from Pennsylvania, and she can still remember flying to West Palm as a little girl with her mom, grandmother, and siblings to meet her father who had come earlier to make accommodations for their transplanting to Florida. "I can still feel the heat that hit me in the face as we deplaned. I was only 5, but I can still remember how hot it was."
All of us who have known Janie over the years know she is a giver. About 15 years ago, she became involved with the A. E. Backus Museum in Ft. Pierce. Albert Ernest "Bean" Backus (January 3, 1906-June 6, 1991) was an American artist famous for his vivid Florida landscapes. Bean Backus lived by the aphorism "Seize upon that, which is nearest and make from it your work of art." He first became known for his still lifes of the ever-present hibiscus and later for his landscapes of Florida's backwoods. Backus is also credited with teaching art to many students. No one knows how many artists studied with Backus or were merely mentored or inspired by him. Estimates put the number in the hundreds.
A Labor of Love
Janie is the president of the board of directors of the museum, calling that work a "labor of love." The museum is now striving to raise $2mm to expand. "In a recession, that is not easy. Your passion is not everyone's passion, and in this economy, most people are worried about more practical things such as putting food on the table. But we will continue until we have the expansion paid for." I will tell you guys that I would not bet against her. I would not want her on a posse after me.
She and Mike sponsor a photography show at the museum each spring and last year had 248 photographers' entries. If you are in Ft. Pierce in May, stop in and see it.
We finished our interview, like most spotlight interviews, talking about the "good ol' days at McCarty High." Janie says, "We lived in such a nice place and at such a great time. I would not trade it for anything. I love this city; I loved my school; and I love the friends I've made through both."
Janie, we love you and want to congratulate you on a life well lived.
If you enjoyed this article, post your thoughts on the Forum, and drop Janie an e-mail.
Keepin' the Spirit Alive
Richard Parker
P.S. If you have not filled out the 60th Birthday Survey, please go to the left Navigation Bar near the top and click on the 60th Birthday tab,and answer the 4 questions. We should announce the date and location in November.
---
October 2011

Well I'm back with another installment of my semi-focused ramblings. It seems that I just can't help myself.
You know since starting this website, I find myself thinking a lot of our high school years and what made those years so special. One thing is for sure, we had a heaping helping of good old fashion School Spirit during our Eagle years. Here are my thoughts on why School Spirit was so important to us, the last graduating class of Dan McCarty High. I hope you enjoy.

Inline Image Not Displayed
We are lucky in so many ways. Not the least of which is that we grew up during a time when it was downright cool to have, and to show you had, school spirit. It was not just at McCarty High; it was all across this great nation. For the Boomer Generation, having school spirit was… well… just groovy.
One of the hottest bands of the sixties (besides Tradition's Children) was the Beach Boys. One of my favorite Beach Boys songs is the school spirit-filled "Be True to Your School."
When some loud braggart tries to put me down
And says his school is great
I tell him right away
"Now what's the matter, buddy?
Ain't you heard of my school?
It's number one in the state."

So be true to your school now
Just like you would to your girl or guy
Be true to your school now
And let your colors fly
Be true to your school
This link will bring back some of the good times we had at McCarty High - Not a care in the world - Click the link below
I can still remember, four decades hence, the excitement of game-day Fridays. That excitement would many times begin the night before with many of you girls painting signs that would adorn the gym walls the next day during the pep rally and on each of our open breezeway corridor. They offered well thought-out instructions to our knights in green and white such as Scalp the Indians, Beat Vero, and Go Eagles.
Although I had no artistic ability and was useless at these paint parties, I looked forward to attending for two reasons. The first was the school spirit emanating from these Thursday night get-togethers. We were promoting our school and supporting our team. The second reason you might ask—didn't I mention the girls? Enough said.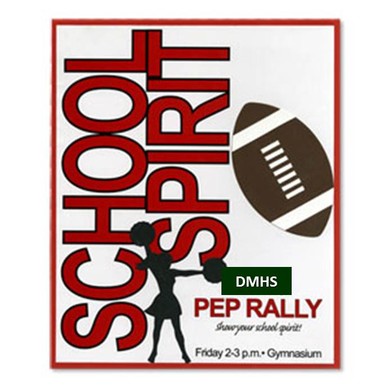 Arriving at school Friday morning, electricity was in the air, and you were not completely dressed without a pair of desert boots, a bleeding madras shirt with a fairy loop on the back, and a green-and-white Letterwomen's cut yarn Spirit Doll pinned to your pocket.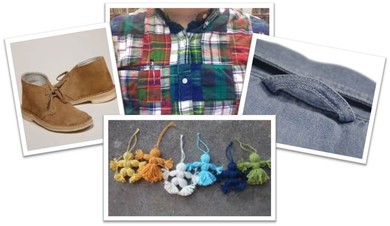 Man, will this stuff take you back or what?
Now, there were many clubs, activities, and teams on campus. Not everyone knew who was in the Key or Glee Club, the Golf Team, or Campus Life, but everyone knew who the Fighting Eagle football players were.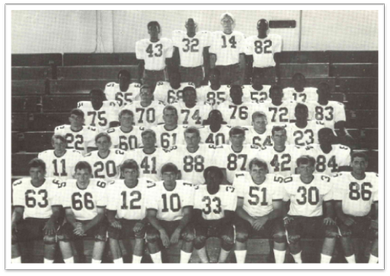 Our Boys of Fall
They were not hard to spot, wearing their green-and-white jerseys as they proudly strolled the corridors in packs of two to four with an inner confidence not unlike young warriors readying for battle. We all would pat them on the back and wish luck to our own boys of fall. Recently, Kenny Chesney captured that most basic slice of Americana in his country song, "The Boys of Fall."
They didn't let just an
ybody in that club
It took every ounce of
heart and sweat and blood
To get to wear those game-day jerseys down the hall
The kings of the school, man, we're the boys of fall

Well it's turn to face the stars and stripes
It's fighting back them butterflies
It's call it in the air, alright
Yes sir, we want the ball
And it's knocking heads and talking trash
It's slinging mud and dirt and grass
It's I got your number, I got your back
When your back's against the wall
You mess with one man, you got us all
The boys of fall
The below Youtube clip will bring a tear to your eye - Click Below

www.cmt.com/videos/kenny-chesney/547722/the-boys-of-fall.jhtml
I remember the slow, yet steady, buildup of expectation that preceded the pep rally. Finally, the announcement over the PA would release us from the doldrums of the classroom. The classes would break, and small groups of friends would form, gathering at pre-agreed locations and by random meetings. These clusters of friendship would merge into streams of excited know-it-all adolescents flowing like a human river through the open breezeways ending at our common destination, the school gym—a cross between an old-fashioned tent revival and a modern political rally. If you were going to skip school, it would be any day of the week except game day. Who would want to miss the pep rally?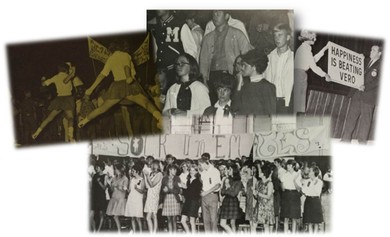 What I'd give for just one more Pep Rally - Go Eagles!
Mr. Larsen's Eagle band would be playing some upbeat song such as "The Horse." Remember that one, Dana and Cindie?
You Go Vic
Want to feel like you are back at the Friday night game? Click the link below
I can still hear those trumpets blaring, the rat-a-tat-tat of the percussion section as Lana, Carolyn, Rhonda, Denise, Lana, and Audrey and the other cheerleaders swayed and dipped, pompoms in hand, from left to right.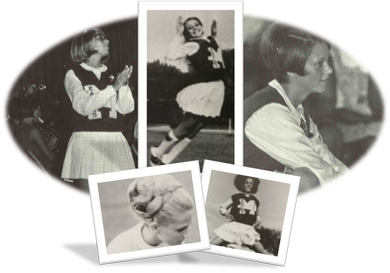 These girls can't be grandmothers..... can they?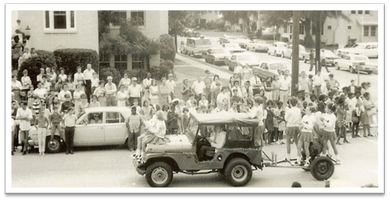 The cheerleading squad would soon take center stage with the rousing favorite,
"Are You an Eagle."
Are you an Eagle? Yes, I'm an Eagle, and I'll be an Eagle till the day that I die…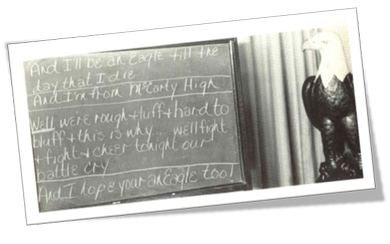 Forty-one years later, I guess the song was right. We are alive and kickin', headed toward half a century since graduation day, but in our hearts, we are Eagles, and your being on this website proves that point.
One of the fondest personal memories I have of our last year of high school was helping form the Spirit of 70, a group of guys who had no charter, no officers, no administration recognition, and some would say no sense. Our only goal was to promote school spirit. I'll never forget the Spirit of 70 flag we presented at the first pep rally of our senior year.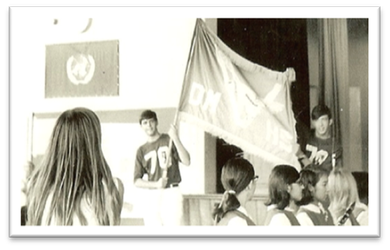 Dave and I present the new flag - The Spirit of 70 Forever!
Hey Mitch, do you want a swing?
I do not even remember how we selected our members. I only know that none was on the football team or in the band, because they were busy at the pep rallies and games. We wore our own green jerseys, with the same white 70 adorning each. Our school-spirited band of merry men included Jay Hockett, Bobby Harrell, David Febilmen, David Predue, Mitch Hilburn, Joey Chesser, and yours truely. I am sure I left one or more people out, so please 1) let me know and 2) cut me some slack. I am a child of the sixties, but unlike Bill Clinton, I did inhale.
Do you remember, as sophomores, we were the last to arrive at the pep rallies and were relegated to the left side, the underclass of the gym? Then, there was the swell of pride at that first pep rally of our junior year, when without instruction from anyone, we made a beeline to our rightful place on the right side of the Fighting Eagle gym.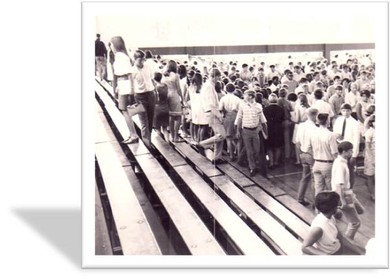 Jr. Year, we were moving up
But our senior year, we took the true upper classmen position of honor, sitting in the folding metal chairs on the gym floor. We had finely arrived. We were proud. We were seniors. We were Eagles.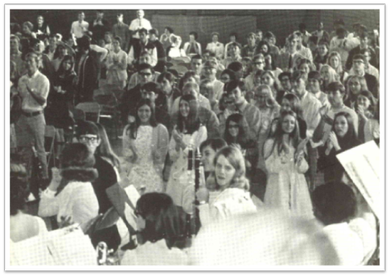 Sr. Year - We Have Arrived!
And with sadness at our last pep rally as seniors, as we left, we in unison folded our chairs and, with a mighty clatter, dropped them to the hardwood floor—the symbolic gesture that said the mighty Class of 70 had left the building. In the case of our class, it was not just that we were leaving a school steeped in tradition, but the many years of McCarty High was also coming to a sad and abrupt end.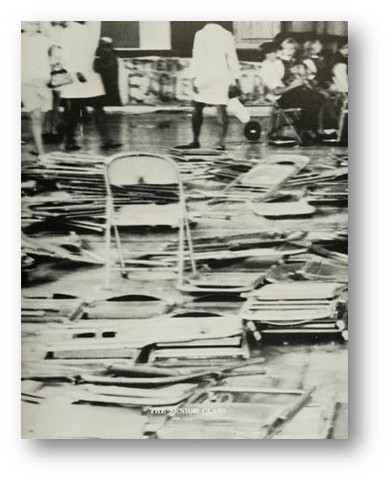 While it was tradition for the seniors to fold their chairs with a mighty clang at the end of the last pep rally, it took on special meaning when the Class of 70 did it – it was the end of an era – Dan McCarty High was no more.
Who could forget game night at the stadium? By our junior and senior years, most could drive, so we arrived in a group of vehicles as diverse as we were—the sounds of overconfident teens gunning their engines as the steady beat of the Eagle marching band summoned the faithful to the stands.
The Fighting Eagle Marching Band
Adding to this cacophony of sound were the blaring FM car radios touting a new Stones song with a dash of the adventures of Chickenman from WQAM. After the game, those same radios would tune in the smooth sultry voice of "Mrs. Bar's little baby boy, 195 pounds of jiving joy, saying be ye round or be ye square, we've got sound to rock a bear."
The lights were bright; the night air had a trace of coolness; the smell of hot dogs, popcorn, and fresh cut grass blended into a

potpourri of smells (here I go again with the smells). But the game was just the prelude to the real event of the night—the victory dance. Win or lose, we found our way back to the gym with our true love of the week, to sway to the sounds of the musical soundtrack of McCarty High—Mitch, Cal, Ronnie, Mark, and Billy aka Tradition's Children. It was shoes off not to scratch the floor and lights off to set the mood.

Inline Image Not Displayed
Our Own
Tradition's Children
Happy Feet - But Watch Your Hands
Does anyone remember a teacher/chaperone moving your hands up to the lower back of your date, breaking their comfortable perch on her butt achieved only after a slow, yet hard fought, slide southward powered by pure teenage testosterone? Yes, in those days, motorcycles were dangerous, and sex was safe. Boy, have things changed.
What Friday night would be complete without at least one trip around Bill's Burger? If we won, the horns would be honking, and there would be a small-town exhilaration that comes when the hometown boys are victorious.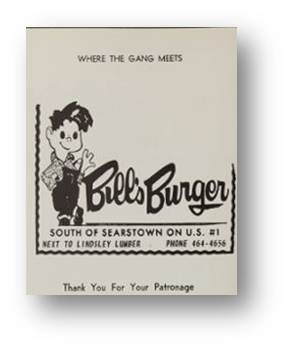 How could you forget this place - we only made 8,000 trips around it during high school
Today, my grandkids do not really enjoy the kind of school spirit we knew. They text and e-mail and post on Facebook, but they don't get to know their classmates as we did. I am glad that we grew up when school spirit was part of the high school curriculum, aren't you?
Are you an Eagle? Yes, I'm an Eagle, and I'll be an Eagle till the day that I die…
Keepin' the Spirit Alive (and thinking of those Victory Dances),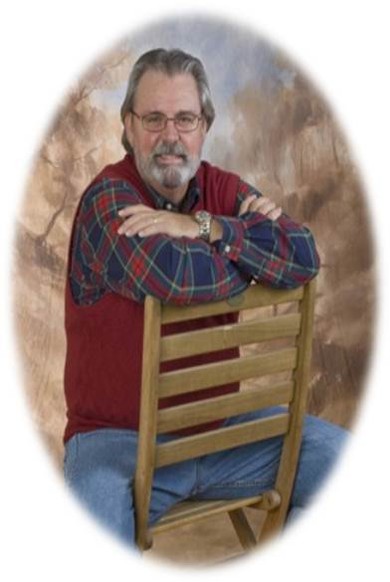 ---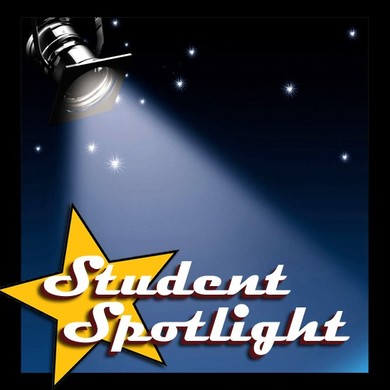 Our September
DMHS Class of 70
Spotlight
Beverly Williams
The Girl with a
Million-Dollar Smile
I love to read our classmates' profiles. I enjoy even more seeing the progression of their life in photos. I remember seeing a photo of this month's spotlight and thinking; Wow! What a smile. During our interview, I joked with Beverly that we needed to include a photo of her dentist in the article. She has displayed that million-dollar smile for the past four decades. Yet, her caring heart overshadows that beautiful smile by a country mile.
In School
Beverly grew up, like all of us, during the turbulent sixties, a decade chockfull of free love, drugs, racial conflict, and yes, a heaping helping of good old-fashioned opportunity. She, like most coming-of-age boomers, possessed a wide-eyed innocence. She ached to spread her wings and fly, to quench her thirst to experience what life held for her.
On the other hand, Beverly's mom, given a vote, would have cast said vote in favor of her daughter skipping this era of turbulence, for a life of structure and discipline willingly offered by the Catholic nuns of St. Anastasia and John Carroll High, who for the first ten years of her education gladly obliged. But Beverly wanted more. The world was calling, and she was ready to answer. She announced to her family her desire to leave Catholic school and head to Dan McCarty High. While most of us flowed toward DMHS like a river flows toward the sea, with little thought of our destination, Beverly made a thought-out decision to swim upstream, to leave the comfortable and safe environment of Catholic school for the uncertainty and chaos of public school. So, with the help of her dad and a summer of lobbying her mom, permission was finely, though reluctantly, granted for her to begin her swim upstream. Beverly swam to the DMHS Class of 1970, the launching platform for her life.
A little sidebar here: I do not know what you were thinking or what your life plan included at sixteen, but as for me, changing the direction of my life, changing schools, and looking toward my destiny was way down my totem pole. My thoughts centered more on what I would order at Lum's for lunch—fried clams or a steamed-in-beer hotdog. My hat is off to anyone who thought this deep at that age.
Once she walked the breezeways of McCarty High, she did not blend in—she stood out. Did I mention that million-dollar smile?
Today, some forty years later, few of us remember the thousands of details that made up our high school years. But woven into the tapestry of the sixties was both civil and racial unrest. In some ways, our country, like us, experienced growing pains. While the world smoldered in the ashes of the Detroit riots, Watts, and the shame of Selma, we in the Class of '70, elected our first dual homecoming queens and our first interracial court. Lana Norvel and Carla Young were elected co-queens, and Becky Gray and our spotlight, with her million-dollar smile, were named attendants.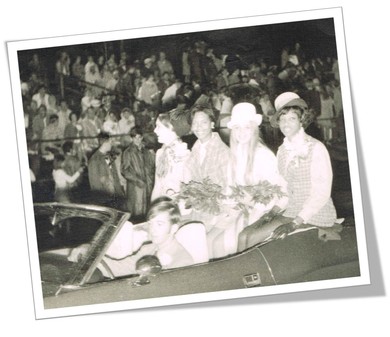 College
After graduation, Beverly headed to Tennessee State in Nashville to study nursing. She said the strong women in her life, her role models, worked as nurses (her mom) and teachers. With her desire to help others, nursing seemed the natural path to travel. I think that selection process might have been assisted a bit when she thought of what life would be like teaching students like me, but we will not drill too deep in that little theory.
After graduating from Tennessee State, Beverly worked as a nurse in Nashville for a year before accepting a position at George Washington University Hospital in Washington D.C., where she worked for more than five years.
But in that first few years residing in our nation's capital, Beverly discovered that she was, at heart, a small-town girl. So in 1983, she returned to the Treasure Coast and a job at St. Lucie Medical. In 1985, she was promoted to Assistant Department Director of General Surgery, a position she held for the next twelve years, followed by twelve years as the Endoscopy Coordinator.
Today, Beverly is a case manager helping people as they prepare to leave the hospital. Her job is to make sure they have a safe environment in their home, coordinate transportation, and instruct them in proper home care techniques. She says, "My job is most rewarding; I love to give hands-on help to people as they begin to rebuild their lives after a hospital stay. Most would rather be anywhere other than in the hospital, and I am their bridge to a more normal life." She adds, "With medical advancement, the patients are healing quicker. As an illustration, a gallbladder used to take two weeks in the hospital to recuperate. Now, they can be headed home in only a day. This quicker recovery time means I receive more immediate gratification from my work."
Travel
Beverly, self admittedly, has always had a bit of wanderlust. As long as she can remember, she has had a burning desire to travel the world, seeing all she can see and meeting an ever-diverse humanity where they live. She feels that each person is unique with a story just waiting to be shared. Her mode of travel is of little consequence—planes, boats cars—it makes no difference as long as it gets her from point A to point B. But she discovered early that she is not a good group traveler. She prefers to rent a car and strike off the beaten path, discovering for herself what is just over the next hill. That same young girl who decided to leave the safe confines of Catholic school still wants to experience life in distant locations and do so on her own terms. Good for you, Beverly; I could not agree more.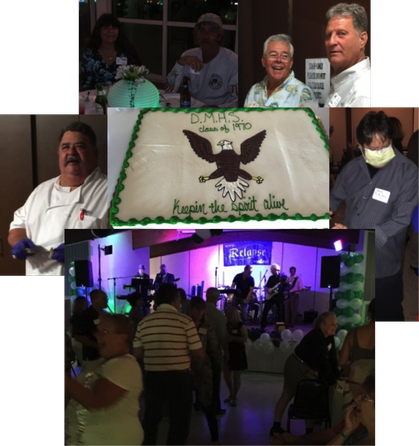 To date, the travel bug has taken her all across the continental United States and to Bermuda, the Bahamas, St. Thomas, Hawaii, and Aruba.
In 1995, Beverly and a girlfriend were watching an HBO special, Sinbad's Summer Jam 70's Soul Music Festival filmed in the Caribbean. Her friend commented that it would be fun to go to the filming of a Soul Music Festival. That was all it took for Beverly to swing into action. She called HBO, got the schedule, and in 1997, with her friend in tow, she was off to Aruba for a taping of the HBO special, Sinbad's Summer Jam 3: 70's Soul Music Festival. The festival featured an array of soul music acts from the seventies including Stephanie Mills, Rose Royce, The Emotions, Earth Wind & Fire, The Whispers, Sugar Hill Gang, Cheryl Lynn, Roger Zapp & the Zapp band, Isaac Hayes and KC and the Sunshine Band, to mention a few.
The week consisted of beach parties and water sports during the day and a smorgasbord of hotel parties each night. On that trip, she learned two things: 1) how to negotiate a roundabout, and 2) that she could sunburn. She was burnt so badly that, upon her return to the States, she was forced to take another week off to recuperate.
Years later, during the tragic Natalee Holloway kidnapping case, Beverly would realize that the hotel where young Natalee stayed was just across the street from the hotel where she had stayed while at the HBO taping. What a small world in which we live.
Hobbies
But going is not enough for Beverly; once there, she wants to do—and do she does. The interview with her reminded me of my interview with Gail Williams. These two classmates seem to be afraid of nothing. Remind me to not tag along with either.
Bev learned to kayak in Key West and brought that hobby back to Ft. Pierce where she loves to enjoy the quietness of a Saturday morning on the Indian River. She says, "The sound of the water birds or the splash of a jumping fish really centers me and brings me close to nature."
I have a question, Beverly. If it is being closer to nature you want, why would you jump out of a perfectly good airplane over Las Vegas? Yes, our daredevil classmate also skydives.
While in St. Thomas, she tried her hand at parasailing. She says, "Being towed above the water where you have a bird's-eye view of God's handiwork put everything into perspective. It makes me feel closer to Him."
Well, let me give you a bit of advice, Beverly. Although it is great to "feel" closer to God, if you do not stop jumping out of airplanes, you might be meeting him sooner than you planned. J
Another quick sidebar: Ever notice that everyone wants to go to heaven, but no one wants to leave today?
Beverly goes on to say, "God willing, one day, I will be old, and I do not want to look back and say 'I wish I had done this or that.' I want to say 'look at all the things I did.'" Now gang, let me ask you, is that a great attitude or what?
She dove in the reefs of the Cayman Islands in a submarine and climbed to the top of Diamond Head in Hawaii to fulfill a promise (more about that in a minute).
She has been an avid bowler throughout her life, and she still carries her ball and bag in her trunk. Then, as if a contradiction to her active risk-taking life, she sews, yet another skill honed over a lifetime. She gladly donates her time sewing for her church.
Family
Beverly has been divorced twice; her first marriage was to our classmate Henry Snead. That marriage lasted for 15 years. From that marriage, she has two stepdaughters, Valencia Snead and Tonya Ford and she is still Nana to Imani, 12; Nia, 9; and little Bakari, 1.
Faith
Her early years of Christian education have left her with a solid faith that has carried her through her life. "My faith is very important to me. It gives me direction in my life and lets me know there is a reason for all things, although sometimes it is hard for us to understand why bad things happen to good people. Still, in all things, I have faith in Him," she says with a certainty that can only give you confidence.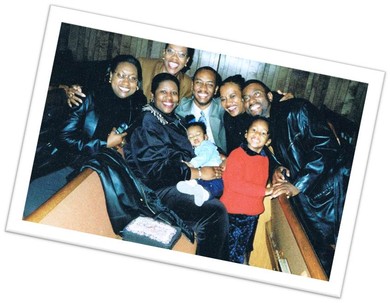 That faith would be tested in 2009.
In 1999, while at a church service, Beverly met a "very special man," Kenneth Showers, who would become her soul mate. He was tall, very tall, and he liked Beverly from the first time he met her. He began to call her, but she said, "I did not return his calls. I just did not want to get involved with anyone."
Kenneth would not take no for an answer. When several calls went unanswered, he enlisted the help of Bev's mom to get that all-important first date. Things went well, and soon, a romance bloomed.
They were more than just soul mates; they were also travel mates. Over the next 10 years, they enjoyed a wonderful relationship and traveled to many places already mentioned in this spotlight. One of her fondest memories is of a trip they shared to New York City where they attended the Broadway show, The Color Purple. As she shared the details of that special time, I could hear her warm smile through the phone.
After almost a decade as a couple, in 2008, Beverly finely agreed to wed Kenneth, and a July wedding date was set. As the date neared, both busied themselves with the task of preparing for a wedding.
But this wedding was not to be. On June 23 of 2009, Kenneth Showers, Beverly Williams' soul mate of 10 years, had a stroke and never recovered. She says, "His death took the life out of me. I had already lost my mom and my dad, but this was different. This tore my heart out. It was my faith that carried me through. And even though I miss him very much, I've moved on with my life."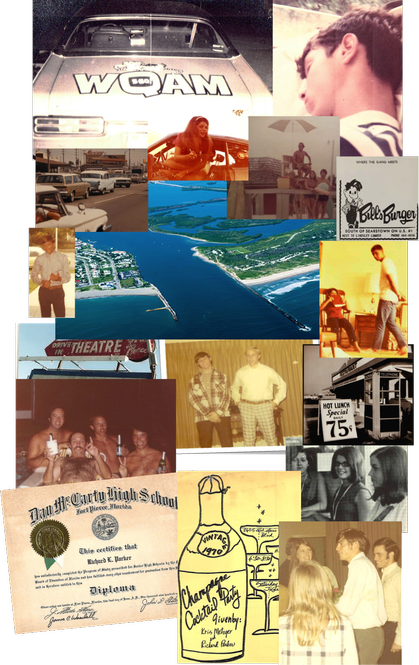 Yes, Beverly Williams has learned to survive. This summer, she, a breast cancer survivor, celebrated her sixth cancer-free birthday. Now, she volunteers her time serving on the St Lucie County Unit Operating Board for the American Cancer Society.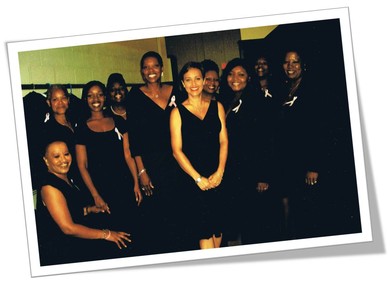 And this past year, she and a group of close friends, climbed to the top of Diamond Head in Hawaii, a trip she and Kenneth had planned to make together. The climb was to honor his memory.
You go, girl! We are all proud of you, and we tip our hat to you for a life well lived.
Be sure to drop Beverly an e-mail though the class website to say hello, or post to our class Message Forum.
Keepin' the Spirit Alive,
Richard Parker
---
Our August 2011
DMHS Class of 70
Spotlight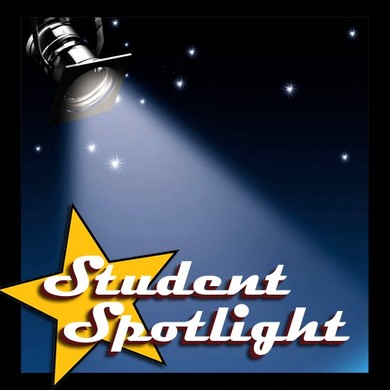 Kenny Humphrey
Kenny Humphrey is a blessed man. If you don't believe me, just ask him, and you will see an attitude and spirit that will make you glad you are in the same room with him. Some would say Ken drew the short straw in life, being born with Familial Spastic Diplegia, a disease that affects the lower extremities and that, over time, can cause the back to sway. But those who feel sorry for him do not know Ken's head or his attitude, and they certainly don't know his heart.
Ken says it this way, "I am blessed to be born this way. You see, I have nothing to compare my life to. Unlike someone who is hurt in a tragic accident and has their life suddenly changed, this is all I have ever known. This is my normal. Everyone is dealt a hand in life. And you know, Richard, it is more about how you play that hand than the cards you hold." Didn't I tell you he has a super attitude?
Of course, life has not always been easy for Ken. He remembers how some picked on him in school. Kids can be so cruel. He tells of having his books knocked out of his hands and being pushed around by a handful of bullies. But even to this, Ken has a glass-is-half-full outlook. "Richard," he continues, "those kids had, I am sure, low personal esteem, and the only way they could feel good about themselves was to put someone else down. That just made me stronger."
"But I must admit that without my friends, I am not sure I would have made it." I ask him who those friends were, and you can hear the smile though the phone. "There were so many. David Pfaff, Danny Curl, Doc McKinney, David Apple, Dave Magda, Rob Williams, and Jim Huck were all guys who went out of their way to befriend me. They will never know what that truly meant. While these guys were great so many of the ladies in our class showed such kindness. I remember Janie Clark, Rhonda Hilson, Carolyn Brooks, Audrey Short, JoAnne Carlton, Gina Turner, Kathy Parker, Wendy Walker, Pam Francisco, and Sara Sanders were all so sweet and they each meant so much. I am sure I forgot a lot of people who showed kindness but the few I have mentioned really stand out in my memory. Whether it was a word of encouragement or just a smile while passing in the breezeway, many times it was just what I needed at that time. They meant the world to me and helped carry me though some dark days. That is why I try to always offer a smile and a word of encouragement today to those around me. You never know when someone needs just that special touch that only you can provide."
After high school, Ken attended IRCC before graduating from Barry University in Miami in 1980 with a BA in Business/Management. He was hired by Pratt & Whitney where he worked for 22 years in sales and purchasing until an injury forced his early retirement in 1991. While at Pratt & Whitney, Ken traveled the world selling parts to airlines and purchasing raw product and machined parts from around the world for the Pratt jet engines. His job took him to Japan, Australia, New Zealand, Mexico, Guatemala, Brazil, England, Spain, France, and Germany, to mention a few.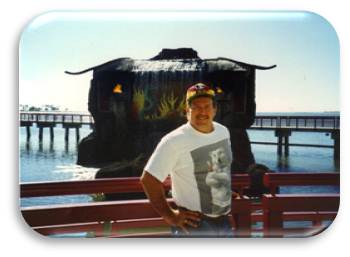 On a business trip to Korea in 1990 for Pratt & Whitney
Wellington New Zealand, a country of 8 million people and 80 million sheep
One of my projects, a Gas Turbine Facility on the West Coast of Florida
In 1976, after a softball game, Ken and his team stopped in a Pizza Hut in Port St. Lucie for a bite and a brew. There, by chance, he met Audrey, the woman who would become his wife. Ken describes Audrey as a wonderful person, quick to laugh and always seeing the best in a person. She did not see Ken's handicap, but a man that went after what he wanted and usually got it. She completed him. They dated for three months before she moved back to Akron, Ohio. That Christmas Day of 76, Audrey found Ken at her front door, ring in hand; she said yes. This year, they celebrated 34 years as man and wife.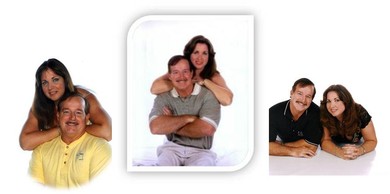 Audrey & Ken, married for 34 years
They like all young couples wanted to start a family. Doctors told them that there was a 50% chance that their child would be born with Familial Spastic Diplegia. They decided that they would take that step anyway. In 1979, their son Jeremy was born. Their son Jeremy was like his dad, born with FSD.
Jeremy
Audrey and Ken love to go to Hawaii on vacation and have done so now five times, visiting all the islands, but now returning only to Maui, their favorite.
Ken has used his handicap as a motivator. In school, when Coach Wrench would send the boys for one more lap before hitting the showers, he would tell Ken that he could head to the locker room. Ken would not, struggling to complete the run like the others. Many times, the others were finished and dressed before he made it to the showers. But as Ken says, "It may have taken me longer, and it may have taken more effort, but I did make it." That desire to be treated like his peers has led Ken to a full and active life.
For 18 years, he studied self-defense, attaining his second-degree black belt in karate. He went on to instruct karate as a sensei for five years before his injury. An avid archer, he loves to bow hunt white-tail deer (move over Bobby Harrell), turkey, and wild hogs. Jim Huck and Mark Walters, it sounds like you might have a new hunting buddy. Ken is a good golfer, boasting a 15 handicap, and he shot one of the best rounds of his life, an 80, last month on his birthday. Well happy birthday to you, Ken.
Ken and his buds headed to the links
Holloween 2009 hunting trip with Scott
Success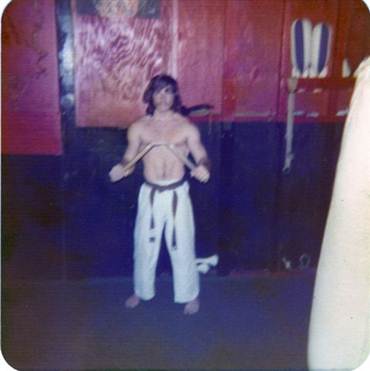 Practicing my Kata with Nunchaku sticks before competition in 1971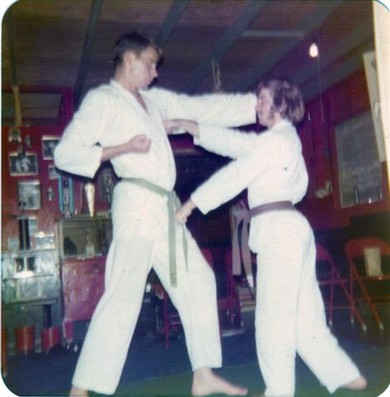 Pensacola Fl in 1971, I placed 4th in my division
against an obviously much larger opponent
I finished my interview with Ken, asking the same last question I usually ask—any regrets?
Ken paused and thought for a minute. "I wish I had dated more in school. I asked very few girls out. Looking back, I am sure I could have dated. Heck, just look at my wife. Need I say more? And I wish I had been a little more outgoing. But, no, I really have no big regrets in my life. God knew what he was doing when he made me, me."
And to that, Ken, we tip our hats to you for a life well lived and for being an inspiration to us all.
Keepin' the Spirit Alive,
Richard Parker
P.S. Be sure to post your comments to Ken, on this article and comments in general on the Message Forum in the left navigation bar.
---
July 2011
Ho Hum, Another Fourth of July
Well, as a class, we have made about fifty-nine trips around the sun as July 4, 2011, again rolls around. Our fifty-ninth backyard BBQ, fifty-ninth fireworks display, and one more Independence Day sale at every car lot and big box discount store in the country. In the land of the free and the home of capitalism, every holiday has to have its own sale. What a country!
But 235 years ago, there were no white sales on the Fourth; there was mind-numbing fear laced with ramrod resolve. For most of the early 1770s, the thirteen fledging colonies lived in fear and uncertainty as King George III sought to keep the new world as colonies of the crown.
The First Continental Congress was held with fifty-six delegates from twelve of the thirteen colonies on September 5, 1774, at
Carpenters' Hall
in Philadelphia. The only colony not in attendance was Georgia, which at the time was considered a convict state and not considered—an attitude still held by Gator football faithful at the annual Florida-Georgia game.
The main agenda items for this First Congress were to consider an economic
boycott
of British trade, draft and publish a detailed list of rights and grievances, and petition
King George
to stop the overbearing actions of the crown.
Another
Continental Congress
was scheduled for 1775 in the event that their petition was unsuccessful. Ultimately, their appeal was ignored, and the
Second Continental Congress
was convened to organize the defense of the colonies, with each colony being urged to set up, train, and finance its own militia.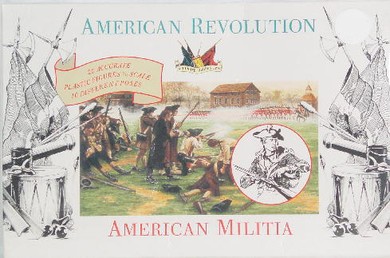 Now, take this story out of its "founding fathers" context, a perspective we today view as an attitude of these men to do what needed to be done. These great men with vision and purpose founded our nation. After all, someone needed to do it. Although, in retrospect, that is true, at the time, it was anything but certain, and the cost to these fifty-six signers of the Declaration of Independence was sliding all the chips to the center of the table.
Think about if fifty-six people sat in a room today and planned to secede from America. We call it treason, which is punishable by death. It was no different in 1776. Two times in the past 150 years, this was attempted in America. The first was the secession of the Confederate States of America, with eleven Southern states seceding in 1861. The cost was more than 600,000 lives to maintain the Union.
The second was the secession of the Conch Republic (Key West, Florida). In 1982, the
United States Border Patrol
set up roadblocks and inspection points on the only two roads leading in and out of the Florida Keys, searching vehicles for illegal immigrants and drugs.
The Key West City Council repeatedly complained that the roadblocks hurt tourism and hassled locals. When complaints were unanswered and legal actions gave no relief, the city council declared Key West's independence from the United States on April 23, 1982, stating that because the federal government had set up the equivalent of a border station as if they were a foreign nation, they might as well become one.
As part of the protest, the Mayor was proclaimed
Prime Minister
of the Republic, immediately
declared war
against the U.S. (symbolically breaking a loaf of stale
Cuban bread
over the head of a man dressed in a naval uniform), quickly surrendered after one minute (to the man in the uniform), and applied for one billion
dollars
in
foreign aid
. No lives were lost in this move to independence; however, millions of dollars were captured from the subsequent tourism bonanza enjoyed by the Conch Republic ever since.
But the founders of our country were not so lucky. They rolled the dice for the entire country's independence with their families, fortunes, and even their lives as the ante. While we as a country won the big jackpot, many of these signers were anything but winners.

Have you ever wondered what happened to those men who signed the Declaration of Independence?

Five signers were captured by the British as traitors and tortured before they died. Twelve had their homes ransacked and burned. Two lost their sons in the Revolutionary Army; another had two sons captured. Nine of the fifty-six fought and died from wounds or the hardships of the Revolutionary War.
What kind of men were they? Twenty-four were lawyers and jurists. Eleven were merchants; nine were farmers and large plantation owners, men of means, well educated. But they signed the Declaration of Independence knowing that the penalty would be death if they were captured. They signed, and they pledged their lives, their fortunes, and their sacred honor.
Carter Braxton of Virginia, a wealthy planter and trader, saw his ships swept from the seas by the British navy. He sold his home and properties to pay his debts and died in rags. Thomas McKean was so hounded by the British that he was forced to move his family almost constantly. He served in the Congress without pay, and his family was kept in hiding. His possessions were taken from him, and poverty was his reward. Vandals, soldiers, or both looted the properties of Ellery, Clymer, Hall, Walton, Gwinnett, Heyward, Rutledge, and Middleton.
At the Battle of Yorktown, Thomas Nelson Jr. noted that the British General Cornwallis had taken over the Nelson home for his headquarters. The owner quietly urged General George Washington to open fire, which was done. The home was destroyed, and Nelson died bankrupt.
Francis Lewis had his home and properties destroyed. The enemy jailed his wife, and she died within a few months. John Hart was driven from his wife's bedside as she was dying. Their thirteen children fled for their lives. His fields and his gristmill were laid waste. For more than a year, he lived in forests and caves, returning home after the war to find his wife dead, his children vanished. A few weeks later, he died from exhaustion and a broken heart. Norris and Livingston suffered similar fates.
Such were the stories and sacrifices of the American Revolution. These were not wild-eyed, rabble-rousing ruffians. There were soft-spoken men of means and education. They had security, but they valued liberty more. Standing tall, straight, and unwavering, they pledged, "For the support of this declaration, with a firm reliance on the protection of the

Divine Providence,
we mutually pledge to each other, our lives, our fortunes, and our sacred honor."
Yes, our founders included God in the equation. They realized that they alone did not process nor were they capable of producing a battle plan to defeat the most powerful army and navy on the planet. So they trusted in God Almighty to protect them through "Divine Providence." Thank goodness that it was the 1770s when every member of our new government agreed that a logical and reasonable part of their plan was to trust God, admitting in front of all that his help was needed. Today, I am sure that some judge of some court would surely have ordered that phrase dropped from the record. What was wrong with those founding fathers of ours? Hadn't they ever heard of the separation of church and state? Oh, well, that is some ammo for a future rant and rambling I sure I will find time to expound on in the future.
These fifty-six willingly and without hesitation traded their fortunes, loved ones, and lives for us to have the right to feel a little bored this 4th of July. Ho hum, see you at the fireworks.
---
When you wonder if it is worth to the time and effort to maintain old friendships think of this.
---
Our June
DMHS Class of 70
Spotlight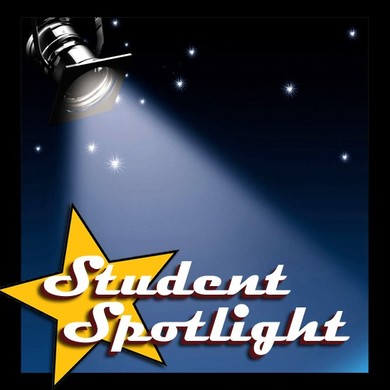 Traditions Children
Don't Let the Sun Catch You Crying
Music is the soundtrack to our lives. I can hear a song, and I am instantly transferred thousands of miles and several decades to a different place and time. For me, the song that takes me back to some of my fondest memories is the 1964 song "Don't Let the Sun Catch You Crying" by Gerry & the Pacemakers. But in MY version, the one that remains on constant memory recall, it is not Gerry Marsden singing
Don't let the sun catch you cryin'
The night's the time for all your tears
Your heart may be broken tonight
But tomorrow in the morning light
Don't let the sun catch you cryin'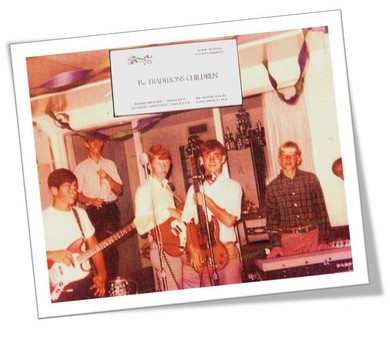 These guys thought they were all grown up; in truth it would be 2 more years until they were old enough to drive.
In my version, Mitch Hilburn of Tradition's Children is perched on his drummer's stool singing that memory-laden song in a darkened gym, as a couple of hundred sixteen- and seventeen-year-old high school kids hold tightly to their love of the week. Shoeless, socked feet slide over the polished floor in unison, as they sway to the slow tempo of the song they know signifies the end of the evening. That song's first few notes take this almost sixty-year-old kid back to the sixties, when we collectively learned to laugh, love, and live life. As a class, we were fortunate. You see, we were blessed with two high school bands: the Fighting Eagles Marching Band complete with band director Vic Larsen and "our" band, Tradition's Children, the band we grew up with and who provided the musical backdrop of our adolescent years. The latter got its start in our eighth grade year at St. Lucie Jr. High when Mitch Hilburn asked Ronnie Griffith, just as the bell broke the warm morning air to start the school day, "Hey, do you play anything?" To which, Ronnie replied, "the trumpet." As Mitch darted into class, he shouted over his shoulder, "Great, you're in the band." Ronnie wandered into his class happy he'd made the cut but asking himself, "what band?" Little did he know that those four words would affect the next half century of his life. The first practice was held at Ronnie's house. Mark Moore dragged in a guitar, not the organ we would grow used to seeing him sit behind. Mitch arrived with all the drums he owned—a single snare drum and set of beat-up sticks—and Ronnie, true to his word, welcomed his bandmates-to-be, trumpet in hand and smiling that smile we have all grown to love. By the second practice, Ronnie lost the trumpet but sported a new electric guitar. Now all he had to do is learn how to pay the darn thing. You see that week, Ronnie's dad had taken him to Harris Music and traded in a fiddle his dad owned for the down payment on a Fender electric guitar costing $90. Ronnie left the store with his "in hock" ax which carried a balance due of $55. Ronnie would pay that balance at $5.35 per month for the next year. This proved a life-changing purchase. Those 535 pennies were earned mowing grass, and toward the end of the year, playing music in a band for actual money. How could anyone be so lucky he thought. I, for one, am glad my friend Ronnie traded in the trumpet for the Fender. It's difficult for me to get my arms around his trumpeting the notes to "Jumping Jack Flash." What you might not know is that Mark Smith was to be at that first practice as the group's lead singer. But he had something more important to do. Go skateboarding. The following week, Mark would become the first of our class to die in a tragic shooting; he was only thirteen. By that second practice, Cal McDermid was standing behind the mic, the place he would occupy off and on for the next forty years. Billy Smith was the fifth member of the yet unnamed band. Cal would christen the band Tradition's Children. Looking back, that name choice was profound. The band would become a tradition for our class and in fact our entire school from 1967 to 1970. And all you have to do is look at this photo below to see they were still children even if they thought otherwise at the time.
Their practices were moved from Ronnie's house to the appliance store owned by Mark's father on US1 where they could crank up the volume in the evening without risking a trip to the pokey. Many of us spent a hot summer evening in the sticky coastal air bobbing our heads to the beat while they honed their craft lick by lick. While many in our class went to part-time jobs after school, Mike Huff to the jewelry shop, Robin Schmidt to Turner Machine, and I to Rubin's clothing store, our band of five brothers put their time in learning the songs that would leave us all with a lifetime of memories. It sure beats a job at McDonald's, guys.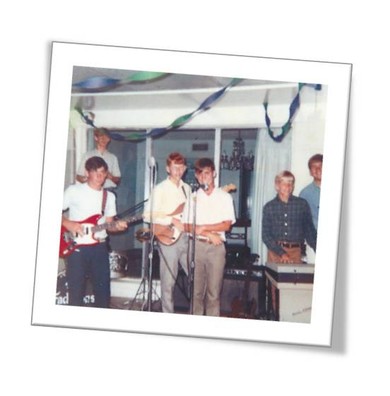 Almost professional musicians - just one paycheck short of making that milestone - The band's first gig at Pam Rogers' birthday party
Their first gig and the band's first milestone was Pam Rogers' birthday party in 1966. They played in her backyard and played for free. They had to wait until later that year at David Feibelman's pool party to say they had passed their second milestone—becoming paid musicians. At Dave's, they earned $15 split five ways, giving each $3. Hey, Ronnie, that is more than two weeks of guitar payments. But don't laugh; that $3 would have bought 10 gallons of gas back then, but sadly, none of them was old enough to drive, so who needed any gas? All I can say is, at $3 per gig, they should have been thankful they did not have a manager to pay.
Cal recalls, "One of the first songs we learned to play was 'Honey Don't' recorded by the Beatles in 1964." In those early days, each guy was still deciding what instrument was right for him. Mark started with the guitar but switched to organ, of course he did not know how to paly either instrument. Mark wanted so badly to sing. Cal recalls with a smile, "It took us two years to, as a group, tell him we just could not let him sing. God, was he bad. "
But these guys had dreams, and one driving dream propelled them forward as a group. Today, each smile when remembering that first lofty common dream—to play at a DMHS Victory Dance. In the ninth grade, this band of jr. highers would sneak to the back door of the gym and listen to Bob Melton and Steve Chandler's band, the Sand Trippers, play for the big kids in high school. If you remember the Sand Trippers, you'll remember that they were great with harmony, and the Beach Boys' songs were their trademark. Ronnie remembers, "We thought if we ever made it to playing a victory dance, we would have really made it to the pinnacle of musical success." By the end of their ninth grade year, they played a high school dance—before they had made it to high school themselves. Quite a feat, if you think how a twelfth grader looked down on a lowly ninth grader. To them, that gym was their Carnegie Hall. The boys were strutting!
Billy remembers, "We played high school before we were in high school, IRCC while still in high school, and U of F while attending junior college." Cal recalls how difficult it was on him and the band when his parents sent him to North Carolina in his tenth grade year to attend a private school. He was miserable.
The band faced disbanding or finding a new singer. They held auditions, and many auditioned for Cal's mic. Even Lana Norvell took her turn at the mic. By the following year, Cal had convinced his parents what a bad move it was to tear him away from his friends and pack him off to another state. He was allowed to return home and was again the front man for Tradition's Children—sorry, Lana.
Their practices soon migrated to Jim Lester's back house. Separate from the main house on Indrio Road, the building was not in good shape, but everyone pitched in to fix it, and the band had a new practice hall. Jim became the official unofficial light show for the band. During the psychedelic sixties,no self-respecting band would be caught dead without a light show. A couple of clear pizza pans, some vegetable oil, and some colored water on an overhead projector, and you thought you were on an acid trip in the Haight-Ashbury District of San Francisco.
Jim Lester the official-unofficial light show mister for Traditions Children, and founder of Chester's Left Leg
There is a story of how those overhead projectors found their way to the band at the precise time that several turned up missing from the DMHS A/V room. But we all know our boys were of high moral standards so they certainly could not have had a hand in that. Besides Jim's dad was the superintendant of schools then, and many of their gigs were in the high school gym. So no one would be crazy enough to snag school property to use at a school dance, would they? It is funny that Jim's light show named Chester's Left Leg ceased to exist about the time the school's missing overhead projectors were mysteriously returned and left anonymously outside the A/V locker room. Oh, well, coincidences happen.
The band played all over St. Lucie County, the armory dances, the YMCA, and even placed second in the battle of the bands before they were old enough to drive. By far one of their most prestigious gigs was playing at the Vero drive-in theater. Their stage was the concession stand's roof where they played before the show and at intermission. You could hear them fine, but you could only see them if you were back up a few rows and looked over the family station wagons and pickup trucks. A lot of electricity came in that building to run the food equipment, and the wiring was not so good. Cal said, "I would be singing, and my lips would touch the mic, and I'd get shocked. But, it did make it easier to hit the high notes." Yes, Cal, there is a silver lining to every cloud.
Of course, what we remember are the victory dances. What you might not remember was the band used to play on the elevated stage at the gym's far end. That is, until Mark tried to burn the place down. You see Mark was the pyrotechnics guy, taking the gunpowder from shotgun shells and pouring it into an empty #10 institutional food can, no doubt "borrowed" from the school lunchroom. He would then set off the power during the show, and the crowd would love it.
If you remember Mark, who lived life at full throttle, you would have to ask yourself who in their right mind would allow Mark Moore to play with gunpowder in a closed building. Well, one show, it got out of hand, and the cans burned circles in the wooden floor on the stage. From then on, Tradition's Children had to set up court level. No more stage time for them. Mark, we all know you could leave your mark, we just did not think it would be burned into the stage floor.
At age fifteen, the band landed their first out-of-county gig, playing the booming metropolis of Okeechobee. Ronnie's dad drove them to that first gig and cautioned the boy that Okeechobee could be a bit rough. Duh! Mr. Griffith, can you say understatement? The first few dances at the community went well. They even found a big old country boy who became pals with the band. His nickname was Pencil, named by Jim Lester when he ran out to find a needed pencil at the first gig. As happens a lot with nicknames, it stuck.
Once the boys turned 16, their newly acquired driver's licenses allowed them to drive themselves to their gigs, including Okeechobee. In 1969, they collectively took their girlfriends to the Okeechobee dance. While the band was playing, a local teenage cowboy asked Robin Schmidt to dance. She declined, which was usual, since she almost never danced—period. To this, I can personally attest. Undeterred, the young cowboy Casanova asked Carolyn Brooks, who also declined, to dance, and then Rhea Gribble gave the same reply to the same question.
Walking back to his pack of redneck buds with his tail between his legs, he was met with laughter and a few jabs that only a bunch of teenage boys can deliver at full velocity. A second would-be-bull-champion strutted over to the girls to show the first how it was done. He returned after the same chorus of "thanks, but no thanks." Now, they had the hair on their red necks standing in collective attention. How dare those "big city" girls look down on Okeechobee's finest crop of eligible cowboy bachelors! They did the only logical thing—they decided to kick the band's butt.
The assistant light show mister Doc McKinney- and the first to catch an Okeechobee right cross
Doc McKinney, who was helping Lester with the light show, was sitting on the rail of a 1960 El Camino pickup when the first punch hit the left side of his jaw which was attached to his 90-lb body. This connection promptly propelled him over the truck bed. Doc said, "One minute, I was sitting on the rail; the next, I'm flying over the bed, thinking, wow, that is a really nice truck down there." Doc always was a car guy.
Luckily, the equipment had been loaded, and our band of local heroes did what you would expect from local heroes—they ran. Everyone jumped in their cars heading for Ft. Pierce with Ronnie driving the lead car pulling the equipment trailer, followed by Mark double clutching his GTO, and Doc burning the tires off his '55 Chevy, as he rubbed a sore jaw. No sooner had they left the parking lot than a quick glance in the rearview mirror confirmed that half the teenage rednecks in Okeechobee were following in a fleet of pickup trucks.
Soon, two trucks passed Doc and Mark (not sure how, because no one ever passed Mark) and decided to stop on Hwy 70, boxing in the last two vehicles. Mark said "to heck with this" (his words were a bit more spicy). He skirted the truck in the right lane up on an embankment banking down the backside like dropping in on an overhead wave at North Beach, as Doc downshifted and shot through the middle of the two trucks with inches to spare and scaring the crap out of ten of Okeechobee's future leaders. Just another fine memory created with the compliments of the band of our youth.
Halfway through our senior year, Billy Smith traded in the band for a wedding band, and the group foundered. Mark joined the Agency, and they drifted apart for a while. Once our guys landed at IRCC, they again began playing, but this time, under the name of Yocum Mucoy, a name Ronnie came up with after seeing a sign stating Yocum Voght at Bill Wills' house. Ronnie being ambidextrous in thought, took the first word Yocum and turned it backward to Mucoy (pronounced McCoy), and Tradition's Children was reincarnated to Yocum Mucoy.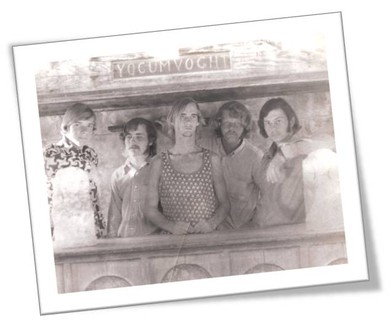 Tradition's Children morphs into Yocum Mucoy

At IRCC, they played often at the Student Union while Billy Hyland and Donnie March served as the band's official roadies. That is when Glen Burrell joined the band. During the interview for this article, all involved commented on how talented Glen was and what great musical ability he processed. He could play nearly every instrument. A much better piano player than Mark, he spent countless hours teaching Mark as he, ever the team player, played bass. Cal and Glen wrote songs together throughout the eighties. We lost Glen in 1995 to cancer. He is truly missed.
24-Track Recording - State-of-the-art in 1971
I
n 1971, Mark got the band an audition at Bee Jay Records in Orlando. Bee Jay had one of the first digital recording studios in Florida with a 24-track recorder. They cut a demo record used to promote them, and they were booked all over central Florida. Their next big milestone came when they played at the Bee Jay Showcase in Gainesville at the Reitz Ballroom. All Bee Jay bands played a set with the fraternities and sororities on campus listening and then booking the bands they liked for their upcoming party season. U of F discovered what DMHS had known for years—the boys were a hit. Soon, they became very busy in Gator Nation.
In the fall of '72, all the guys moved to Gainesville to continue their higher education in the hallowed halls of the University of Florida. Cal, Glen, Mitch, and Mark rented a house together, and Ronnie moved in with Danny Davis and George Osborne, both of the Class of '69. Mike Huff rounded out their foursome. Later that year, Mitch returned to Ft. Pierce and another of the Children traded the band for married bliss. College life fizzled the band, and it all seemed to be over, but the guys still remained friends.
In 1981, Mark and Ronnie were in the car of Mark's wife—a 280Z. Ronnie was driving, as the car left the road on the North Beach cutoff, ending up in Taylor Creek. Mark made it out, but Ronnie was hurt—bad. He had broken several bones including his hip. As the car sank into the warm black water of the creek, Ronnie sank with it. Mark pulled him out of the open window by his hair. As Ronnie says, "I would have died that night if it were not for Mark." Four years later, Ronnie attended Mark's funeral. Oh, the twists and turns of our lives.
Billy Smith was the catalyst in yet another resurrection of the band. The afternoon after Mark's funeral, they were at Ronnie's home in White City, reminiscing of the band's path and the special spice Mark added to their own recipe for musical longevity. Almost as if a force was drawing them to an old familiar place, they discovered that each had brought their instruments. It was a sign, they all agreed, that they should pay their final respects to their fallen band member the best way they knew how— in song. That is all it took, a single song. All the years melted away, and the magic reappeared in all its glory. Smiles replaced tears, and in their musical way, they said goodbye to a lost brother—their own missing man formation. And as a phoenix rising from the ashes of time, a new band erupted on the Ft. Pierce landscape, its name—Volcano.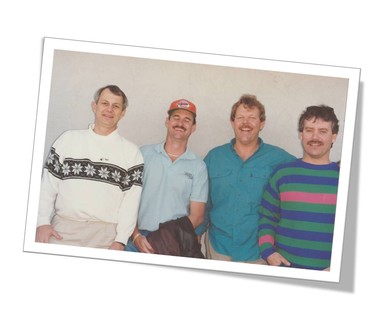 This reunion of the Band at Ronnie Griffith's house in Nov. 1988, during a baby shower for Mitch's soon-to-be-born son, Patrick. Lot's of fun. Billy Smith missed this the second day photo. L to R: Glen Burrell, Mitch, Ronnie, Cal. They all had so much fun that weekend that they began to practice for our 20th reunion, and began performing together again over the next several years, and to this day. Glen would drive from Miami at least once a week for a few months.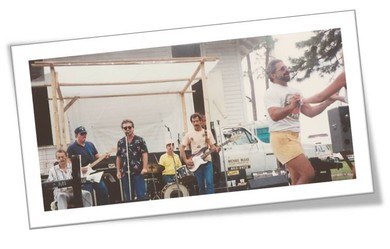 The band got together a few month's later (Spring 1990) for a fundraiser and played at the old Indrio Road Schoolhouse. L to R: Glen Burrell, Ron, Cal, Mitch, Bill Smith.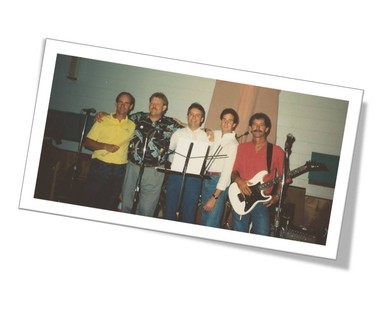 This photo was from June 1990 at a wedding at the Shrine Club in Fort Pierce. L to R: Mitch, Ron, Cal, Bill Miller, who played with us for about a year ( Mark Moore's brother-in-law at the time, married to Miriam).
This photo was taken at the same wedding in June 1990, with Ricky Silverstein and Dale Gilmore posing with the band guys
Soon, they were playing on weekends as the house band at the newly opened Toucan's, which had replaced the Simonson's Restaurant on the mainland side of the old South Beach Bridge. One of the first songs they played, remembers Cal, was his favorite, "Brown Sugar" by the Rolling Stones. "I liked it because it was just good old rock and roll, with a great guitar entry, and it is sure to wake the crowd up. And after all, it is the crowd that drives any band. It was the driving force for bringing us back to the stage year after year."
Ronnie added, "We were always grooving on the crowd grooving on us. Even at the old victory dances, it used to pump me up so much to look out at our classmates and see they were enjoying the music, really enjoying it. You can tell when someone was just having a good time and when they cross that illusive line and really begin to rock out. That is what gave us our musical energy; it gave us that Tradition's Children magic that has withstood the test of time, a lot of time."
Cal and his son Ryan rocking out
By 1990, our class had a firm foothold on who we were individually. There were marriages and divorces, successes and failures, good times and bad. There were births and deaths, with wealth created and lost. Simply put, we had each gotten on with our lives. Walking the paths we had chosen for better or worse. Some had regrets, while others had few. Still, we followed our path much the way our valedictorian Susan Woods had described in her graduation speech. The years, tears, and smiles were rolling by like a lazy river rolls slowly to sea.
But though the years "our band" played on. Maybe not as the youthful high schoolers, we danced to in that gym long ago but at every reunion from the twentieth to today they are there playing for us. Providing the soundtrack of our lives.
Today, the band is short two men; Mark and Glen. But like a wonded warrior it still moves forward —partly from honor, partly from pride, and partly because that is what they do; they play music. Our band, like that injured warrior, knows to cease forward motion is to die. And, my friends, Tradition's Children is very much alive, well, and still rockin'.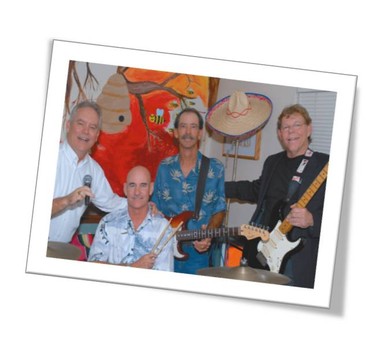 The boys still look good
I enjoyed interviewing each of these guys, including Doc and Jim Lester, for this article. As a writer, I know I need to prepare for a story, do the research, and know what questions I'll ask during an interview. I asked each of the guys many of the same questions—their favorite song, what band story still makes them smile, and I closed each interview with a single question. Do you have any regrets? Most stammered and finally said, no, not really. But Mitch's reply to that question gave me chill bumps.
Cal and Billy at Mitch's 59th rolling-suprise birthday party a Archie's where Mitch's band "Out On Bail" was playing
As to the regrets question, he thought a long time and said "only one, Dick." I expected him to say something about wishing Mark and Glen were still with us, but with the insight that only comes from fifty-nine trips around the sun, he explained. "Dick, as a bail bondsman, I see people at their lowest point—in jail, desperately wanting to get out. I always ask them for a name of someone who can vouch for them. It is so sad to see how many people have no friends. No one has their back. Not a single person to count on in times of trouble. We do."
He went on. If you, Dick, or Doc, Silverstein, Lester, one of my band mates, or a dozen other friends from the Class of '70 called one of us needing help, we would all come. No hour would be too late, no distance too far, because we are friends, we are brothers, and we've shared a time in our lives that will always keep us close. My only regret is that everyone in our class could not feel what we feel." Mitch, my brother, how could I add anything to that?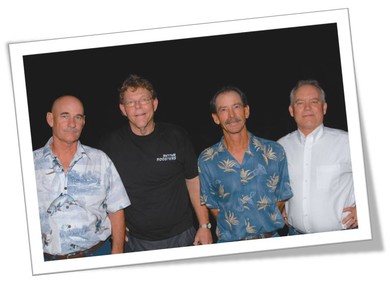 To listen to "Don't Let The Sun Caught You Crying" Click Below
Keepin' the Spirit Alive,
Richard Parker
---
This past week I got this email from my friend Ricky Silverstein and thought it to be fitting set of goals for us all to live by.
Be the kind of man that when your feet hit the floor each morning the devil says "Oh Crap, He's up!" Brother, life is too short to wake up with regrets. So love the people who treat you right. Forgive the ones who don't just because you can. Believe everything happens for a reason.. If you get a second chance, grab it with both hands. If it changes your life, let it. Take a few minutes to think before you act when you're mad. Forgive quickly. Today is Brother's day, send this to all your brothers, fathers, sons. If you get back 7, you are loved. Happy Brothers Day! I LOVE YA BROTHER!!! To the cool men that have touched my life. Here's to you!! A real Brother walks with you when the rest of the world walks on you.
Thanks Ricky, you are a true brother
Keepin' the Spirit Alive
---
Our DMHS Class of 70 Spotlight
for May 2011
Dana Longino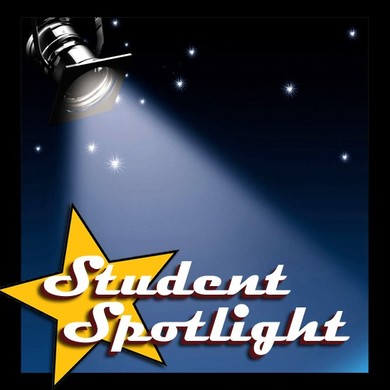 I am happy to present Dana as our Spotlight for this month. Happy for two reasons; 1) it is always good to see a friend recognized for his life's accomplishment and 2) because he wrote his own spotlight, making my job as easy as laying in a hammock on a warm summer evening. And I think your will agree that he did a great job. Hey, Dana how would you like a staff writer job on the class site? So with no further ado I present to you, our DMHS Class of 70 Spotlight for May 2011, Dana Longino.
"Well let's start at graduation. The summer after we graduated, I got my private pilot license... and the journey began. After a couple of years at what was then Indian River Junior College, it was off to the University of Florida. I was accepted into Air Force ROTC and joined David and Pete in the ATO fraternity. Like high school, those were really good years, and I carry fond memories to this day of the friends and the lessons we learned together.
I started Air Force Pilot Training in January 1975 and received my wings in December of that year. After another year of advanced tactical training, I was off to my first assignment in Okinawa, Japan, as a rookie fighter pilot.It didn't take long to realize the seriousness of the job I was in. Shortly after training, a good friend was killed in an aircraft accident (the first of many friends lost over the years) entering the bombing range at Avon Park, Florida. I think it was then I finally began to grow up a little. Not to make this a grim story, but a couple years later, a student pilot in a class I was working with had a fatal accident. My role in the events following the accident was to take his personal possessions from work to his wife. It was one of the hardest things I ever had to do. The reason I tell you this is that, ironically, his name was Dan McCarty. Yea, I had that same feeling at the time.
Brittany, now expecting third grandchild, helps in the traditional "Hose Down" ceremony after the last flight. They grow up so quick.
While in the Air Force, I got to see a lot, do a lot, and work with some of the most talented, smart, and dedicated people imaginable. I lived in Japan, England, Arizona, Louisiana, Alabama, Virginia, and in five different cities in Texas. Flew four jet fighters and trainers and instructed in three of them. Was an Air Force Aerial Demonstration Pilot for two years, traveling around the country to air shows, flying an aerobatic routine demonstrating the tactical prowess of the A-10. Was a commander of an A-10 squadron in Europe with 18 fighters and 35 pilots with a mission to attack Soviet tanks in Central Europe if the Cold War had turned hot.
Launch time in the A-10. Launch time in the A-10 for an airshow demonstration flight, Somewhere, USA. I flew almost 100 demonstrations across the country in two years.
Along the way, I spent a couple of years as a Presidential Advance Agent during the Reagan Administration, traveling with the White House advance party, making arrangements for presidential stops across the country and internationally.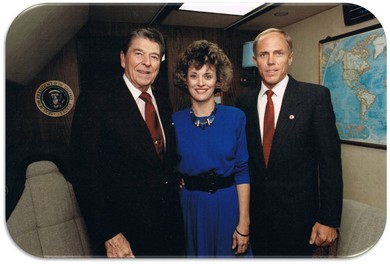 Love Field, Dallas, TX 1988 - President's Office, Air Force One. I am sure this hangs prominently in the President Reagan Museum
:)
I also spent one year at the Air Force's Air War College in advance studies of strategic military, and national security issues. Throughout the twenty-one years, I traveled to Israel, Egypt, Hong Kong, Taiwan, Korea, the Philippines, and throughout Europe. It was a challenging, rewarding, and fun career, and I would not change one minute of it. All good things must end, however, and in 1996, I ended my last assignment (at the Pentagon) and my Air Force career.
It was a very intense two years of training before I went to my first assignment as a rookie fighter pilot. A good start to a good career.
In setting me up for this, Dick Parker said just tell some stories. Well, I'm the guy who, down the road in the retirement home, will walk into the room, and the inmates will scatter so as not to hear the same stories again. I'll tell you one that helped me understand our country and our world.
I was on the airport ramp (tarmac) in Helsinki, Finland. I was the guy in charge of our airport operations at Helsinki where President Reagan spent four nights en route to Russia for his famous Moscow summit. So one day, a VIP plane is coming through for a gas stop with Senators Byrd and Dole on board, then Senate minority and majority leaders. It was a bit historic that they were on the same plane, but that's a different story. I meet them and their young staffers at the steps and introduce myself. They know my job is to work any problems that may arise to ensure their timely departure to Moscow. After a minute or two, Senator Dole approaches me and asks how they can get to the Duty Free Store. I'm thinking, you are kidding. But like a good soldier, I make the calls, and one of the airport managers comes out with a really old station wagon. Two of the most important leaders of the greatest nation on earth pile into an old car with their aides literally sitting on each other's laps and head off to buy duty-free booze. YGBSM, I'm thinking. A bit later, they return, brown bags in hand, and take off to Moscow. They are just like us, says my assistant. No, they're not was my reply.
Kim and Dana on a weekend getaway last summer. Rafting on the Rio Grand, near Taos, NM
Along the way, I met my trophy wife, Kim, of over thirty-one years now and whisked her away from Texas for sixteen years to see some other parts of the country and the world. When asked how we met, I tell people she was dancing on the tables at the bar in the officer's club, but really, she was with her roommate who was invited to dinner at the club by a student of mine when I was an instructor pilot. We were introduced, and after dinner, she attempted to teach me the Texas two-step... in combat boots, as I had just come down from a flight. I'd tell you how it went, but we have different, and conflicting, memories of that first night.
Halloween party in 1983, Pineville, Louisiana. We worked hard and played hard. Left there is 1985 and just had a reunion with Louisiana neighbors in the British Virgin Islands.
After my Air Force retirement, we returned to West Texas to Kim's hometown, Littlefield, a small rural farm community near Lubbock, Texas. She teaches now at the local high school.
Weekend Fun, "Our" RV-4, N943RV
Kim and I have two wonderful daughters, and now are the proud grandparents of one boy, one girl, and another girl on the way. I think the reason for two girls and two granddaughters is some kind of payback from the good Lord. Kidding, of course, it is quite a blessing.
The Clan. (lower pic L to R) Braxton (grandson 7), Steven (son-in-law), Old Guy, Brooke (daughter, 30), Kim (age classified), Brylee (grandaughter 3), and Brittany (daughter, 25).
Probably the best part of my Air Force career was the friends we made along the way. In fact, Kim and I just had a reunion with two couples (non-military neighbors) we have remained close to since our days in the early '80s in Alexandria, Louisiana, when our kids were rug rats together. We went to the British Virgin Islands on a catamaran for a week. That probably doesn't sound like a big deal for those who have stayed in Florida since high school, but if you're 1,500 miles from the ocean, that's a fun thing to do. We should all be having more reunions with old friends. In fact, that is why I believe the website has caught on so quickly; it is like an ongoing reunion.
With Louisiana friends on recent reunion in British Virgin Islands. Our first big "no kids"" vacation in many years.
After the Air Force, I flew for United Airlines for over eight years. My commute to work was Texas to Denver, Colorado, and after 911, that became harder to do, and the job lost some of its appeal and a lot of pay, especially after United declared bankruptcy. My kids in college were living better than me in my "crash pad" apartment in Denver most of the month. I found an opportunity to fly and manage a private jet out of Lubbock, so I jumped on it. Been here six years now, and so far, it is great. Kim occasionally travels with us. We go to Dallas (where the kids are) almost weekly, and it's a great company with a terrific boss who is also a rated pilot in the jet.
Seven year old grandson, Braxton, gets to ride co-pilot in the citation I fly. He's not to sure about this at first, but thinks its pretty cool by the end of our Dallas to Lubbock flight. Yes it is legal
Like most of us, a lot of our time outside work has been dedicated to raising a family. We were fortunate to have had a small lake cabin for about ten years. We had no TV or Internet and limited phone, just time together. Can you imagine that today? Weekends and vacations without Facebook, how would one survive? One year, Kim and I took 16 sixteen-year-olds to the lake for Labor Day weekend. Trust me; you need more than two adults to chaperon that many teenagers on an out-of-town trip. We have a lot of good memories from the lake.
What matters most.
Braxton (7) and Brylee (3)
It's been a journey since high school. I have never forgotten the "We did it our way" thing, but I have learned that at least a few times it would have been better if I had done it somebody else's way."
You are right, Dana. It sounds as if it, in fact, has been quite a trip. Good job in telling your story. On behalf of the whole class, congratulations on a life well lived; and on a personal note from your old buddy Richard, let me say how impressed I am at your ability to marry way above your station in life.
Keepin' the Spirit Alive,
---
April 2011
Southern by the Grace of God
Slow Talkin' Comfort Food Eatin', Family-Oriented and Respectful Southerners
I have often wondered why I am so lucky—lucky by birth. I could have been born anywhere from the Jersey Shore to the Rocky Mountain highlands, from the Iraq deserts to the South American rain forest. Instead, I was born an American and a proud son of the South. And while I am sure that many from around the globe are perfectly content to call their neck of the woods home, happy to live out their life in their general locale, I am positive that it is only because they have never known the simple pleasures of being Southern.
In today's politically correct world, where it is so easy to step on the toes of so many, only two groups seem still fair game for all: Christians and Southerners. I proudly wear both targets on my back. For this semi-focused rambling, I will only address the latter, leaving me a bit of ammo for a future prattle disguised as my words of wisdom.
For many, "Southern" and "dimwitted" have become a standard joke when speaking of us. For me, nothing is so grating as to hear our cousins to the north and west talk about my Southern brethren as slow or unintelligent. It seems that many believe a molasses slow dialect equates to a slow mind. I say Na Na.
Nothing appeals to me more than a Southern woman proclaiming with a warm smile, "Y'all come back now, you hear?" A little sidebar here: You cannot be a true Southerner until you know the plural of y'all. Of course, you know the plural is "all y'all."
Then, there is Southern food. Comfort food and Southern cooking are the same. Only in the South can gravy be considered a condiment. I will guarantee you that you will never hear a Southerner say, "I'll have the arugula and radicchio salad, please." And even in today's health-conscious world, it is hard to find a good Southerner who does not like fried chicken—a taste cultivated early. If you are a Southern preacher's son like me, it is a staple enjoyed at many church dinners-on-the-ground.
I am reminded of the story of a young southern boy, Beau, whose teacher asked him what his favorite animal was, to which he instinctively and most honestly replied, "fried chicken." The no-nonsense (probably Northern) teacher replied that his answer wasn't funny, even though his classmates' laughs seemed to prove otherwise. His reply earned him a trip to the principal's office.
He was sent home with a note to his parents. His Southern dad chuckled and commented that the teacher was probably a member of PETA. "What is PETA?" Beau asked. "They love animals very much, Son." The young boy added, "I do too—especially chicken, pork, and beef.
The next day, his teacher tried again qualifying her question a bit better asking him what his favorite live animal was. He replied chicken. She smiled and asked the Southern lad why that was. He replied sincerely, "It is because you can make them into fried chicken." This earned him more laughter and a second trip to the principal's office, complete with another note to his parents. His dad told him, "Son, you must drop this thing about fried chicken. Obviously, you are upsetting your teacher, and you must treat all your elders with respect."
The third day, trying to redirect the day's lesson safely, his teacher asked Beau what famous person he admired most. He quickly replied, "Colonel Sanders." Guess where he spent the afternoon?
Aretha Franklin sang a powerful song about Respect. But the South put that word into action. From the time that Southern children learn to string together a few words into a broken sentence, they learn to say, "Yes, ma'am and sir." Even as a grown man, I find it difficult to address an elder without a yes sir and no sir. My early lessons on respect have lasted a lifetime. King Solomon penned in Proverbs 22:6, "Train a child in the way he should go, and when he is old he will not turn from it." I'm not sure, but I think he was in Southern Israel when he wrote that. :)
Southerners are self-sufficient. We make things last. With a roll of duct tape, we can repair anything. And, of course, it had to be a Southerner who invented that silver miracle tool on a roll. As a kid growing up in the South, I was taught to get the most from a dollar. My mother could send me to the store with a dollar, and I'd get a slab of bologna (pronounced baloney), two pints of milk, six oranges, two loaves of bread, a magazine, and some new blue jeans... and still have money left! But sadly, you can't do that anymore, even in the South. They have those video cameras everywhere you look.
The sights, sounds, and places of the South are known worldwide. And I am as much a part of them as they are of me. I believe the below poem sums it up nicely.
I'm the South
I'm the Little Rock of Arkansas
The Smokey Mountains and a cross-cut saw
Louisiana cooking and a watermelon vine
I'm a tall Georgia Pine
And Georgia's on my mind

I'm the Tennessee Waltz and all night sings
The Florida sun and Silver Springs
I'm Huck and Tom and the old folks at home
I'm Clingman's Dome
Why, I'm the stars that fell on Alabam
I'm coffee in the morning
And an old smoked ham
I'm a Carolina moon, a dusty delta dawn
Magnolias in Bloom
I'm a thoroughbred grazing on Kentucky bluegrass
I'm coon hounds, bird dogs and tea of sassafras
I'm the Mississippi River as it rounds the bend
I'm Gone With The Wind
Y'all come back again
I'm hanging moss on a live oak tree
Southern fried chicken and a cypress knee
Why, I'm the birth of the blues in New Orleans
The land of dreams
And I'm a trout a' jumpin' in a cool clear stream

I'm an antebellum home on the Natchez Trace
A rusty plow on the old home place

Azaleas a' blooming in beautiful Mobile
I'm the Virginia Reel
Derby Day in Louisville
That Southern hospitality in Charleston
and in Raleigh
A Georgia peach, a cotton patch, Miami Beach
I'm Dan'el Boon and Robert E. Lee
The Seminole, Choctaw and the Cherokee
Well, I'm everything good
you've ever dreamed about
So Hush my mouth, I Am the South
I travel, a lot. Much of my travel is done by RV. I prefer the slower less-traveled roads that wind through these small communities. Most older Southern homes come with a front porch, and on that porch, you will often find an old wooden swing. This is true of the large beautiful antebellum homes and small Southern cracker boxes alike. Much living happens on those front porches and more particularly in those swings.
One day while traveling to a speaking event, I was taken by all I saw on those porches as they slowly passed my coach window. I was moved to pen the following. I hope you enjoy it.
On My Front Porch Swing